The fourth day of the World Select Team's practices in preparation for the Nike Hoop Summit was perhaps their best one so far this week.
---
2014 Nike Hoop Summit USA Practice Day One
2014 Nike Hoop Summit International Practice Day Three
2014 Nike Hoop Summit International Practice Day Two
2014 Nike Hoop Summit International Practice Day One
2014 Nike Hoop Summit International Measurements
2014 Nike Hoop Summit International Roster Breakdown
---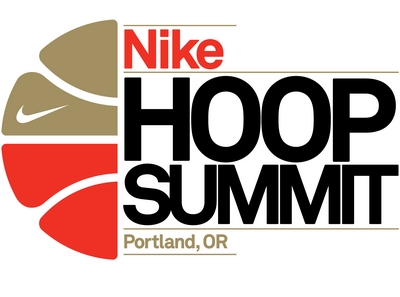 The World Select Team practices ramped up a bit on Wednesday as the shell drills and 5-0 offense portions were replaced with situational 5-on-5 play (with a special focus on transition offense and defense). Getting up and down the vast majority of the afternoon, this practice was much less a two-man show than yesterday's was, with a handful of players putting together their most consistent showing so far this week.
Perhaps the most impressive player today was
Karl Towns
, who has had some impressive moments all week, but was able to make a consistent impact today. Towns was aggressive on both ends, using his size to score in the paint and his length to block shots defensively. Even if he is a bit loose at times with his moves offensively, he's very coordinated and has deft touch allowing him to score in a variety of ways when he decides to impose his will on the defense. He's also capable of putting the ball on the floor and attacking off the dribble when given a lane, which led to one of the most impressive sequences we've seen so far this week.
This is the type of showing we were expecting from the Kentucky commit, who will need to have a good showing on both ends against
Jahlil Okafor
and
Cliff Alexander
for the World Select Team to come away with a win on Saturday. Talking to Towns after practice, he expressed his willingness and excitement about the possibility of defending Jahlil Okafor on Saturday. As the World Team's biggest, strongest and longest player, Towns' matchup with Okafor could be absolutely pivotal.
Sviatoslav Mykhailiuk
got the chance to take on a bigger role offensively today, and looked good doing so. Able to handle the ball a bit more because of the way the World Select Team's personnel was broken up, the 6'6 shooting guard had more chances to show off his athleticism. Flashing good ball handling ability and a strong first step, Mykhailiuk got a chance to display the same talent that earned him some buzz coming out of the U16 European Championships last summer and was effective in doing so once again.
Nikola Jokic
was not quite as impressive as he was a day ago, but nonetheless scored with his footwork and touch around the rim. Getting poked in the eye at the conclusion of Wednesday's practice, Jokic showed no ill effects today.
Emmanuel Mudiay
had a quiet day relative to yesterday as well. Not as aggressive as he was a day ago, he didn't seem quite as engaged today overall.
Damien Inglis has blocked a number of dunks this week, and has made life miserable on the offensive end for the rest of the wings on the international roster. His defensive presence will be useful against the physicality of Stanley Johnson and Kelly Oubre come game day as he's easily the best athlete the World Select Team brings to the table, and gives the coaching staff a lot of versatility with his ability to defend multiple positions. He distributed the ball very well today, but wasn't quite as aggressive looking to get into the paint and make plays at the rim. His outside shot remains a concern.
Heading towards game day, the World Select Team looked a bit more comfortable offensively with the overall level of practice rising. No player was particularly dominant today, but players like Gao Shang, Brandone Francis and James Birsen had their best practices of the week scoring the ball, which is a welcome sign for the coaching staff looking to improve their depth of the roster. It will be interesting to see if Trey Lyles and Clint Capela can break out of their mini-funk and display more of the promise that made them such highly touted prospects leading up to this event, as neither has looked especially comfortable thus far. Though this group started off slowly this week, they appeared to be turning the corner today. We had a chance to sit down with Head Coach Roy Rana to discuss the team's outlook heading towards game day.