The 2014 USA Basketball Junior National Select Team hit the hardwood for its first practice on Wednesday in the St. Mary's Home for Boys gymnasium in preparation for Saturday's Nike Hoop Summit.
---
2014 Nike Hoop Summit: International Practice Day Three
2014 Nike Hoop Summit: International Practice Day Two
2014 Nike Hoop Summit: International Practice Day One
2014 Nike Hoop Summit: International Measurements
2014 Nike Hoop Summit International Roster Breakdown
---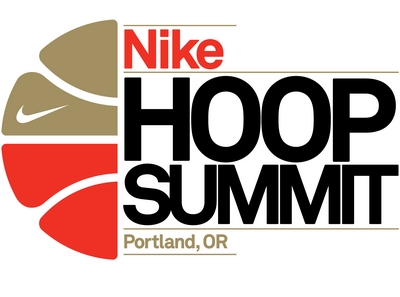 During the fast-paced one-hour session, Team USA head coach Mike Jones (DeMartha Catholic High School) worked to instill defensive principles and an up-tempo mindset in his players.
They ran through transition offense drills and skill work (splitting up into two groups, bigs in one group, guards and wings in the other), before finally ending with closeout and shell drills.
Their audience did not include any NBA personnel, who are restricted in the amount of practices and scrimmages they can take in of American high schoolers (but not the international players) this week. Instead, it consisted of a very captive group of children from the St. Mary's Home for Boys, who thoroughly enjoyed the opportunity to watch some of the most talented players in the world in this age group just a few feet away from them.
Originally founded as an orphanage for abandoned children, today St. Mary's offers residential treatment and services to at-risk boys between the ages of 10 and 17. It was obvious by their responses that this session was very memorable for the children.
Team USA is expected to bring an up-tempo style of play to Saturday's game predicated on full-court pressure, strong weak side defense in the half court, and a run-n-gun mentality on offense.
All of those same ideals were expected to personify the 2013 squad, but Team USA struggled with chemistry and ultimately fell to the World Team, 112-98.
Livio Jean-Charles
,
Andrew Wiggins
,
Dennis Schroeder
, and
Dante Exum
combined to score 78 points, and Team USA, led by
Jabari Parker
,
Julius Randle
, and
Aaron Gordon
, lost its third Nike Hoop Summit in four years after going 10-2 in the 12 previous games.
With under a minute left in the game, shooting guard
Aaron Harrison
reportedly refused to check in when Coach Jones called his number to replace a player that had fouled out, a telling sign of the issues the team suffered from, and a frustrated USA squad that lacked cohesion and experience fell victim yet again.
Last year was a letdown for Team USA, but 2014 is an entirely new team full of high-character athletes with USA basketball experience and 11 gold medals between them.
"We've never had a group that we've known better than this group of kids here," said Sean Ford, USA Basketball National Team Director.
Although much younger than a World Team that will run out five players with professional experience, and features a number of players born in 1994, the 2014 USA Team (whose core is born in 1996) is a more cohesive and experienced group with a history of USA Basketball success.
Duke-bound big man
Jahlil Okafor
has three gold medals to his name – 2013 FIBA U19 World Championship, 2012 FIBA U17 World Championship, and the 2011 FIBA U16 Americas Championship.
Fellow Blue Devil
Justise Winslow
was also part of the 2013 and 2012 championship teams, while
Stanley Johnson
(Arizona) and
Tyus Jones
(Duke) both helped bring home the gold in 2012 and 2011.
Point guard
Joel Berry
(North Carolina) was a part of the 2012 U17 championship team and athletic wing
Theo Pinson
(North Carolina) played for the 2011 U16 squad.
Every player on the 2014 roster has played at an official USA basketball event outside of
Myles Turner
(undecided),
Kelly Oubre
(Kansas),
James Blackmon
(Indiana),
Cliff Alexander
(Kansas), and
Reid Travis
(Stanford).
With that said, Turner, Oubre, Travis, and Blackmon all took part in the 2014 USA Basketball Men's Developmental National Team mini-camp last October, which gave the coaching staff an extended look at potential players to bring to the Nike Hoop Summit. This was the first time USA Basketball brought in potential Hoop Summit candidates for such an early look at trying to evaluate and shape the make-up of the group , which tells you everything you need to know about how much they want to win this game.
Alexander's USA Basketball experience is perhaps the most unconventional, as he won the 2013 USA Basketball 3x3 U18 National Championship.
Needless to say, the 2014 team doesn't come without pedigree. They certainly aren't lacking in the talent department. Okafor, Turner, Alexander and Travis will control the paint inside, while Pinson, Oubre, Winslow, and Johnson bring athleticism and defense at the wing spots, and Jones and Berry run the show at point.
While loaded with talent, Team USA certainly isn't flawless. They're short on shooters who can space the floor and knock down shots, as Blackmon is the only true 3-point marksman on the roster. Jones is a capable shooter, but outside of that Team USA is filled with slashing, defensive-minded wings, and bigs who do most of their damage in the paint.
Then there's the age factor. Team USA is made up of mostly 1995 and 1996 players. The World Team, on the other hand, has four 1994 guys and players with experience in the EuroLeague, ACB, France Pro A, China, and FIBA events.
Clint Capela
,
Nikola Jokic
,
James Birsen
, and
Damien Inglis
are all professionals, and
Emmanuel Mudiay
,
Karl Towns
, and
Trey Lyles
are legitimate NBA prospects and top-10 high school recruits with significant talent.
Saturday's game is going to come down to which team can execute its style of play. Will a World Team full of skilled offensive players like Jokic, Lyles and Towns make shots and spread the floor, or will a team full of athletes and bruisers be able to dominate the paint, speed up the game and disrupt the World Team's offensive flow?
If Team USA is able to impose its will against the more skilled but less-physically gifted World Team, it should be able to get back in the win column for only the second time in five years.
The build-up to this year's Nike Hoop Summit has never been greater, as both camps clearly want to prevail and are taking numerous extra steps to give their team a better chance at winning. This should result in a terrific game on Saturday.
The action kicks off at the Moda Center at 4pm Pacific (7pm EST) in Portland. Tickets can be
purchased here.
The game will be broadcasted live on ESPN2.