We'll once again be in attendance for the adidas Nations, where the country's top-ranked high school players will face off, including
Thon Maker
(Carlisle School/Martinsville, VA),
Jaylen Brown
(Wheeler High School/Alpharetta, GA),
Chase Jeter
(Bishop Gorman High School/Las Vegas, NV) and Dennis Smith (Trinity Christian School/Fayetteville, NC).
adidas Nations is an elite platform for 18-and-under players from nine international teams including Africa, Asia Pacific, Canada, Europe, Latin America and four United States teams who will train and compete during the program.
In addition to the world-class competition, adidas Nations attendees will receive professional on-court coaching and training, as well as off-court instruction on nutrition, leadership, discipline, philanthropy and global interactions. This will be led by a mix of current and former NBA players and including
Tracy McGrady
,
Jrue Holiday
and
Austin Rivers
(New Orleans Pelicans),
Steven Adams
(Oklahoma City Thunder),
Arron Afflalo
(Denver Nuggets),
Jerryd Bayless
(Milwaukee Bucks),
Quincy Pondexter
(Memphis Grizzlies) and
Tony Snell
(Chicago Bulls).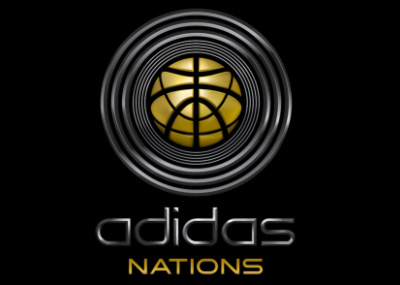 adidas Africa
100 Yuat Alok PF 6'10" Kenya
32 Alpha Cisse PG 5'11" Mali
128 Cheickna Dembele C 6'9" Mali
166 Ibrahima Diagne SF 6'7" Senegal
108 Mamadi Diakite PF 6'10" Guinea
36 Richardson Maitre PG 6'2" Haiti
129
Abdoulaye Ndoye
PF 6'10" Senegal
34 Dennis Ona Embo PG 5'7" RD Congo
92 Renathan Ona Embo PG 6'4" RD Congo
130 Kassoum Yakwe SG 6'7" Mali
Coaches: Babacar Sy, Marvin Adams, Abdoulaye Ndir, Christian Belise
adidas Asia Pacific
51 Deng Adel SF 6'7" Melbourne, Australia
122 Callum Barker SF 6'8" Hobart, Tasmania
3 Tad Dulfelmeier PG 6'1" Canberra, ACT
123 Matthew Freeman PF 6'9" Aukland, New Zealand
86 Tom Fullarton SG 6'6" Queensland
25 Gabe Hadely SG 6'3" Launceston, Tasmania
27 Nikau McCullough SG 6'3" Hamilton, New Zealand
98 William McDowell-White PG 6'4" Queennsland
96
Keanu Pinder
SF 6'8" Perth, Australia
94 Deng Riak C 6'10" Melbourne, Australia
39 Jackson Stent SF 6'7" Aukland, New Zealand
Coaches: Randy Livingston, Warren Rosen, Travis Russel, Kenny McFadden
adidas Canada
76 Joseph Abi-Zakhour Chartouny G 6'4" St Hubert, Quebec
131 Kyle Alexander F 6'10" Malton, Ontario
85 Dillon Brooks F 6'6" Missisauga, Ontario
40 Christian David F 6'6" Toronto, Ontario
166 Jonah Fogg F 6'11" Sault. Ste. Marie, Ontario
8 Jordan James Aquino-Serjue G 6'0" Montreal, Quebec
9 Sydney Jared Westerman Wilson Davis G 6'3" Missisauga, Ontario
72
Corey Johnson
G 6'6" Ottawa, Ontario
29 Munis Mahmoud Tutu G 6'0" Windsor, Ontario
28 Kentebe Oluwafisayomi Farquhar G 6'2" Pierrefonds, Quebec
41 Jalen Poyser G 6'4" Malton, Ontario
84 Simi Shittu F 6'7" Burlington Ontario
Coaches: Joey Mckitterick, Nathifa Weekes, Nicky Davis, Nelson Ossee
adidas Europe
69 Nicolas Bermudez G 6'5" Madrid, Spain
165 El Hadji Dieng C/F 6'10" Mbur, Senegal
142 Tage Dimbele F 6'8" Aarhus, Denmark
48 Xabier Gomez G 6'3" Barcelona, Spain
49 Enrique Jaen G 6'3" Gran Canaria, Spain
167
Norbert Janicek
C 6'10" Bratislava, Slovakia
164 Konsantin Kulikov C 7'0" Moscow, Russia
77 Pablo Martin G 5'11" Madrid, Spain
104 Serguy Prymiak F 6'8" Donesk, Ukraine
140 Bourama Sidibe F 6'10" Bomako, Mali
139 Issa Thiam F 6'8" Dakar, Senegal
103 Mouhamed Thiam F 6'8" Dakar, Senegal
Coaches: Rob Orellana, Jose Carrion, Santi Lopez
adidas Latin America
42 Wesley Alves da Silva SG 6'5" Brazil
168 Adriano Alves Junior PF 6'10" Brazil
47 Oscar Cabrera SF 6'5" Rep.Dominicana
43 Adrew Fleming SF 6'5" USA/Chile
7 Johanns Miranda Walker PG 6'1" Puerto Rico
101 Yesid Mosquera Perea SF 6'7" Colombia
35 Quinn Peters SG 6'4" USA/Brazil
67
Alex Robinson
Doria SF 6'8" Brazil
5 Kevin Rodriguez PG 6'1" Puerto Rico
102 Juan Sebastian Morales SF 6'7" Colombia
107 Lucas Siewert PF 6'8" Brazil
133
Lucas Teodoro
de Souza Colimerio PF 6'8" Brazil
Coaches: Walter Roese, Mauricio Alsina, Leonardo Roesler, Thiago Froes
2015 adidas U.S. Howard
18 Jalen Adams G 6'2" MA
87 Bennie Boatwright 6'9" PF CA
10
Jaylen Brown
G/F 6'7" GA
89 Shawntrez Davis 6'8" PF GA
136
Moustapha Diagne
6'8" C NJ
78
Chase Jeter
6'11" F/C NV
14
Derrick Jones
SF 6'6" PA
93 Keelon Lawson SF 6'6" FL
64
Justin Simon
PG 6'5" CA
65 Cameron Walker G/F 6'7" CA
Coaches: Jerry Stackhouse, Tommy Herrion
2015 adidas U.S. Rose
6 Dwayne Bacon SF 6'6" FL
54
Carlton Bragg
F 6'9" OH
13
Tyler Dorsey
SG 6'4" CA
15
Brandon Ingram
SG/SF 6'8" NC
91
Charles Matthews
SG 6'5" IL
90 Jordan Murphy SF 6'7" TX
141 John Reyes PF/C 6'10" GA
143
Josh Sharma
PF/C 7'0" MA
105
Elijah Thomas
C 6'9" TX
37 Damon Wilson PG 6'5" GA
Coaches: Phil Matthews, Aubrey McCreary
2016 adidas U.S. Lillard
23
Lonzo Ball
PG 6'5" CA
50 Braxton Blackwell G/F 6'7" TN
118 Tony Bradley Jr. PF/C 6'10" FL
132 DeRon Davis F/C 6'9" CO
17 DeAaron Fox PG 6'3" TX
24 Eron Gordon G 6'3" IN
70 Mario Kegler G/F 6'8" MS
135
Thon Maker
PF 7' VA
56 EJ Montgomery F 6'10" FL
19 Dennis Smith PG 6'2" NC
Coaches: Ross Burns, Scott Garson
2016 adidas U.S. Wall
119 Abdul Ado C 6'9" TN
26 Rawle Alkins G 6'4" NY
21 Kyle Guy PG/G 6'3" IN
97 Dewon Huell PF 6'10" FL
53
Dedric Lawson
PF 6'8" TN
52 T.J. Leaf F 6'10" CA
124 Billy Preston PF 6'9" CA
20
Payton Pritchard
PG 6'1" OR
74 Maverick Rowan G 6'7" PA
2
Kobi Simmons
PG 6'5" GA
55 Romello White PF 6'8" GA
Coaches: Don MacLean, Joe Wootten
adidas Nations Counselors
2 Bryce Alford SG 6-3 UCLA Sophomore
49
BeeJay Anya
PF/C 6-9 NC State Sophomore
20
Jabari Bird
SG/SF 6-6 Cal Sophomore
36
Jonah Bolden
PF 6-8 UCLA Freshman
34
Perry Ellis
F 6-8 Kansas Junior
23 AJ English G 6-4 Iona Junior
24
Shaq Goodwin
F 6-9 Memphis Junior
10 Josh Gray G 6-1 LSU Freshman
45
Montrezl Harrell
F 6-8 Louisville Sophomore
21
Zak Irvin
G/F 6-6 Michigan Sophomore
35
Stanley Johnson
F 6-8 Arizona Freshman
3
Chris Jones
G 5-10 Louisville Junior
44
Frank Kaminsky
F 7-0 Wisconsin Senior
25
Shawn Long
F 6-9 Louisiana Lafayette Sophomore
41
Kevon Looney
G/F 6-10 UCLA Freshman
4 E.C. Matthews G 6-5 Rhode Island Sophomore
6 Jordan Mathews G 6-4 Cal Sophomore
32
Jordan Mickey
F 6-8 LSU Sophomore
22
Austin Nichols
F 6-8 Memphis Sophomore
48
Landry Nnoko
F/C 6-10 Clemson Junior
33
Kelly Oubre
F 6-7 Kansas Freshman
47
Tony Parker
C 6-10 UCLA Junior
31
Terran Petteway
F/G 6-6 Nebraska Junior
30
Norman Powell
G 6-3 UCLA Senior
9
Terry Rozier
G 6-1 Louisville Sophomore
40 Shavon Shields G/F 6-7 Nebraska Junior
46
Kaleb Tarczewski
C 7-0 Arizona Junior
43
Brad Waldow
PF/C 6-9 St. Mary's Senior
8
Derrick Walton
G 6-1 Michigan Sophomore