Day one of the 2017 adidas Eurocamp in Treviso, Italy is officially in the books. We recap some of the most notable performances.
More EuroCamp Content
-adidas EuroCamp Preview and Roster Breakdown
The day started with some stretching and light drills, giving the hundreds of members of the basketball industry assembled here a chance to reconnect and put faces to names before competitive action tipped off.
The strengths of this year's camp are a bit different than in years past, with a tremendously talented group of US players brought in which includes 11 of the consensus top-20 prospects in the high school class of 2018, and another half dozen prospects just outside of that range.  As good of a primer for a draft two years away as perhaps any event of this kind in recent history, the strength of the international camp roster is in the players attending from the younger generations as well.  Organizers Jelena Soce, Michele Gherardini and their staff have continued to find ways to make this event more compelling over time, and this year's crop of young talent born in 1999 and beyond may be the feather in his cap with many NBA executives sharing the sentiment that their trip to Treviso this year was worth it for the US Select squads alone. That helped ease the blow somewhat of a very down crop of international prospects throughout the 2017 NBA Draft, which unfortunately has been felt noticeably at this year's EuroCamp as well.
Day One Activities
The first day of the adidas EuroCamp included drills and team practices to go along with a total of four games featuring all four teams of campers, the Slovenian U20 National Team, both USA Select Teams, and an all-star team of the day's top performers.
When players aren't competing, they go through a gambit of athletic tests and measurements administered by BAM, on a separate court. We'll analyze those numbers in detail when they're released in the coming days.
Playing in a setting that separates them from the comfort zones they've settled into with their respective clubs, day one always offers an interesting frame of reference into how well a player can survive off their instincts and adapt to their surroundings.
With the likes of Mavericks owner Mark Cuban, Masai Ujiri, Donnie Nelson, Brian Colangelo, Tommy Sheppard, Brian Pauga, Adam Simon, Marc Eversley, and many more looking on among countless other high-level decision-makers, today's games got off to their transitionally slow start, but the level of play picked up far faster than most camp settings with the day ending on a very high note in an ultra-competitive matchup between the Eurocamp All-Stars and The Path Team.   
At the end of the day, we also got to take in a private practice featuring the outstanding Next Generation group. That group will be unveiled publicly in a game between the two teams of talented 2001 and 2002 international assembled here tomorrow, with many of those prospects sure to drum up significant interest despite their extreme youth. 
The players also enjoyed a talk with international basketball legend
Andrei Kirilenko
in the afternoon.
Nassir Little
Perhaps the top performer today was fast rising consensus top-50 combo forward prospect
Nassir Little
. Scoring 16 points on 7-11 shooting while coming up with 5 steals, Little helped the US Select Team blow out the Slovenian U20 National Team with a strong outing on both ends.
Listed at 6'6 by a number of sources but looking a shade taller than that, Little stands out on first glance with his strong frame and long arms.  Averaging 17.3 points and 7 rebounds per game for 1 Family on the adidas Gauntlet circuit this spring, Little is a capable scorer who plays with impressive energy on both ends.  A capable set and pull-up shooter who does much of his scoring attacking closeouts and using head fakes and jabs to get his defender off balance in one-on-one situations, Little contributed in a variety of ways today, including one notable dunk that came over a defender on an off-the-backboard assist from David Duke.   
The Orlando Christian Prep standout also made his mark on the defensive end, really getting after it. Flying around all over the place trying to make plays, Little seized the golden opportunity this event presents for him to introduce himself to NBA scouts.
Garnering a significant amount, but not universal, high major interest, Little is a player worth keeping an eye on in the coming years as the talented small forward certainly made an impression today. Off the court, the interview he conducted with us was thoughtful and extremely detailed, showing a level of understanding of his game you don't normally find from prospects his age.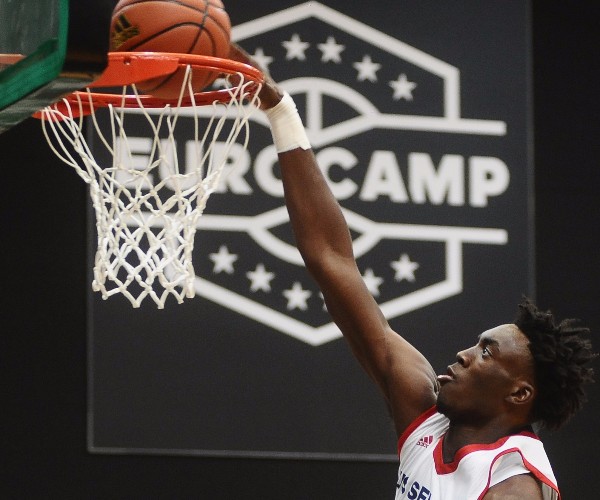 Nassir Little Interview
We'll cover many of the other players on the US teams here in detail in the coming days as both teams appear to be absolutely loaded heading into their highly anticipated matchup on day three.
Competitive Action
Immanuel Quickley
and
Darius Garland
were the top performers for The Path Team which beat the Eurocamp All-Stars by double-digits in the final game of the day.
A 6'3 guard from Baltimore who has shot the ball well each of the last two summers on the adidas Gauntlet Circuit, Immanuel Quickley found his range early here, scoring 15 points on 5-9 shooting, including 3-7 from beyond the arc. Knocking down a spot up 3 from the corner and another off of a jab-step, while also making the defense pay for going under screens in the pick and roll, Quickley showed a strong all-around perimeter scoring arsenal.  He was perhaps even more impressive on the defensive end, applying great pressure on the ball and getting in the passing lanes frequently, showing impressive quickness.  Struggling a bit to finish inside and finishing the game with only 2 assists, still clearly adjusting to his new teammates and the intense half-court played by the older and more experienced European squad, Quickley has some things to work on in terms of his advanced playmaking and ability to read the floor, but made an outstanding first impression here on both ends.
Brentwood Academy standout
Darius Garland
turned in one of the top individual scoring performances in Eurocamp history scoring 18 points on 7-7 shooting in only 13 minutes of action.  An impressive athlete who plays at his own pace, but can pull-up on a dime and make shots with range, Garland poured in on thick in limited minutes.  Using changes of speed to get to the rim in early offense and showing great quickness and ball handling ability creating in the half court, Garland scored from the inside and out to help his team earn a comfortable victory.  
Standing only 6'1 in shoes with a 155-pound frame when he was measured last summer by USA Basketball, Garland's body doesn't appear to have improved significantly since last year, but there's no questioning his talent level.  He's grown considerably since we first saw him a few years ago, as he was more of a spot up shooter at that stage, as his floor game has blossomed in a major way since then.
One of the lone European players to find their footing in the first game, oversized French point guard
Abdoulaye N'Doye
scored 8 points while coming up with 3 rebounds, 3 assists, and 3 steals in only 21 minutes. 
Much improved from the last setting we evaluated him in at the U18 European Championship in Samsun, N'Doye's skill-set and feel for the game appear to be making major strides. He used both sides of the floor, showed the ability to change speeds patiently and read the help-side defense, and was constantly probing with his dribble looking to get others involved. 
The clear-cut best defender here among the European prospects, N'Doye showed the ability to lock down anywhere from the 1-3 positions, completely locking down heralded NBA prospect
Arnoldas Kulboka
(who stands 6'9) with suffocating ball-pressure thanks to his long arms, quick feet and chiseled frame. N'Doye measured exceptionally well at 6'5 1/2 without shoes, with a massive 7'2 wingspan that may even allow him to even defend some big men as his strong 198 pound frame fills out. 
N'Doye did a nice job of introducing himself to the many NBA executives who were watching him here for the first time, and will continue to get long looks as the camp moves on. With incumbent point guard
Frank Ntilikina
certain to miss the U19 World Championship in Cairo later this month, N'Doye has a major opportunity to continue to build his NBA draft stock with the French national team riding high after winning the U18 European Championship in December. 
The biggest question marks surrounding N'Doye revolve around his ability to put the ball in the basket, something that is a major necessity from the guard spots in today's NBA. His perimeter jump-shot is still a major work in progress, and is likely the key to him unlocking his potential as a prospect. N'Doye mentioned to us in an interview today that he's heading to the US this summer to train in Dallas with Tyler Relph and work with the rest of his Comsport agency's highly touted group of clients, including
Sekou Doumbouya
. 
Though he scored only 2 points and pulled down 4 rebounds in limited action in the first game of the day, Slovakian guard Mario Ihring, who spent parts of this season with Slovakian club BC Prievidza and Italian 1st division side Capo D'Olrando showed well in the competitive action against the US squad, running the show comfortably and not being rattled by the long and athletic American backcourt recording 4 assists and 1 turnover in the final game of the day.  Playing with quite a bit of flair, the 6'3 combo guard knocked down floaters and pull-up jump shots consistently creating separation with hesitation moves and crafty moves inside.  A savvy passer out of the pick and roll, the 1998-born prospect had a strong showing on day one.  He lacks a degree of length and struggles at times with turnovers, but Ihring stood out at times today.