Hello World. Hope all is well with you. Before I get started, I first want to give thanks to God my father and Lord Jesus Christ my Savior for letting me see another year and live another day. Like Marvin Sapp would say, "Never would have made it without you. Continue Lord to make me Stronger, Wiser, and Better". I know I haven't blogged in a while, but I told my friend Jonathan Givony, President of DraftExpress, that I will blog this season. Had to keep my word, Ya dig? This is my third year playing professional basketball. The first year was in the NBA D-League with the Colorado 14ers, the second year was in Ukraine with BC Kyiv (hello to all my fans in Ukraine), and now this season, I'm playing in Spain (ACB) for a team called Vive (live) Menorca.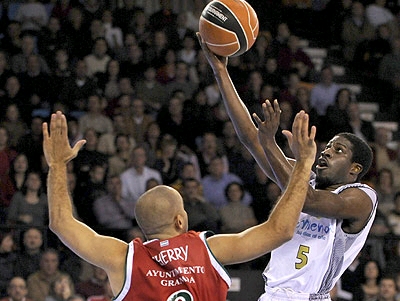 Menorca is very different from Kyiv. The difference is that Kyiv is a lot bigger than Menorca. In Kyiv, you had a lot options with different thing to do. Like on Thursday and Sundays were hip-hop night at Patipa, a lot of restaurants like TGI Fridays and Arena, strip clubs, casinos (I don't gamble though), the zoo, and many other things.
If you read my blogs last season, I had a maid, cook, and people remember the stories about my driver Art. My friend
Clay Tucker
is playing for BC Kyiv this season and he has Art as his driver. I know he has crazy and funny stories about Art. The women in Kyiv were beautiful. Actually, the women in Eastern Europe are amazing. That's where all the models come from. Then I had four other Americans on my team, which made my transition so much easier, since it was my first year overseas. We played two times a week because we were in the ULEB Cup, so I got the chance to travel all over Europe. I went to France, Italy, Spain, Germany, Slovenia, Czech Republic, Latvia, Belgium, and all over Ukraine.
Menorca is a small, but beautiful island thirty minutes by plane from Barcelona. A lot of tourists during the summer visit Menorca to relax and party. Now in the winter, it's very quiet. You really don't see a lot of people in the city, but when we have a home game, our place is PACKED. We are the only sports team in Menorca, so going to our game is like the thing to do. Our fans are GREAT. People tell me that Menorca is the hardest place to play at because every game is sold out and our fans make so much noise. If you ever played at Gonzaga or Duke, then you will know what I'm talking about. To the fans in Menorca reading this, I want to say thanks for your commitment and support.
During the winter time, there is really nothing to do except work on your game all day. I basically live at our gym. Antonio, our team manager, is always waiting for me to leave the gym so he can go home. My place in Menorca is real nice. It's a two story, three bedroom right on the water. My view on my balcony is incredible. I don't have a maid, cook, or driver, which is cool. I keep my place clean so I don't need a maid to clean. My girlfriend was out here for three months, so she was able to cook for me.
I know people who just read that line said to themselves "Pooh got a girlfriend"??? Yes, Ya boy had to settle down. When she's not here, I'm learning how to cook, calling my mom asking her how to make certain things. No driver this season…I had to learn how to drive a stick, since they didn't have automatics. I'm preparing for that Ferrari or Lambo, coming soon.
BASKETBALL
First of all, I want to thank the President, General Manager, and Coaches for giving me the opportunity to play for Vive Menorca and to provide for my family financially. My coaches challenge me every day to get better offensively and defensively. My teammates are real cool too. Five players are from Spain, two from Croatia, one from Bulgaria, one from the Republic of Georgia, and there is one other American.
In the ACB, you are only allowed two Americans on each team. Others teams have more than two Americans only because they have other passports. My American teammate is
Bud Eley
. Bud is from Detroit, Michigan and he is like a big brother to me. He has a lot of experience playing in Spain, and he gives me advice on certain situations so I can become a better player.
We just finished the first half of the season, playing against all the teams, and our record at the moment is 5-11. I know that doesn't sound very good, but I feel we will be a better team in the second half of the season. We have the potential to be a really good team. We lost a lot of close games and we just need to learn from those games and finish the season strong. It's not how you start the season; it's how you finish.
Individually, my goal as a player is get better every day. I look at each day as a new day to improve, and to get ready for the game during the week. I'm currently averaging 16 points, 3 assists, and 3 rebounds. For the second half of the season, I will have to step it up even more to lead my team to the playoffs and be the best guard.
We play one game a week, which means a lot of practice during the week to get ready for the game. As you should already know, I'm still on my GRIND out here in Menorca. It's a must that I keep working and perfecting my craft to become a better basketball player. My parents always told me to Work Hard if I want to be the best. I developed that mindset at an early age, and I haven't looked back. It's something that comes natural to me now, because I always think someone out there is working harder than me.
I remember my days at Serra High School in Gardena (Garrrrr), always working out with coach Hurt or with Wayne Slappy on the weekends. Then when I arrived at the University of Portland, I would learn and work out with coaches (
Michael Holton
, Rasheed Hazzard, Keith Brown, Rich Wold, and Josh Jamison) in the mornings or before practice.
In my first year as a professional in the D-League for the 14ers, we had access to the gym anytime we wanted. So my roommate
Von Wafer
(Houston Rockets), Antoine Hood, and I would go to the facility at nights and get more shots up. Then when I got to Ukraine to play for BC Kiev, my teammate Manu (Georgian) and I would shoot and do drills after practice. Now that I'm in Menorca, after practices, my teammate Koko (Bulgarian) and I shoot and do different drills to improve our skill. Like what Kanye West says in the Go Hard song with T-Pain, "I think it's time for me to go hard as the hood I'm from".
Of course my dream and goal is to make it to the NBA. That's the dream I feel that God put in my heart. I'm just taking different routes to making my dream come true. Taking different routes is part of the process, or some would say the waiting period. In this process or waiting period, the goal is to make the right decisions, be healthy, and keep getting BETTER, and BETTER, and BETTER!!
I'm not worried about the NBA at the moment. I signed with Vive Menorca for the 2008-2009 season. So my job is to give all my energy and time to the team so things can get better for Menorca and me. I need to maximize the moment and not worry about next season, which will take care of itself. I told my agent not to tell me what NBA teams are saying about me at the moment, because I need to focus on my team. We can talk about those situations when the season is over.
ACB
I have been told that the ACB is the best domestic league in Europe. The Euroleague is the best league, because it's a league with all the top teams in Europe. The ACB has five teams in the Euroleague. People say the ACB is the second best league in the world, with the NBA being # 1 of course. It's the best domestic league because the competition is great from top to bottom, traveling all over Spain, money is guaranteed, the weather is good, and it's great to have on your 'resume'.
Before I came to Menorca, I talked to a few people who helped me make my decision. One of the people I talked to is
Shawn Respert
. If you don't know Shawn, he played for Michigan State back in the 90's and had a great professional career in the NBA and Europe. I met Shawn when I was playing in the D-League. He told me that playing in the ACB will upgrade my exposure to the NBA and help me financially.
The competition at the guard position is real good. American players at the guard position that you would know are:
Shammond Williams
,
Omar Cook
,
Andre Barrett
,
Taurean Green
,
Louis Bullock
,
Chris Thomas
,
Taquan Dean
,
Demond Mallet
,
Tyus Edney
,
DeJuan Collins
,
Brad Oleson
,
Bracey Wright
,
Ruben Douglas
,
Luke Recker
,
Mustafa Shakur
,
Quinton Hosley
,
Corey Brewer
(not from the T'Wolves),
Thomas Kelati
,
Carl English
,
Melvin Sanders
,
Marcus Norris
,
Quincy Lewis
,
Jimmie Hunter
and Tyrone Ellis. Then you have Euro guards like
Ricky Rubio
(could be #1 pick in 09 draft),
Pablo Prigioni
,
Pepe Sanchez
,
Raul Lopez
,
Juan Carlos Navarro
,
Jaka Lakovic
,
Carlos Cabezas
,
Igor Rakocevic
, and many other good guards. If your name wasn't mentioned, don't be mad.
There are also a lot of good forwards and Centers in this league too. You can go to
acb.com
and look at the rosters of every team. You would know almost everybody on each team. You can also look at highlights of the games every Sunday on the website. Hope you know Spanish. Spanish is something that I've been improving on too. I have spoken Spanish since my college days. Me being from Los Angeles, it's a plus knowing Spanish, because there are a lot of Hispanics in LA.
The thing I'm proud about the most while being in Menorca is that I'm getting more into my bible. I hope that I continue to read the word, because I feel it's making me more focused and giving me more confidence, trust, and patience to God and to myself.
I forgot to say Happy New Year to all the readers out there. I hope everybody accomplishes their goals they have set out for the New Year. 2009 is 2000GRIND. Also, Congrats to Barack Obama becoming our new president. Martin Luther King Jr dream is starting to become reality. That should let everybody know that Anything is Possible. Don't forget the motto: GET MONEY OR GET LOST!!!
GRACE, PEACE, AND BLESSINGS TO YOU AND YOUR FAMILY. REMEMBER TO KEEP GOD FIRST AND EVERYTHING ELSE WILL FOLLOW. GOD AND JESUS LOVE ENDURES FOREVER. TRUE STORY!!!