OK, let's be honest. I am from South Dakota, and went to the University of Iowa, so you probably don't know who I am. If you do, you are family, a close friend, or you chose me in a NBA Fantasy Draft and then finished last in your pool.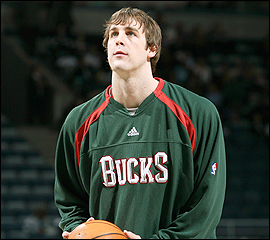 I played my rookie year with the Chicago Bulls, because Coach Skiles must have lost some kind of bet. I might have even set the record for most high fives given during timeouts that year, if
Jack Haley
hadn't set an untouchable mark for the Bulls when he played in the mid 90's. He sure was a towel waving extraordinaire.
My second year, I went to camp with the Clippers and was released on the tarmac. Seriously, I was released while I picked up my bag off the team charter…no joke.
Phoenix picked me up off waivers and I injured my knee a couple weeks after I got there. I ended up not playing one minute and lost my season to two surgeries to fix a chip on my kneecap. Last year, I went to camp with the Spurs, and was released because
Tim Duncan
's contract was too large to move.
Then, I went back home to God's Country and played about 30 games for the Sioux Falls Skyforce in the D-League. Not tooting my own horn or anything, but I put the towel down and actually made the All-Star game, and was voted 2nd team All D-League. After getting a couple ten-day contracts with the Bucks, I somehow tricked them into signing me for the rest of the year.
So one couldn't say that I had just a cup of coffee in the NBA. It is more like a grande frappuccino and a bagel with strawberry cream cheese. Not bad for a kid from a town in South Dakota which has a population of around 800, including a couple family pets and stray dogs.
Yes, I know that the blogging world already has the self-depreciating white guy in
Paul Shirley
, but he actually has literary talent, a book, and even a myspace page. I have an iTunes account and a MacBook. Go figure.
So now, I am in the ACB, which is the top league in Spain, and I have adapted well thus far. I play for Polaris World Murcia and we are 2-2. I sometimes feel a bit lost since I don't speak Spanish. I took Zulu in college and it never crossed my mind that I would never need it.
Our coach will talk for seemingly hours at a time, and when asked what he said, my translator/teammate will say, "Don't worry he is just threatening us, you'll be fine." Just great, now I have about as good a chance at not messing up the drill as a one-legged man has in winning an ass-kicking contest.
Most of my teammates speak English, so that is peachy. Now if we could just get the whole deodorant goes under your arms thing down. I do have to give some of my them credit for at least getting wet in the shower.
If we conducted random deodorant usage checks similar to the way the army does bunk checks, we could make some progress. Doing twenty pushups every time someone forgot the Right Guard would turn us into the strongest team in the world, besides the Russian National Women's Softball team of course.
My Spanish is improving, due in large part to my wife taking a Spanish class at a University here in town. It is a still a real adventure trying to order food, though. There is no such thing as grabbing a quick bite to eat at a restaurant. An hour and a half lunch is the status quo.
If you think that is long, try waiting for the satellite guy to come to your house. I've been waiting for over five weeks, and still, no sign of him. Lucky, I have a Slingbox. For those of you still in the dark ages, this device allows one to watch their home TV or satellite on their laptop just by having an internet connection. I can't wait till they figure out a way for me to clone my self for useless tasks…
The four-hour siesta in the middle of the days also baffles me. I mean, why wouldn't you just take a short lunch and finish your workday three hours earlier? You know the saying that, "Rome wasn't built in a day!" Well if Rome was in Spain, it still wouldn't be done.