-This bracket projection is not a prediction of where I believe teams will end up in March, but rather a checkpoint for where I believe teams currently stand. In other words, it is done as if today were Selection Sunday. I use the exact same criteria to select and seed the teams as the selection committee does.
-AUTOMATIC BIDS are given to all 31 conference champions, and my projected champions are all the teams that are currently in first place or tied for it via the loss column. Those teams are North Carolina, Florida, Wisconsin, UCLA, Pittsburgh, Texas A&M, Memphis, Butler, Southern Illinois, Nevada, BYU, Gonzaga, VCU, Winthrop, Massachusetts, Davidson, Toledo, Texas A&M Corpus Christi, Holy Cross, Long Beach State, Oral Roberts, Vermont, Penn, South Alabama, Austin Peay, Marist, Delaware State, East Tennessee State, Weber State, Central Connecticut and Mississippi Valley State.
-Bracket reflects games played through Sunday, February 11th.
The article in the bracket is directly below it.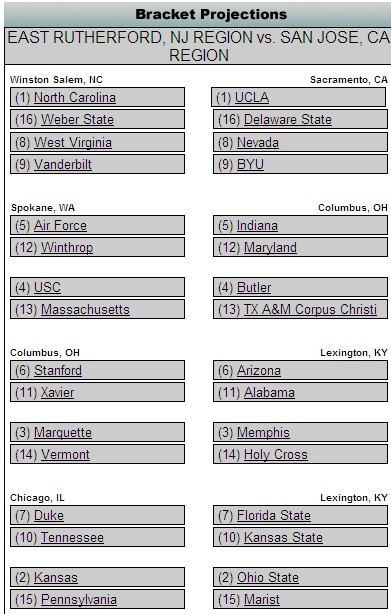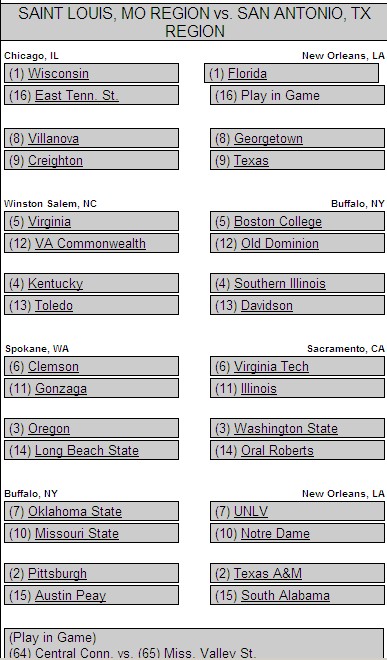 NOTES ON THE BRACKET
QUESTION: Nevada is ranked #11. Why do you only have them as a #8 seed?? (I've been asked this quite a few times).
ANSWER: Several reasons, really. Take a look at these resumes from past years
PACIFIC (2005) Received a #8 seed
-26-3 overall
-ranked in the teens of the top 25
-RPI = 22
-SOS = 134
-4-2 against the RPI top 50
-0 wins against the RPI top 25
GEORGE WASHINGTON (2006) Received a #8 seed
-26-2 overall
-ranked #6 nationally
-RPI = 37
-SOS = 207
-3 wins against RPI top 50 (albeit two were against Saint Joseph's, who did not make the tournament)
-0 wins against RPI top 25
SOUTHERN ILLINOIS (2004) Received a #9 seed
-25-4 overall
-nationally ranked
-RPI = 25
-SOS = 104
-0 wins against the RPI top 50
Now, lets look at this year's NEVADA team
-21-2 overall
-ranked #11 nationally
-RPI = 24
-SOS = 117
-0 wins against the RPI top 50
As you can see, there is a very strong resemblance between the profile of this year's Nevada teams, and other teams like them in the past who had good records, were nationally ranked, but yet didn't have that many big wins and wound up seeded around 8th or 9th. If Nevada were to end up with a #7 or #8 seed, the committee would be acting consistently with what they've always done in the past.
Another thing about Nevada is that when you look at the teams seeded ahead of them, who do you put them ahead of, and why?? In looking at the teams seeded right around them, UNLV beat Nevada at Nevada. They also have a better RPI, a better SOS and more quality wins. Putting them ahead of Nevada is a no-brainer.
Florida State has wins against Florida, Virginia Tech, and at Duke. All three are much better than anything Nevada has done.
Oklahoma State and Clemson both have better RPIs, better SOSs and a handful of quality wins.
Stanford has five wins against the RPI top fifty, including a road win at Virginia and another big time win against UCLA.
QUESTION: All the other sites have Nevada seeded better than you. What makes you think you're right and they're not??
ANSWER: I'm not a mind reader. I can only project them where I think the committee will seed them, and then explain why I've done it. If you want to know why other sites have them seeded differently, you'll have to ask them. To be honest, I don't look at any other bracket projections sites during the season, so I can't really comment on what they're doing as compared to what I'm doing.
-I know a lot of people find this disappointing. One of the reasons Nevada doesn't have the resume other teams have is because they don't get the opportunities to face as many quality opponents and rack up some statement wins. However, they're still a very solid NCAA Tournament team and will get their chance. If this were college football, the best they'd have to look forward to would be that bowl game that's played on a blue field.
ANOTHER QUESTION I'M ANTICIPATING:
-Why does Gonzaga get to play in Spokane if they're a #11 seed??
It just worked out that way. As long as they aren't matched against a team seeded #5 or better, they can be placed there. the protected seeds are only protected for one round. The committee tries to keep the 6-12 seeds as close to home as possible, but can't always do it. However, they put the bracket together line by line. In this case, the 3vs14/6vs11 pod is in Spokane because of Oregon. If it works out that there is a space open for a #11 seed, and Gonzaga is a #11, they can and will be placed there.
-Memphis's seed could take a big hit for the same reason Nevada's might. They do have a win against Kentucky on a neutral floor, which is a quality win. One win may not be a lot, but it's a lot more than zero in the eyes of the committee. I know it was early in the season, but at least they beat a high quality opponent at some point. I also have a feeling those voting in the NABC polls, which are submitted to the committee, are going to be very kind to Memphis. I have no way of proving that, but it's just a hunch I have. However, I also wouldn't be surprised if they didn't get that good of a seed. It's very possible that they won't.
-Gonzaga's
Josh Heytvelt
has been suspended indefinitely from the team due to being arrested over the weekend for possession of marijuana and hallucinogenic mushrooms. There is a chance he will not return to the team this season. Heytvelt was a big time contributor, and the committee will take his absence into consideration when they evaluate some of Gonzaga's big time wins. They looked pretty good the other night against Saint Mary's without him, but then again, they were playing Saint Mary's. The Zag's margin for error just narrowed considerably in terms of getting an at-large.
Bubble Watch
OTHERS CONSIDERED: Texas Tech, Purdue, Arkansas, Georgia Tech, Drexel, Mississippi, Oklahoma, Washington, Syarcuse, Georgia, San Diego State, Michigan State, Providence, Bradley and Michigan.
-Some of these teams are really on a downslide. Texas Tech has lost five in a row, including a double overtime loss at Oklahoma State in their last game. They appeared to have the game won at two different points, but Okie State came back to tie it both times, and then held on to win in the second overtime.
Michigan State has lost four straight. Granted, two of those were to Ohio State, but another one was a 62-38 thrashing against Purdue, who at this moment doesn't look like a solid NCAA team (although they're close. If Purdue can play as well they did this weekend against Ohio State, they'll get the wis they need). They really haven't played all that well on the road this year either.
Syracuse won at home yesterday against Saint John's, but barely. They'd lost four of their last five prior to that, and all but one of those losses came to teams who are outside of the bubble.
Arkansas has four wins against the RPI top 50, and two of them were against Alabama, but they are just 4-6 in conference and have lost six of their last nine. They need more momentum than that if they want to get inside the bubble.
Bad news for Georgia.
Mike Mercer
injured his knee against South Carolina and his return is questionable. He is a big contributor and if he isn't available for the NCAA Tournament, the committee will put deemphasize some of their better wins.
-Generally, the teams that made it in are the ones that have some momentum, but there are bad things about the teams on the inside o the bubble as well.
Xavier has two losses to teams outside the RPI top 100, and another at home to Bucknell, who is barely inside the RPI top 100. They do have four pretty good wins against VCU, Villanova, Kansas State and Illinois, but the only one of those that is really good was the neutral floor win against Villanova. The other teams are pretty close to the bubble themselves. Their margin for error is very small because they don't face any tournament caliber teams the rest of the way.
Alabama's best win was a neutral floor win against Xavier. They also have another good win against Georgia. That was when the Bulldogs were at full strength, so the committee will consider that and give them more credit for it. However, they are just 2-5 in true road games, and are coming off a loss to Mississippi. They'd won three in a row prior to that though, which is something they desperately needed.
Maryland got a big win over Duke, but it was Duke's fourth straight loss, so it may not be as good of a win as people might think. They'd lost four out of six prior to that, and are just 4-6 in the ACC standings.
Illinois has three RPI top 50 wins, but one of those was against Bradley and another was against Michigan State, neither of which are in this field. Their best win was a home game against Indiana. They came close to beating the Hoosiers again over the weekend, but came up just short. Still, the Illini are playing better and should be able to get the wins they need in order to be a solid team. They'd won four out of five before losing to the Hoosiers.
Old Dominion was my last team in. They have four RPI top 50 wins, including a big win at Georgetown. Their other wins were two against Drexel and another against VCU. They are just one game behind VCU in the conference standings, and have four regular season games remaining. All of those games are winnable, and if ODU can win out and avoid any poor RPI losses in the conference tournament they will get a very serious look from the committee.
HIGHLIGHTED GAMES FOR MONDAY, FEBRUARY 12TH
-WEST VIRGINIA AT GEORGETOWN (Big East). West Virginia is coming off a huge win against UCLA. They basically led the entire game. They've also been able to win their last two road games, which is important considering how they'd been struggling away from home prior to that. Georgetown is coming off of a blowout win against Marquette, is 8-2 in the Big East, and trails Pitt by just one game. For the Hoyas it's a chance to continue to boos their resume. As of now they only have two wins against the RPI top 50, and one of those was early on against Vanderbilt at a time that Vandy wasn't playing all that well, so picking up another against West Virginia will help them out a lot.
-SANTA CLARA AT GONZAGA (West Coast). This game is hugely important. Most may not realize this, but these two teams are tied in the conference standings. Gonzaga most likely needs to win the regular season title in order to be safe for an at-large, and that is especially true now that they don't have
Josh Heytvelt
. Santa Clara is 17-7 and has won seven of their last eight games. Like Gonzaga, they also have a big win at Stanford, so if they can win this game and win out they might get a hell of a look from the committee. Remember, winning a regular season conference title automatically means a team is considered.
-LOUISVILLE AT PITTSBURGH (Big East). It's still possible for Louisville to make the NCAAs, but they need some big wins. Their next two games are on the road against Pittsburgh and Marquette, and they need to win one of them. They have no RPI top 50 wins, and their RPI is in the 70s. Pitt continues to roll. They are a solid pod system team who could even make a case for a #1 seed if they win out. Either way they should be placed in Buffalo for the first/second round barring any major collapses.
-OKLAHOMA STATE AT TEXAS (Big Twelve). The last time these two met, the game went into triple overtime. Oklahoma State pulled it out in the end denying Texas a chance at a high quality win. Texas is still very solid, though, despite having an RPI of just 54. They're in a tie for third place with Kansas State, and are just one game behind Kansas for second place. Still, this is a chance for them to pick up another quality win (they only have two RPI top 50 wins), and boost their resume even more. As for Okie State, this may be hard to believe, but they have no true road wins. They do have a win against Syracuse in Madison Square Garden, and some other neutral floor wins against Missouri State, but the fact that none were true road wins is holding their seed back. A win today goes a long way as far as boosting their resume.
Feel free to send questions, comments or criticisms to
xubrew@yahoo.com