-Some of the conference tournaments get underway next week, so seeing as how this is the final weekend of the regular season for several teams, I went ahead and posted a new Bracket Projection. I'll have another one out late Sunday night/early Monday morning, and update it throughout championship week.
-The bracket is not a prediction of how I believe things will look on Selection Sunday, but rather a checkpoint of where teams currently stand.
-The criteria I use to select and seed the teams is the exact same criteria the selection committee uses.
-The bracket reflects games played through February 28th.
-
CONFERENCE CHAMPIONS
: All of the projected conference champions are either in first place in their league, or tied for it via the loss column. Those teams are Tennessee, Memphis, Texas, Duke, UCLA, Louisville, Purdue, Xavier, Drake, Butler, Texas A&M, BYU, Kent State, Saint Mary's, South Alabama, Davidson, Stephen F Austin, VCU, Oral Roberts, Cornell, Boise State, Winthrop, Cal State Northridge, UMBC, Siena, Austin Peay, Belmont, Robert Morris, Portland State, American, Morgan State and Alabama State.
-More notes on the bracket below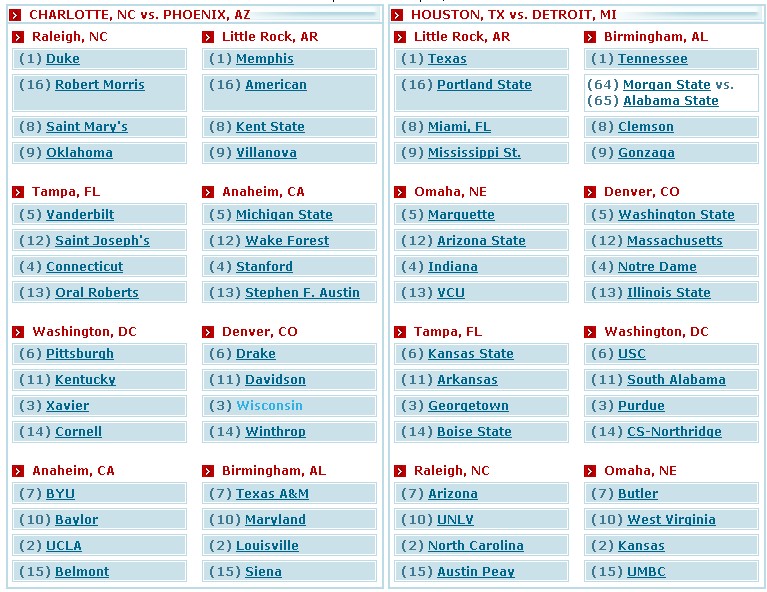 -No teams needed to be moved in seeding in order to meet the bracket requirements.
OTHERS CONSIDERED
: Florida State, Florida, Oregon, Syracuse, Southern Illinois, New Mexico, Ohio State, Rhode Island, Houston, UAB, Creighton, Dayton, Mississippi, Ohio
BUBBLE WATCH
We seem to have more teams trying to play their way outside of the bubble rather than onto/inside of it. Regardless of how bad the teams on the bubble collectively play between now and the end, 65 teams are going to be in the NCAA Championship Tournament one way or another.
-Arizona State is just 3-8 in their last 11 games, and didn't look good at all last night against UCLA, but I can't seem to keep them out of my bracket. Compared to the other teams that are in the mix for a bid, they just have too many good wins. It's rare that a team goes into the tank like that and still gets selected, especially with their RPI being what it is, but they seem to have a better case than anyone else I left out. I'd still say their game against USC this weekend is pretty much a must win.
-Illinois State was the last team in the field. Their best win was against Southern Illinois, who isn't in position to get an at-large bid. They also have three sub 100 RPI losses, although the loss to Indiana State isn't too bad considering the Sycamores only have one home loss on the season. They don't have strong credentials for an at-large at all, but yet there they are in this bracket. If they can't win their final game against Southern Illinois and avoid an early exit from the conference tournament, they probably won't make the field, though.
-Florida State doesn't sound like they'd be a good selection, yet they were the first team I left out. They actually have a case to get in over Illinois State considering they've actually beaten some teams who I have solidly in such as Clemson and Miami FL (who they beat on the road). They have a big game coming up against North Carolina. They took the Tarheels to overtime in the first meeting, but that was on Florida State's home floor. The committee should take into account that they put up a decent showing, but that's not nearly as good as a win would have been. However, if they can pull off the upset this weekend I believe they'll be strongly considered.
-Florida has lost four of their last five and has not played well on the road. They also don't have too many wins that will jump out at the committee. A strong finish is a must if the Gators want to get in.
-Saint Joseph's lost to Saint Louis at home last night, and they now have a major problem. The only good news for the Hawks is that no one else on the bubble is fairing all that much better. Their only two notable wins are against Massachusetts, and they aren't necessarily all that solid themselves. They also have some pretty bad losses. Their upcoming game against Xavier is suddenly looking extremely important for SJU.
-Oregon has wins against Arizona, Stanford and Kansas State, which is better than anything anyone else on the bubble has. The problem is that they're in a slump with three straight losses, and actually trail Arizona State in the conference standings and lost to them earlier in the season. Conference standings won't keep them out entirely, but it is something that's strongly considered, and right now I have a hard time putting them in over the Sun Devils, even though ASU appears to be falling apart. If Oregon fails to beat Oregon State on Sunday they'll really be in the hole.
-I'm sure seeing Kentucky in the field looks strange to some people, but they actually have a pretty decent case, which is more that can be said for any of the teams I left out. In addition to that, they're red hot, and momentum has been a big factor for the committee in the past. The Wildcats are 16-10 on the year (somewhat decent), have wins over Vanderbilt, Tennessee and Arkansas (good), are in second place in the SEC East standings (good) and have won nine of their last ten (very good). When you compare them to everyone else, there is no reason to think they shouldn't be in, especially when some of their struggles early on were attributed to injuries.
-Wake Forest dropped a big game to Maryland last night. A win would have really helped them out because it would have boosted them in the conference standings, added another notable win to their resume, and helped out their RPI. They're still in the field, but barely. I believe they must win two of their final three games prior to the conference tournament, especially considering they're all against non-tournament caliber teams.
-Syracuse is a close call as well, but they've just lost too many games down the stretch. Their losses have been close and many have been against good teams, which counts for something, but doesn't count for enough. They've also lost four of their last five, which never looks good for a bubble team. If they can win two of their last three games against Pitt, Seton Hall and Villanova, they'll be in much better shape.
OTHER TIDBITS
-I still have Duke seeded ahead of North Carolina, and that's still due to the head-to-head match-up where Duke won in Chapel Hill. However, North Carolina was not at full strength for that game, and if they can get
Ty Lawson
back and return the favor they'll be placed higher. It should be clear who the more deserving team is for the #1 seed in the Charlotte Region once the season and conference tournaments are completed.
-American is still the projected champions in the Patriot League, but they are tied with Navy in the standings, and Navy beat American twice. That means that if things hold up, Navy gets the #1 seed and will have home court advantage throughout the conference tournament. When projecting champions, I don't use the same tiebreakers that the conferences use. If there is a tie, I just pick the team that makes more sense, and American has clearly had a much better year than Navy has. Still, it would be very cool to see Navy in the NCAA Tournament. If they do host the conference championship game, it will definitely be worth tuning into. The atmosphere will certainly be electric.
-Arkansas has been one of the most inconsistent teams this year, and it's hard to guess what the committee is going to do with them. Chances are, they'll be confused. They have some really good wins, but they have equally as many losses that make you scratch your head. They've also lost four of their last five, the most recent being at Alabama, who is not all that good.
-Cornell is one win a way from clinching at least a share of the Ivy League Championships, and two wins away from clinching the title, and the NCAA Tournament bid that comes with it. They have Dartmouth and Harvard at home this weekend, neither of whom are any good, so they could be punching their ticket tomorrow.