-The latest Bracket Projection is posted below. It is not a prediction of how I believe things will end up on Selection Sunday, but rather a checkpoint of where teams currently stand. In other words, this is what I believe the NCAA Tournament would look like if today were Selection Sunday.
-The criteria I use to select and seed the teams is the exact same criteria that the selection committee uses.
-The bracket reflects games played through February 10th.
CONFERENCE CHAMPIONS
. All 31 conference champions automatically qualify for the NCAA Tournament regardless of how good or bad the league is. The 31 projected champions are teams that are currently in first place in the conference/division, or tied for it via the loss column. Those teams are: (Memphis, Duke, Kansas, UCLA, Tennessee, Georgetown, Xavier, Purdue, Drake, Saint Mary's, Butler, BYU, South Alabama, Davidson, VCU, Kent State, Stephen F. Austin, Oral Roberts, Utah State, Cornell, UNC Asheville, Siena, Belmont, Pacific, Austin Peay, UMBC, Robert Morris, Portland State, American, Morgan State and Alabama State).
-The article on the bracket is located below.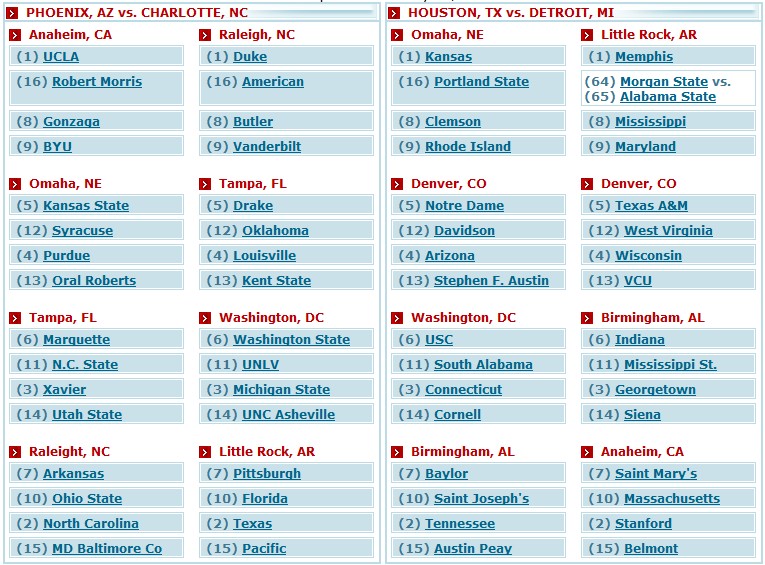 OTHERS CONSIDERED:
Arizona State, California, Oregon, Dayton, Seton Hall, Miami FL, Houston, Kentucky, Western Kentucky, Illinois State, Creighton
CONFERENCE RUNDOWN
ACC
-Duke has a two game lead over North Carolina and clearly appears to be in the driver's seat with a perfect ACC record. Even if they drop a game between now and the end they should be able to finish first, which would give them a huge leg up toward earning the #1 seed in the Charlotte Region. North Carolina is still in the race as well. If both teams keep winning at the rate they have been, UNC will probably need to knock off Duke at Duke and then win the conference tournament to overtake the Blue Devils and earn the top spot in the Charlotte region though.
-Maryland is in 3rd place in the standings and won a big game against NC State over the weekend which puts a little bit of separation between themselves and the rest of the pack. They're just a #9 seed in the bracket this week, but they are one of the hottest teams in the conference right now and their credentials will continue to improve if they keep winning.
-Clemson has lost to North Carolina twice in overtime this year. A win in either game would have been huge for them. They appear to be a solid NCAA team, but cannot afford to fall apart down the stretch like they've done in past seasons.
-Speaking of falling apart, Virginia is 1-9 in their last ten games.
-North Carolina State and Miami FL are right on the bubble, but need to play well down the stretch if they want to get inside of it.
PAC TEN
-UCLA had been playing as well as anyone in the country, but they went down in surprising fashion against a Washington team that hadn't looked all that impressive lately. Still, they're in a tie for first place and are still in contention to earn a #1 seed in the Phoenix Region.
-Stanford is right behind them, though. The Cardinal lost the first meeting between the two, but will get another crack at them later on and appear to be playing much better now. They are in the bracket as a #2 seed, and if they win out and play well in the conference tournament a #1 seed isn't out of the question.
-Washington State had been in a slump and one got the impression that they really needed to win on Saturday. They did. They blew out a very good USC team in a game that should get them back on track. They're pretty much out of the race for first place, but there is still plenty of time for them to improve their credentials and end up with a very good seed. Prior to that loss USC had won six of seven, so if they can get back to playing like that they should be in position to get a good seed as well.
-Arizona appears to have a strong team as well, but they just went down for the second time this year to rival Arizona State, which drops them back into the middle of the pack. However, since some of those losses came when they weren't at full strength and since they'd been playing well prior to that they're still an attractive team to the selection committee.
-Oregon, California and Arizona State all appear to be on the bubble. Arizona State had really gone into a slump, but they just picked up a big road win against Arizona and can play their way back into the picture with a strong finish.
BIG EAST
-The race for the league title is completely up for grabs between Georgetown, Connecticut, Notre Dame and Louisville right now. After that, only two games separate 5th place Pittsburgh from 12th place Villanova, so every game down the stretch is going to be a war.
-Georgetown was red hot coming into a hostile Louisville environment the other night. The Hoyas played great defense and weren't rattled early, but Louisville had a tremendous second half and the Hoyas went cold from the field (much of that was because of the Cardinals' defense). Still, Georgetown is in good shape, but Louisville is right on their tail. Now that the Cardinals are at full strength they're really building up an impressive resume. They had a big week last week with wins over Marquette and Georgetown.
-Notre Dame got off to a rather unimpressive start in league play after playing a weak out of conference schedule. They were blown out in their first two road games, but have righted their ship and haven't lost on the road (or at home) since. They avenged a blowout loss to Marquette with an exciting win against them over the weekend. The Irish have a huge game coming up against Connecticut, who has been playing as well as anyone lately.
-UConn has won seven straight games, and five of those were against RPI top 50 teams, including Louisville and Pittsburgh. The Huskies are on a rampage and are among the teams with a ton of momentum who are right in the race for first place.
-Marquette and Pittsburgh are solid teams, but could use some more production on the road if they want their resumes to improve. Pitt did just win a big game against rival West Virginia on a buzzer-beating three point shot.
-West Virginia has lost to Oklahoma in double overtime, Georgetown on a last second blocked shot, and Pitt on a three at the buzzer. They're just three plays away from having an outstanding seed, but as it is now they're right on the bubble. Better free-throw shooting would really help this team. They need a strong finish to secure a bid.
BIG TWELVE
-Kansas and Kansas State are deadlocked at the top of the standings, and Kansas State actually currently holds the tiebreaker because they beat Kansas, but Kansas clearly has the better overall profile, which is why they're seeded much better. The Jayhawks are in contention for a #1 seed and should be able to wrap it up if they can finish first in the standings and avoid an early loss in the Big Twelve Tournament. They also get another shot at Kansas State later this year. The Wildcats are on a rampage and could really boost their credentials if they upset Kansas again, but even if they don't they still have a shot at being seeded #4th or better.
-Texas's lack of depth has hurt them a few times, but they've still managed some very big wins and have an impressive resume. They're 18-4 on the year with notable wins against Tennessee, @UCLA, and Saint Mary's. They've also won their last three, two of which were on the road, but were given quite a scare from an Iowa State team who had been in a slump.
-Texas A&M is hot right now as well with five straight wins, one of which was a blowout against Texas. They had been struggling on the road, but have won their last three road games, which really helps out their profile. They're currently a #5 seed, but will have ample opportunities to improve on that between now and the end.
-Baylor is one of the feel-good stories in college hoops this year and they actually gave Kansas a battle over the weekend, but ran out of gas down the stretch. Nevertheless, they appear to be a solid NCAA team. Other than a road win against Texas A&M and an early season win against Notre Dame, none of their wins really jump out at you, but they've taken care of business against the beatable opponents they've faced, which is very important, especially for a program that's trying to build itself up.
-Oklahoma is really slumping with three straight losses, the most recent being a very big disappointment to Colorado. That's the kind of thing that jumps out at the committee, but not for the reasons you want it to. They're barely in the bracket this week with a #12 seed.
-After Baylor there is a huge drop off. No one else is really even in the picture.
SEC
-Tennessee continues to win, oftentimes in exciting fashion, and a #1 seed is still not out of the picture.
-Kentucky is perhaps the turnaround story of the league. They were awful out of conference, but have gone 6-2 since league play began and can actually play their way into the discussion. Their RPI is just 88, but since their record is just 12-9, a strong finish would improve their winning percentage a ton, which would in turn improve their RPI a ton. In other words 19-4 isn't that much better a winning percentage than 24-5, but 19-10 is much better than 12-9, so Kentucky has a lot of room to move up in the RPI.
-Florida is another team that has played well, but they need to finish strong. They played a weak out of conference schedule and don't have much to fall back on.
-Mississippi got off to a great start and after a strong showing at Tennessee appeared to be good enough to challenge for the league title. They've kind of gone into the tank, though, and although they're strongly in the field they really need to string together some wins to help out their resume for seeding purposes.
-Arkansas is another team that's having a good year and is playing well right now. Mississippi State and Vanderbilt are in the discussion as well, but really needs some quality wins to boost their credentials. As well as Mississippi State been playing they are still pretty close to the bubble.
BIG TEN
-Purdue just knocked off Wisconsin on the road 72-67 to pick up their most impressive win in the year and catapult themselves into first place. It was the ninth win in a row for the Boilermakers, and 12 out of their last 13. They got off to a slow start and still have an RPI of just 40, but are a young team that has really hit their stride and is into the bracket this week as a #4 seed. If they keep it up their credentials will keep improving and they could end up seeded that good or better.
-Indiana is in a tie with Purdue, which should make for an interesting showdown later on, but they don't have nearly as many impressive wins as Purdue does at this point in time. In fact their best win was probably yesterday's win at Ohio State considering it was on the road against a solid team. The only other RPI top 50 win that the Hoosiers have came against Illinois State, who looks to be on the outside looking in right now. The next three games for the Hoosiers are against Wisconsin, Michigan State and Purdue, so they'll have a chance to make a statement that they deserve a top seed.
-Wisconsin looks to be a tough team as well, but like Indiana they don't have an abundance of standout wins. They do have one on the road against Texas, though, which is huge. They're a game back in the standings and could still end up with a very good seed if they finish strong.
-Michigan State might be the best team in the conference when they show up, but they don't always show up. They've lost on the road to both Penn State and Iowa, which will happen from time to time in league play, but right now that is what's keeping them from being perfect in the league. Still, the Spartans are a good team and with games against Purdue and Wisconsin coming up they still control their own destiny as far as finishing in first place.
-Ohio State looks like a solid team, but after that there is a real drop off. Minnesota can be tough to beat and is definitely in the process of turning their program around, but barring a very strong finish they haven't been consistent enough to warrant serious consideration for the NCAA Tournament.
ATLANTIC TEN
-Xavier's win over Saint Joseph's yesterday in an exciting, somewhat controversial game gives the Musketeers a two game cushion over the rest of the league. They appear to be looking at a #3 or #4 seed if they can finish strong.
-Saint Joseph's is a strong team as well, but could have really used a big win like the one at Xavier to help get them further inside the bubble and improve their credentials. It took them awhile to kick it into gear and as a result their OOC credentials aren't all that impressive. They're not bad. The credentials just aren't going to excite the committee all that much.
-Dayton has fallen apart and is coming off a very damaging loss to George Washington. They aren't in the bracket at all right now and will have to finish strong if they want to feel safe. They're a tough team to call because their RPI and SOS are good and they have some quality wins to go along with that, but they have really tanked it lately.
Chris Wright
is still injured, but other than that they're at full strength and they're still losing to weak opponents.
-Rhode Island is a solid NCAA team at the moment and should remain that way if they don't stub their toes too many times down the stretch. They lost at Massachusetts earlier this week in what was an exciting game. It was also a big win for a UMass team that's right on the bubble. Unfortunately, the Minutemen followed up that win with an overtime loss to Temple.
CONFERENCE USA
-Memphis has dominated the league, and for that matter the nation. They are currently ranked #1 in the country and are the top #1 seed in my bracket. Houston has a decent profile, but their only two RPI top 100 wins are against Kentucky (who was not at full strength) and UTEP. That simply isn't good enough, but they do get another shot at Memphis this week. If they can win that (which isn't likely) they'll be in the at-large discussion.
MOUNTAIN WEST
-I'm still patiently waiting for DirecTV and the MTN to settle their differences so I'll get to see more of these games, but from what I have seen the league is fairly competitive. BYU has won six in a row and holds the top spot in the standings right now. UNLV is right behind them with a solid RPI and a good shot at making the NCAA Tournament on their own. UNLV's problem is that they don't have any high quality wins, and since they're close the bubble any loss will knock them back a bit, but a strong finish should earn them a spot. They've had a great year considering how young they are.
MISSOURI VALLEY
-Drake is steamrolling. With just one loss on the season, they are in a position to pick up an incredible seed in the NCAA Tournament if they keep it up. One of their biggest games in terms of seeding will come at Butler in the Bracket Buster. Illinois State is in second place, and they're four games back so it isn't likely that anyone will catch Drake. Illinois State and Creighton have a small chance at making the field as an at-large, but it looks to be getting smaller and smaller. Neither really have any standout wins.
HORIZON LEAGUE
-Butler has had a few close calls, but still has a two game lead over the rest of the conference and should be able to wrap up a bye into the semifinals and home court advantage barring an unexpected collapse. The win at Valpo last week was huge because it put some distance between themselves and everyone else. Wright State is hot as well with eight straight wins, but I don't know if they're hot enough to overtake Butler.
WEST COAST
-Both Gonzaga and Saint Mary's are safe for a bid and the rest of the conference isn't even close. It's hard for those two schools to go on the road and play, though, so they will be more battletested than most people probably realize. The two went to overtime the first time they faced each other. They'll face each other again before the end, and since they appear to be the top two teams in the conference, they'll receive byes into the semifinals with a high likelihood of facing each other a third time.
COLONIAL ATHLETIC
-This league has sent multiple teams to the NCAA Tournament the past few seasons and could do so again, but it doesn't appear to be quite as strong. VCU will get some consideration for an at-large if they win out and fail to win the conference tournament. Anything short of that, though, and this is probably a one bid league. VCU has a two game lead over George Mason, who has some impressive wins of their own, but also has some really poor losses. The conference tournament is again in Richmond, which should be somewhat of an advantage to VCU.
MID AMERICAN
-Kent, Akron, Miami OH and Ohio are all good teams to watch for. Since all play in the same division, they've managed to beat up on themselves a bit. Miami got off to a great start this season, but then suffered injuries and really went into the tank. Now that they're healthy again they've won five of six and could hit the conference tournament with a big head of steam. Kent State and Ohio have outside shots at at-large bids, especially if Kent State finishes strong and manages to win at Saint Mary's in the Bracket Buster. If one of those teams wins the league they're probably looking at a #12-#13 seed in the NCAA Tournament and should prove to be a very dangerous first round opponent.
SUN BELT
-South Alabama and Western Kentucky are clearly the two best teams in the league. WKU isn't as consistent as they need to be, but when they bring their A game they are very tough to beat, as was evidenced by close losses to Gonzaga and Tennessee earlier this year. South Alabama has an RPI in the 30s and should be safe for a bid if they win out. The two will face each other before the season is over in a highly important game, and could face each other for a third time in the SBC Tournament. It's unfortunate that neither team is playing in the Bracket Buster this year because they could use a quality opponent this late in the season.
SOUTHERN CONFERENCE
-Davidson has absolutely dominated and that doesn't look like it will be changing. Unfortunately for Davidson they had several close calls against heavyweights, but no big time knockouts in the out of conference portion of the schedule. Nevertheless they are definitely good enough to win out and could be looking at a good seed if they manage to do it. They'll be a very dangerous first round opponent for whoever they end up facing if they end up winning the automatic bid and making the NCAAs.
SOUTHLAND
-Stephen F. Austin and Sam Houston are both having good years and should give a first round team some fits. SF Austin already has a big win at Oklahoma, and Sam Houston took down Texas Tech, Fresno State and Saint Louis earlier this year. Neither team has the credentials for an at-large, but should end up around #13th if they win the automatic bid and will likely end up being a very tough out.
WESTERN ATHLETIC
-Utah State got off to an awful start back in November, but they've really come on strong lately and have a two game lead over the rest of the conference. They're 13-1 in their last 14 games. New Mexico State is another team that's playing really well all of a sudden, and since they're hosting the conference tournament they're definitely a team to watch for. This is normally a multi-bid league, but it looks like it's only going to get one this year. However, Utah State could prove to be a dangerous first round opponent given how well they've been playing.
SUMMITT LEAGUE
-Oral Roberts has adjusted nicely to life without
Caleb Green
and has yet to lose a conference game. With an RPI in the 50s they should be looking at a #13 seed, or possibly better, if they can win the automatic bid. IUPUI is two games behind them and is a pretty tough team as well. It should be a great game if the two end up facing each other for the conference title. The two will square off this Saturday at IUPUI in a regular season match-up.
BIG SOUTH
-UNC Asheville was stunned in a blowout loss to Liberty in their last game. It's their first loss in the conference, but they still hold a two game lead over Winthrop, so unless they really fall apart they should get home court advantage throughout the conference tournament. The loss to Liberty still hurts because they would have likely gotten a #12 or #13 seed in the NCAAs had they run the table. They're in as a #14 in this week's projections, but could move up if they win out.
BIG WEST
-Cal State Northridge looked to be the best team in the conference and it appeared as though they'd run away with it, but they've lost two of their last three and fallen back into a tie for first place. The two teams that beat them were Cal State Fullerton, who is a game back, and Pacific, who they're tied with. It's a tight race with the top two teams in the standings earning byes into the semifinals of the conference tourney. If one of those three teams finishes strong and ends up winning the tournament they should be seeded around #13th or #14th for the NCAA Tournament.
IVY LEAGUE
-Cornell is undefeated in league play and holds a two game lead over the rest of the pack. Brown is behind them, but the Big Red have already won at Brown, so all their games the rest of the way appear to be winnable. There is no tournament, so as soon as they clinch the league title they will have punched their ticket to the NCAAs.
METRO ATLANTIC
-Rider and Siena are knotted for first place in the league standings, and have a two game lead over everyone else. Siena is coming off a win against rival Marist, which avenges a loss to them earlier this season. The two have already faced each other twice and split the decision. It doesn't matter too much since the tournament is at a predetermined site and the bracketing for it is standard, though. Siena does have a win against Stanford from earlier this season, which should help their seed if they make the NCAAs.
ATLANTIC SUN
-This league got all kinds of attention with some big November wins, but neither Gardner Webb or Mercer have done all that much since then. Belmont has, though, and currently sits in first place. Six losses to sub 100 RPI teams, three of which were to sub 200 RPI teams, will really hurt their seed if they end up winning the league, though. They're in the current projection as a #15. East Tennessee State is just a game behind them and the two will face each other this Thursday.
OHIO VALLEY
-Austin Peay has a two game lead over the rest of the pack and all the rest of their games appear to be winnable. They should be hosting a conference tournament game in the quarterfinals and be among the favorites to win it. I could see them ending up as a #15 seed, but everyone else would likely be a #16.
AMERICA EAST
-UMBC has a one game lead over Vermont and owns the tiebreaker. If they can hold on and finish first they'll host the conference championship game if they can advance that far. They probably aren't looking at a seed any better than #15th, though, if they win the conference title and make the NCAAs.
BIG SKY
-Portland State has a one game lead in the standings, but lost the first meeting to Weber State, who is in second place right behind them. The two will face each other this upcoming weekend. If Weber State wins, they'll hold the tiebreaker. That's a big deal because the regular season champ gets home court advantage throughout the conference tourney. Whoever ends up winning it is looking at a #16 seed, though.
PATRIOT LEAGUE
-American and Lafayette are tied for first place with Bucknell right behind them. The league has quite a bit of balance this year. Holy Cross, who looked to be the best team prior to conference play beginning, is just 3-6. Finishing first is big because it wins a team home court advantage for the conference tourney, but regardless of who wins it I don't see the champion being seeded any better than #16th.
NORTHEAST CONFERENCE
-Sacred Heart, Robert Morris and Wagner are all tied for first place. That's a big deal because the winner of the conference clinches home court advantage throughout the conference tournament. I don't see the winner of this league being seeded any better than #16th in the NCAAs, though.
MEAC
-Hampton appeared to be the best team in the league, but they just suffered a surprising loss to Delaware State, so Morgan State is in first place right now. Hampton is probably the only team that would be seeded better than #16th if they were to make the NCAA Tournament.
SWAC
-Alabama State has a two game lead over the rest of the conference, but regardless of who wins it's very likely that the conference champion is on their way to the opening round game.