-The latest Bracket Express Projections are posted below. It is not a prediction of where I believe teams will end up in March, but rather a checkpoint for where I believe teams would currently stand if today was Selection Sunday.
-The Bracket reflects games played through January 27th.
-The criteria I use to select and seed the teams is the exact same criteria that the selection committee uses.
CONFERENCE CHAMPIONS
: All 31 conference champions receive automatic bids regardless of how good or bad their league and team is. The projected champions are all either in first place in the conference/division standings or tied for it via the loss column. Those teams are (Kansas, Memphis, Tennessee, Duke, UCLA, Georgetown, Xavier, Indiana, Saint Mary's, Drake, Butler, South Alabama, UNLV, Kent State, Davidson, Sam Houston, Oral Roberts, Cal State Fullerton, UNC Asheville, Siena, Utah State, Hampton, Cornell, Austin Peay, Lafayette, UMBC, Wagner, Portland State, Jacksonville and Alabama State).
-More notes on the bracket below.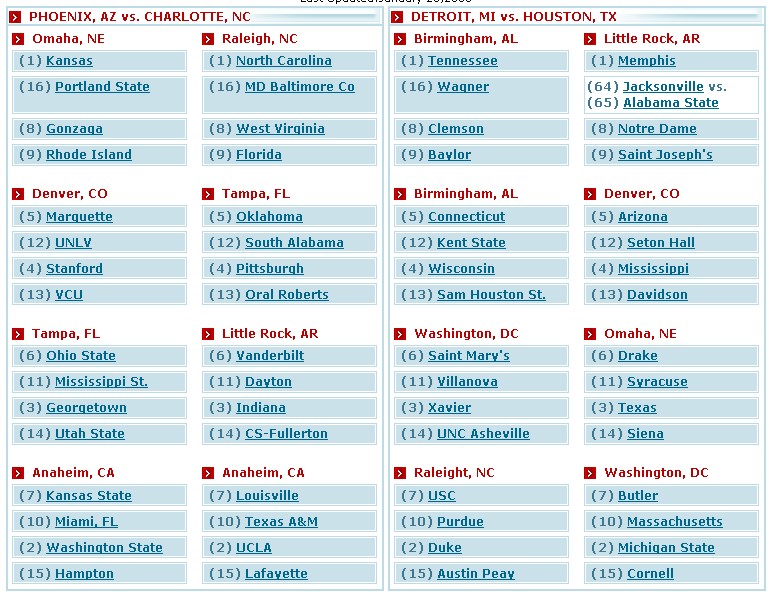 TEAMS THAT NEEDED TO BE MOVED TO FIT THE BRACKET REQUIREMENTS
: (UP: UNLV, South Alabama) (DOWN: Syracuse, Villanova)
OTHERS CONSIDERED
: BYU, Providence, Arkansas, Creighton, Georgia Tech, North Carolina State, Ohio, Oregon, Charlotte, Illinois State, Boston College, Houston
OUCH!!!
-Dayton was driving at a rapid pace in a high performance sports car, and the wheels have suddenly fallen off. They are currently without two major contributing players in
Chris Wright
and Charles Little. In addition to that
Brian Roberts
, who is playing, has been sick and not at 100%. The Flyers haven't been at 100% either, or for that matter at 40%, since those guys went down. Dayton has lost three straight games and none of them were really all that close. Losing to UMass and Xavier isn't all that damaging by itself, but Xavier blew them out and UMass beat them convincingly. The biggest problem is that they followed up those back-to-back losses with a blowout loss to Richmond. RICHMOND!!! When you're blown out by Richmond, it's a sure sign that things aren't good.
Dayton fans are some of the most devoted fans in all of college sports, and that's not an exaggeration. They live and die (mostly die. They haven't won an NCAA Tournament game since 1990) with that basketball team and fill the arena even when they aren't winning. No one wants it and deserves it more than Flyer fans, and it's so unfortunate that this happened to a team that was starving and was on the guest list to the greatest banquet in town, but then fell and broke their leg while walking across the parking lot on their way into the banquet hall. They will be at full strength again before the season is over, and the committee will consider the injuries, but considering and dismissing are two completely different things. They need to win some games prior to being back at full strength or they aren't going anywhere without the automatic bid. They've fallen to a #11 seed in this bracket.
A CRAZY SATURDAY
-This past Saturday featured three incredible endings in less than a one hour time period.
In a high stakes Big Five/Atlantic Ten game, Temple and Saint Joseph's came down to the wire.
Pat Calathes
of Saint Joseph's hit a three-pointer with less than four seconds to go to give SJU a 68-67 lead.
Mark Tyndale
drove the floor after the end-bounds pass, got a lay-up off, but it was blocked and the game ended. In real time it looked as if it may have been goal-tending, but instant replay showed that the ball was not on the way down. The refs got the call right and SJU won the game. Temple came into the game with a winning streak, so they've been playing really well recently. Getting into the NCAA Tournament picture was a long shot, but they did have momentum and beating an intra-city rival would have given them even more. This win keeps them in the projections.
Georgetown and West Virginia also came down to the wire. West Virginia has played well this year and had a chance to really enhance their resume with a win in this one. West Virginia had a lead in the final seconds when Jessie Sapp of Georgetown hit a three with six seconds to play to give Georgetown a 58-57 lead. De'Sean Butler of West Virginia then drove down the floor, got a lay-up away that would have won the game, but the shot was blocked. It looked as if it may have been goaltending, but the referees called it a clean block and then sprinted off the floor. WVU Bob Huggins was right behind them and yelling the entire way, but it was no use. Georgetown had to sprint off the floor as well to avoid a potentially ugly scene in front of a hostile crowd after an emotionally charged game with a controversial ending. In this case, the controversy was warranted. Replay showed that the ball was on it's way down and should have been called for goaltending and Georgetown picked up a big road win. West Virginia is still safely into the projections, but this win would have helped them out quite a bit.
Washington State fell behind early to Arizona State and it appeared that it would be another long afternoon with Arizona State playing at home with all the momentum. Wazzu, who is very disciplined but plays a style of play that could make it difficult for them to come back came, back in this one. Arizona State led for a good deal of the game, but Wazzu grabbed a 56-55 lead late in the game. Arizona State had the ball on the final possession, but James Hardin was unable to convert the layup and Wazzu escaped. It looked like it may have been a foul, but none was called and much like the previous two games I mentioned the referees sprinted off the floor. A few Wazzu players were reportedly hit with debris after what was emotionally charged game that ASU really needed to win. Wazzu remains just one game behind UCLA and still has a shot at a #1 seed, whereas Arizona State missed a great chance to pick up a high quality conference win. They're on the bubble and outside of this week's projections.
-Connecticut played without starting guard
Jerome Dyson
and backup guard
Doug Wiggins
in their road game against Indiana. I believe most people were thinking UConn would have a hard time winning prior to the suspensions, much less after them. Whatever point head coach Jim Calhoun was trying to make to his players, he made it. I can't imagine anything would rattle the cages of the suspended players more than them being left behind and the team still winning on the road against a top ten opponent. UConn pulled off the improbable win on the road against a top ten team, and gave their NCAA Tourney profile a huge boost in the process.
-Cleveland State out of the Horizon League was unbeaten in conference play, but has lost two straight games to fall back into a tie with Butler. Their chances of an at-large were slim before that happened, but now unless they win out and finish ahead of Butler those chances have probably been downgraded from slim to none.
-There are ten teams from the Big East in the current bracket. Villanova, Syracuse and Seton Hall are right on the bubble and were actually the last three teams I took, so considering that I don't expect all ten to be there in the end. However, Providence is just outside my bubble, so it's my opinion that the conference has 11 teams that are currently squarely in the picture. The most teams ever selected from a conference is eight, and depending how things play out it's possible that we'll see that many or more out of the Big East.
MONDAY'S HIGHLIGHTED MATCH-UPS
-LOUISVILLE AT CONNECTICUT (Big East). This is a huge Big East battle between two teams that are playing really well right now, but could still use a nice boost for their NCAA Tourney credentials. Both teams appear to be solid NCAA teams, but are looking to improve their resumes. For Louisville, a win on the road against a UConn team that's playing as well as they are would be their biggest of the season so far. For UConn, it would add to the momentum they have from the surprising win on the road against Indiana.
-PORTLAND AT GONZAGA (West Coast). Gonzaga has been blowing past everyone in the league and will probably do the same tonight. They just lost a tough one at Memphis, but shouldn't have too much trouble rebounding tonight.
-OKLAHOMA STATE AT OKLAHOMA (Big Twelve). BEDLAM!!!!!!!! Oklahoma appears to be under the radar as far as the national media is concerned, but they're having a great year. Okie State has struggled and would really need to do a complete 180 if they want to end up in the NCAA Tourney discussion. This appears to be a mismatch, but in a rivalry game like this one never knows what will happen.