-The latest bracket projections are posted below. It is not a prediction of what I believe things will look like on Selection Sunday, but rather a checkpoint of where I believe teams currently stand. In other words, this is what I believe the field would look like if today were Selection Sunday.
-The criteria I use to select and seed the teams is the exact same criteria the selection committee uses.
-The bracket projection reflects games played through Sunday, March 3rd.
CONFERENCE CHAMPIONS
. All 31 conference champions receive automatic bids to the NCAA Tournament regardless of how good or bad the league is. The projected conference champions are all either in first place in the conference/division standings, or tied for it via the loss column. Those teams are Tennessee, Memphis, Duke, Texas, UCLA, Louisville, Xavier, Purdue, Drake, Butler, BYU, Gonzaga, Kent State, South Alabama, Davidson, VCU, Stephen F Austin, Oral Roberts, Boise State, Belmont, Cornell, Siena, UMBC, UNC Asheville, Robert Morris, Cal State Northridge, American, Austin Peay, Portland State, Morgan State and Alabama State.
-More notes and analysis below the bracket.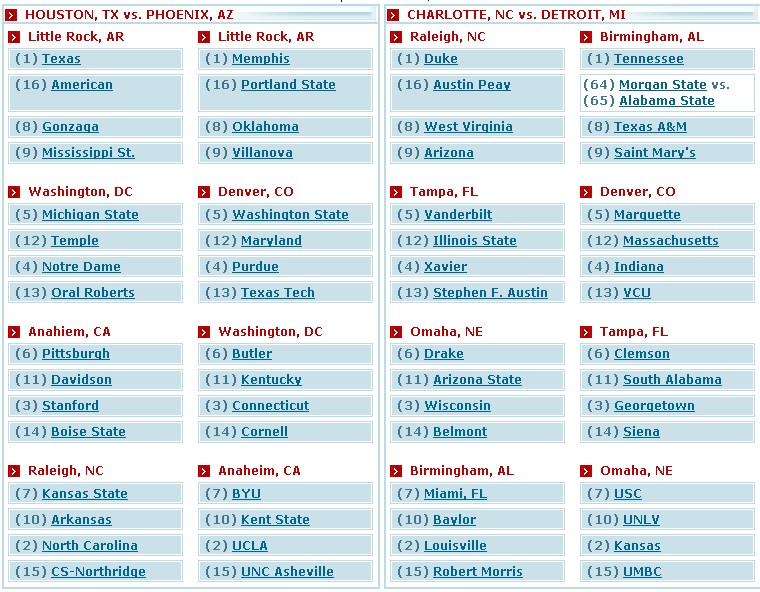 OTHERS CONSIDERED
: Florida State, Wake Forest, Saint Joseph's, New Mexico, Oregon, Southern Illinois, Syracuse, Florida, UAB, Western Kentucky, Creighton, Rhode Island, Mississippi, Dayton
EMAILS
-I like emails (most of the time anyway), but I get a lot that ask why I did something when the answer is right in the article. Whenever I write the analysis, I try to address things that I think people may want explained. Here are some issues (in no particular order) that I've been hearing about via emails. The questions are paraphrased.
-Why do you have Duke ahead of North Carolina??
Simple. The two have similar profiles, and up until this point Duke has won the only head-to-head match-up, and they did so in Chapel Hill. I personally believe once North Carolina gets
Ty Lawson
back they'll be a better team than Duke and will make that case either against them in Durham or in the conference tournament, but I'm not trying to predict the future. These brackets are checkpoints and right now Duke is ahead.
-Why doesn't Xavier have a better seed??
To be honest, I undershot Xavier last year, and it could very easily happen again. They do have a great resume on the surface:
RPI = 6
SOS = 27
11 straight wins
7-1 against the RPI top 50
That's outstanding. I'm not saying it's not, but those are also general indicators. When you take a more precise look, which the committee will do, everyone that I have as a #3 seed or better appears to have better credentials. Out of their seven wins against the RPI top 50, only one (Indiana) was against the RPI top 25. Other wins include Dayton (twice), Kent State, Kansas State, Massachusetts and Creighton. UMass is a bubble team at best and Dayton and Creighton probably aren't in at all. That's four of their seven wins. Kent State and Kansas State are solid teams, but they aren't as good as the wins that a lot of teams on the top three lines have. From what I can see, the teams on the top three lines have better wins, and their losses aren't quite as bad either.
Generally speaking, Xavier looks like they could get a #3 or possibly a #2, but when you look at it closely, it isn't as impressive as someone like Wisconsin, who beat Indiana twice, won at Texas and beat Michigan State. They don't have as many RPI top 50 wins as Xavier, but they have quadruple the number of RPI top 25 wins. Their losses are Duke, Marquette and Purdue, all of which are better than Temple, Miami OH and Arizona State, who have all beaten Xavier.
-Why does Xavier have such a good seed?? Do you favor them because you went there.
I couldn't believe it when I got this, so I had to include it. Most Xavier emails are coming from the other perspective. One person out there actually thinks Xavier should be seeded more poorly than where I have them. It's actually a little encouraging to know there is at least one person on the other side of the fence. And yes, I did graduate from there, but I don't favor them for that reason. As I said earlier, I undershot them last year.
-How can you have Arizona State in?? They're 3-8 in their last 11!!!
Good question. The answer is simple. Here it is…
-Why do you have UMass in?? They're credentials are terrible!!
-Why do you still have Saint Joseph's in?? (they're not in this week, but you get the idea)
-Why is Kentucky in??
-Why is Illinois State in?? (no one asked that, but someone probably will)
-Why is Texas Tech in?? (this one I actually asked myself. Why IS Texas Tech in??)
The bubble is always dicey, and there is always something that is suspect about every team that's on it. After all, that is why a team is on the bubble in the first place. This year, however, is worse than I can ever remember it being this late into the season. I can't remember a season where a team with credentials as poor as Texas Tech, Arizona State, UMass or Temple would be taken. However, they're all the lesser of the evils. No one else that I left out is doing any better. They aren't going to shrink the size of the NCAA Tournament field, so someone has to go. I know a lot of the teams on the #11 and #12 line don't appear to be playing all that well right now, but neither is anyone else.
The bubble is wide open. Because everyone appears to be struggling, all of these teams will have a better chance of getting in if they get some big wins during championship week.
OTHER NEWS AND NOTES
-Kentucky recently learned that they will be without
Patrick Patterson
for the rest of the season. That is a crushing blow for a team that had been playing exceptionally well, and had overcome a very bad start to the season to get themselves back into the NCAA Tournament picture. They fell behind big early to Tennessee, and I thought the destruction of the Wildcats was on, and in those first few minutes of the game it appeared evident that we would not see Kentucky in the NCAA Tournament. To their extreme credit, though, Kentucky came back, hung in there, and kept it close all throughout the second half. They came up just three points short, but it was an impressive showing. The committee will not hold that loss against them. If anything they'll get some credit for playing so well. It's also a statement that they're still able to play at a high level without Patterson (which was not the case earlier in the year), so putting up a strong showing validated some of the big wins Kentucky had with him.
-Arizona played really well after falling behind to UCLA. They had an open look at the end of the game that could have forced overtime, but opted to kick it out for the three and try for the win. After playing such a great game, one has to question the thought process behind that. As a result they barely got a shot up and UCLA held on to win 68-66.
-Clemson overcame a big second half deficit to come back at Maryland and win with a three in the final seconds. Maryland is right on the bubble and could have really used a win like that, especially in the latter half of conference play. The TV camera panned and showed several fans who were both shocked and heartbroken. The bad news is that it was a bad loss for a bubble team. The good news is that no one else on the bubble is doing all that well.
BUBBLE WATCH
-Texas Tech is the last team I took. They have just one true road win, which is a huge red flag, but at least they've managed to beat some quality teams. Their win against Texas over the weekend is huge, and right now it looks better than anything anyone else on the bubble has to offer other than Maryland's win at North Carolina.
-Illinois State got a big win at Southern Illinois. SIU is not a tournament team, but they have played really well at home this season, so Illinois State will get credit for beating them on the road. They still don't have a solid profile, but it's better than most of the rest of the bubble.
-Florida State was once again one of the first teams I left out. If they can manage to win at North Carolina tomorrow night it would almost assuredly put them into the next projection. They close the season this upcoming weekend against Miami. Even if they fall to North Carolina, if they can beat Miami and put up a strong showing in the ACC Tournament that might be enough to put them in.
-Saint Joseph's fell to Temple over the weekend, which was their fifth loss in their last seven games. Temple, on the other hand, is starting to make a case for themselves. They're now the second place team in the Atlantic Ten, and they have a quality win against Xavier, and other notable wins against Massachusetts and Rhode Island. Their RPI is in the 60s, so they don't have a strong case, but this particular year it may not take a strong case to get a team in. They're into the field as a #12 seed.
TONIGHT'S ACTION
-SANTA CLARA AT GONZAGA (West Coast). This is the final game of the regular season for Gonzaga, and they've already wrapped up at least a share of the conference title. This game was a double overtime thriller earlier this year, but it was also played at Santa Clara. Gonzaga is merely playing for seeding purposes because it looks as though their spot in the NCAA Tournament is secure.
-TEXAS TECH AT KANSAS (Big Twelve). Texas Tech is into my projections as a #13 seed. They have just one true road win, though, so they could really strengthen their case if they can pull the upset in this one. Kansas is still going strong and is coming off a decisive win over rival Kansas State. I wouldn't be surprised if they won this in a blowout.
-SAINT MARY'S AT PORTLAND (West Cost). Saint Mary's appears to be way undermatched, but they'll need to take care of business because they don't want a bad loss like this on their resume this late into the season.
-PITTSBURGH AT WEST VIRGINIA (Big East). This is the second edition of this season's Backyard Brawl. The first was a thriller that came down to the wire, and these two have a history of playing exciting games against each other so we could be in for another thriller tonight. Both teams appear to be safely in the field, but a win in this would help in terms of seeding. More importantly, it would give them bragging rights.