-The latest bracket projection is posted below. It is not a prediction of what will happen on Selection Sunday, but rather a checkpoint of where teams currently stand. In other words, this is what I believe the bracket would look like if today was Selection Sunday.
-The bracket reflects games played through March 9th.
-The criteria I use to select and seed the teams is the exact same criteria that the selection committee uses.
CONFERENCE CHAMPIONS
All of the projected conference champions have either won their conference championships or are the highest remaining seed in the conference tournaments. Those teams are Tennessee, North Carolina, Memphis, Texas, UCLA, Georgetown, Wisconsin, Xavier, Drake*, BYU, Gonzaga, Butler, Kent State, South Alabama, Davidson, Stephen F Austin, Oral Roberts, George Mason, UC Santa Barbara, Cornell*, Utah State, Belmont*, Winthrop*, Siena*, Austin Peay*, UMBC, Portland State, American, Morgan State, Sacred Heart and Alabama State
*Teams who have clinched the automatic bid.
-The analysis of the bracket is located below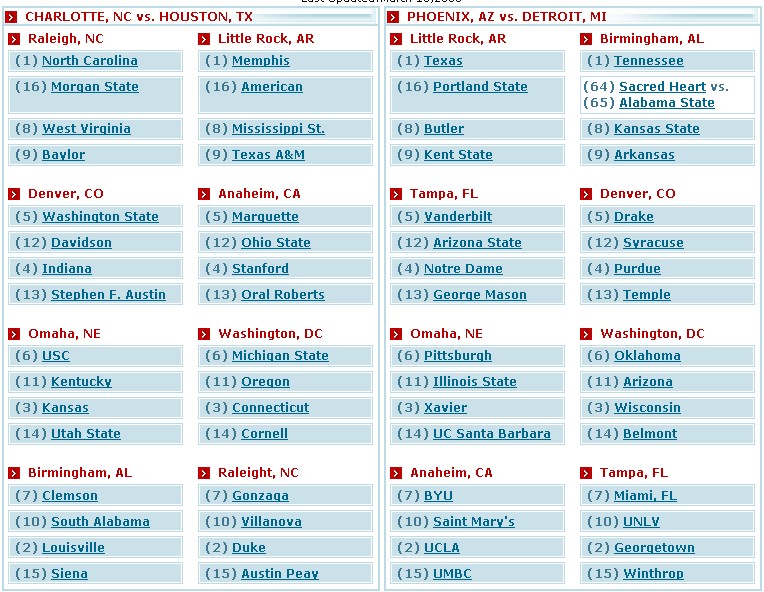 NOTES ON THE BRACKET
OTHERS CONSIDERED
: Massachusetts, Mississippi, Florida State, New Mexico, Saint Joseph's, Florida, Dayton, Virginia Tech, Wake Forest, UAB, Maryland, Western Kentucky, VCU, Houston
TOP SEEDED TEAMS
-Here are some highlights from Tennessee's resume:
RPI = 1
SOS = 1
3-2 vs RPI top 25 (wins @Memphis, @Xavier, Vanderbilt)
11 additional wins against the RPI top 50.
I believe that will be enough to lock them into a #1 seed regardless of what happens the rest of the way, even if they lose their first conference tournament game. With all of the other teams playing there are quite a few moving parts so one can never say for sure, but a lot would have to happen to knock them off the top line.
-North Carolina's win at Duke should give them a #1 seed. Winning their first ACC Tourney game should completely sew it up, especially since their previous loss to Duke was without
Ty Lawson
.
-Memphis is Memphis. Winning the conference tournament should earn them a #1.
-My fourth #1 seed is Texas. They are probably the weakest team I have on the top line, but considering that they've beaten both Tennessee and UCLA away from home, it's hard to argue that UCLA should be ahead of them right now. They've also beaten Kansas, although they did so in Austin. They may struggle in the conference tournament because they do have issues with their depth, and winning three games in three days could be a challenge, and that could prevent them from getting a #1.
-If Texas loses, especially if it's early, and UCLA wins the Pac Ten Tournament, I could see them getting the fourth #1 seed. I don't believe this is a factor (it certainly wasn't last year), but it would be geographically convenient. UCLA would benefit from the #1 seed in the Phoenix Region more than anyone else.
-Kansas as a #3 probably looks low, but I just can't seem to get them any higher up. Of course if they win the Big Twelve Tournament, which they're certainly good enough to do, I don't see them as a #3 seed. However, as for now, they only have one RPI top 25 win (Oklahoma). Everyone that I have ahead of them has taken down more heavyweights. Louisville has some noticeable losses, but just about all of them came when they weren't at full strength, so I believe they currently have an edge over Texas.
-Georgetown and Louisville both received #2 seeds, but I currently have Georgetown higher on the S Curve. However, a case could be made to put Louisville ahead of them even though they finished behind Georgetown in the conference standings. The two split the regular season series and Louisville wasn't quite at full strength when they lost their conference opener to Cincinnati. This issue will probably be settled in the Big East Tournament. If they face each other again in the championship game, or if one of them wins the conference tournament, that team will probably get the higher seed/S Curve ranking.
MIDDLE SEEDED TEAMS
-I've noticed in most analysis that the teams that are solidly in the field, but not on the bubble or competing for a #1 seed tend to get lost in the shuffle.
-Drake won the Missouri Valley Championship yesterday with a convincing win over Illinois State. They've actually got quite an impressive profile and should get about a #5 seed. I don't see it being any worse than a #6 and it could be as good as a #4. Their currently 12th in the RPI and they have notable wins at Butler and three against Illinois State.
-Baylor has come out of a slump where they lost six out of seven by winning four out of their last five to close the regular season. I believe they're a lock, but can obviously build on their profile in a big way with some quality wins in the conference tournament. They face Colorado in their first Big Twelve game, and if they win they'll go on to face Oklahoma. Both games are winnable, and they'll most likely face Texas after that. It's also a chance for Oklahoma, who is also solidly in the tournament, to build up their profile and improve their seed.
-Washington State finished up their season with an overtime thriller against rival Washington. They ended up tying for third in a very competitive Pac Ten Conference and will face Oregon in their first game. What's interesting about Wazzu is that they actually had a better record on the road in conference play than they did at home. It will be interesting to see how well they do in the conference tourney. Perhaps the fact that it's at a neutral site will work in their favor.
-Clemson is nationally ranked and they finished their season with an exciting win against Virginia Tech and ended up earning a bye in the ACC Tournament. They're in the NCAA Tournament, but they have just three wins against the RPI top 50 (@Mississippi State, Purdue, Miami FL), so they could really improve their seed with a win or two in the conference tournament.
-Mississippi State, one of the teams that Clemson beat, is also lacking in the quality wins department. The SEC Tournament is a chance for them to pick up some standout resumes and get out of the 7-10 seed range.
BUBBLE WATCH
-Virginia Tech has zero RPI top 50 wins and really hasn't beaten anyone that's solidly in the field, although they do have wins over Florida State and Maryland, who are both on the bubble. They had a chance to beat Clemson, but lost in the final seconds. That would have been a huge step forward toward making the NCAA Tournament. Now they need a strong showing in the conference tourney. They actually did finish fourth and they do have a bye, but the conference scheduling isn't balanced and they only played the top three teams (Duke, North Carolina, Clemson) once and lost all three. If they lose in the quarterfinals I believe they'll be bound for the NIT.
-Temple was the last team I took, and they'll most likely be out of the NCAA Tournament picture if they can't win some games in the Atlantic Ten Tournament. They're 9-3 in their last twelve games, have a notable win against Xavier, finished second in the standings, and beat both UMass and Saint Joseph's (who are also on the bubble). Out of those three, Temple appears to be the most deserving. What's interesting is that there could be a semifinal of Xavier, Saint Joseph's, UMass and Temple. With three of those four teams squarely on the bubble that would have huge implications as to who ends up getting those final NCAA Tournament spots.
-Arizona State has the best wins out of anyone on the bubble, but they also have one of the weakest finishes to the regular season. They'll play USC in their first conference tournament game, and I believe that is a must win. It's still possible they'll get a bid if they lose, especially since they recently beat USC on the road just last week, but they'll really be sweating and depending on what happens in other conference tournaments they could see their spot vanish.
-South Alabama and Davidson are squarely on the bubble. I believe South Alabama will get in if they can beat Middle Tennessee (a team they lost to earlier this season), tonight, and possibly even if they don't. Davidson, however, probably needs to win their conference tournament. It would certainly save them a week's worth of headaches.
-I believe Kentucky is in, and one more win in the conference tournament should pretty much ice a bid. They've had one of the strongest finishes of all the teams that are on the bubble, and that counts for quite a bit. One of their two losses in their last ten games was a close one on the road to Tennessee, whom they beat earlier in the season, so their credentials are pretty solid.
-Syracuse has several close losses, but picked up two decisive wins to close the season (@Seton Hall, Marquette). They'll be facing Villanova in the opening round of the Big East. I believe Nova is in, but they could be a little nervous on Selection Sunday if they fail to beat Syracuse. Syracuse will certainly be sweating it out if they lose that game. Whoever wins that one will certainly have more peace of mind than they do right now.
-Ohio State has managed two big wins to close the season (Purdue, Michigan State). They're in the bracket, but barely, and they'll really be in trouble if they are bounced early from the Big Ten Tournament. One of their biggest problems is that they haven't played all that well away from home, and prior to winning their last two games they'd been in a major slump. Those are their two best wins of the season, so it really enhanced their credentials, but they still have some work to do if they want to feel safe.
-Ole Miss was one of the teams I have close to the bubble, but on the outside of it. They have just two true road wins, but they do have some neutral floor wins from earlier in the season and have the chance to pick up some more this week in the SEC Tournament. They've also won three straight to close the seaosn, which helps. If they can extend that out to five or six it will probably be enough to get them in. They open against Georgia and that's a must win game. If they lose that one I believe their NCAA Tournament hopes will come to an end.
CONFERENCE TOURNAMENTS
WEST COAST CHAMPIONSHIP
-#3. SAN DIEGO VS #1. GONZAGA (***Automatic Bid***). San Diego fell behind early to Saint Mary's and it appeared that their NCAA Tournament hopes were coming to an end, but Saint Mary's had just one field goal in a ten minute stretch toward the end of the game, which enabled San Diego to come back and force overtime. Even that wasn't enough as the game went into a second overtime, and San Diego pulled the upset. Gonzaga also had quite a bit of trouble in their semifinal game against Santa Clara. The Zags pulled it out, but were helped by a controversial call late in the game which ended up fouling out one of Santa Clara's best players. Still, Santa Clara had several chances, but just couldn't convert as Gonzaga's defense stepped up big. As for tonight's game, Gonzaga is going dancing regardless, but San Diego needs to win in order to get in. They finished the season strong, and the tournament is at San Diego, so the players fans should be out in full force for this one in what promises to be an electric atmosphere. If San Diego wins, then it means that one less bubble team will be making the field. Gonzaga won both regular season games, but the one in San Diego was a battle. Chances are this one will be a battle tonight as well.
COLONIAL ATHLETIC CHAMPIONSHIP
-#5. WILLIAM & MARY VS #3. GEORGE MASON (***Automatic Bid***). William & Mary has won three exciting games to get this far, all of which were decided in the final seconds by three points or less. They took down VCU in the semifinals, which is one of the more notable upsets of the week so far. VCU may get some consideration for an at-large bid, but I doubt they'll be selected. They just have too many bad losses and not enough good wins. George Mason defeated UNC Wilmington in the other semifinal in a game where neither team could get it going offensively. Chances are they'll play better tonight. If not, then William & Mary has a chance. It would be a huge stepping stone for a William & Mary program that has struggled for so long. As for George Mason, they've had a rough season, but can redeem all of their previous struggles with a win tonight. They're capable of playing some pretty good basketball so they could turn out to be a tough out in the first round.
SOUTHERN CONFERENCE CHAMPIONSHIP
-#7. ELON VS #1. DAVIDSON (***Automatic Bid***). Davidson could still get into the NCAA Tournament if they fail to win this game, but it would be too close for comfort. They'd save themselves a week's worth of worrying if they can just take care of business. Losing to Elon wouldn't look all that good to the committee either, especially considering that they don't have any wins against the RPI top 100 to offset it. Elon ended up with just the #7 seed, but they did manage to keep both games with Davidson within ten, and nearly pulled an upset in one of the meetings. That's noteworthy because Davidson pretty much blew out everyone else. If Elon does pull an upset, they won't be looking at a very good seed, but I guess that doesn't really matter.
METRO ATLANTIC CHAMPIONSHIP
-#2. RIDER VS #1. SIENA (***Automatic Bid***). There wasn't a whole lot of separation in the conference standings, which was a testament to how much parity there was in this league, but the two teams that tied for first will now face each other for the automatic bid. Neither team had an easy route through the semis. Siena had to overcome a 17 point deficit to beat Loyola MD and Rider struggled against Marist in their game. Every game in this tournament has been close. It's actually been one of the more exciting tournaments so far in that regard. Hopefully we'll see another good game tonight. During the regular season, both teams won on the road, so they're pretty evenly matched.
SUN BELT SEMIFINALS
-#4. MIDDLE TENNESSEE @ #1. SOUTH ALABAMA. South Alabama really struggled with New Orleans yesterday, which was sort of a surprise. If they fail to win the conference tournament they'll be on the bubble, but I believe they will get in. Still, they're close enough to the bubble to where they won't want to leave it to chance, and losing this game would be more damaging than losing in the championship game Middle Tennessee did beat them earlier in the year, so a South Alabama win is anything but a guarantee.
#3. WESTERN KENTUCKY VS #2. ARKANSAS LITTLE ROCK. Western Kentucky is clearly the better team and had a much better season. It's just that the two division winners are guaranteed the top two seeds and WKU is in South Alabama's division. WKU would be a dangerous opponent in the NCAA Tournament, but they most likely won't get in without winning the conference tourney, so their NCAA hopes are on the line tonight.
SUMMIT LEAGUE SEMIFINALS
-#5. IPFW vs #1. Oral Roberts
-#3. Oakland vs #2. IUPUI
Oral Roberts beat IPFW rather handily both times and actually blew them out in their last meeting, so one has to like their chances of advancing. IUPUI and Oakland are pretty evenly matched, and Oakland won the most recent match-up just a few weeks ago. IUPUI really struggled to get out of the quarterfinals and will need to play much better tonight if they want to advance to the championship game.