-The current bracket projection is posted below. It takes into account games played through Sunday, December 9th. The bracket itself is not a prediction of the future, but rather a checkpoint for where teams currently stand. Some of the seedings and selections may look unusual because of that.
OTHERS CONSIDERED, BUT NOT IN THE BRACKET
: (Maryland, Purdue, Syracuse, Connecticut, San Diego State, Georgia, Providence, Missouri State, Illinois, Florida, VCU, Alabama, Drake, Minnesota, Sam Houston, Texas Arlington, Houston, Akron, UNLV, UTEP)
-I see no reason to not start with this, especially since I believe a lot of these teams are good and some will undoubtedly get in.
-Syracuse has wins against Washington and Virginia, which are notable. A strong argument could be made to include them at this point. It's just that it's hard to argue putting them in ahead of either Massachusetts, which was one of the last teams I took, when they beat Syracuse in the Carrier Dome. Defensively is where this team appears to struggle. It's unusual to see Syracuse, who normally plays very strong defense, not be able to shut down anyone. If they can fix that then they'll be a lot better.
-Maryland, the first team out, is 6-3 on the year. They failed to defeat Boston College at home last night in a game that was close throughout, but also a game where Maryland didn't look to be as good a team despite the fact that they were playing at home. They do have a neutral floor win against Illinois, and they have certainly shown enough potential to get in safely if they play up to it, but at this point I don't feel they've done as much as everyone else I've included.
-Purdue has not won a road game, but has played well against both Clemson and Missouri, both of which are very good teams. This is a team that only won a couple of road games a year ago, and already they've shown that they're better on the road even though they haven't won…YET. At this particular checkpoint, the unfortunate thing is that they haven't won on the road and the teams they have beaten at home are a combined 10-22 on the year, and none look like they're on their way toward becoming a whole lot better.
-Connecticut looks like a good team, and nearly defeated Gonzaga. Until they actually defeat someone that's good (which they'll get many chances to do) it's hard to argue they belong.
-Georgia clobbered Wake Forest over the weekend, and has only one loss on the season. Injuries and suspensions have wreaked havoc on the non conference portion of their season, but they appear to be coming through it as well as anyone could hope. Even if they were to drop a couple of games, the committee would factor in that they are not at full strength. If they can get back to mostly full strength for the SEC and do reasonably well, there should be a spot for them.
-South Florida looked as pathetic as South Florida usually looks in their first three games and lost all three, and that's why they're not in this bracket. However, haven't lost since. The Bulls have won seven in a row, and although they haven't beaten great teams, they've beaten some pretty good ones, including Florida State (who's in the bracket) and UAB.
Dominique Jones
is a shot making machine. He's shooting 52% from the floor for the season, and over 41% from behind the arc. Kentrel Granberry is also averaging a double-double at this point in the year. They are a team that is way under the national radar, and I haven't really gotten to see them yet, but seven wins in a row is nothing to ignore. If they're good enough to do it, the Big East will give them the chances they need to build their resume. They already have what looks to be one good win against Florida State.
-The Southland Conference has gotten my attention. Sam Houston and Texas Arlington are both undefeated. That's not overly impressive on a national scale because other than Sam Houston's win over Texas Tech, none of the wins were against anyone noteworthy, but to have two unbeaten teams this late in the year in a conference that never really does much is worthy of attention. Stephen F Austin, the team I projected in as the conference champion, just won a big game at Oklahoma, and the Sooners had been playing well prior to that. If I've noticed this league, then I'm sure the members of the committee have.
-Davidson isn't in the bracket and isn't even on the list of teams being considered. They opened up a huge lead against UCLA in Anaheim over the weekend, but couldn't hold onto it. I've seen Davidson on TV and they look great. They are a good team that is good enough to beat other top caliber teams, but they haven't done it yet. In addition to that, they've managed to lose to Charlotte and Western Michigan. As it stands now, their only div1 wins are against North Carolina Central (who is going through the transitional period to become div1) and Appalachian State. I'm sure it's discouraging for Davidson to have played so well and have so little to show for it, but there is still a very long way to go between now and March.
-Projected conference champions are teams that are either currently in first place, or tied for it via the loss column.
-More news, notes and analysis below the bracket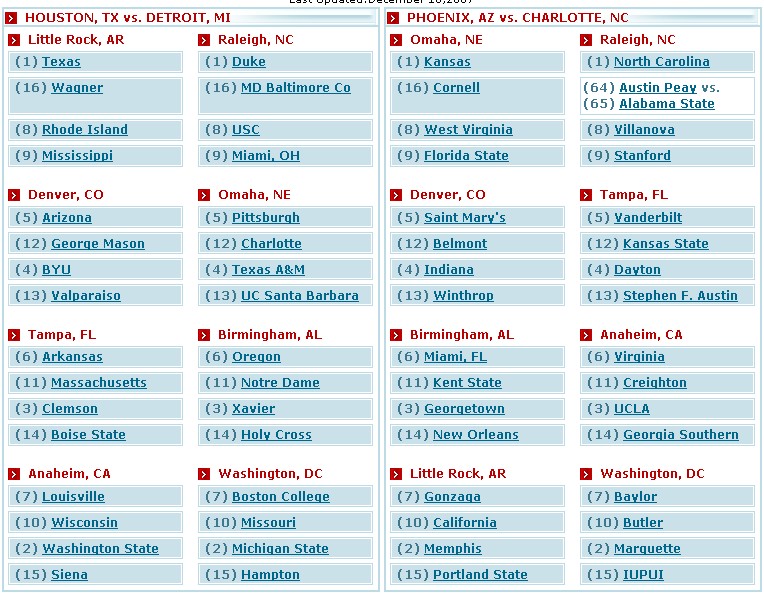 TEAMS THAT WERE MOVED TO MEET THE BRACKET RULES
(UP: Florida State, Louisville….DOWN: California, Villanova)
NEWS AND NOTES
-First off, some things that are on the radar, but not in full view.
-Several leagues began conference play this past week, which may appear to be unusual because the bulk of the conference season doesn't get underway until January. It was recently pointed out to me that it is necessary for conferences who participate in the Bracket Buster to open play this early because it takes a weekend of routine conference scheduling away. From what I've heard, most coaches and players don't feel that it's disruptive. It is, however, an interesting note.
-Butler, a team that came into this week ranked #13, is not in first place in the Horizon League. They fell at Wright State in a very tough, defensive game 43-42. It's noteworthy because last season Wright State tied Butler for first place in the standings, and actually won the home court advantage for the conference tournament due to the tiebreakers. The regular season champion of the Horizon League byes into the semifinals and earns the right to host the conference tournament, and Wright State was able to defeat Butler last year on their home court in the championship game. This recent loss was potentially damaging for Butler because not finishing, or at least tying for first, will hurt their seed. It's extremely rare that a team who doesn't finish or tie for first in the conference standings is selected for an at-large, and the first place team is left out altogether.
Butler is a good team, but they aren't going to have an easy time in the Horizon this year. This was the third straight time Wright State has defeated Butler, and they struggled down the stretch in conference play last season.
Valparaiso, who is also in the Horizon League, won two conference road games (one of which was against Wright State) and was awarded the automatic bid this week. Valpo only has one loss on the year (Vanderbilt), and has quite a few wins away from home. None of their wins would really jump out at the committee, but they do have games against Wisconsin and North Carolina coming up, along with two shots at Butler and a Bracket Buster game. If Valpo is good enough they'll get their chances to impress the committee.
-The Dayton Flyers were the story of the weekend. They defeated #11 Louisville at Louisville, and basically led for the entire game. Dayton was a team that couldn't beat anyone close to mediocre on the road last season, and now they've won three in a row against Miami, OH, Holy Cross and Louisville. All of those are good teams, but Louisville is the best and most notable. The Flyers really never trailed, and every time Louisville built up momentum to either tie the game or take the lead, Dayton regrouped and put the lead back at arms length.
Brian Roberts
had 28 points for the Dayton in what was a very impressive performance. Dayton is in as a #4 seed. I don't necessarily believe they're good enough to maintain that, but based on what they've done so far it's better than everyone else below them.
It's been continually pointed out that Louisville is without
David Padgett
and
Juan Palacios
. Doug Gottleib mentioned it about fifty times during the game. There is no denying that Louisville would be better with both players. However, up until now they only had
David Padgett
against Hartford and they haven't had Palacios at all, but yet they're still ranked #11. Obviously, the voters thought they've looked pretty good up until this point, so it's still a good win for Dayton. As for Louisville, Palacios should rejoin the team shortly, and the committee will factor in his absence.
-Rhode Island, another team out of the Atlantic Ten, is off to a great start. Their only loss was at Boston College, and it was in a game where they led most of the way. They just won an exciting back and forth battle at Syracuse, and blew out rival Providence in the game before that. They appear to be a very solid team. Their defense could have used some work against Syracuse, but it was still good enough to get them the win. They're in the bracket this week with a #8 seed.
-Mississippi is still undefeated, and just won their first true road game against UCF. That's not overly impressive, but at the very least it's a sign that they can play and beat a somewhat decent team on the road. They're in this week as a #9 seed, and I do believe that they're a good team, but it's still hard to say for sure.
-Kent State lost their opener at Detroit by a point, but has been playing lights out since then. They did fall to Xavier in the Chicago Invitational, but other than that game they've been winning convincingly. They defeated George Mason, which is a good team, very handily 73-55 in their last outing. They have two more very winnable games, and then they visit North Carolina. I wouldn't expect them to win that one, but they're still a team to keep an eye on, and the George Mason win is a good one.
-Saint Mary's remained undefeated with a neutral floor win against a very good San Diego State team in the John Wooden Classic. The game flip-flopped back and forth, and neither team could hit their freethrows. Still, it's a big win for Saint Mary's, who has actually looked better than Gonzaga so far this season. In saying that, Gonzaga is not at full strength yet and has played a lot more games away from home than Saint Mary's, but SMC looks like they could really challenge Gonzaga in the WCC this year.
OTHER TIDBITS
-Texas is the top #1 seed this week, but aren't playing the opening round winner because the committee would most likely place them in Little Rock, and those games are scheduled for Thursday/Saturday. They are undefeated with wins at UCLA, and against Tennessee (which was a blowout).
-Villanova overcame thirty minutes of crap, and came from over 20 points down to defeat LSU. It's heartbreaking for LSU, but it is noteworthy that they were at least able build that kind of lead against Villanova in Philadelphia. Nova defeated cross-town rival Temple on Sunday, and is still solidly in as a #8. I believe they will get better as the season continues, and as a result continue improve their resume.
-Washington State defeated Gonzaga 51-47 on Wednesday night. The score was close, but watching it gave the impression that Wazzu was in control the whole way. This is Wazzu's second impressive road wins (the other being at Baylor, who is undefeated other than that game). It will be fun watching the Panthers in the Pac Ten this year.
-Stanford may appear to be underseeded as a #9, but they're also underscheduled at this point. They're obviously good despite the hiccup loss at Siena, but as of now their best win is at home against UC Santa Barbabara.
-BYU lost a tough one to Michigan State in Salt Lake City. It was a game where the Cougars led early, but Michigan State kept their poise on the road and ended up beating a very good BYU team. I don't know how many people actually got to see this game, which is unfortunate because it was a good one. I know DirecTV broadcast it on BYU's own network. At least DirecTV, and other satellite companies carry that network. For whatever reason DirecTV (who has told me they are aggressively seeking an agreement) can't seem to finalize a deal with the MTN network, which has broadcasting rights to the Mountain West Conference. Hopefully that will be resolved soon so people east of the Mississippi River can actually tune in and watch the MWC. I still have both teams benefiting from the Pod System. Michigan State checks in as a #2 seed, and BYU is at a #4.
-Notre Dame got a big win against Kansas State in Madison Square Garden last week. The Irish struggled in the Paradise Jam, and although they've been winning since then it really wasn't against anybody good. The win against K State confirms that they can compete with and win against talented teams.
-Kansas State had been in some close ones before that, and the game against Notre Dame was also close, but they finally got over the hump and beat what looks like a very good California team yesterday. It's their best win of the year, and hopefully for them it gives them something to build on. Kansas State was the last team in the bracket, and is seeded #12.
FINALS WEEK
-Coppin State visits Ohio State tonight, and that's really it as far as tonight's notable games are concerned. Most schools have finals this week, and as a result we aren't going to see that much college hoops. That's a good thing. This is, after all, COLLEGE basketball.
I know a lot of college students and college players read this board. I know what it's like to feel like you have one hours time to finish three hours work. I've been there before. If that's how you feel right now, then here is my advice; STOP READING THIS AND GET BACK TO WORK!!!