-The bracket projection is pictured below. It is not a prediction of the way I think things will look in March, but rather a checkpoint for where teams currently stand. That is why some of the seedings and selections may appear to be a bit unusual.
-The projected conference champions are teams that are currently in first place in the conference standings, or tied for it via the loss column.
-Louisville, Gonzaga and Purdue are probably all going to be solid NCAA Tournament teams this year, but they aren't in this bracket.
-Louisville is really struggling right now with just seven scholarship players at their disposal. They fell to Purdue over the weekend in the Wooden Tradition in Indianapolis, which was their second loss in a row. The good news for the Cardinals is that their next four games are very winnable, and they should have
Juan Palacios
and
Derrick Caracter
back by January. I'm normally not a fan of teams who schedule too many cupcakes, but in this case I think Louisville needs some easy wins, and they need to get healthy before Big East play begins.
-Gonzaga is another team that is not at full strength, although they aren't nearly as shorthanded as Louisville.
Josh Heytvelt
should be rejoining the team, and once he does the Zags should improve on the court. They haven't played badly at all, and they do have a very nice road win against Connecticut, so I believe they're in good shape. It's just that at this point in time I don't believe they have as many big wins as the teams in the field. The one thing that the committee will really like about the Zags is that they have traveled a lot. They've been to Alaska and to the East Coast and were able to rack up some pretty impressive wins on both road trips.
-Purdue is one of the youngest teams in the nation, but they're growing up in a hurry. I definitely believe they are an NCAA Tournament caliber team and that it's only a matter of time before they get the high profile wins that they'll need to impress the selection committee.
RPI
-I haven't been using the RPI all that much because at this point in the year it really isn't helpful. It is beginning to take shape, though, as we approach conference play.
-Miami, FL currently holds the top spot. That's not too surprising because they're undefeated and have actually beaten some really good teams. I don't think they're the best team in the country by any means and I fully expect them to take some lumps in ACC play. They are pretty good, though, and appear to be a solid NCAA Tourney team.
-Texas A&M is right behind them, which isn't too far off from where they could end up.
-Saint Mary's, Texas Arlington and North Texas are all currently in the RPI top 15. Saint Mary's is a very good team, but even if they keep winning at the rate they have been they aren't likely to stay that high in the RPI simply because their conference will drag it down somewhat.
-Texas Arlington's will likely drop as well, but in looking at the Southland Conference, TX Arlington and Sam Houston are both undefeated. Stephen F. Austin only has one loss, and the West Division by itself has five of the six teams at or above .500. That's a sign that the RPIs of the teams who finish at the top of the league will probably turn out to be fairly impressive, especially if one or two teams end up dominating the conference. The more wins a conference has collectively during the out of conference portion, the more likely it is that the RPIs will improve once they begin playing each other. Having said that, the league doesn't have an abundance of quality wins, and the teams that they've beaten could easily offset the rise that teams would be getting out of conference play, so scheduling nothing but cupcakes isn't going to work if schools are trying to inflate their RPIs. However, the Southland does look like it has some competitive teams and it should be a fun league to follow this year.
-For the most part, it doesn't look like there were too many teams that loaded themselves up with cupcakes this year, so the RPI will likely end up being a better indicator than usual when it comes to determining how good everyone is. The SEC is probably the league that appears to be the guiltiest of underscheduling this year. Florida has just one loss, but has an RPI of 140. Georgia, who also has just one loss on the season so far, checks in at #120, and Auburn with two losses is in the #150s. Those RPIs will improve, especially once we get into conference play, but as of now none of those teams have proven themselves, and that will be a problem if they can't prove themselves in conference.
-More notes on the bracket are posted below.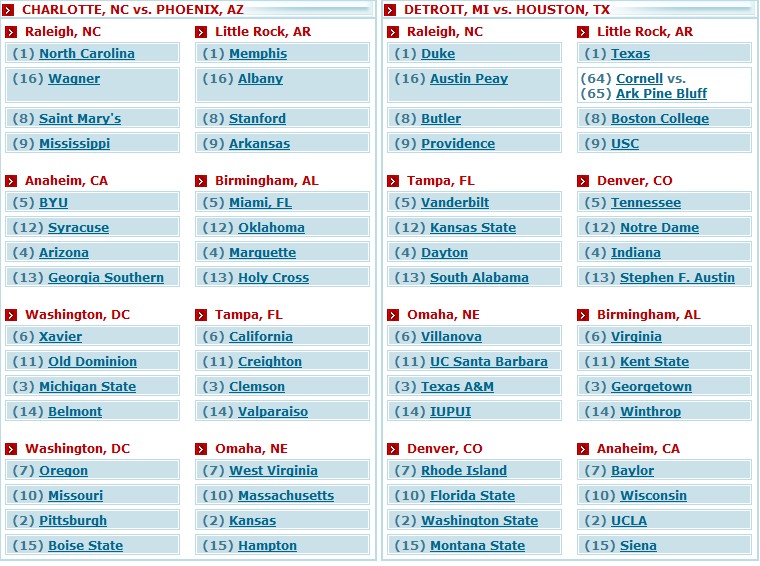 OTHERS CONSIDERED
: Purdue, Gonzaga, Louisville, Nebraska, Arizona State, Seton Hall, San Diego State, South Florida, Miami OH, UAB, Georgia, Florida, New Mexico, Connecticut, Alabama, Ohio State, Illinois, George Mason, VCU, Utah, UNLV, Minnesota, Bradley, Drake, Sam Houston, Texas Arlington, Houston, Western Kentucky, Akron, Northern Iowa
TEAMS THAT HAD TO BE MOVED TO MEET THE BRACKET REQUIREMENTS
(UP (better): Rhode Island, USC, Old Dominion, Kent State, UC Santa Barbara, Creighton, DOWN (worse): Syracuse, Notre Dame, Kansas State, Oklahoma, Stanford)
-At this point on the season, the brackets are always going to be a little whacky. The entire #11 line had to be switched with the entire #12 line to avoid conference match-ups prior to the Elite Eight.
-Arkansas is projected as a #9 seed and was placed in Little Rock for the first/second round. That may not seem fair to the #1 seed, but it is within the rules, and actually follows the protocol.
RECAPPING THE WEEK
-Last week was rather slow due to finals, but there were a few notable match-ups.
-Nebraska topped Oregon 88-79 in overtime in what was a great game in Omaha. Nebraska really looks like they have their program headed in the right direction. They've certainly been improving as the year has gone on, and although they were at home, they beat a very good Oregon team that was road tested. The Ducks actually missed a chance to win at the end of regulation when
Tajuan Porter
was fouled shooting a three, hit it, but missed the freethrow. Sophomore guard
Ryan Anderson
was tremendous for the Huskers. He played 38 minutes, scored 21 points, was 5-9 from the field, grabbed 9 rebounds, and played outstanding defense with 4 steals. He did all that against a very good Oregon team. He wasn't even the leading scorer. Center
Aleks Maric
had 23 for Nebraska. The students who made the sixty mile trip to Omaha stormed onto the court after the game. It's been awhile since I've seen Nebraska fans this excited about something involving the basketball team. Head coach Doc Sadler has done an amazing job since taking over two years ago, and the Huskers may be able to surprise some people in the Big Twelve this year. They're 8-2 with wins over Arizona State, Rutgers and Oregon. Not great, but certainly worth taking note of. Nebraska isn't in my bracket just yet, but I've certainly got my eye on them and I'm certain they've gotten the attention of the committee as well.
-Miami, OH is 4-4 and six of the eight games have been decided by five points or less. They've had about the same amount of good luck as they have bad luck, but this past Saturday it was all bad. They led Wright State by 16 at the half and never trailed in the game…until Wright State's Todd Brown hit a buzzer beating three point shot to knock off the Redhawks 58-57. The ball went in after the horn sounded, so Miami literally led for 40 minutes and still lost. They are not in the bracket this week, but I still think they are a good team. If you're a general basketball fan who is looking for a team who plays in a lot of exciting games, the Miami Redhawks are for you. It seems like every game comes down to the wire regardless of who they're playing.
-Tennessee's game against Western Kentucky was every bit as entertaining as I thought it would be. Both teams are very athletic, and that made for some spectacular plays and performances. Every time it looked like the Vols were going to pull away, WKU would come back. The atmosphere at the game was great as well because it was in Nashville, the arena was slammed full, and it looked like it was a pretty even split on television.
Courtney Lee
had a great game for WKU with 23 points and 8 rebounds in just 28 minutes.
JaJuan Smith
led the way for the Vols with 19, but three other players scored in double figures as well. The Vols picked up a nice 88-82 win. WKU needed the win more than Tennessee because they aren't going to get too many shots at quality wins from here on out and nothing they've done so far will jump out at the selection committee.
-Butler picked up a big win against Florida State, which is probably their most impressive win of the season so far. The Bulldogs are in great shape and if they can avoid stubbing their toes too many times in conference play they should be okay for an at-large bid.
-Last, and possibly least, Xavier struggled earlier in the week against what was by all accounts a very poor Cincinnati team, but ended up with a 64-59 win. They followed up that performance by traveling to Arizona State, and the only thing they did right was show up to the game on time. The Musketeers jumped out to an 8-0 lead, and then proceeded to be outscored 77-47 from that point on. Arizona State is a young team, but all the players came together on Saturday as they blew out the 17th ranked team in the country. For the second game in a row, Xavier's shooting was terrible at just 31%. Arizona State shot an amazing 60% from the floor including 10-19 from beyond the arc.
TONIGHT'S HIGHLIGHTED ACTION
-There isn't much to highlight. Creighton, Duke, Gonzaga, Illinois, Kansas State, Marquette, Miami FL, Missouri, San Diego State, Alabama and Purdue are all playing cupcakes. Duke vs Albany might be interesting because Albany looks to be one of the better teams in the America East, but even that has a #1 vs #16 feel to it.