-The latest bracket projections are posted below. It is not a prediction of what I think things will look like in March, but rather a checkpoint of where I believe teams currently stand. That is why some of the seedings and selections may look a little unusual.
-The 31 projected conference champions are all either in first place in the conference standings, or tied for it via the loss column.
-Bracket reflects games played through December 30th.
-There are nine Big East teams in the bracket, which means it is impossible to avoid a potential match-up prior to the Elite Eight.
TEAMS THAT ARE UNTESTED/UNPROVEN
-At this point, we still have cases where teams are ranked highly, but don't have good RPIs and/or don't have any impressive wins just yet. Much of this is due to scheduling lightly out of conference. Syracuse has been guilty of this in the past, but they are by no means the only ones. Rather than going on the road to play quality competition, several teams like to load up on cupcake opponents at home. The motivations for scheduling that way are mostly financial. For UCLA to schedule a team such as Memphis, they would need to either play them at Memphis the following year or shell out more money to Memphis than they feel it is worth. For UCLA to schedule UC Riverside, they could cut them a check for about $50,000 and leave it at that. UCLA would likely make at least four times that off of ticket sales alone, so it's a big payday for everyone. That's why I use the term "Buy Game." I can completely understand playing a few Buy Games, but I believe it's damaging to play too many of them. For one thing, it puts too much pressure on a team to perform in conference. A team must make its case to the committee at some point and if they play nothing but cupcakes out of conference, they're taking a pass on adding anything of substance to their resume in the first half of the year. With that resume 9-7 in the Big East, SEC or Pac Ten may not be enough to get a team in. Also, if a team plays on national television, they can get exposure as well as some TV revenue, so it isn't as if they have to schedule nothing but Buy Games in order to pay the bills.
-The data the selection committee uses is still not all that conclusive, but it is beginning to take shape. However, there are a lot of teams that appear to be good that still have weak credentials, and most of it is because they've played too many Buy Games.
-Georgetown's RPI is 60 and their SOS is 263. They have just two wins against teams with winning records, and that is American and Alabama. They're ranked high in the Coaches' Poll, though, which means that it is likely they'd be ranked highly in the NABC rankings. Right now, they're in the bracket as a #5 seed. I do believe they're better than that, but since this is a checkpoint and not a prediction of the future, it's hard to point to anything the Hoyas have done that's worthy of a better seed.
-UCLA has an impressive win over Michigan State and another notable win against Maryland, but it has been cupcake city other than that. They have a loss to Texas, and no other wins against teams who currently have winning records. As a result, their current RPI is 54 and their SOS is 209. They are also a #5 seed in this bracket.
-Indiana has a few decent wins, but nothing spectacular. They have played five teams who currently have three wins or less, which is why their RPI is just 46. They'll have a chance to improve their credentials big time once conference play begins, but as of now I only have them in as a #7 seed.
-Stanford is another team who has an impressive record, but has racked it up against an unimpressive schedule. I don't know how good Stanford really is yet, and I guess we won't find out until they begin Pac Ten play.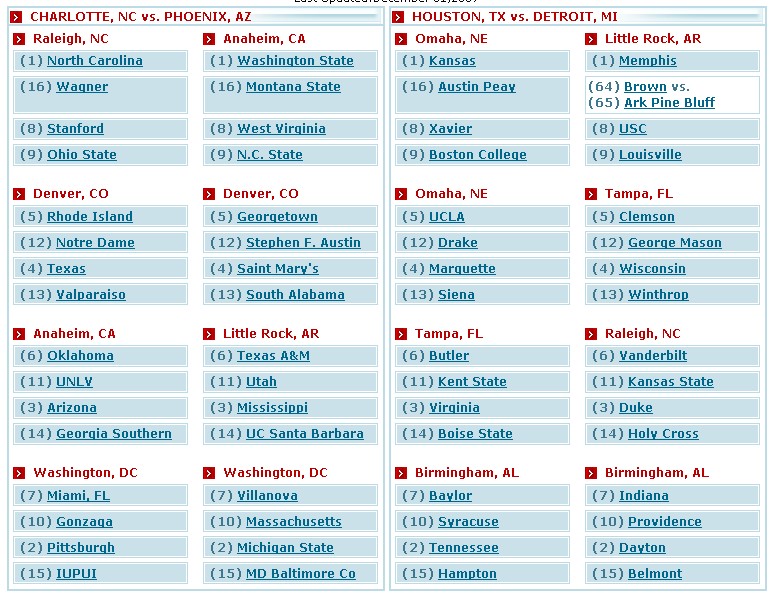 OTHERS CONSIDERED:
Florida State, Nebraska, BYU, UConn, San Diego State, Arkansas, Illinois State, Creighton, Sam Houston, Miami OH, Alabama, Oregon, Northern Iowa, Duquesne, Ohio, Wright State, Minnesota, Seton Hall, Houston, New Mexico
-Nebraska has one notable win against Oregon and appears to be a good team, but at this point in time they're lacking in the quality wins department and will need to prove themselves in conference.
-Arkansas looks good and their schedule has some good brand names on it, but wins against Missouri and Missouri State aren't looking as impressive as they did at the time. They do have another win against VCU and I believe the Razorbacks are good, but they just don't have the credentials yet, which is why they're not in the bracket.
-Notre Dame is in, but barely. There schedule really hasn't been all that tough and their only notable win came against Kansas State. There really isn't any difference between the Irish and Arkansas or Florida State right now. It will become much more clear once conference play begins.
RECAPPING THE WEEK
-Dayton absolutely blew out Pittsburgh 80-55 in what is probably the single most impressive performances on a given day that I've seen all year. It was never even a game. The Flyers shot 52% and were 50% from behind the arc against a Pitt defense that looked to be among the toughest, if not the toughest, in the country.
Brian Roberts
had 31 points and 5 assists for the Flyers in an unbelievable performance.
Dejuan Blair
of Pitt got into foul trouble and that certainly effected his play, but you have to give credit to Dayton for going after him and getting him in foul trouble the way that they did.
More bad news for Pitt as Levance Fields injured his foot. I've seen it reported that he could miss up to eight weeks. At the time he went out of the game, Dayton was already blowing them out, so he couldn't have helped out the Panthers all that much as far as this game went. They will certainly miss him in their next few games, though. This is the second major injury the Panthers have suffered. Mike Cook injured his knee against Duke and will miss the remainder of the year.
Dayton came into this game 10-1 with three road wins, including one at Louisville, but was still getting no love from the voters. I don't see how the voters can ignore them now. As far as the projections go, their RPI is #9, they just blew out Pitt, and they have road wins against Louisville, Miami OH and Holy Cross. Miami and Holy Cross don't look like at-large caliber teams at the moment, but they are solid opponents who should contend for conference championship and it's better for Dayton's resume than loading up on cupcakes at home. They're in this week's bracket as a #2 seed.
-West Virginia and Oklahoma played in a double overtime thriller in what was one of the most exciting college basketball games of the year so far. West Virginia overcame a small deficit to hit a big shot with less than a second to play to force overtime, then Oklahoma came back in overtime to hit a shot in the final seconds to force a second overtime. Oklahoma ended up pulling it out 88-82. This game had everything. With the exception of the loss to Stephen F Austin, Oklahoma has been playing great basketball. This is their best win of the year so far considering that it was on the road against a very good West Virginia team. Both teams appear to be improving and it will be fun to watch them in conference play.
-Wisconsin picked up what was clearly their biggest win of the year at Texas. The game was close throughout, and every time it looked like one team had an opportunity to take control, the other side came back swinging. Michael Flowers hit a dramatic three point shot in the final seconds to give Wisconsin a 67-66 win on the road. It is the best Wisconsin has looked this year, and it's a major statement to beat a team like Texas on the road the way that they did. Every time Texas looked like they were going to take control, The Badgers kept it together.
-North Carolina continues to blow teams out. Nevada had it within three late in the first half earlier in the week, but North Carolina just took off and never looked back. Valpo was actually tied with the Tarheels in the second half, but then North Carolina blasted off and ended up with a 90-58 win. Valparaiso and Nevada may not have the brand name appeal that some other teams have, but they are good teams that came into the game playing very well. Valpo nearly upset Wisconsin last just last week and will likely challenge Butler for the Horizon League championship.
-UNLV and Utah continue to improve out of the Mountain West. They are both in the bracket as #11 seeds. UNLV has won seven of their last eight and just beat a Minnesota team that had been playing well rather convincingly. Utah has a big game today against Gonzaga.
-Winthrop is inconsistent, but that's better than being consistently bad I guess. They knocked off Miami FL on the road, which was the first loss of the year for the Hurricanes. Right now Winthrop again looks like the team to beat in the Big South, so we should be hearing from them in March. This is the type of win that can really help out their seeding. There is a big difference between a #13 and a #15, so this win could potentially turn out to be a big deal for the Eagles.
DECEMBER 31ST HIGHLIGHTED MATCH-UPS
-UTAH AT GONZAGA. Utah has won six of their last seven, including an impressive win on the road against California. A win against Gonzaga would really boost their profile. The Zags are coming off a somewhat decisive loss to Tennessee and really haven't posted a big time win yet. If they lose this one they will be on the ropes somewhat. It's a big game for both teams because both really need to improve their credentials. Utah has been improving as the season has progressed and could be a factor in the Mountain West. I expect them to really give the Zags a battle.
-KANSAS STATE AT XAVIER. Kansas State has won four in a row and appears to be improving after struggling against some heavyweights early on. Xavier is off to a pretty decent start, but could really use some big wins on their resume to help them secure a good seed in the NCAAs. Both teams have some talented players which should make this an entertaining game. It's also a game the committee will look at because both appear to be NCAA Tournament teams.
DECEMBER 31ST BUY GAMES
-FLORIDA A&M AT BAYLOR. Baylor can improve to 10-1 with a win today. Their next opponent is Arkansas, so they should have a ton of momentum going into that.
-FORDHAM AT GEORGETOWN. Fordham has won three of their last four after getting off to a very bad start, but they shouldn't be too much of a match for the Hoyas in this one.
-NORTH FLORIDA AT NOTRE DAME. North Florida has not beaten a div1 opponent and isn't likely to do it today.
-SAINT PETER'S AT PROVIDENCE. Providence can improve to 9-3 with a win in this game, which is their last tune-up before Big East play begins.
-DELAWARE STATE AT SETON HALL. Seton Hall can get to 9-3 with a win in this one.
-RICE AT TEXAS A&M. TAMU shouldn't have too much trouble getting to 12-1 with a win against the Owls.
-IONA AT VANDERBILT. Vandy is unbeaten, but they've had some struggles lately. Iona was just blown out by Louisville, though, and is overmatched in this one.
-IDAHO STATE AT WASHINGTON. Washington has quite a bit of work to do in conference, but a win in this game will get them to a respectable 9-4 on the year.
JANUARY 1ST HIGHLIGHTED MATCH-UPS
-CLEMSON AT ALABAMA. Alabama has strung together some wins recently and appears to be improving, but they could really use a big win to boost their resume's quality. Beating Clemson at home, who has just one loss, would be huge. The Tigers will face plenty of stiff competition once ACC play begins, and if they struggle, these are the kinds of games they'll be able to fall back on if they end up on the bubble so there is quite a bit at stake for Clemson as well. I'd say that this is a good measuring stick game for both teams.
-CINCINNATI AT LOUISVILLE (Big East). Cincinnati's win total may not show it, but the Bearcats are playing much better basketball now than they were at the beginning of the season, and they just defeated a pretty good Miami OH team the other day. Louisville has been beating up on cupcakes, but they are healthier now than they were in the loss to Purdue, and appear to be doing a much better job of playing together as a team. Cincinnati could give them a fight though. They're a young team that's improving.
-ILLINOIS STATE AT WICHITA STATE (Missouri Valley). Illinois State won their conference opener at Creighton and will be in really good shape if they can pick up another conference road win in this game. The Redbirds appear to be for real. They are good enough to contend in this conference and fight for a spot in the NCAA Tournament.