-The latest bracket projections are posted below. It is not a prediction of where I believe teams will end up in March, but rather a checkpoint as to where I believe teams currently stand. In other words, this is what I believe the field would look like if today were Selection Sunday.
-The criteria I use to select and seed the teams is the exact same criteria that the selection committee uses.
-The bracket reflects games played through February 3rd.
-
CONFERENCE CHAMPIONS
: All 31 conference champions receive automatic bids to the NCAA Tournament. The current projected champions are teams that are in first place in the conference/division standings, or tied for it via the loss column. Those teams are (Memphis, UCLA, Duke, Kansas, Tennessee, Georgetown, Wisconsin, Xavier, Drake, Butler, Gonzaga, UNLV, South Alabama, Ohio, Davidson, VCU, Stephen F Austin, UNC Asheville, Oral Roberts, Cal State Northridge, Cornell, Utah State, Rider, Hampton, UMBC, Lafayette, Jacksonville, Austin Peay, Robert Morris, Portland State and Alabama State).
-More notes on the bracket below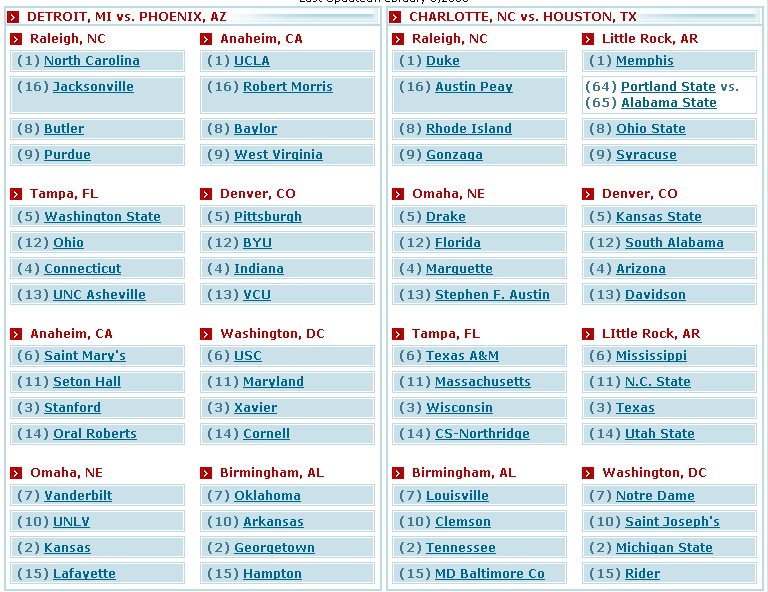 NOTES ON THE BRACKETTEAMS THAT WERE MOVED TO MEET THE BRACKET REQUIREMENTS
(UP: Indiana, West Virginia, Syracuse, Massachusetts) (DOWN: Arkansas, Clemson, Florida, Pittsburgh)
OTHERS CONSIDERED
: Dayton, Mississippi State, Miami FL, Kent State, Oregon, California, Providence, Villanova, Illinois State, Creighton, George Mason
-Dayton is first in line among teams that were left out. They have an RPI of 13 and an SOS of 8, which is unprecedented for any team that has never been selected. However, they're also 3-4 in the Atlantic Ten, have lost four of five, and have completely nosedived since several players became injured, which is unprecedented for any team that ever HAS been selected. They also don't look anything like an NCAA Tournament team right now, and this is a projection of where teams currently stand. With their injuries and how poorly they've played over the past two weeks, I don't think they'd be taken if today were Selection Sunday. They're a tough call right now, but it should be more obvious as to whether or not they belong between now and the end. They should be back at full strength at some point, and if they can start racking up some wins then the committee will consider the games where they weren't 100%. They also have some winnable games coming up, so they have a chance to string together some wins despite being shorthanded.
-Massachusetts was the last team to make it into the field. It was sort of a tossup between them and the Flyers (the fact that they're from the same conference had nothing to do with that), but UMass beat Dayton at Dayton, which is sort of the tiebreaker. They're seeded above Florida, but that's only because they needed to be moved up to meet the bracket requirements.
MORE BRACKET NOTES
-The fact that Maryland is a #11 seed and placed in Washington, DC may not seem fair, but it's within the rules and it actually follows the protocol of keeping teams as close to home as possible as the bracket is put together. They're also playing a #6 seed in the first round, which is not a seed that is protected from a potential home environment.
-Indiana is into the bracket as a #4 seed (they were originally a #5), but other than their high national ranking (which presumes a high NABC ranking) their credentials really aren't all that impressive when compared to other teams who are seeded that high. Their RPI = 38, their SOS = 122, and their only RPI top 50 win came against Illinois State back in November. They've played a handful of top teams, but haven't managed to beat any of them. If they can't finish strong in the Big Ten, they probably won't end up being seeded as high as high as I have them now.
-Vanderbilt is another team who doesn't have much in the way of quality wins and are actually just 2-4 in true road games. There was a big buzz around them when they entered conference play undefeated, but none of those wins were really against any top level teams. Their two best RPI wins are South Alabama and Massachusetts, so it isn't as if they've been knocking off teams that I have seeded ahead of them. A #7 seed may seem kind of low, but having lost four out of six and having no high quality wins, they could arguably be seeded even lower than where I have them.
UNDER THE RADAR
-Davidson is into the field as the projected Southern Conference champion. They entered the season with high expectations, and after nearly upsetting North Carolina to open the season they actually cracked the top 25. Duke, UCLA and NC State also made up part of Davidson's non-conference schedule, and the Wildcats were in the game late against all of those teams, but came up just short each time. Surprising losses to Western Michigan and Charlotte left Davidson at just 3-6 against div1 teams. They haven't lost since, and with the exception of a close game against Elon, pretty much every margin was decisive. They are in the Bracket Buster and it's possible they'll be matched up with a high level opponent, which would do a lot to boost their resume, but because they have no quality wins it still looks as though they'll have to win their conference tournament to make the NCAAs. It's still important that they keep winning because being seeded #12 or #13 is much better than being seeded #15 as far as setting oneself up for a Cinderella type tournament run, but it's very possible they'll need to win the SoCon to get that chance.
-Earlier in the week I wrote about how good I thought South Alabama's chances were to receive a bid if they failed to win their conference tournament. No sooner do I say that than they go out and fall on the road to North Texas. They still have a shot, but I believe they'll have to win out in order to get an at-large bid if they end up needing it. It's unfortunate for them that they aren't in the Bracket Buster because they'd likely be paired with Saint Mary's and have a chance to add a quality win to their resume. Other than North Texas, they've lost to Mississippi, Miami OH and Vanderbilt, all in close games.
RECAPPING THE WEEK
-I do not claim to know anything about fashion, and just about anyone who knows me would tell you that, but even I know not to ever leave the house looking the way Bob Huggins did for West Virginia's game against Cincinnati. He was wearing a bright, yellowish outfit that could be used to signal airplanes. It was a notable match-up off the court because it's the first time Huggins had faced Cincinnati since being fired back in 2005. It was big on the court because West Virginia could really use the win, and Cincinnati had been playing well. The Bearcats actually picked up a surprisingly decisive 62-39 win on the road against a team that plays very well at home, which was a nice win for Mick Cronin because he's beginning to rebuild Cincinnati's basketball program and put his own footprint on it. Unfortunately the Bearcats followed that up with a rather unimpressive showing at home against Marquette in a 75-60 loss. UC's youth is showing, and the NCAA Tournament is a long shot at best right now, but they are moving in the right direction. West Virginia rebounded and got a much needed win on the road against Providence.
-If you missed the end of regulation in the Santa Clara vs Gonzaga game, you missed a classic. Santa Clara had the game won with seconds remaining when they held a two point lead and they ball. They were inbounding under Gonzaga's own basket with three seconds to go, threw it down the court, and actually managed to foul Gonzaga in a loose ball struggle. Had they just backed off it would have been a turnover, but Gonzaga was about 65 feet from their own basket with less than three seconds. Gonzaga hit both foul shots to send the game to overtime. Santa Clara hung tough and forced a second overtime, but Gonzaga ended up escaping with an 87-82 win. Most teams in the West Coast Conference aren't postseason caliber teams, so oftentimes the highlight of their season is their home game against Gonzaga. This has to be particularly crushing for Santa Clara because they are one of Gonzaga's bigger rivals in the conference. The Zags will face Saint Mary's tonight in a very important match-up. Both teams appear to be headed toward the NCAA Tournament, so it should be a good one.
-Mississippi and South Carolina also came down to the wire. South Carolina has hung tough with some teams, but hasn't been able to get over the top against most of them. They got over the top on Saturday with a three point shot in the final seconds that gave them a 78-77 lead. Ole Miss then drove the floor and threw up a heavily contested shot from sidelines while falling out of bounds that actually went in. The only problem was the referee ruled that he was, in fact, out of bounds. Many fans disagreed and some debris was thrown onto the court which resulted in a rather meaningless technical foul and South Carolina held on for the 80-77 upset win. Ole Miss has now lost three out of four. They're still a solid tourney team, but their credentials are slipping a little bit. A few weeks ago they looked like a #2 or #3 seed, and I currently have them as a #6. There is still plenty of time between now and the end to raise their credentials if they can rebound from this mini slump that they're in.
-Stanford picked up a huge 67-65 overtime road win against Washington State, which lands them right in the mix of the Pac Ten race. The game went back and forth and was an absolute classic. Stanford checks in to the bracket this week as a #3 seed, whereas Wazzu falls to a #5. The Cougars have lost three out of four as well, and have slipped down the Pac Ten standings. They're still a very good team, but need to string together some conference wins if they want to end up back in the #2-#4 range, which would most likely help where they end up geographically.
-The other big game in the Pac Ten turned out to be a dud. UCLA blew out Arizona, which was their second decisive victory in a row. The game was never really even close.
-Arkansas is also back into the bracket after blowing out Florida. This was another game that wasn't really all that close at any point in time. The fact that Arkansas won isn't all that surprising, but the fact that they blew Florida to kingdom come is. The Razorbacks blew out Mississippi State, who had been playing very well, earlier in the week. I don't know what the Hogs have been eating for breakfast over the past week, but whatever it is I recommend they keep it up.
-Michigan State was upset by Penn State, but that will happen in highly charged conference road games from time to time, and the Spartans certainly play in more than their share of those.
-North Carolina struggled at Florida State this past Sunday, which isn't too surprising considering the only home loss for the Seminoles this year was a close one against Duke. The Tarheels managed to pull it out in overtime, but had to do so without
Ty Lawson
, who went down early in the game with an ankle sprain. He should be able to return, but he may not be available when they face Duke this week.
-Kent State has to have a good team. They entered the weekend with an RPI in the 30s and a 17-4 record. It's just that whenever I've seen them they haven't played well, and this past weekend's game against Toledo was no exception. Toledo isn't a great team, but they are tough to beat at home. Still, one would expect an at-large caliber team to be able to do it, and Kent State didn't. They actually had the ball in the final seconds, but turned it over, and that resulted in a Toledo fast break. A dunk at the buzzer won the game for the Rockets, and may have eliminated Kent State from any serious at-large consideration.
MONDAY, FEBRUARY 4TH HIGHLIGHTED MATCH-UPS
-MISSOURI AT KANSAS (Big Twelve). This is part two of the Border War. This is a rivalry and is oftentimes more exciting than expected, but seeing as how the game is at Kansas it could end up on the lopsided side of things. Missouri is coming back from a big win against Kansas State, so they do have some momentum, though.
-LOUISVILLE AT MARQUETTE (Big East). Louisville hasn't always played their best basketball on the road, and Marquette is not an easy place to play. These two teams have had some classics, but the game earlier this season wasn't one of them. Louisville won that rather decisively. Marquette is coming off a win at Cincinnati where they looked rather impressive, so I'm sure they're looking to even the score. If the Cardinals do pull this off, it will be one of their bigger road wins of the season so far, and do quite a bit to boost their resume.
-VILLANOVA AT SAINT JOSEPH'S (Big Five). Okay, so the Big Five isn't a real conference, but this game will be every bit as intense as most conference games. Nova was cruising, but they've really gone into the tank with four straight losses, none of which they looked all that impressive in. Saint Joseph's has won nine out of ten and looks to be inside the bubble, but can still be knocked back onto it. This game is for bragging rights, but it's also between two teams that need to improve their credentials. It should be intense. It always is.
-GONZAGA AT SAINT MARY'S (West Coast). This is a huge match-up between what are clearly the two best teams in the WCC. Both teams appear to be safe for NCAA bids, but this is a rare chance for both to pick up a quality win between now and the end. First place in the conference is also on the line, so it should be a fun one.
NEWS AND NOTES
-The Bracket Buster Selection Show is tonight.