-The bracket projections are posted below. It is not a prediction of what I think things will look like in March, but rather a checkpoint of where I believe teams currently stand. It is based entirely off what has already happened, and not necessarily what I believe will happen in the future. That is why some of the selections and seedings may appear to be unusual.
-The criteria I use to select and seed the team is the exact same criteria the selection committee uses.
-The bracket reflects games that were played through January 14th.
-
CONFERENCE CHAMPIONS
. All 31 conference champions receive automatic bids, and the teams I selected in this projection are either currently in first place in the league or division, or tied for it via the loss column. In situations where there was a tie for first place via the loss column, my "automatic" bid went to whoever I believed made the most sense based on what's already happened. Those teams are: North Carolina, Memphis, UCLA, Kansas, Tennessee, Dayton, Wisconsin, Georgetown, Saint Mary's, Drake, South Alabama, Kent State, Utah, Stephen F Austin, Cal State Northridge, Cleveland State, Davidson, UNC Asheville, Siena, Oral Roberts, Hampton, Utah State, Northern Arizona, Brown, Delaware, Austin Peay, Lafayette, Wagner, Jacksonville, Hartford, Arkansas Pine Bluff.
-Now that conference play has begun, a few of the teams that were highly ranked but untested, are being tested now. There are still a few cases where I believe a team is much better than their current credentials indicate and will likely end up seeded much better than where they appear in this projection (Georgetown, Texas A&M and Indiana in particular). However, teams are being seeded on what they've done, and not what I believe they will do.
-More notes and analysis on the bracket are posted below.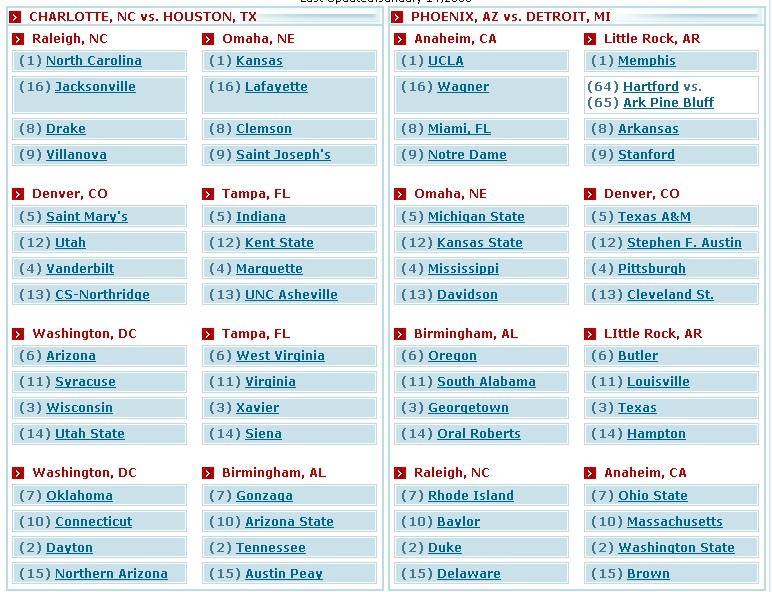 OTHERS CONSIDERED
: Illinois State, Providence, Creighton, Florida State, North Carolina State, Boston College, Minnesota, Florida, USC, Duquesne, VCU, UNLV, San Diego State, Sam Houston
TEAMS THAT WERE MOVED TO MEET THE REQUIREMENTS OF THE BRACKET
(UP: Saint Joseph's, South Alabama) (DOWN: Kansas State, Baylor)
-There are nine teams from the Big East projected in, which means it is impossible to avoid a conference potential match-up prior to the Elite Eight. Therefore, the rules indicate that two Big East teams could meet as early as the second round.
FIVE FROM THE ATLANTIC TEN
-Saint Joseph's making the field may draw some attention, especially since they're a #9 seed. As stated above, though, they were originally a #10, but needed to be moved to avoid a conference match-up prior to the Elite Eight. Their credentials are good enough to place them there, though. They've won five straight games, and four of those were on the road (one was against UMass). Their RPI is 40, and their four losses were all close games. Two of them (Creighton, Gonzaga) came in overtime, and their loss at Syracuse a close 72-69 battle. That doesn't mean much to the committee, but it is an indication that they are perhaps better than their early season record. The fact that they've won at UMass, which is a team that has proven themselves, is a sign that they're good. Seeing as how good some of the Atlantic Ten teams are, they'll get the chance to prove themselves as they go through conference play.
-Dayton is a #2 seed. That may seem high, and I know it's high compared to where others are likely to place them, but I work by judging a team on their CURRENT credentials, and right now their current credentials are very good. Dayton has one loss on the season, and it was early and on the road to George Mason. They have defeated Louisville on the road (albeit not at full strength), blown out Pittsburgh, and won rather handily against a good Rhode Island team. They may not be as good as their credentials and I don't think they'll end up as a #2 seed, but they aren't that far behind. They can play with anyone.
Some bad news for the Flyers is that freshman forward Christ Wright is injured. The good news is that he should be back before the end of the year, and that his team still looks pretty good without him. If he is healthy by NCAA Tournament time, which he should be, the committee will consider his absence.
-Xavier, who is a projected #3 seed, has blown out their last six opponents. Three of those were Virginia, Kansas State and Auburn. The other three they basically sleepwalked through, but if a team can sleepwalk and still blow someone out, it's a sign that they're pretty good. They'll have a chance to sustain and even build on their credentials once conference play begins.
OLE MISS
If you follow the daily write-ups of games, you've seen this already. Ole Miss won their first 13 games of the season, six of those games were away from home, and one was against Clemson on a neutral floor. However, the game that impressed me the most was the one that they lost. The Rebels took the floor against Tennessee last week and stayed with them early, but then fell behind. In an incredibly hostile environment, they kept their composure, regrouped, actually ran with the Vols, and got the lead late. It looked like the game was theirs to win, but they missed some key freethrows late that allowed Tennessee to get back into it and win.
Not much was expected of the Rebels this season. Many people, including myself, were picking them to finish last in the SEC. Now it looks as if they are clearly the best team in the West, and are as good as anyone else in the league. It is a tremendous tribute to the job head coach Andy Kennedy has done.
Dwayne Curtis
is a big time player, but he's really the only major contributor that's back from last years team that tied for the SEC West Title (which was also a shocker). That means that most of the contributors were recruited in by Kennedy. Freshman guard
Chris Warren
and sophomore guard Eniel Polynice are making unbelievable contributions, and both players had over 20 points at Tennessee, who plays excellent perimeter defense. Ole Miss is not only an NCAA Tournament team, they're a team that appears to be contenders to win the SEC, and earn a very good seed in the Big Dance.
The Rebels did struggle against LSU, but still managed a win and sit at 1-1 in SEC play with perhaps their toughest game behind them. Losing to Tennessee denied them a chance of picking up a big time quality road win that would have kept them undefeated and honestly put them in the discussion for a #1 seed, but it was by no means damaging. The fact that they rebounded and managed to win a tight one their very next time out is a sign that they are very well coached by Andy Kennedy. This isn't a team or a program that's used to taking a blow like that, much less recovering from one.
-
CLEMSON
The Tigers started off 17-0 last year, and then fell down a major slope once conference play began. This year they began 10-0, but have lost three of their last six. One was a heartbreaker at home to North Carolina and the next was to Charlotte in a game where they were probably still dealing with the hangover that came from the North Carolina loss. They did manage an overtime win against Florida State 92-85 in a game that was extremely important. They've gone down the mudslide before, and they needed to win an intense, high stakes game such as that one. Hopefully that will help rebuild some of the momentum that they'd lost.
-
ARIZONA STATE
The Sun Devils have to be feeling pretty good about themselves. This is a team that hasn't had all that much to be excited about since the mid 1990s when they had to deal with the gambling scandal. They are a young team this year and their expectations were mainly question marks as to how good they could really be. They're a remarkable 13-2 on the year and have won an impressive nine in a row. Some of that streak was assembled with cupcakes, but it also includes a blowout win against Xavier, and wins against Oregon and Arizona. The other thing worth mentioning as that they were all home games. The Sun Devils played in the Maui Invitational and went 2-1 in the tournament, but their only true road game of the season was a decisive loss to Nebraska. 9 of their remaining 15 conference games will be on the road, and their next true road win will be their first. It's been a great rebuilding job and if they aren't to their final destination as a program yet, they are definitely traveling in the right direction at a very fast pace. It's just that they may not be there yet. We'll see how they do this week on the road against Stanford and Cal.
FUN STUFF FROM AROUND THE WEB
-Kyle Whelliston, the publisher of Midmajority.com, recently had an idea that was far from practical, but very amusing. He is often amusing, and insightful, and if you don't read his site on a regular basis, you should. Check this out. It basically involves paring eight teams together that are notorious for their uptempo style of play, and blasting in Pantera music during the games. None of the teams he mentioned are at-large candidates, but they do display an entertaining brand of college basketball. Paring them all against each other would just make it more entertaining.
LINK: THE RACEHORSE ON CAFFINE INVITATIONAL
-One of the terms you don't see on this site is "mid-major." There is a reason for that, and it's that I feel it is too general a term to mean anything, and as an analyst I can't appropriately use it to describe, define or analyze anything. Having said that, Whelliston provides entertaining, informative, and insightful coverage of college basketball teams whose universities do not have football teams in conferences tied into the Bowl Championship Series.
-If you own a television, you've undoubtedly seen
Tyler Hansbrough
's dunk on 7'7"
Kenny George
from UNC Asheville because it's been all over Sportscenter.
JUST IN CASE YOU HAVEN'T
It was a rather impressive play, but in my opinion way too much has been made of the dunk, and not enough has been made as to how good UNCA is and how well they played in that game. They aren't a team that's likely to get an NCAA Tourney at-large spot, but they have some talent and appear to be every bit as good as Winthrop. The Big South awards home court advantage to the regular season champion for the conference tournament. If they can dominate the league and win the tournament, which they are clearly good enough to do, they will likely be seeded either #13th or #14th. That isn't great, but it's much more manageable than a #16 seed and they're good enough to give whoever they face in the first round quite a scare.
RECAPPING THE WEEK
-I spot-lit three games for this past Saturday, and none of them ranked above the level of boring in terms of excitement. North Carolina blew out NC State. It appears to indicate that NC State's winning streak coming into that game was more of a product of their opponents being weak than their own team being good.
Kansas went into a hostile crowd at Nebraska, and blew them out. It may not show up on paper as being an impressive win, but it was. Nebraska is better than their resume and their fans were jacked for that one.
Washington State fell behind early on the road to UCLA 11-1, and although they got control and played them evenly after that, UCLA pretty much kept them at arms length for the rest of the way, and picked up a huge win over a high quality conference opponent. The good news for Wazzu is that 9 of their remaining 15 conference games are at home.
-Georgetown struggled much more than most probably expected at home against Connecticut. They actually trailed throughout most of the second half, but stayed in it, pulled even, and then had
Roy Hibbert
hit a three in the final seconds to give them the 72-69 win. The announcers said it was only the second three of his career. It's obvious he wouldn't have attempted it unless it was a desperate circumstance. Georgetown got the win, and they are a good team, but I'm beginning to think they aren't quite good enough to legitimately contend for a #1 seed like many thought they would coming into this season.
-Notre Dame continues to look outstanding at home, but poor on the road. They had previously beaten both Connecticut and West Virginia at home, and looked very impressive doing it, but was then blown to bits by Marquette. The Irish came out flat for the first minute and pretty much remained that way for the next 39. On the other hand, Marquette was outstanding. They appear to be good enough to earn a spot in the pod system, and even challenge for the Big East title.
-Arizona is glad to have freshman
Jerryd Bayless
back. They had lost two straight coming into their game against Houston, which was one of the most dangerous a team like Arizona could play because it's against a road game against a good team that really needs to win a big game. Arizona won handily, and Bayless, who was returning from an ankle sprain, led the way with 33 points. The Wildcats appear to be back on track, but they need to get some wins in conference this week to fully resuscitate their resume.
-Louisville was back at full strength for the first time against Cincinnati, but ended up losing that game. They haven't lost since, and have looked better than they have all year in their last few games. They beat West Virginia rather handily earlier last week, and then struggled on the road against Rutgers, but got control of the game late after playing rather sloppily beforehand. That doesn't sound impressive, but if a team can play sloppy on the road, and still pull it together late to win, then it's a sign that they're good. That won't impress the committee, but Louisville has shown that they're good enough to take care of that when future opportunities come along.
-Speaking of Cincinnati, they're 3-1 in Big East play right now with wins against Louisville, Syracuse and Villanova. They were very unimpressive out of conference, and that's why they aren't even close to the bubble right now, but they've been playing outstanding basketball recently. It's unbelievable how much better they are now than they were in November, or at any point last season. They have a long way to go and aren't there yet, but if they keep winning like they have been they'll travel at a fast enough speed to get there long before March.
-Both Dayton and Rhode Island shot the lights out against each other earlier this week. Dayton wound up winning 93-84, and was a remarkable 20-27 in the first half. It was a big win for the Flyers that established them as legitimate candidates to win the Atlantic Ten and earn a very good seed.
UPSETS!!!
-Michigan State couldn't hit their shots over the weekend, and when you can't hit your shots you can't score points, and when you can't score points you can't win, even if you're playing Iowa. The Hawkeyes racked up one of the more improbable wins from the Big Ten this year when they took down the Spartans 43-36. It's a big setback for MSU, but it's by no means a deathblow. On the flipside unless Iowa has about 12 more in them like that, it's by no means a win that will make the committee want to give them a spot.
-Missouri took down Texas over the weekend, but that was hardly a surprise for those that know college hoops. Mizzou was at home and they love to push the pace. Texas is fantastic, but has no depth. The Longhorns ran out of gas and Mizzou picked up their biggest win of the year so far. They need a few more to get them back to the level of being considered, though.
-Kentucky looked like a team that couldn't punch their way out of a paper bag up until this past weekend, but managed to win their conference opener against a Vanderbilt team that came into the game undefeated. Vandy's record may have been perfect coming into the game, but their play had not been. They struggled against a few teams that I thought they'd handle somewhat easily, and they struggled against the Wildcats over the weekend and actually ended up losing that one in a double overtime thriller. Vandy has a huge game against rival Tennessee later this week.
-Florida played one of the cupcakiest of cupcake out of conference schedules, but has managed two notable wins since conference play began against Auburn and Alabama. Bama was their first true road win, and only their second true road game. The Gators are solid, but their credentials aren't quite there yet. If they're good enough, they'll earn them in conference play. Playing a schedule that weak OOC really puts them under pressure, though. If they struggle in league play they have nothing to fall back on.
MONDAY, JANUARY 14TH HIGHLIGHTED MATCH-UPS
-GEORGETOWN AT PITTSBURGH (Big East). Pitt needs to win a big game after they've undergone the injuries that they have just so they can prove to the committee that they can still win at a high level. Georgetown has shown some weaknesses this year, and considering that they struggled to get by UConn at home in their last game, they'll likely struggle against the Panthers tonight. It should be a very exciting frontcourt match-up because both teams have great inside games. In terms of what it means on paper, this game would be a huge statement win for whoever ends up pulling it off.
-OKLAHOMA AT KANSAS (Big Twelve). Oklahoma was playing great coming into conference play, but failed to win their league opener against Kansas State. They still have a good team and if they were to lose this one it wouldn't hurt them in the long run, but no one likes starting off 0-2 in conference. Kansas is a legit contender for a #1 seed, so every game is important for them This is the kind of game #1 seeds are expected to win. It's a big opportunity for Oklahoma as well so they can once again prove themselves. It won't be easy, though.
-GONZAGA AT PEPPERDINE (West Coast). The Zags appear to be hitting their stride, and they'll need it because it's always a challenge when they play on the road. Any loss would be damaging as far as finishing first goes because their race with Saint Mary's will be tight.