-The latest bracket projection is posted below. It isn't a prediction of the future, but rather a checkpoint for where I believe teams currently stand. That is why some of the selections and seedings may appear to be unusual right now.
-The bracket reflects games played through January 6th.
-The criteria I use to select and seed the teams is the exact same criteria that the Selection Committee uses.
-All of the projected conference champions are currently in first place or tied for it via the loss column. Because it's the first week, there are some teams in this projection that we aren't likely to see in too many future ones. For example, Delaware out of the Colonial is 3-0 in conference play with wins against Towson, William & Mary and Drexel. Everyone else in the conference already has at least one loss. Delaware is just 6-7 overall with some really poor losses, but they are currently projected as the champions and into the bracket as a #16 seed. However, I'd be very shocked if they ended up winning the league over the likes of George Mason or VCU, and George Mason and VCU certainly wouldn't be seeded #16th if they make the NCAAs.
That isn't the only unusual situation. Cleveland State is the only unbeaten team in Horizon League play right now, but they don't strike me as being as good as Butler or Valparaiso. Butler has a loss to Wright State on the road, and Valpo has a loss to Butler, so Cleveland State hasn't faced either team yet. Butler is still in the bracket, but they're in as an at-large.
-The selection committee uses a ton of data (RPI, SOS, quality wins, bad losses, road record, NABC Rankings, etc) to select and seed the teams. Generally by the end of the year most teams have similar numbers in all categories across the board. Right now, however, everything is a little scattershot. Georgetown is high in the human polls, but just #32 in the RPI and has no wins against the current RPI top 50. Granted as they go through conference play they'll either beat quality teams and the rest of their credentials will catch up to their ranking, or they'll struggle and their ranking will drop down to the rest of their credentials. I have them in as a #4 seed now, but again that's a reflection of what has already happened and not where I believe they'll end up. That's just one example of a team that's difficult to place right now, but there are a few others.
-More notes on the bracket below.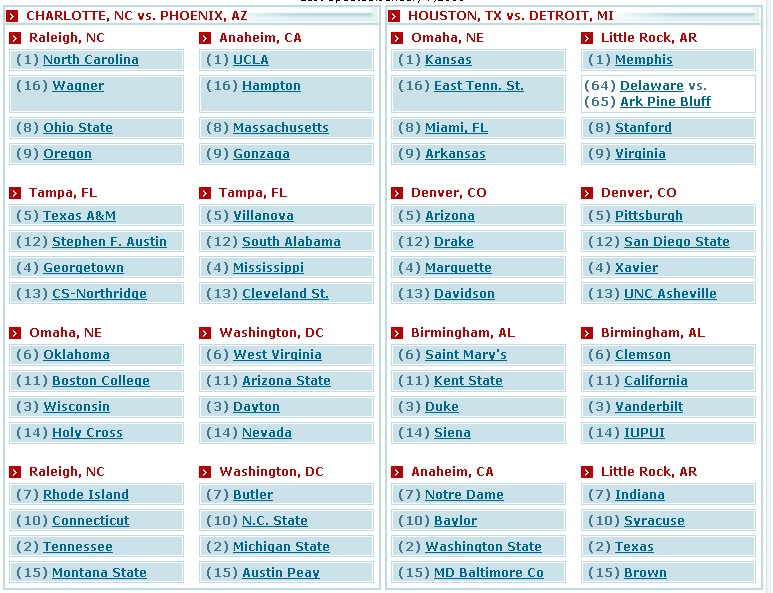 TEAMS THAT NEEDED TO BE MOVED TO MEET THE REQUIREMENTS OF THE BRACKET
(UP: Virginia, Arkansas, Arizona State) (DOWN: Connecticut, Syracuse, San Diego State)
-Arizona State was actually the last team in, but needed to be moved from a #12 seed to a #11 to avoid a potential Pac Ten match-up prior to the Elite Eight.
OTHERS CONSIDERED
(UNLV, USC, Louisville, Providence, Florida State, Illinois State, BYU, George Mason, New Mexico, Texas Tech, Creighton, Sam Houston, Minnesota, Alabama, Kansas State, Saint Joseph's, VCU, Valparaiso, Duquesne, Florida).
-Notre Dame and Baylor have already played this season. The committee likes to avoid rematches if it can, but in this case I would have had to move one of the teams either up or down a line to avoid it.
RECAPPING THE WEEK
-Notre Dame's diet had consisted mainly of cupcakes prior to conference play beginning. After starting off 1-2 in the Paradise Jam, the only notable team the Irish played between that tournament and the beginning of Big East play was Kansas State. This past week they managed two big wins at home against West Virginia and Connecticut, which really helped their resume. They're on the road against rival Marquette in their next game. Believe it or not that will be the first true road game for Notre Dame. They've played four neutral floor games prior to now, but they haven't been tested in a true road game yet. That actually puts some pressure on them because if the Irish struggle in conference play they don't have much to fall back on and could end up getting left out. They're safely in as a #7 seed right now, though.
-Arizona State is off to a good start, and actually managed wins over Oregon and Oregon State in the first week of conference play. Those games were at home, though, and it isn't the toughest stint of the conference schedule that they'll face. Still, 12-2 on the year with the only losses being the season opener to Illinois and another game to Nebraska isn't bad at all. With notable wins over Xavier and Oregon, they earned a spot in the bracket. James Harding and
Jeff Pendergraph
both had big games against the Ducks and have been big time contributors all year. Their next game is a home game with rival Arizona in what should be a very intense atmosphere.
-UCLA managed two big road wins against California and Stanford. Prior to that they had played five games in a row against teams with losing records, so their resume got a nice big spike by adding two quality conference road wins to it. The Bruins are definitely for real and will once again contend for a #1 seed.
-Washington State will give UCLA a battle in the Pac Ten, though. Wazzu picked up another win in a very hostile environment when they knocked off rival Washington in a very hard fought defensive game. The Pac Ten was exciting last year and promises to be again this year.
-The good news for Louisville is that
Juan Palacios
and
David Padgett
are now back on the team. The bad news is that having them back didn't help them beat Cincinnati in their conference opener. The Cardinals dropped a close one to Cincinnati at home 58-57. Cincinnati is just 6-8 on the year, but does appear to be improving, depending on what night you catch them. The Bearcats followed up the big win at Louisville with a loss at Saint John's.
Louisville rebounded from the loss, at least psychologically, by blowing out Kentucky in Rupp Arena. The Wildcats have been awful this year, and are probably the biggest disappointment of any preseason ranked team that I can remember since North Carolina started off #20 in 2001-2002 and proceeded to finish the year 8-20. Kentucky is 6-7 with four losses to teams outside the current RPI top 100. This may be hard to believe, but their next win against an RPI top 200 team will be their first. As for Louisville, I currently have them just outside looking in, but they will certainly get the opportunity to string some wins together.
-After losing back to back games to Arizona State and Tennessee, Xavier changed their lineup around a bit and has blown out four teams in a row, three of which are notable. They defeated Kansas State 103-77, Virginia 108-70 and Auburn (who has really been crippled by injuries) 80-57 in a game where they led by 30 with less than four minutes to go. The Auburn win was their first true road win of the year, which is important. They have a ton of momentum going into conference play, and with the likes of Dayton, Rhode Island and Massachusetts, they'll be facing some more quality competition between now and the end and will have plenty of chances to continue to build their resume.
The Atlantic Ten appears to be having its strongest year since sending four teams to the NCAA Tournament and two to the Elite Eight in 2003-2004. I could easily see the league winding up with four bids, and doing some damage in the dance once they get there.
-North Carolina got a major fight on the road against Clemson the other night, but ended up pulling out a huge road win in overtime. Clemson had a chance to win it at the end of regulation and got the ball up on the rim, but couldn't get it to drop. Clemson again had a lead at the end of the overtime, but
Wayne Ellington
of the Tarheels drilled a three-pointer with 0.4 seconds left on the clock to give UNC the win. It's a devastating loss for Clemson, but they need to rebound from it quick. They got off to a great start last year and then went into a funk when conference play began and ended up missing the NCAA Tournament. As for UNC, with a regional in Charlotte and first/second round games in Raleigh, they can play their way into the Final Four without leaving the state if they can wrap up a #1 seed, so every game is important from here on out.
-Pittsburgh lost their second straight game when a last second shot at Villanova didn't go down. That's the bad news. The good news is that they are still able to play in hostile environments against good teams like Villanova despite being injured. That being said, the sooner they can string together some wins the better. They travel to South Florida next, and then host Seton Hall after that, which are two winnable games for the Panthers.
-Winthrop has all the characteristics of a young team. They got a huge road win against Miami, FL, who was unbeaten at the time, but they have also managed losses to teams like Mount Saint Mary's and now Marshall. I have UNC Asheville in as the Big South representative, but that could change once conference play begins. UNCA does have two outstanding players in K.J. Garland and Brian Smithson, so they are definitely capable of unseating Winthrop as the kings of the Big South. They just picked up a notable win over South Carolina, who is by no means a tournament team, but it's still a nice win for a team from the Big South.
-Both Sam Houston and Stephen F Austin from the Southland continue to stand out, but due to an overall lack of quality opponents it's hard to move them up in my bracket. Stephen F Austin has just one loss, and a big road win against Oklahoma. Sam Houston also has one loss and actually has an RPI in the 20s. It will be difficult for either to get quality wins in league play, except when they play each other, which will make it difficult for either to get an at-large bid. It is possible, though, if one or both can absolutely dominate the league. Unfortunately, neither team is in the Bracket Buster, which means they won't get a shot at a quality opponent later in the year either.
MONDAY'S HIGHLIGHTED MATCH-UPS
-BUTLER AT LOYOLA, IL(Horizon League). Butler managed a huge win over Valparaiso in their last game, and shouldn't get too much of a challenge from Loyola.
MONDAY'S BUY GAMES
-ROBERT MORRIS AT BOSTON COLLEGE. Robert Morris has won five out of their last six, but has a very tough assignment tonight. BC should win this one rather easily.
-SAVANNAH STATE AT KANSAS STATE. Kansas State really had their noses bloodied against Xavier and needs to rebound from that. They shouldn't have any trouble tonight.
-MOUNT SAINT MARY'S AT OKLAHOMA. The Sooners have really been playing great and I expect their winning streak to continue after tonight.