-The latest Bracket Projection is posted below. It is not an attempt to predict what I believe the bracket will look like in March, but rather a checkpoint of where teams currently stand. In other words, it's what I believe it would look like if today were Selection Sunday.
-The projections reflect games played through January 20th.
CONFERENCE CHAMPIONS:
All 31 conference champions receive an automatic bid. The current projected champions are the teams that are either currently in first place in the conference/division standings, or tied for it via the loss column. Those teams are Kansas, Memphis, Tennessee, Duke, UCLA, Xavier, Wisconsin, Georgetown, Saint Mary's, Drake, South Alabama, San Diego State, Akron, Cleveland State, Cal State Northridge, Davidson, VCU, Oral Roberts, UNC Asheville, Stephen F Austin, Siena, Utah State, Hampton, Austin Peay, Northern Arizona, Cornell, Lafayette, UMBC, Wagner, Jacksonville, Southern
-There are nine teams from the Big East in this projection, which is why Louisville and Villanova could possibly meet prior to the Elite Eight.
-More notes posted below the Bracket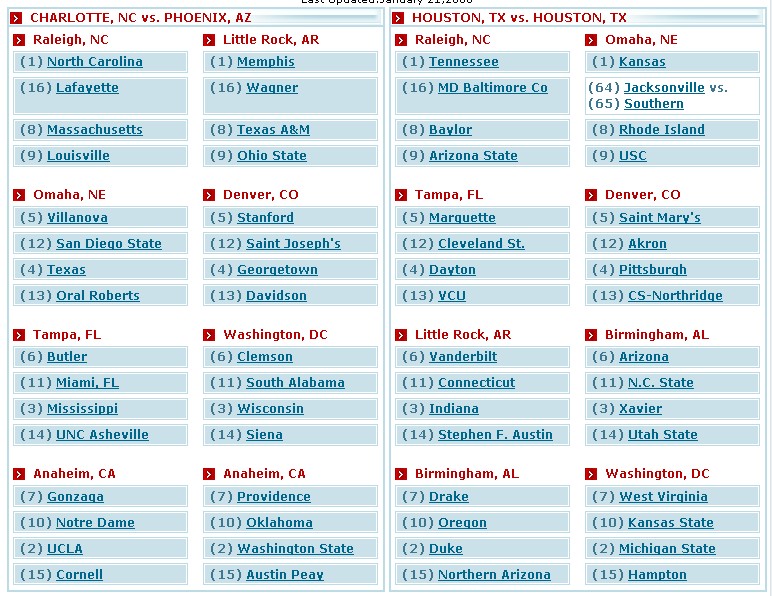 TEAMS THAT WERE MOVED TO MEET THE BRACKET REQUIREMENTS
(UP: Ohio State, Connecticut, DOWN: Saint Joseph's, Kansas State)
OTHERS CONSIDERED:
Kent State, Illinois State, Creighton, Maryland, Purdue, Boston College, Arkansas, Florida, Mississippi State, Virginia, Wake Forest, George Mason, Syracuse, UNLV, Florida State, Seton Hall, Ohio
-Creighton, Illinois State, Maryland and Purdue have all been playing well lately and appear to have more momentum going than some of the teams that made the field. If they can keep it up I believe they'll be fine.
-Syracuse has virtually no momentum and has fallen out of the projections. They've lost three out of four, and even though they have a nice win at Virginia they haven't played too many games away from home and have struggled in the ones that they have played. They are really missing
Eric Devendorf
, who was injured last month, but they were able to string together a few wins without him. They still need a few more, though.
ROAD WOES
-Notre Dame was Jekyll and Hyde when it came to how well they played on the road vs how well they play at home last season, and that still appears to be the case this season. They've only played two true road games (Marquette, Georgetown) and were blown out in both. They are 2-2 in neutral site games, but one of those was against Monmouth in the first round of the Paradise Jam, and that isn't exactly the kind of win that really stands out. They're in the bracket now as a #10 seed and are very tough to beat on their home floor, but if they can't win at least a few on the road they won't make the dance at all.
-Texas A&M played their first two true road games last week, and both were disasters. First Texas Tech, a team that doesn't even look anything like a solid NCAA Tourney team, blew them out. The Aggies followed that up with an encore performance of being blown out by Kansas State. They have two neutral floor wins over Ohio State and Washington, both of which are notable, but they'll need to win a few true road games eventually. TAMU fell to a #8 seed this week due to their lack of road production.
-Marquette played two road games last week and was blown out in both of them. First Louisville crushed them 71-51, and then Connecticut, who had been struggling, blew them out 89-73. They do have a big win at Wisconsin, but they've lost their last three road games and none of them were close.
RECAPPING THE WEEK
A WEEK OF UPSETS
-It was a bad week to be ranked in the Top 25. Several teams went down in upsets.
-There is nothing quite like seeing two top ranked teams like UCLA and North Carolina play at the same time, and go down at virtually the same time. USC needed a huge win and really answered the bell when they took down rival UCLA in Poly Pavilion 72-63. Devon Jefferson had a big day for the Trojans scoring 25 points, but it was the overall team effort that was the most impressive. They stepped into a very hostile environment after having struggled in a lot of their recent games, and picked up a monster win that will really jump out at the committee.
Maryland had gotten off to a very sluggish start this season, but appeared to be coming out of it as they had won five out of six coming into Saturday's game against North Carolina. The only problem was that they were playing at North Carolina, and some of those wins came against cupcakes at home. The Terps picked up a huge 82-80 win against the top ranked Tarheels, which is an outstanding addition to a resume that really needed some improvement. Maryland's next game is at home against Duke. Expect nothing less than an atmosphere that will be absolutely off the hook.
-The Atlantic Ten had gotten quite a bit of attention for themselves, and rightfully so. I don't think teams like Xavier and Dayton will end up seeded as highly as I currently have them once teams begin to emerge from the so-called power conferences, but as of now they've looked really impressive. Having said that the top three teams all went down in conference play. Xavier and Temple were even for about 30 minutes, and then Temple absolutely blew the Musketeers out of the water. The final was 78-59, but it didn't even seem like it was that close.
Mark Tyndale
and
Dionte Christmas
both had big games for Temple. The Owls have actually cracked the RPI top 50 and the other night looked like a team that can play with anyone, but they still have a ton of work to do if they want to make the dance. Other than their RPI and the one home win against Xavier, there really isn't much there.
While that was going on, Dayton was being beaten by Massachusetts on their own floor. The final was 81-72 and is one of the better wins of the year for UMass. What's worse for Dayton than the loss is that they'll be without
Chris Wright
and Charles Little for a few weeks now. They were already struggling without Wright, but it will really be interesting to see how well they can play without Little. They're on the road against Xavier this week, and unfortunately won't be at full strength. The Flyers are currently projected as a #4 seed because their overall profile is still excellent, but if they end up dropping some games then their seed in the projections will drop as well.
Perhaps the most surprising loss of all was Rhode Island's 68-61 loss to Saint Louis. After scoring just 20 points for the entire game against George Washington, SLU has played pretty well. They took Dayton to overtime in their very next game, and managed to beat Rhode Island in the one after that. Rhody is just 1-2 in the conference and although I still have them safely in the bracket, they really can't afford too many more losses like that. Their next three games are against George Washington, Saint Bonaventure and Richmond, all of which are winnable. That being said, the game against Saint Louis looked to be very winnable.
-Cleveland State knocked off Butler 69-63 last Thursday night, which was a pretty big upset. They followed that up with another win against Valparaiso. What's important about that is that Cleveland State now has a two game lead over the rest of the Horizon League, including Butler, and will win home court advantage throughout the conference tournament if they can remain in first place. Seeing as how well they've been playing, two games may be hard for Butler, the conference favorite, to make up. Cleveland State's next four games are on the road, though, so staying on top won't be a cakewalk. It was just Butler's second loss of the season, and they're still safely in the bracket as an at-large.
-North Carolina State had been blown out in back-to-back games and desperately needed a win at home against Miami, FL. The game was close down the stretch and ended up going into overtime, but Miami appeared to have everything under control in the final minute. NC State trailed 77-75 with 15 seconds to play after two Miami freethrows, but
Gavin Grant
drove the length of the floor and forced a shot to tie the game. Grant then stole a lazy in-bounds pass and laid it in to give NC State a much needed 79-77 win. Miami still has an impressive record, but their resume is really slipping. They need to string together some conference wins in order for them to remain in future projections. NC State is back in the field, but just barley as an #11 seed.
-Arizona State passed a tough road test earlier this week when they took down California in overtime. They also looked pretty good against Stanford when they had all of their players on the floor, but due to foul trouble
Jeff Pendergraph
had to sit most of the second half and the Sun Devils just weren't the same team without him. The final score ended up being a decisive and impressive 67-52 win for Stanford.
-UCLA's loss to USC means that Washington State is back in a tie for first place in the league standings. They got a big fight from Oregon on Sunday night, but managed to pull away in the final minutes and secure the win. Wazzu is still in contention to finish first in the Pac Ten standings, which means I believe they could end up with a #1 seed if things fall into place.
-Tennessee has been racking up one impressive win after another. In their last six games, they're 5-0 against the RPI top 50, which is an amazing run. They did get a big fight from Ohio State over the weekend, but managed to hold them off at home in a 74-69 win. Their string of quality wins has earned them a #1 seed in this projection, and I can see them staying there if they keep it up. They're at Kentucky this week, and then back home against Georgia. The Vols should be favored heavily in both games.
-Drake had a big showdown with Illinois State as two of the top teams in the Missouri Valley squared off, and ended up with a 79-73 win. Illinois State is currently right on the bubble. They will get another shot at Drake and Creighton, as well as a Bracket Buster game, so they'll have the opportunity to make a case for themselves. Adam Emmenecker had a big day for Drake scoring 19 points, as the Bulldogs improved to 16-1 on the year and increased their winning streak to 15.
-Ole Miss lost their second game of the season when they fell on the road to Auburn 80-77. It's a setback as far as contending for the conference title, especially considering how well Tennessee is playing, but they're still having a very good year and it shouldn't hurt their seed too much so long as they can rebound and continue to play well.
A TEAM TO WATCH
-I don't think there is a team out there that has improved between November and now as much as Cincinnati. Granted you have teams like Maryland who struggled early on and have really hit their stride, but Maryland wasn't anywhere close to being as bad as Cincinnati was in November. Cincinnati was so bad, that they kicked things off by losing to two cupcakes in their own invitational. Now, they've managed wins over Pittsburgh, Louisville, Syracuse and Villanova, and looked pretty good for about thirty minutes at Notre Dame. They also nearly beat Xavier on the road, and would have had they been able to hit their uncontested lay-ups, and put up a pretty good fight against Memphis an NC State. The Bearcats still have a lot of work to do if they want to make the NCAA Tournament, mostly because they were so bad right out of the gate, but if they improve as much between January and March as they did between November and January, we may see them in the Final Four. I'm not predicting that by any means. I'm just pointing out how much they've improved. Head coach Mick Cronin has done a sensational job and the team's defense is just about as tough as anyone's in the nation.
MONDAY, JANUARY 21st HIGHLIGHTED MATCH-UPS
-SYRACUSE AT GEORGETOWN (Big East). Syracuse has really been slipping and has struggled on the road. A win in this game over a big conference rival would solve both problems for the time being and do a lot to resuscitate their profile. Georgetown looked outstanding over the weekend against Notre Dame, and you can pretty much guarantee the fans will be out in full force for this one as well. Georgetown needs more big wins than what they currently have if they want to end up with a good seed.
-SAN FRANCISCO AT GONZAGA (West Coast). Gonzaga has been blowing past teams since they began conference play, and there is no reason to think that won't continue tonight. The Zags should roll at home.
-TEXAS AT OKLAHOMA STATE (Big Twelve). Oklahoma State has been playing better, but still has a ton of work to do (maybe too much) if they want to turn it around to the point where they're in the NCAA Tourney discussion. Texas already has one conference loss and could really use this one on the road to keep themselves in the top part of the Big Twelve standings.
-LMU AT SAINT MARY'S (West Coast). Like Gonzaga, Saint Mary's has been blowing past their opponents in West Coast play, and that will most likely be the case at home tonight.