READ BEFORE EMAILING
-The new bracket projection is posted below. It is not a prediction of what I believe things will look like in March, but rather a checkpoint for where teams presently stand. I know it looks strange, and some of it may appear to defy common sense, but I tried to base it as much off of what has happened so far this season as possible. Because it's so early, it's not really accurate to say that this bracket is a strong indication of what things will look like in March. It is, however, the way things currently look after what has taken place so far.
ONLY THREE SEC TEAMS
-There are some SEC fans whose heads will probably explode IF they don't understand that it's a checkpoint and not a prediction. The best seed anyone from the SEC has is #6th, and there are only three teams from the SEC in the bracket. Here is why:
-TENNESSEE'S WINS: (Temple, Prairie View, Middle Tennessee, West Virginia). They have a loss to Texas in which they were blown out. That's not too bad, but it isn't good enough to earn a seed better than #6th. None of the teams they've beaten are in the bracket.
-VANDERBILT WINS: (Austin Peay, Toledo, Bradley, Valparaiso, Utah State).
-ARKANSAS WINS: (Wofford, College of Charleston, VCU, Delaware State).
-ALABAMA WINS (not in bracket): (Troy, Mercer, Southern Miss). Those teams have won a combined total of one game against div1 teams, and that's Mercer's win against USC.
-KENTUCKY WINS (not in bracket): (Central Arkansas, Liberty, Texas Southern). They also have a loss to Gardner Webb. There isn't a team in my bracket that has not accomplished more than that.
-FLORIDA WINS (not in bracket): (North Dakota State, Tennessee Tech, North Carolina Central, Rutgers, North Florida). They just lost a game to Florida State.
You get the idea. All of those teams are undoubtedly good enough to build up their credentials and make a case for a good seed in the NCAA Tournament. The RPI of the SEC teams who end up finishing near the top of the standings will get a boost assuming the SEC continues to win at a high level out of conference. However, as of now (which is what I'm projecting) they haven't done anything to warrant a higher seed than what any of the teams been given.
WHY TEAMS ARE SEEDED BETTER THAN WHAT YOU MAY EXPECT
-BYU. They have a quality win against Louisville, and their only loss was against North Carolina. That's pretty good. That's why they're a #3 seed.
-BUTLER. They won the Great Alaska Shootout, which included the likes of Gonzaga, Texas Tech, Michigan and Virginia Tech. They're also unbeaten on the season.
-NEW ORLEANS. They are undefeated on the season, and have a road win against Alabama.
-MIAMI, OH. They've defeated Xavier and Mississippi State this season. Their only loss was a close one to USC, and the game was played out in Anaheim.
-XAVIER. Their only loss was on the road against Miami, OH, but that isn't looking so bad considering how well Miami played in the Anaheim Classic. Xavier won the Chicago Classic, and had a decisive 15 point win in the championship game against Indiana. It's hard to argue that Indiana should be seeded better than Xavier, which is why I have them lower.
-SETON HALL. They're undefeated and have a neutral floor win over Virginia. Two of their wins were unimpressive overtime wins, but I've been told on multiple occasions by committee members that margin of victory is not a point of emphasis. I believe that they will be a strong team this year and could be a sleeper in the Big East. As of right now, they're unbeaten and have a quality win on a neutral floor. That's why they have a #7 seed.
There is more analysis below the bracket.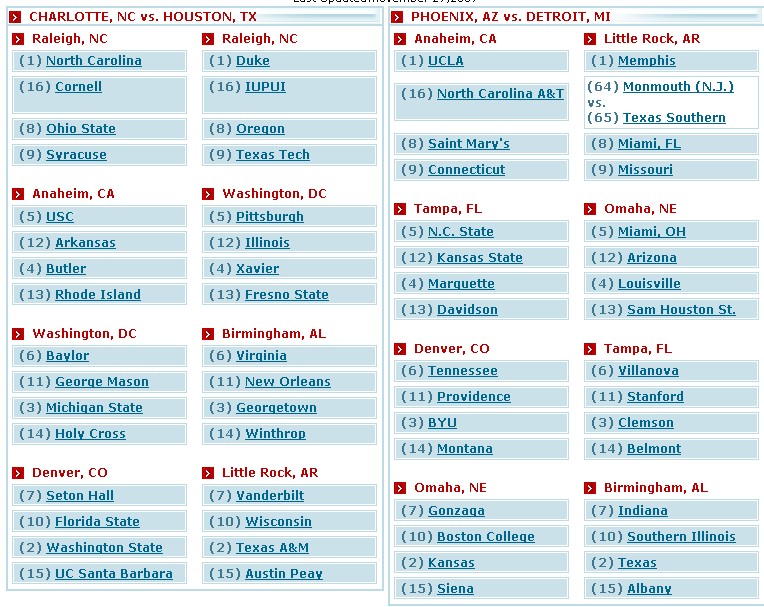 TIDBITS FROM THE EXEMPT TOURNAMENTS
-Exempt Tournaments are very helpful to the selection committee because all teams participating in a given tournament are from different conferences. It's also a chance to see how teams can perform on a neutral floor against other quality competition. If you're the type of person that doesn't start paying attention to basketball until after the Super Bowl…then…well…you're probably not reading this right now. For the rest of us, it was a very exciting week packed full of big games that will make a difference come March.
LAS VEGAS INVITATIONAL
-The Las Vegas Invitational was all set up to have Louisville face North Carolina in the championship game. BYU spoiled that party with their 78-76 win over the Cardinals in the semis. The Cougars only shot 44% from the floor, but
Jonathan Tavernari
was 5-11 from behind the arc, so it just seemed like they were draining everything they threw up. Louisville just had six assists total in the game. That is simply not good enough. I know Louisville lost
David Padgett
, and losing a big man can effect a team's ability to move the ball, but Louisville still has some pretty good post players, and for that matter some good perimeter players. I'm amazed they were able to keep it within two with just six assists for the entire game.
BYU went on to give a scare to North Carolina in the championship game, but UNC opened it up in the final minutes. Tavernari, who couldn't miss against Louisville, was just 6-20 against the Tarheels. BYU is a good team, but I think they'd be even better if Tavernari could do a slightly better job with his shot selection. As Jerry Seinfeld once said to George Costanza "You're a chucker!!"
MAUI INVITATIONAL
-The Maui Invitational wasn't nearly as exciting as it usually is, but the championship game between Duke and Marquette lived up to the billing. It was close all throughout, and the scoring was balanced as seven players got into double figures.
Kyle Singler
was lights out for Duke, though, with 25 points and 7-11 from the field. Duke also beat Illinois rather convincingly along the way, and followed up the tournament championship with a blowout win against Eastern Kentucky.
GREAT ALASKA SHOOTOUT
-Butler needed overtime against Virginia Tech in the semifinals, but shot the lights out against Texas Tech in the championship to win the Great Alaska Shootout. The Bulldogs were 28-47 (59.6%) from the floor, and 16-24 from beyond the arc. That's incredible.
Another surprise from this tournament was Texas Tech's semifinal win over Gonzaga, especially when you consider how bad they looked against Sam Houston just a week earlier. They didn't beat the Butler in the final, but considering how well Butler shot the ball I don't think there are too many teams that would have. Texas Tech is tough to place right now because on the one hand they have a win against Gonzaga, but on the other they have a loss against Sam Houston. I split the difference and put them in as a #9 seed. Right not it's not that definitive anyway.
OLD SPICE CLASSIC
-It was very important for George Mason to pick up some big wins in the Old Spice Classic because they don't have too many more chances from here on out. They managed a huge win against Kansas State, which should help them out down the stretch, and nearly upset Villanova in the semifinals. They ended up beating South Carolina in the third place game, but only by one point. That was big. It isn't that South Carolina is an outstanding team, but it's that losing that game could have come back to haunt George Mason in the even that they end up on the bubble.
NC State ended up defeating Villanova for the championship in what was a very exciting finish. The game was close throughout, but Nova hit a go-ahead basket with 2.2 seconds remaining which appeared to win them the game. NC State threw the ball the length of the floor, drew a foul while shooting a three, and hit two of three from the line to win it. Head coach Jay Wright was very upset, and he had a right to be. Replay showed that there was very little, if any contact.
LEGENDS CLASSIC
-Tennessee, who had looked amazing coming into this tournament, really struggled in the semifinals against West Virginia. At the time I thought it was more of an indication of how good West Virginia was, but then Tennessee followed that up by getting blown out by Texas in the championship game. I fully expect Tennessee to rebound in a big way, but that was a very unimpressive showing for a team that was ranked in the top ten.
CHICAGO INVITATIONAL
-Indiana fell behind Xavier about midway through the first half, became frustrated, and never recovered. Xavier played a great defensive game, and did a good job creating and hitting open shots. Indiana could never seem to get within ten all throughout the second half. They are a young team and should improve quite a bit as the year goes on, but they didn't really look like a Top 25 team against Xavier, much less a top ten team. For Xavier, it was a big time win that got them into the Top 25 and will look good to the selection committee come March assuming Indiana doesn't completely tank it.
Eric Gordon
had 20 points against Xavier, but most of it came from the line. He struggled from the field all night long.
PRESEASON NIT
-It was another case of a poor showing by a team in the championship game. Texas A&M blew Ohio State out of the gym. I didn't watch all that much of it. There was no point.
ANAHEIM CLASSIC
-After losing their season opener to Mercer, USC stepped up big and won this tournament, and played their best game in the championship where they blew out Southern Illinois. The story of the tournament, however, may have been Miami, OH, who nearly upset USC in the quarters, and then went on to beat a pretty good Mississippi State team in the third place game. Miami has made a pretty big statement that they belong in the Big Dance.
OTHER BRACKET NOTES
-Davidson dropped big time and is now seeded #13. I expect them to end up much better than that, but right now their only div1 wins are against North Carolina Central and Appalachian State. They've lost to North Carolina (which doesn't hurt) and Western Michigan (which does, especially considering that at this point in time, they've only won two div1 games). They are another team that I expect to end up seeded much better than where I currently have them, but to repeat myself again, I'm not predicting March, I'm offering a checkpoint for the present. Western Michigan hit 12 three pointers in that game, and shot 59% from the floor. Derek Drews had 18 points and was 5-8 from deep. The Western Michigan Broncos have now won three in a row, and appear to have quite a few winnable games coming up.
-Baylor is undefeated and were the winners of the Paradise Jam, which gave them neutral floor wins against Notre Dame, Winthrop and Wichita State. None of those teams are top 25, but they all currently have winning records. As a result, they received a whopping two votes in the most recent Coaches Poll. I didn't think Baylor would get into the rankings, but I thought they'd get more than just two votes. They're in this bracket as a #6 seed because three neutral court wins against decent teams is better than anything anyone else has done that's seeded below them. I believe Baylor could be a sleeper this year who could do some damage in the Big Twelve. They're not an outstanding team, but they've looked pretty damn good so far and have some outstanding coaching in head man Scott Drew.
-Southern Illinois is just a #10 seed, which may seem low considering how good they are. Like I've said so many times, it's a checkpoint and not a prediction. They just don't have a big time win yet, but in looking at their schedule the big time wins will likely come, along with a lot of other wins.
OTHERS CONSIDERED:
Alabama, California, Texas Arlington, Creighton, Florida, Kentucky, Washington, Western Kentucky, San Diego State, Western Michigan, Mississippi, Purdue, UNLV, New Mexico, Kent State, Oklahoma, Dayton, Bradley, Ohio, Duquesne, West Virginia, Minnesota, UTEP, VCU, Mississippi State, Notre Dame, Houston, Drexel
-All of those teams are off to pretty good starts, and some are even undefeated. It's just that at this point in time, they don't have the kinds of wins that the teams in the bracket have. Nevertheless, most of those teams should be feeling pretty good about themselves.
HIGHLIGHTED GAMES
-PURDUE AT CLEMSON (Big Ten vs ACC Challenge). Both teams are unbeaten, but Purdue hasn't played anyone all that tough yet. Clemson has, and has some nice wins against Old Dominion, and a big road win against Mississippi State. Purdue is young and unproven, but this is a great chance to prove themselves. For a Purdue team that didn't win many road games a year ago, this would be big because it would be a road win against a quality team. Those are the kinds of things that really enrich a team's resume.
-WISCONSIN AT DUKE (Big Ten vs ACC Challenge). Duke looked impressive in the Maui Invitational, and finished it off with a quality neutral floor win against Marquette. Wisconsin is unbeaten, and appears to be a good, well coached team, but they haven't played in an environment quite like this. Duke, like it always is, will be electric. If Wisconsin were to pull it off it would make a statement that they are a Top 25 team. If not, a loss won't hurt them, and it would solidify that Duke is a very strong team (not that it needs solidifying).
-MINNESOTA AT FLORIDA STATE (Big Ten vs ACC Challenge). Florida State has been inconsistent this year, but is coming off of a win against rival Florida, and has a chance to build upon that against a currently unbeaten Minnesota team. Minnesota has played well under Tubby Smith, but the wins they've racked up are the types of wins you'd expect them to get even though they're rebuilding. This would be different. This would be a win against a good team on the road. For FSU, they don't want to be on the bubble. They want to be well inside of it, which is why every game is important.
-GEORGIA TECH AT INDIANA (Big Ten vs ACC Challenge). Indiana needs to rebound from their loss to Xavier, but they'll have to knock off a Georgia Tech team that's also hungry for a quality win. They lost their opener to UNC Greensboro and dropped another game to Winthrop. Georgia Tech is talented, but right now they're looking to verify the fact that they are good, and this game is an opportunity for them to do that.
-NORTHERN IOWA AT IOWA STATE. Northern Iowa is 4-1 on the year and appears to be a pretty good team. Iowa State is in rebuilding mode, and at 2-2 the season is going alright, but probably not as well as they'd hoped. A win over an in-state rival that is trying to make a case that they're an NCAA Tournament team would be a very satisfying win for Iowa State. As for Northern Iowa, it would be nice to prove that they are the team with a leg up in this series.
-UNLV AT UC SANTA BARBARA. This is a game between two teams who have gotten off to a great start, but need some big wins at some point this season to prove that they belong in the NCAA Tournament. Right now, it looks as if both are bubble teams at best, but it's early and both have potential. The fact that both are trying to establish themselves should make for a competitive and exciting game.
-NEW MEXICO STATE AT UTEP. This is another game between two teams that could end up on the bubble. UTEP's only loss was a close game on the road against Texas A&M, but they really don't have any impressive wins to verify themselves as a good team just yet. NMSU was facing a lot of tough competition early and needed to play well, but hasn't. It would really take a long string of victories, starting with this game today, in order to turn their fortunes around and impress the committee enough to consider them if they were to fail to win their conference tourney. It's a game between two teams that right now appear to be on the outside looking in, which means it should be a good one.
BUY GAMES
-STETSON AT FLORIDA. Florida doesn't have any big wins yet, and if they win tonight it won't be considered a big win, but they will improve to 6-1 on the year.
-STONY BROOK AT KENTUCKY. Kentucky has been blowing out sub-par teams since their loss to Gardner Webb, and tonight should be no different. A win gets them to 4-1.
-AUSTIN PEAY AT MEMPHIS. Austin Peay still looks like they could be the best team in the Ohio Valley Conference, but Memphis still looks like they could be one of the four best teams in the country. This is the equivalent of a #1 vs #16 seed game. Austin Peay is good, but no match for Memphis on their home floor.
-TROY AT MISSISSIPPI. Ole Miss gets to 5-0 with a win today. I think they're a good team, but we won't know for sure until they actually play somebody decent. Their next game is against New Mexico, who is also unbeaten against a weak schedule.
-MAINE AT PROVIDENCE. Providence is a solid, but for the most part unproven team. A win today gets them to 4-1.
-BALL STATE AT SAINT JOSEPH'S. SJU's only loss was a close one to Syracuse on the road. They are a team to watch for, and can improve to 3-1 with a win at home tonight.
-SACRAMENTO STATE AT STANFORD. Sacramento State's next win against a div1 team will be their first one, and it probably won't come tonight. Stanford can get to 7-1 on the season with a win.
-NORTH CAROLINA A&T AT TENNESSEE. NC A&T has really elevated themselves when it comes to the MEAC. However, they're not playing a MEAC team tonight. They're playing a team who is most likely disappointed with how it played in their exempt tournament and doesn't want to lose a game like this.
-NORTHWESTERN AT VIRGINIA (Big Ten vs ACC Challenge). Northwestern is winless and probably won't win tonight. A win for Virginia gets them to 6-1.
-MARYLAND EASTERN SHORE AT WEST VIRGINIA. WVU can improve to 3-1 with a win. They played well in the Legends Classic, but didn't rack up any quality wins. Still, as close as they played Tennessee, I think they proved that they're good enough to get the kinds of wins they need at later opportunities.