-The following bracket is not an attempt to guess what it will look like on Selection Sunday at the end of this week, but rather a checkpoint of what it would look like if today was Selection Sunday. The criteria used to select and seed the teams is the exact same criteria used by the NCAA Selection Committee.
-Bracket reflects games played through Monday, March 5th.
-Be sure and check out the article below for an explanation of the bracket. A summary of tonight's action, along with a thorough look at the bubble is also included below.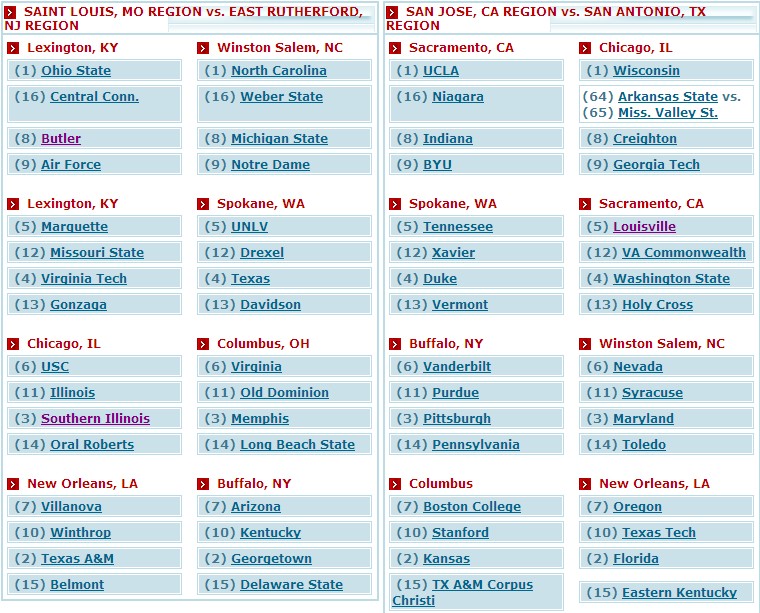 NOTES ON THE BRACKET
-All of the better seeded teams won last night, so there weren't a whole lot of changes. I did move Notre Dame up to a #9 seed, which was where they would have been had they not needed to be moved in order to avoid a Big East match-up prior to the Elite Eight. In order to accomodate the Irish I moved Kentucky down to a #10 seed, who I had at #36, which would have made them the worst #9 seed anyway.
-Another team that was moved up was Syracuse, who was originally a #11, but needed to be moved down to a #12. Xavier, who was the worst #11 seed at 44th on the S Curve, has now moved down to the #12 line.
-A bubble could bust tonight if Wright State defeats Butler and wins the Horizon League Championship.
CONFERENCE TOURNAMENT GAMES
HORIZON LEAGUE CHAMPIONSHIP
-2. BUTLER AT 1. WRIGHT STATE. Butler is in the NCAA Tournament regardless of what happens, but the seed they'll get has taken a hit given how they've been struggling lately. A win in this game should help it from getting any worse, and could even improve it a little bit. Wright State won the last time these two met, and has looked more impressive than Butler has these past few weeks. Wright State can't get to the NCAAs without winning this game, but if they were to win they're looking at a somewhat manageable seed. I could see it being as good as a #13. I don't see Butler being seeded any worse than a #8 or #9 regardless of what happens. It should be a great atmosphere. It certainly won't be an easy game for Butler to win.
MID CONTINENT CHAMPIONSHIP
-2. OAKLAND AT 1. ORAL ROBERTS. Oakland is one of the teams out of the MidCon that has actually managed to beat Oral Roberts, and they did so within the past few weeks. However, it was at Oakland, and the Grizzlies needed overtime to do it. Oral Roberts has a huge advantage playing at home, and should end up with a seed around #14 if they pull this off. Oakland will most likey end up as a #16 if they win.
SUN BELT CHAMPIONSHIP
-5. NORTH TEXAS VS 2. ARKANSAS STATE. This league had a few decent teams in it, but all of them lost in the tournament and none of them have the credentials to get an at-large. As a result, we have two teams playing each other for the title that are likely to end up as #16 seeds if they win this game. Arkansas State knocked off Western Kentucky in the semifinals, who to me appeared to be the best team in the league despite being a #3 seed in the conference tourney. Nevertheless, Arkansas State beat them and has a chance to advance to the NCAA Tournament with a win tonight.
MOUNTAIN WEST OPENING ROUND
-9. New Mexico vs 8. TCU (winner gets BYU)
New Mexico began the season looking like a very dangerous team, but they've been plagued by injuries and now find themselves in last place in the league. TCU hasn't faired all that much better, but they did recently have a big upset against Air Force. Neither of these teams were able to beat BYU this year, but the winner will get another shot at it.
WAC OPENING ROUND
-9. Idaho vs 8. San Jose State (winner gets Nevada)
Nevada beat both of these teams handily every time they faced them this season, and things aren't all that likely to change when they face the winner of this game in the quarterfinals. This should be an exciting tournament. Neither of the teams playing today have a very good chance of winning it, but there are several teams in this conference that are capable of stepping up.
BIG SKY SEMIFINALS
-4. Portland State @ 1. Weber State
-3. Montana vs 2. Northern Arizona
The winner of this tournament is pretty much guaranteed to end up as a #16 seed, and if anyone other than Weber State wins it there is a good chance they'll end up in the play-in game. The only remaining team that has beaten Weber State at all this season is Montana, and that was an overtime game on Montana's home floor, so Weber is the favorite to win it.
MEAC OPENING ROUND
-11. Maryland Eastern Shore vs 6. Norfolk State (winner gets North Carolina A&T)
-10. Howard vs 7. Hampton (winner gets Florida A&M)
-9. Bethune-Cookman vs 8. Coppin State (winner gets Delaware State)
If any of these teams get hot and win the conference tournament, they are pretty much a certainty to be playing in the play-in game. Delaware State is the favorites, and pretty much dominated for most of the season. They did the same thing last season though, but failed to win the confernece tournament.
CHAMPIONSHIP WEEK NOTEBOOK
-All of the better seeded teams won last night, so there weren't any real surprises from that angle, although many would probably consider Arkansas State's win over Western Kentucky somewhat of an upset even though Arkansas State had the better seed. The most surprising thing about that game was the crowd, or lack thereof. Western Kentucky has a very loyal decently sized fan base that generally follows them everywhere. Not many of them made the trip down to the game last night, though.
-Gonzaga's defense was very impressive as they held off Santa Clara to advance to the NCAA Tournament. It was a game they needed to win in order to get in. A loss would have put them at 5-3 since losing
Josh Heytvelt
, and given the strength of the league they play in that record was hardly good enough to verify to the committee that they could play as well without him as they could with him.
-One of the more exciting games of the night was VCU vs George Mason for the CAA Championship. VCU had a case for an at-large, but it wasn't all that strong and likely would have been left out had they not won. George Mason finished sixth in the league, but really caught fire in the conference tournament, and actually played very well in their game last night despite the loss. GMU had a lead for most of the game, and was actually up by five late in the second half, but VCU's guards took over on defense, forced some turnovers, and got the Rams back into the game.
-Niagara and Siena played a very exciting game in the MAAC Championship. It was close the whole way with Siena leading for most of it, but it seesawed back and forth and Niagara ended up winning it, which puts them in the NCAA Tournament for the second time in three years. They are most likely looking at a #16 seed, but they're in the field and they'll get their shot.
CONFERENCE TOURNAMENT PREDICTIONS, PART TWO:
Here are my remaining conference tournament picks now that all the fields are set. At the time I'm writing this, I'm an even 4-4 in picking the conference champions prior to the tournaments beginning from part one of my picks. Western Kentucky's loss in the semifinals makes me a virtual 4-5, though. The other two that I missed last night were Santa Clara and Siena. I do have two picks (Wright State and Oral Roberts) playing in championship games tonight. All but two of my picks have at least made it to the championship game so far.
-ACC (pick-North Carolina). The Tarheels won the regular season title and appear to be the best team in the league, but they are by no means a shoe in to win the conference tournament. For that matter, it wouldn't be all that shocking if they lost their first tournament game. They'll be facing either Florida State or Clemson, both of whom will be playing for their NCAA Tournament lives. It's also hard for some teams to get up for a quarterfinal game in a conference tournament when they know they have a very good seed locked up. If they get past the quarters, they'll be in the semis, and that is a time when good teams sort of refocus and realize they're just one game away from the championship game. However, in picking UNC to win it, I also wouldn't be too surprised to see them go out early.
-ATLANTIC TEN (pick-Xavier). Xavier is the hottest team in the league right now, and looks like they can beat pretty much everyone. Massachusetts could give them some trouble if the two were to meet due to U Mass's strenght in the post, but other than that Xavier should roll. They're the only team who has much of a shot at an at-large, but they aren't quite a lock either, so they have quite a bit to play for.
-BIG TWELVE (pick-Texas). The Longhorns have been playing great basketball lately, and just appear to keep getting better and better. They're coming off a loss at Kansas, but it was a game where they played the Jayhawks very tough and probably would have won that game had it been at a neutral site. This has been one of the most exciting conferences this season, and the tournament will hopefully be exciting as well. With teams like Texas, Texas A&M and Kansas, we should be in for a treat.
-BIG EAST (pick-Louisville). The Cardinals are one of the hottest teams in college hoops. They've been winning on the road, as well as at home, and appear to have more momentum than anyone coming into this. Their potential second round match-up with West Virginia is interesting. The two teams have a good rivalry, but they didn't play each other during the season last year. West Virginia would be playing for their NCAA Tournament lives in that game, but Louisville would love nothing more than to take it away from the.
-BIG TEN (pick-Ohio State). The only two teams that have shown they can win away from home in this conference are Ohio State and Wisconsin, so it wouldn't be much of a surprise to see those two facing off in the championship game. The two split the regular season series, but I must say that I was more impressed with Wisconsin in those two games than I was Ohio State. It's just that I thought Ohio State looked a little bit better overall down the stretch.
-BIG WEST (pick-Long Beach). Long Beach is on fire. They have a bye into the semifinals and have won nine straight Big West games. They also have two wins against Cal Poly, who is the second place team. It's always fun to stay up and watch this one, because it is typically the last championship game played on Saturday night of Championship Week.
-CONFERENCE USA (pick-Memphis). Memphis is hosting this tournament and did not lose to a single conference team all season, although they did have some close calls down the stretch. They are the only team that is in position to get an at-large, and an upset would take a bid away from a bubble team, but I just don't see that happening.
-MID AMERICAN (pick-Akron). This league has about as much parity and rivalry as any league I can think of. Although this conference is on a little bit of a smaller scale, these teams really get after it. Akron looks like the best team to me, but there are several teams who have shown they can step up and play with them, so there are about four or five teams that have a very good shot at winning this tournament. This one is always fun, and I don't expect things to be any different this year.
-MEAC (pick-Delaware State). They have looked like the best team in the league, and last year's upset in the confernece championship game is probably still very fresh in their minds. I don't expect that to happen again this year.
-MOUNTAIN WEST (pick-UNLV). UNLV is very hot right now, and has shown they can beat anyone in the conference on their home floor. Since they're hosting the tournament, that gives them a huge advantage. A very intersting game is the potential match-up between them and San Diego State in the semifinals. I've been impressed with San Diego State lately as well, but don't know if they have what it takes to win against UNLV on UNLV's court.
-PAC TEN (pick-UCLA). Really, your guess is as good as mine in this league, but it does appear they have the easiest path to the championship game, at least. They'll face either California or Oregon State in the quarters, and then either Arizona or Oregon in the semis. Those are teams that UCLA has played pretty well against. They did lose to Oregon, but it was on the road, and it was at the very end of the game. However, I wouldn't be surprised to see any number of teams step up in this tournament.
-SEC (pick-Florida). This is a dangerous pick. I don't expect Florida to sleepwalk through the NCAA Tournament, but I could see them sleepwalking through the conference tournament a little bit. The Gators look worn out, and an early conference tourney loss might actually be a blessing in disguise. Nevertheless, they do have something to play for because if they win this conference tourney it should be enough to secure a #1 seed. They have struggled on the road, but so has everyone else to a larger degree than Florida. The Gators are also the best team, so if they play up to their potential they should win this.
-SOUTHLAND (pick-TX A&M Corpus Christi). This is TAMUCC's first year in the conference, and they've been making the most of it so far by wrapping up the #1 seed. They changed the format of this tournament. It used to be that the games were played on the home floor of the better seeded teams all the way through, but now it's at a predetermined site. I actually liked it better before since this league typically only sends one team. Nevertheless, I still feel TAMUCC is the best team and can win it on a neutral floor.
-SWAC (pick-Jackson State). There is quite a bit of parity in this league, but Jackson State is among the most impressive. They split the series with Mississippi Valley State, who is the #1 seed in the tournament.
-WAC (pick-New Mexico State). I've been high on the Aggies all year, and I actually expected them to do a little better than what they did, but they are a very tough team to beat at home, and since they're hosting the tournament that gives them a big advantage. They played Nevada very tough the two times they faced them, and actually beat them when they played at New Mexico State. A potential semifinal game match-up with Fresno State is interesting because the Bulldogs recently won at NMSU. There are quite a few teams who could contend for the league title in this conference.
-THE BUBBLE WATCH has not changed. Scroll down to that section in yesterday's article below this one to check it out.