-The following bracket is not an attempt to guess what it will look like on Selection Sunday at the end of this week, but rather a checkpoint of what it would look like if today was Selection Sunday. The criteria used to select and seed the teams is the exact same criteria used by the NCAA Selection Committee.
-Bracket reflects games played through Sunday, March 4th.
-Be sure and check out the article below for an explanation of the bracket. A summary of tonight's action, along with a thorough look at the bubble is also included below.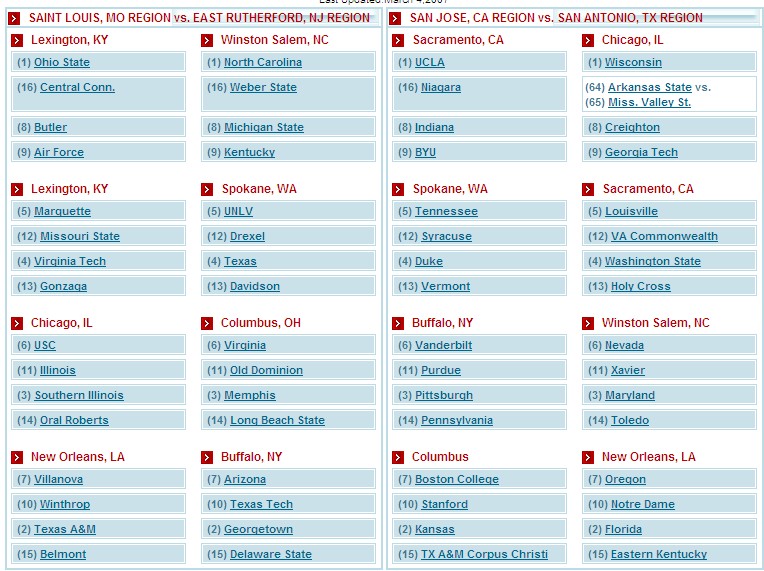 NOTES ON THE BRACKET
-The bracket will be updated on a daily basis between now and Selection Sunday.
-I originally had Notre Dame at #33 on the S Curve, which would have made them the best #9 seed, but they needed to be moved down to a #10 in order to avoid a conference match-up prior to the Elite Eight. I see the Irish as being much better than a #10 seed, but the bracket couldn't be put together any other way.
-Syracuse was another team that needed to be moved. With wins against Georgetown and a big road win against Marquette, the Orange are better than a #12 seed. I have them rather safely in the field at #41 on the S Curve. If they avoid an early loss in the Big East Tournament I believe they're a virtual lock. With eight Big East teams projected in, it's inevitable that some shuffling will need to be done in order to avoid conference match-ups prior to the Elite Eight.
-LAST TEAMS IN: Purdue, Drexel, Missouri State
-Several of the #1 seeds have stumbled lately, North Carolina, Ohio State, UCLA and Wisconsin. Some of the #2 seeds have been struggling lately as well. The only team who appears to be the closest to locking up a #1 seed is Ohio State, and if they can avoid a loss in their first Big Ten Tournament game they should have it wrapped up. The other teams can solidify their spots with strong showings in their conference tourneys as well.
POTENTIAL BUBBLE BUSTERS
Teams projected as 11th or 12th really need to beware. Unfortunately for Drexel, Old Dominion and Missouri State, they've already lost in their conference tournaments and will most likely be sweating it out until Selection Sunday. Everyone else on the bubble needs to step it up.
-Wright State will face Butler on Tuesday night for the Horizon League Championship. Butler is going to the NCAA Tournament regardless, but Wright State must win that game in order to get a bid. The game is on Wright State's floor, and the Raiders have looked much better than Butler has lately. A Wright State win would mean that one less bubble team would go.
-Nevada is another team who has a bid locked up, but no one else in WAC can say that. Nevada is also going to have a very hard time winning that tournament. Although their conference record is dominant, they've struggled against some teams lately, and since it's at New Mexico State there is a very good chance the Aggies could step up and win it.
-San Diego State is a terrific team depending on which night you get them. It doesn't appear that they can get into the NCAA Tournament without winning the Mountain West Tournament, but the thing about SDSU is that they may be good enough to pull it off. They have some head-scratching losses, but they also have decisive wins against Air Force, BYU and UNLV, so they have a shot at winning the tournament and taking a bid away from a bubble team.
-Other teams who are currently out, but barely out, and could easily play their way into the dance with some big wins in their conference tournaments are West Virginia, Clemson, Florida State, Michigan, Mississippi and Arkansas. Florida State and Clemson will face each other in the first game of the ACC Tournament with the winner taking on North Carolina. If the winner of that game can beat North Carolina it should be enough to get them into the field.
CONFERENCE TOURNAMENTS
COLONIAL ATHLETIC CHAMPIONSHIP
-6. GEORGE MASON VS 1. VCU. VCU had a very good season, but I still believe they need to win this game in order to make the NCAA Tournament. George Mason definitely needs to. They struggled for most of the year, but have really kicked it into gear lately. They beat Old Dominion rather handily in the semifinals, and ODU was one of the hottest teams in the country coming into that game. ODU still looks to be inside the bubble to me, but we shall see. As for this game, VCU should get an NIT bid if they fail to win and will likely get some consideration for the NCAAs due to them winning the regular season title, but they probably need to win this tonight in order to get in.
WEST COAST CHAMPIONSHIP
-2. SANTA CLARA VS 1. GONZAGA. The stage couldn't be set any better. These teams are big rivals who split the regular season series, and ended the year tied for first in the conference standings. The loser of this game isn't likely to make the NCAA Tournament, so this is the perfect rubber match with the ultimate reward for the winner and the ultimate dissapointment for the loser. Gonzaga had been looking rather sluggish lately, but absolutely blew up San Diego in the semifinal game and is coming into this game with quite a bit of momentum. They also have experienced players and could end up being a dangerous first round team in the NCAAs if they go on and win this. Santa Clara had been on a tear, but they lost their final two regular season games, which was sort of a surprise. The winner of this game is probably looking at a #13 seed. The loser is a lock for the NIT.
METRO ATLANTIC CHAMPIONSHIP
-4. SIENA VS 2. NIAGARA. The winner of this game is probably looking at a #16 seed. Siena has been playing great lately, and defeated regular season champion Marist by a comfortable margin in the semifinals. Niagara breezed past Loyola, MD in their game, so both of these teams should have a great deal of confidence coming into this one.
SUN BELT SEMIFINALS
-9. Middle Tennessee vs 5. North Texas
-3. Western Kentucky vs 2. Arkansas State
Very bizarre tournament so far. Middle Tennessee knocked off top seeded South Alabama to advance to the semis, and will face North Texas who got here by defeating Louisiana Monroe. Both of those teams needed overtime to win. Arkansas State is the #2 seed, but has very weak NCAA Tournament credentials and is assured to be a #16 seed if they win this. Western Kentucky is the only remaining team who could get a decent seed. The Hilltoppers got an unexpected scare from Florida Atlantic in their quarterfinal game.
MID CONTINENT SEMIFINALS
-4. IUPUI @ 1. Oral Roberts
-6. UMKC vs Oakland
Oral Roberts is looking at a #14 seed or possibly a #13 seed if they win this tournament, which they are the hands-down favorites to do, but everyone else is looking at a #16 seed. None of the remaining teams have beaten Oral Roberts at home this season.
CHAMPIONSHIP WEEK NOTEBOOK
-Part two of my conference tournament predictions will likely be posted tomorrow. I'm 3-2 so far in picking the tournament champions. Belmont blew out East Tennessee State. It wasn't so much a surprise that Belmont won as it was how they won. The other league I missed was the SoCon, where Appalachian State lost in overtime to College of Charleston in the semifinals. Eastern Kentucky (OVC), Creighton (MVC) and Winthrop (Big South) are the ones I have gotten correct. Siena, Santa Clara and VCU are all competing for conference championships tonight, which could improve me to 6-2…or drop me to 3-5. As good as Gonzaga looked in their win against San Diego last night, I'm now having second thoughts about Santa Clara winning the West Coast Conference. The rest of my picks from Part One can be found
HERE
-Creighton won the Missouri Valley Championship to pick up the automatic bid. They really didn't need it in order to get to the NCAAs, but the win against Southern Illinois is one of their biggest quality wins of the year and should really help out their seed. Creighton has been playing extremely well lately and should be able to do some damage in the NCAA Tournament if they keep it up.
-Central Connecticut had all kinds of trouble agaist Mount Saint Mary's, but ended up pulling it out, which means they'll host the Northeast Conference Championship game against Sacred Heart, who was the #2 seed in that tournament.
-If George Mason had been been playing all season the way that they have the past three days, then they wouldn't need to win tonight in order to make the dance. They've really kicked it into gear and have a shot at winning that conference tournament and sneaking back into the NCAAs. If they do make it, they aren't likely to get a very good seed, but if they can continue to play at this level they won't be an easy out either.
-North Carolina defeated Duke in the final regular season game for both teams, but the biggest news came at the end of the game. In the final seconds,
Gerald Henderson
of Duke elbowed
Tyler Hansbrough
of North Carolina in the face as he attempted to "block" the shot. Henderson was called for a flagrant foul and will miss Duke's first game in the ACC Tournament, and could possibly miss more than that. Whether he did it on purpose or not I don't know, but it didn't really look like he did it on accident. He may not have wanted to break Hansbrough's nose, but it did look like he was going for more than just the ball.
THE BUBBLE WATCH
OLD DOMINION (in)
GOOD:
-road win against Georgetown
-had won 12 straight prior to loss in conference tournament
-8-5 on the road
FAIR:
-2nd place in Colonial Athletic
-two wins against Drexel
-RPI = 33
BAD:
-losses to Marist, James Madison and George Mason
Three bad losses is quite a bit for any bubble team, but they also have one of the best wins out of all the bubble teams, and that is a true road win against Georgetown. Had ODU not lost to an RPI team as poor as George Mason in the conference tourney they'd probably be okay for a bid. The committee could give them a break if George Mason wins the conference tourney, because GMU did get hot all of a sudden.
XAVIER (in)
GOOD:
-RPI = 32
-tied for Atlantic Ten regular season title
-neutral floor win against Villanova
-9-1 in last ten games
FAIR:
-home wins against Illinois and Kansas State
-5-5 in true road games, and 2-1 in neutral floor games.
BAD:
-losses to Cincinnati and Duquesne
The Musketeers are safe for now, but that could change if they suffer an early exit from the Atlantic Ten Tournament. They don't have any opportunities to get a big statement win, so they'll be sweating a little bit if they don't win the automatic bid.
ILLINOIS (in)
GOOD:
-SOS = 26
-no losses to teams outside RPI top 100
FAIR:
-RPI=35
-Home wins against Indiana and Michigan State
-9-7 in Big Ten play
-7-3 in last ten games
BAD:
-3-6 on the road with no notable wins.
Illinois needs to rack up some quality neutral floor wins in the Big Ten Tournament in order to feel safe. If they drop their first game to Penn State they'll really be in trouble.
MISSOURI STATE (in)
GOOD:
-neutral floor win against Wisconsin
-8-4 on the road
FAIR:
-RPI=38
-only one sub100 RPI loss
BAD:
-Only one win against a solid NCAA Team
There isn't anything particularly bad about Missouri State's resume, it's just that there isn't anything outstanding about it either other than their one win against Wisconsin. When comparing them to everyone else, one wonders if that will be enough. A win over Creighton in the conference tournament would have likely locked them in, but now they're going to be sweating a little bit.
DREXEL (in)
GOOD:
-13-5 in true road games
-road wins against Creighton and Villanova
FAIR:
-road win at Syracuse
-RPI=42
-7-3 in their last ten game
BAD:
-13-5 in conference play
-losses to Rider and William & Mary
The Dragons have three very notable road wins, but it's hard to say if that will be enough given their inconsistency. The committee will be impressed by the amount of games they've won on the road, though.
PURDUE (barely in)
FAIR:
-RPI = 45
-SOS = 49
-Home wins against Michigan State, Indiana, Illinois and Virginia
-9-7 in Big Ten play
-played Ohio State close on the road
BAD:
-2-8 on the road with no notable wins
-2 losses outside RPI top 100
-losses to Indiana State and Minnesota
Purdue still has some work to do. Beating Iowa in the Big Ten Quarterfinals is pretty much a must. If they do that and beat Ohio State they will be locks for the NCAA Tournament.
WEST VIRGINIA (barely out)
GOOD:
-home win against UCLA
FAIR:
-home win against Villanova
-RPI = 58
-6-4 in last ten games
-2-4 against RPI top 25
-4-1 on neutral site games
BAD:
-SOS = 98
-loss at Cincinnati
-3-6 on the road
West Virginia is 9-7 in the Big East, but that league's scheduling isn't balanced and WVU's schedule was easier than many of their conference foes. They'll need a few wins in the Big East Tournament in order to feel safe.
CLEMSON (out)
GOOD:
-road win against Virginia Tech
-6-5 on the road
FAIR:
-RPI = 36
-SOS = 46
-home wins against Boston College and Georgia Tech
-road win against Old Dominion
BAD:
-3-7 in their last 10 games
-7-9 in conference play
Clemson will be in the discussion if they can manage a win over Florida State in the ACC opening round, but they'll need to beat North Carolina in the next game in order to be safely in. Anything less than that probably won't be enough.
MICHIGAN
FAIR:
-RPI = 53
-home wins against Michigan State, Indiana, Illinois and Purdue
-just one sub100 RPI loss
BAD:
-3-8 on the road with no RPI top 100 road wins
-4-6 in last ten games
-8-8 in conference play
Michigan has quite a bit of work to do. They'll need to advance at least to the semifinals in order to get any serious consideration. Beating Ohio State in their final game would have helped, but as of now they look to be on the outside.