-The following bracket is not an attempt to guess what it will look like on Selection Sunday at the end of this week, but rather a checkpoint of what it would look like if today was Selection Sunday. The criteria used to select and seed the teams is the exact same criteria used by the NCAA Selection Committee.
-Bracket reflects games played through Monday, March 5th.
-Be sure and check out the article below for an explanation of the bracket. A summary of tonight's action, along with a thorough look at the bubble is also included below.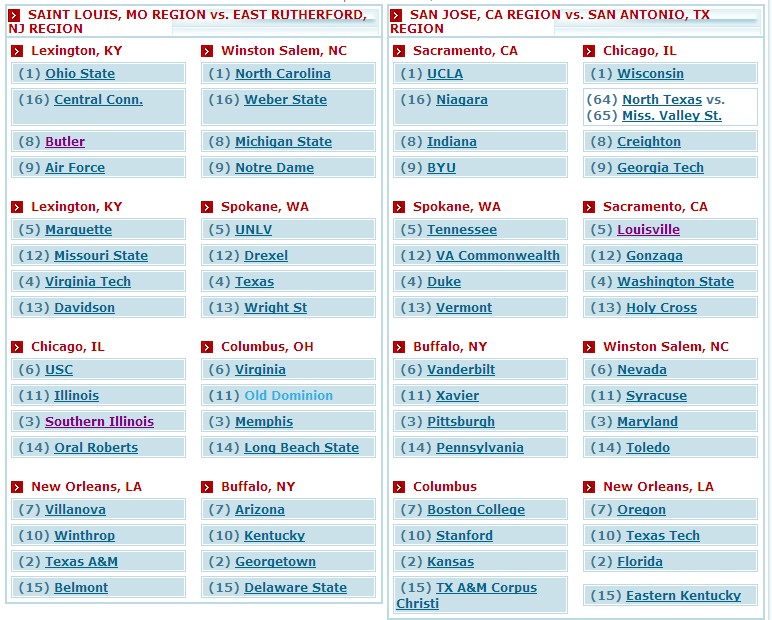 NOTES ON THE BRACKET
VCU. I realize that I had VCU in the bracket twice by mistake. It was a big time oversite, and I just missed it. One of those teams should have been Gonzaga. The mistake has been corrected. Thanks to all of those who emailed me to point it out.
-Wright State led Butler most of the way in the Horizon League Championship game, but the biggest lead they were able to build up was eight points, so it was very close the whole way. Butler was finally able to take a 52-50 lead late in the game, but Wright State answered with a 5-0 run and never trailed again. DeShaun Wood had 18 points in the first half, and had some big defensive plays down the stretch as well. This will be only the second NCAA Tournament appearance for Wright State in school history.
As a result of that game, the bubble has shrunk, and there will be one less bubble team in the field. In the case of my projections, the new first team out is now Purdue. The Boilermakers will have a chance to make a solid case for themselves in the Big Ten Tournament, so their status in my projections could very easily change.
-Butler dropped from #29 to #32 on my s-curve, but that does not change their potential seed, and therefore does not change their placement in the bracket.
-North Texas won the Sun Belt Championship, and replaces the team that they beat in Arkansas State as the second worst team in the field.
-Oral Roberts, or should i say
Caleb Green
& Assoc., struggled against Oakland in the first half, but ended up pulling it out in the second half. Therefore they didn't move in the bracket either.
-With Purdue out of the bracket, Xavier is now back up to a #11 seed, which was what their original S Curve seeding was.
-For those that may have not seen it yet, I have reposted the Bubble Watch below. It has not been updated since Monday, but the data is still very close to accurate. I plan on updating it after Wedensday's games.
CONFERENCE TOURNAMENT GAMES
BIG EAST OPENING ROUND
-12. CONNECTICUT VS 5. SYRACUSE (winner gets Notre Dame). Syracuse is very close to the bubble, but if they can avoid a loss in this game today I believe they're pretty safe. A win against Notre Dame in the quarterfinals would virtually lock them in. Connecticut beat Syracuse earlier this season, so this is by no means a sure thing, but Syracuse has been playing well lately and should be able to pull this one off.
-11. SAINT JOHN'S VS 6. MARQUETTE (winner gets Pittsburgh). Marquette is a lock for the NCAA Tournament and should get a pretty good seed no matter what happens, but they have a tremendous opportunity to build on that. Winning today may not be so easy because the tournament is on Saint John's home court, but if they can get it done and knock off Pitt in the quarterfinals they have a chance to get a seed as good as 4th. Of course, that depends on how several other teams play in their tournaments.
-10. PROVIDENCE VS 7. WEST VIRGINIA (winner gets Louisville). West Virginia appears to be right on the bubble, and a loss today would likely keep them out of the NCAA Tournament. They have some big wins, but haven't done all that much on the road and need to perform on a neutral floor in this tournament in order to impress the committee. Two wins in this tournament will likely be enough to get them in, though. Even just winning one game will get them pretty close.
-9. VILLANOVA VS 8. DE PAUL (winner gets Georgetown). Nova is pretty safe for an NCAA bid despite being the #9 seed. They've been playing well lately, and played a tougher conference schedule in a non-balanced league than some of the teams who finished ahead of them. They are pretty safe regardless of what happens, but this would be a nice win in order for them to sustain their current seed. It would also give them another shot at Georgetown, which is a team they split with during the regular season.
NORTHEAST CONFERENCE CHAMPIONSHIP
-2. SACRED HEART AT 1. CENTRAL CONNECTICUT. The winner of this game is pretty much assured to be a #16 seed. Sacred Heart played some top notch OOC opponents pretty tough, but CCSU dominated the league. CCSU had some trouble in the semifinals against Mount Saint Mary's, but they're at home against a team that they beat twice this season, so they definitely appear to have the advantage.
BIG SKY CHAMPIONSHIP
-2. NORTHERN ARIZONA AT 1. WEBER STATE. The top two seeds have advanced, although Weber State had some trouble with Portland State in their semifinal game. Weber won both regular season meetings, and seeing as how they're the home team they appear to have an advantage in this one. The winner of this game will most likely end up as a #16 seed in the NCAA Tournament.
PAC TEN OPENING ROUND
-10. ARIZONA STATE VS 7. WASHINGTON (winner gets Washington State). Arizona State had a frustrating season, but they played several teams pretty close during the season and aren't necessarily going to be an easy out. Washington struggled for most of the season as well, but they're also coming off a big home win against UCLA and have shown signs of life. If they go on to win this game it could be a huge headache for Washington State given the rivalry that the two teams have.
-9. OREGON STATE VS 8. CALIFORNIA (winner gets UCLA). I can't help but think that neither of these teams have much of a chance against UCLA given how they've been playing lately. They're long shots at best, but at least the winner will have that shot.
CONFERENCE USA OPENING ROUND
-12. East Carolina vs 5. Tulsa (winner gets Tulane)
-11. SMU vs 6. Southern Miss (winner gets Houston)
-10. UTEP vs 7. Rice (winner gets UCF)
-9. UAB vs 8. Marshall (winner gets Memphis)
Memphis is the hands down favorite to win this tournament, especially considering that it is being played in Memphis, but some of the teams have been giving them trouble lately, including SMU and UTEP in their last two games, who are among the worst teams in the league. Memphis is the only team who can make the NCAA Tournament with an at-large bid.
ATLANTIC TEN OPENING ROUND
-12. Richmond vs 5. Fordham (winner gets Rhode Island)
-11. Temple vs 6. Saint Joseph's (winner gets George Washington)
-10. Duquesne vs 7. Saint Louis (winner gets Massachusetts)
-9. Charlotte vs 8. Dayton (winner gets Xavier)
Xavier and Massachusetts tied for first in the conference standings, but there is quite a bit of parity in this league and both could have trouble with their quarterfinal opponents. Last year, none of the teams that received byes made it out of the quarterfinals. Xavier has a pretty decent chance at an at-large if they fail to win the tournament, but no one else really does, especially the teams playing today.
MID AMERICAN OPENING ROUND
-12. Bowling Green vs 5. Ohio (winner gets Miami, OH)
-11. Northern Illinois vs 6. Western Michigan (winner gets Kent State)
-10. Buffalo, vs 7. Central Michigan (winner gets Akron)
-9. Ball State vs 8. Eastern Michigan (winner gets Toledo)
The East Division of this conference was much better than the West Division, but since the two divisions are paired against each other it makes the bracket rather interesting. Toledo has the best record, but they played in the weaker division. There are a lot of good rivalries in this conference, and the tournament should be very exciting. Only one team out of this league will go, which makes the stakes even higher.
BIG WEST OPENING ROUND
-8. UC Riverside vs 5. UC Irvine (winner gets Santa Barbara)
-7. Pacific vs 6. Cal State Northridge (winner gets Cal State Fullerton)
Long Beach and Cal Poly have byes into the semifinals, and Long Beach is the favorite to win the tournament. The teams playing today are long shots, but a win today will give them the chance to advance to the semis.
MEAC QUARTERFINALS
-8. Coppin State vs 1. Delaware State
-5. Morgan State vs 4. South Carolina State
-7. Hampton vs 2. Florida A&M
-6. Norfolk State vs 3. North Carolina A&T
Delaware State is the favorites to win this. If anyone else pulls the upset then there is a good chance they could be headed to the play-in game.
SWAC QUARTERFINALS
-8. Alabama State vs 1. Mississippi Valley State (winner will face either Texas Southern or Alcorn State)
-7. Southern vs 2. Jackson State (winner will face either Arkansas Pine Bluff or Grambling)
The winner of this tournament will most likely be headed to Dayton for the play-in game. I really can't see a scenario where any of these teams do better than that unless some #7 or #8 seeds step it up in smaller conferences and win their tournaments. Jackson State and Mississippi Valley State are the two favorites, which is why they're playing a day early. In the event that they win, they get a days rest before the semifinals.
THE BUBBLE WATCH
OLD DOMINION (in)
GOOD:
-road win against Georgetown
-had won 12 straight prior to loss in conference tournament
-8-5 on the road
FAIR:
-2nd place in Colonial Athletic
-two wins against Drexel
-RPI = 33
BAD:
-losses to Marist, James Madison and George Mason
Three bad losses is quite a bit for any bubble team, but they also have one of the best wins out of all the bubble teams, and that is a true road win against Georgetown. Had ODU not lost to an RPI team as poor as George Mason in the conference tourney they'd probably be okay for a bid. The committee could give them a break if George Mason wins the conference tourney, because GMU did get hot all of a sudden.
XAVIER (in)
GOOD:
-RPI = 32
-tied for Atlantic Ten regular season title
-neutral floor win against Villanova
-9-1 in last ten games
FAIR:
-home wins against Illinois and Kansas State
-5-5 in true road games, and 2-1 in neutral floor games.
BAD:
-losses to Cincinnati and Duquesne
The Musketeers are safe for now, but that could change if they suffer an early exit from the Atlantic Ten Tournament. They don't have any opportunities to get a big statement win, so they'll be sweating a little bit if they don't win the automatic bid.
ILLINOIS (in)
GOOD:
-SOS = 26
-no losses to teams outside RPI top 100
FAIR:
-RPI=35
-Home wins against Indiana and Michigan State
-9-7 in Big Ten play
-7-3 in last ten games
BAD:
-3-6 on the road with no notable wins.
Illinois needs to rack up some quality neutral floor wins in the Big Ten Tournament in order to feel safe. If they drop their first game to Penn State they'll really be in trouble.
MISSOURI STATE (in)
GOOD:
-neutral floor win against Wisconsin
-8-4 on the road
FAIR:
-RPI=38
-only one sub100 RPI loss
BAD:
-Only one win against a solid NCAA Team
There isn't anything particularly bad about Missouri State's resume, it's just that there isn't anything outstanding about it either other than their one win against Wisconsin. When comparing them to everyone else, one wonders if that will be enough. A win over Creighton in the conference tournament would have likely locked them in, but now they're going to be sweating a little bit.
DREXEL (barely in)
GOOD:
-13-5 in true road games
-road wins against Creighton and Villanova
FAIR:
-road win at Syracuse
-RPI=42
-7-3 in their last ten game
BAD:
-13-5 in conference play
-losses to Rider and William & Mary
The Dragons have three very notable road wins, but it's hard to say if that will be enough given their inconsistency. The committee will be impressed by the amount of games they've won on the road, though.
PURDUE (barely out)
FAIR:
-RPI = 45
-SOS = 49
-Home wins against Michigan State, Indiana, Illinois and Virginia
-9-7 in Big Ten play
-played Ohio State close on the road
BAD:
-2-8 on the road with no notable wins
-2 losses outside RPI top 100
-losses to Indiana State and Minnesota
Purdue still has some work to do. Beating Iowa in the Big Ten Quarterfinals is pretty much a must. If they do that and beat Ohio State they will be locks for the NCAA Tournament.
WEST VIRGINIA (barely out)
GOOD:
-home win against UCLA
FAIR:
-home win against Villanova
-RPI = 58
-6-4 in last ten games
-2-4 against RPI top 25
-4-1 on neutral site games
BAD:
-SOS = 98
-loss at Cincinnati
-3-6 on the road
West Virginia is 9-7 in the Big East, but that league's scheduling isn't balanced and WVU's schedule was easier than many of their conference foes. They'll need a few wins in the Big East Tournament in order to feel safe.
CLEMSON (out)
GOOD:
-road win against Virginia Tech
-6-5 on the road
FAIR:
-RPI = 36
-SOS = 46
-home wins against Boston College and Georgia Tech
-road win against Old Dominion
BAD:
-3-7 in their last 10 games
-7-9 in conference play
Clemson will be in the discussion if they can manage a win over Florida State in the ACC opening round, but they'll need to beat North Carolina in the next game in order to be safely in. Anything less than that probably won't be enough.
MICHIGAN
FAIR:
-RPI = 53
-home wins against Michigan State, Indiana, Illinois and Purdue
-just one sub100 RPI loss
BAD:
-3-8 on the road with no RPI top 100 road wins
-4-6 in last ten games
-8-8 in conference play
Michigan has quite a bit of work to do. They'll need to advance at least to the semifinals in order to get any serious consideration. Beating Ohio State in their final game would have helped, but as of now they look to be on the outside.