Last Update: 1:12 AM
Press Conferences:
Ettore Messina:
"Besides preparing for the 3rd-4th place game on Saturday, the 2nd worst possible thing about this Final Four is doing this press conference."
"Ramunas Siskausas is the best swingman in Europe right now. I had him in Treviso. He can play the 2,3 and sometimes 4…he gives a lot of versatility. He's a team player. Unselfish."
In regards to our question about the many NBA coaching openings and whether this might have been his last game coaching in Europe…Messina was a bit taken a back at first, shrugging and saying "I didn't know". He then recovered and replied, "Life is strange," and then continued "I hope they don't fire me in CSKA".
Messina took another question before switching his attention abruptly back to the NBA, asking me jokingly if I had "any news on coaching openings?" and then telling us that "in the beginning of the season I had a Toronto Raptors t-shirt sent to me by Maurizio Gherardini. I wanted to come to the press conference with the t-shirt, just as a joke to give you guys something to write about."
The important part here is that, from what we could tell at least, he clearly didn't rule it out.
Zeljko Obradovic:
After a very brief and uninformative press conference, we also asked Obradovic in private whether there was any chance he would look at the NBA if a team approached him about an opening: "I am very happy over here. I have a contract for one more year with Panathinaikos…I like basketball in Europe. I never think about the NBA, there is no reason to. The more important thing in life is to be happy."
---
11:47
Final Score: Panathinaikos 93- CSKA 88

MVP: Theodoras Papaloukas: 23 points, 7 assists, 3 turnovers (8/9 FG)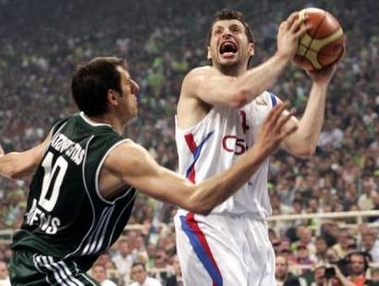 ---
11:43
Crunch Time:
-A huge 3 by Smodis with 3:01 to go makes it a 5 point game and forces Pana to call timeout. Guess who got the assist? His name starts with a P, and ends with a S.
-Diamantidis comes back in following the timeout, and immediately draws a foul on a slashing move. He's not defending Papaloukas in order to not pick up his fifth, since his team needs his playmaking.
-
Trajan Langdon
missed an open 3 off a pass from Papaloukas. The Greeks are still up by 6.
-J.R. Holden misses the first of two free throws. No one is really helping Papaloukas out besides Smodis. He hits the second.
-Siskauksas scores on a drive to the basket, finishes with contact, and draws the foul as well. The free throw puts Pana up 8.
-Langdon drills a pull-up 3-pointer with a hand in his face. Batiste turns it over, and then Langdon hits ANOTHER pull-up 3 to bring the deficit to 2! Unbelievable sequence for the Duke grad.
-Batiste drills a turnaround jumper from 8 feet out the nice time down. CSKA down by 4.
-Langdon tries another 3, but comes up short this time. Pana is called for a foul on the rebound, so hope is still alive. Smodis to the line…the first one just barely goes in. 2nd one is out, and CSKA gets called for the over and back. Vujanic hits both and this game looks over with 20 seconds to go and CSKA down by 5.
---
11:31
-
Anton Ponkrashov
surprisingly came back in the game with 5:34 left. He can be very useful helping to break the press Pana is using.
-Van den Spiegel just blew a perfect assist right underneath the rim after a pick and roll with Papaloukas. The Greek Maestro did not look very happy about it. Smodis just replaced him.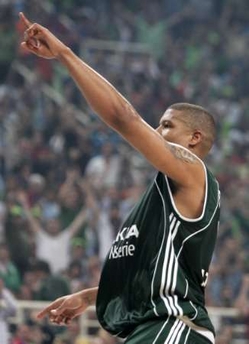 Mike Batiste
-
Mike Batiste
has been huge inside the paint here in the last few minutes. The Greeks are starting to pull away after an And-1 by Tomasevic, leading by 10 points. The wily Greek veteran has been awesome himself, scoring 16 points in 18 minutes.
-The police is here in full force guarding the sideline in case the Panathinaikos fans decide to storm the court.
---
11:23
-
Trajan Langdon
has been absolutely smothered all game long. The Greeks are giving him nothing coming off screens. He's only taken 5 shots all game so far, all of which were closely contested.
-Papaloukas' heroics continue. No one has been able to stop him from getting into the paint, and his finishing at the hoop after contact has been exquisite. When he doesn't hit, he usually gets to the free throw line. The only problem is that CSKA can't get any stops on the other end. He's got a career high 21 points and has hit 8/9 field goals. He hasn't rested for more than a few seconds after coming off the bench four minutes into the game.
-Diamantidis picked up his fourth foul a while back, and CSKA has been making a nice run since.
-The score is 73-69 Panathinaikos.
---
11:15
-Intentional foul called on Smodis after a semi-flop by Becirovic in the lane. It was a pretty questionable call, especially at this crucial point in the game. Pana hit both free throws, and then got an And-1 call with the possession. Huge huge swing that puts the Greeks up by 9 with 9 minutes to go.
---
11:08
-At the end of the third quarter, Panathinaikos leads 65-57. There were 17 fouls called in this 10 minute quarter!
-Crucial misses from the free throw line from Euroleague Final Four newcomer
Oscar Torres
. He went 1/3 from the line just now, and Pana's lead has swelled to 7. CSKA can't buy a bucket.
-Panathinaikos didn't hit a 2nd half field goal until the 2:49 point in the third quarter, courtesy of an assist from Diamantidis to Tomasevic. On the next time down the floor, he knocked down a 3-pointer with a hand in his face.
---
10:48
-Papaloukas continues to run the show as a very dominant ball-handling point guard. He's having another magnificent game in the clutch, just like his reputation tells you he would. He's scored on two big-time moves to the basket early on in the third quarter here, and just like that, the score is all of a sudden tied at 47, capping off a 13-3 run for CSKA in the first 3 minutes.
-There's a lot of chatter between the two sides, and another technical foul has been assessed after Becirovic kicked Papaloukas! The Greek fans are throwing stuff onto the court. Papaloukas gave CSKA the lead at the free throw line, and the Greek fans are singing some kind of song about him. We don't understand the words, but it sure doesn't sound pleasant. Emotions are definitely tense in here. It will be fascinating to see which direction the momentum swings in. The refs aren't being shy at all with their whistles, as they definitely sense how close this game is to blowing up. Papaloukas is getting booed every time he touches the ball.
---
10:24
-At halftime, the score is Panathinaikos 46- CSKA 36.
-This has been a really balanced effort from the Greens…Diamantidis has 9, Siskauskas and Chatzivrettas have 8, and Vujanic has 7. For CSKA, Smodis has 10 (6-6 FT) and Papaloukas has 7 points, 4 assists (3-3 FG).
-Panathinaikos is shooting 68% from the field, and CSKA is at 54%. What a contrast from Friday's stinkers…Pana is a perfect 12-12 from the free throw line, CSKA is 8-9.
-
Anton Ponkrashov
showed his youth by passing up a completely wide open shot to pass to a covered J.R. Holden instead. The possession ended badly in a turnover for CSKA, and Ponkrashov was yanked from the game immediately by Messina. It's doubtful he'll return. Young players in Europe don't have a huge margin for error in games like this.
---
10:11
-Papaloukas is single-handedly keeping CSKA in the game. He just spun into the paint magnificently for a layup. What a show! When he's not scoring, he's putting on a clinic for running the pick and roll. He now has 7 points and 4 assists in 13 minutes. Both teams are going back and forth furiously.
-Milos Vujanic just came in and gave Pana a really nice lift off the bench, nailing a 3-pointer and then drawing four free throws (which he made) on a nice slashing move. Chatzivrettas did the same just before him. The Greeks are up by 10 points. 1986 born NBA draft prospect
Anton Ponkrashov
is in the game for CSKA.
---
10:01
-This has been a phenomenal battle between two Greek guards—Papaloukas and Diamantidis. They are matching each other step for step with their slashing and playmaking. The whole game has been incredibly entertaining and well-played so far, in stark contrast to the semis.
-Diamantidis has 7 points, 2 assists…Papaloukas has 5 points, 3 assists off the bench. Panathinaikos just called a timeout after J.R. Holden drained a three-pointer. The score is 26-25 Panathinaikos and CSKA is on a 17-10 run.
---
9:54
-At the end of the first quarter, the score is 18-17 Panathinaikos.
-Theo Papaloukas is showing all the NBA GMs in attendance why he was named the MVP of the Euroleague despite coming off the bench. He just used a great crossover to get into the paint for an And-1. Pana is oddly not putting the top defender in Europe, Diamantidis, on him.
-
Matjaz Smodis
is doing a great job inside for CSKA. He's drawn 3 fouls in the first quarter already, and is calmly knocking down his free throws.
-
Mike Batiste
has been terrific for Panathinaikos, scoring both with his back to the basket and moving off the ball on a pick and roll. He also had a great assist to Diamantidis for an easy basket.
---
9:45
-CSKA continues to go inside, and continues to be denied by Pana's decisive rotations. David Anderson just replaced Savarsenko, who has been mediocre inside so far. Papaloukas is in the game following CSKA's timeout. Maybe that will calm them down. A screen and roll between Papaloukas and Van den Spiegel provided CSKAs first "calm" points within their set offense. Everything is going through Papaloukas for CSKA, but he is keeping them in the game.
Panathinaikos on the other hand doesn't seem to have a problem getting inside the paint. Their screen and rolls are working out very well. Sani Becirovic picked up his 2nd foul, though. Diamintidis just scored 5 straight points.
-It's 16-8 Panathinaikos with 2:17 to go in the first quarter.
---
9:38
-Another hot start for Sani Becirovic, just like against Tau on Friday. He started off the game 2-2. Panathinaikos' defense is relentless, and their offense is running like a well oiled machine. Coach Obradovic definitely got them ready to play. CSKA looks a bit nervous, committing two early turnovers in the first 3 minutes. Coach Messina called a timeout to calm them down.
-We're here inside the OAKA taking in the opening minutes of the Final between Panathinaikos and CSKA. The atmosphere is unbelievable. Definitely the loudest crowd I have ever experienced. It's a bit odd to see some of the journalists around us screaming and clapping after every basket.
-No press conference for us after the 3rd-4th place game. We had a chance to sit down and interview
Tiago Splitter
instead. That will be posted in a few days.
---
8:13
Final Score: Unicaja Malaga 76- Tau Vitoria 74
-The game was indeed very intense in the last five minutes. Both teams picked up their defense substantially.
Tiago Splitter
had a very nice offensive rebound and put-back, and did a good job setting screens, finding the open man, and rotating on defense. He ended up having a solid, but unspectacular, game here.
-Pablo Prigioni had a terrific all-around showing, tying the game with 8 seconds to go on a nifty drive to the hoop. He finished the game with 13 points on 5/6 shooting.
-
Igor Rakocevic
showed why he was barely a factor in the semi-finals. He really forced the issue down the stretch and was benched by Coach Majlkovic due to his selfish play. He ended the game with 6 turnovers.
-Marko Tusek was terrific with 18 points (5/6 shooting). He was questionable to even play due to injury according to what we were told.
-
Marcus Brown
was huge down the stretch, getting to the free throw line for two easy points and knocking down a huge three with 1:19 to go. He had a chance to put Tau away with under 30 seconds left to play (up by 2), but saw his layup attempt roll out. He got his revenge in the end, though, scoring the game winning basket on a penetration with 1.6 seconds left.
-Florent Pietrus also did a great job hitting the glass (scoring a key put-back) and defending
Luis Scola
, who missed on consecutive possessions in the final two minutes.
---
7:56
-Midway through the 4th quarter, Tau continues to keep Malaga at bay, leading 67-62 with 5:35 to go.
Zoran Planinic
continues to be very aggressive looking for his shot, sitting on 15 points at the moment. Marko Tusek has kept Malaga in the game with his 3-point shooting and dribble drives. He also has 15 points.
Tiago Splitter
continues to play within the flow of the offense. He has 8 points and 7 rebounds, but was called for a very questionable traveling violation just a moment ago. He also came up with a big block on the awful/very rusty
Marcus Brown
. Neither team seems overly concerned with who wins this game, but maybe that will change in the last 5 minutes here.
---
7:42
-With 3 minutes left in the third quarter, Tau leads Unicaja 56-49.
-
Tiago Splitter
seems to have woken up a bit here in the third quarter. He's rebounding better, scored on a layup off a pick and roll, and then followed that up with a tip-in off an offensive rebound, but for the most part, he isn't seeing the ball much here for one on one situations, and that doesn't seem to bother him all that much. This (meaningless) game doesn't have much intensity at all so that's really not that big of a surprise. All the players seem to be going through the motions, especially on the defensive end.
---
7:15
-At the end of the first half, it's Tau Vitoria 40- Unicaja Malaga 35. Malaga is in this game because of their 3-point shooting (7/14), and should be able to close this one out easily if they can start playing their normal perimeter defense. They are surprisingly getting outrebounded 13-9 so far.
-
Igor Rakocevic
went on a mini scoring spurt here at the end of the 2nd to give Tau the edge, scoring 8 points in a very short span.
Tiago Splitter
has played fairly poorly so far, not being very aggressive and even getting blocked by a much shorter rival at the basket once. He has 2 points, 2 rebounds and 3 assists in 14 minutes.
Mirza Teletovic
missed a monster jam (thanks to Florent Pietrus' challenge) to cap off an uneventful half as far as he's concerned.
-Rakocevic has 14 points (4/6 3P) and
Zoran Planinic
has been very good with 10 points (4/5 FG) for Tau. Tusek (3/3 3P) and Vasileiadis (2/6 3P) lead Unicaja with 9 and 8 respectively.
Pepe Sanchez
has 5 assists.
---
7:02
-Unicaja still up by a couple mid-way through the 2nd half. Scola is starting to assert himself around the basket.
-Florent Pietrus (Mickael's brother) is one hell of an athlete, just like his brother. He's shown that a few times here today and on Friday with the way he elevates off the floor for offensive rebounds, alley-oop and shot-block attempts. He doesn't have any real offensive game, but is an excellent defender and plays with a lot of hustle. His agents are pushing him very hard and it appears that he will play in summer league from what we can gather. Luis Fernandez tells me that if
Michael Ruffin
can play in the NBA, then so can Pietrus.
-1985 born draft prospect
Mirza Teletovic
is in the game for the first time in the Final Four.
-Tau might be taking this game a little more serious than Malaga. With 5 minutes to go in the 2nd quarter,
Luis Scola
is yet to leave the floor.
-Plenty of early foul trouble: Prigioni, House and Rakocevic have two early ones for Tau, while Pietrus and Faison have similar issues for Malaga.
---
6:47
-It's been an up and down, and somewhat sloppy game so far. The refs are letting a lot of blatant fouls go, which is helping the tempo of the game.
Igor Rakocevic
has hit a couple of 3-pointers for Tau, and
Jiri Welsch
has come out aggressively for Malaga. With 2 minutes to go in the first quarter, it's 13-10 Tau. Malaga is already starting to empty its bench out a bit, with younger players like
Costas Vassiliadis
and Alfonso Sanchez getting early playing time.
---
6:30
-The 3rd-4th place game just kicked off, and predictably, the arena is about 3/4th empty. The all Spanish matchup between Tau and Unicaja will hopefully be an entertaining one, and we should get a chance to take a nice long look at
Tiago Splitter
and hopefully
Mirza Teletovic
too. Kaya Peker is injured, which should help the chances of that happening.
---
6:25
-In the finals of the Junior tournament, Zalgiris beat FMP 78-74. The game wasn't all that close for most of the way, as Zalgiris went up early and was even up by as many as 19 points at the end of the third quarter.
Milan Macvan
was the best player for FMP, while
Donatas Motiejunas
stole the show for Zalgiris and likely won himself MVP honors for the entire tournament. We'll have a much more detailed recap of the individual prospects seen here in the next few days.