Last Update: 12:15 AMPress Conference:
Tau's head coach Bozidar Majlkovic surprisingly began the press conference talking about Tau's poor defense (rather than their atrocious offense), saying the team lacked speed, played poor position defense, made decisive errors, and did not fare well in one on one play. Majlkovic said the team lacked a modern small forward who can play power forward (like other teams here did), and mentioned that Fred House (who went 0/11 in the game) played more minutes than he should have. He also talked about the poor night that some of his key players (Scola, Prigioni, Planinic to name a few) had. He didn't seem interested in shouldering any of the blame for his team's awful performance, particularly compared to the style they played all season long.
Panathinaikos head coach Zelko Obradovic also spoke about his team's defense, but was obviously talking about the pleasure he took in the work his players did. We asked the coach to talk about the good things his players did individually, and who might have been some who stood out in his eyes the most, but he preferred not to talk about individual play. He bluntly said his players don't worry about stats, and that's something that journalists need to worry about instead.
Refreshingly, he thinks they need to play quicker offensively in the final, since they didn't play their style tonight and did not reach their typical scoring average. In his eyes, the pressure of the Final Four may have gotten to the players, which caused the scoring averages to drop. He wants to change the mentality of his players and get them not to hesitate to penetrate or shoot.
---
11:25
Final Score: Panathinaikos 67- Tau Vitoria 53:
MVP:
Mike Batiste
(15 points, 12 rebounds)
---
11:17
Crunch Time
-A big run here for Tau, sparked by Erdogan and
Tiago Splitter
. They cut it to 6 with 4:05 to go.
-
Luis Scola
fouls out with 3:27 to go, right after the refs make a controversial call not to give Erdogan three shots on a foul from behind the arc, saying he wasn't in the act of shooting.
-Tau needed a stop and got one, but Panathinaikos came up with a huge offensive rebound on a tip-back by Dikioudis.
-Nice up-fake and score by
Tiago Splitter
under the basket with 2:15 to go. Tau still down 6.
-The dagger might have been a drive and dish by Diamantidis for a wide-open three-pointer by Milos Vujanic with 1:41 to go. It put Pao up by 10 and likely out of sight for Tau. Guess who the crowd won't stop singing about? That's right, the local boy Diamantidis.
-Planinic fouled out on the very next possession. See ya next year Tau.
10:57
-At the end of the third quarter, Panathinaikos leads Tau 47-35.
-Ladies and gentleman, we have a
Tony Delk
sighting! He is mercifully seeing some garbage time finally, as is Javtokas.
---
10:47
-Here's a scary thought: Panathinaikos is up by 15 points, and they have a legit NBA rotation player in
Tony Delk
sitting on their bench in his warm-ups. Delk has been in Coach Obradovic's doghouse all season long (the two don't get along we're told) and likely won't see a minute in the entire final four. But watch him go to the NBA next year and average 15 minutes per game minimum. Another possible NBA player who sees little to no playing time for Panathinaikos is San Antonio draftee Robertas Javtokas. He spurned the Spurs this summer in favor of the Greens, but has only seen minimal time off the bench all season long.
-Fred House jacks up his third air-ball of the game.
-
Tiago Splitter
returns to the game with 3:38 to go in the third. He's only played 9 minutes all game due to foul trouble. Tau's leading scorer
Zoran Planinic
(still stuck on 6 points) promptly picks up his fourth foul.
---
10:42
-The second half begins and still no sign of
Tiago Splitter
. Tau misses some very easy baskets and
Luis Scola
picks up on over the back foul on an offensive rebound, likely out of frustration. It's his third. Things aren't looking too good for Tau Vitoria right now. The only real edge they had in the first half—their rebounding—is turning against them in the second half as well. You have to give credit to Panathinaikos for holding the best offense in Europe to 27 points in 25 minutes. Tau is down by 14 points with 5 minutes to go in the third quarter. The Greek team is putting on a clinic for utilizing shot-fakes.
---
10:17
At halftime, the score is Panathinaikos 35- Tau Vitoria 21
Key Stats:
Tau- 1/9 3P, 12 turnovers, 2 assists, 21 rebounds, 3 fouls on Splitter & Planinic
Pao- 6/12 3P, 6 turnovers, 6 assists, 13 rebounds
---
10:10
-
Zoran Planinic
is loving every moment that Diamantidis' huge wingspan is not suffocating him. He immediately went to work once the Euroleague Defensive player of the year went to the bench, and then continued when he came back every time he got switched off on a screen. He has 6 points (3/4 FG), but also 3 fouls.
-Sani Becirovic's hot shooting continues. He has 10 points and still hasn't missed (4/4 on the night)
-
Tiago Splitter
returned to the game with 4 minutes and change. He's aggressively posting up, but was forced into a very difficult turnaround jump-shot with the shot-clock expiring. Again, he's playing terrific pick and roll defense. Check that…a little too aggressive on Splitter's part. He picked up his third foul on a charge with 2:11 to go in the half, and immediately went out again.
---
10:05
-In the 12 minutes of game action (more than a full quarter), since I wrote "this is clearly a higher quality game so far, at least in the entertainment department", both teams proceeded to score 9 points between them. Serkan Erdogan has played especially poorly for Tau, who already has 9 turnovers in 16 minutes of action and is shooting 1/8 from behind the arc. The fact that they are only down by 8 points now is a small miracle in itself. It has a lot to do with their offensive rebounding.
As I'm writing this, both teams are starting to pick it up a bit. The score is 23-15 Pao, with 4:43 to go.
---
9:53
-Tau is making all kinds of mistakes all over the floor, with poor fouls, bad turnovers (three from Scola), and absolutely no rhythm to be found in their offense. Fragiskos Alvertis gave Pao a really nice spark off the bench with five points and some smart, veteran plays. I'm personally enjoying watching the hustle that Dimitris Diamintidis plays with.
-At the end of the first quarter, it's Panathinaikos 18, Tau 9.
---
9:42
-This is clearly a higher quality game so far, at least in the entertainment department.
Luis Scola
is doing a great job grabbing offensive rebounds and going to work inside the paint.
Tiago Splitter
picked up two early fouls, an early dunk, and did a nice job with his pick and roll defense. The refs seem to be clearly influenced by the rowdy Panathinaikos fans and are calling some very questionable fouls on Tau. Pao 13- Tau 7. Becirovic has 7 early points. Splitter will have to come out after picking up his second foul on a moving screen violation. Bad news for him, and bad news for all the people that made the long trip out to Athens specifically to watch him play…
---
9:29
-The game is about to tip off. Forget everything I wrote about the crowd earlier…everything has changed in the last 25 minutes. This is going to be one amazing experience. The player introductions was like nothing I've ever seen in basketball before. Incredibly loud, and coordinated. There is no comparison between having a neutral floor for two foreign teams (CSKA and Malaga) and one home-town team in Panathinaikos.
---
9:15
-Some thoughts from the press conference…
Unicaja's coach talked about how proud he was of the way his players fought despite the fact that they came up a little short in the end. He pointed out two key moments that really hurt his team—the first being that one of his best players in Carlos Cabezas got injured in the 2nd half when he was extremely hot—further shortening his already incredibly thin rotation—and the other the technical foul on
Pepe Sanchez
. He also spoke of the imbalance on his team between his weak frontcourt combined with his team's poor 3-point shooting—going 3-16 from behind the arc after starting 5-11.
CSKA's Ettore Messina was obviously in good spirits—telling the journalists in the media room to lighten up and wipe off the long faces caused by the fact that they didn't have the much more fun task of writing about the miracle upset story and CSKA's demise. He also joked about the local Greek Papaloukas needing to be in charge of "organizing travel, tickets, practice, the hotel..." etc because of the fact that he played at home and was under a huge amount of pressure to have a big showing in front of the local crowd. They also had the difficult task of fighting the huge expectations for a blowout caused by Daniel Santiago's absence. In his words, his players felt that they needed to win by more than 15 points to satisfy everyone. The coaching staff needed to isolate the team from the media and fans and get them to realize that they are in for a tough task regardless of what anyone says. Messina answered our question about his team's poor transition defense by countering that their transition defense was caused by the type of poor shots that were imposed on his shooters.
Back on press row, it's not hard to tell the difference in atmosphere now that the home-town team is warming up on the floor. Pana's fans are slowly warming up their vocal cords, and the arena is virtually packed except for two substantial sections in the lower bowl, center court that are still almost completely empty. Both are obviously more expensive VIP-type seats. Luckily for the Euroleague, the camera angles are all pointed to the side for the court that is 100% packed with fans in Panathinaikos green.
---
8:12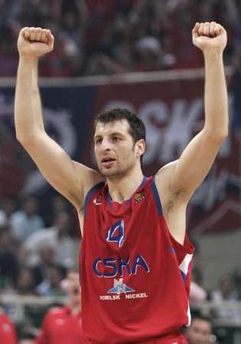 Theo Papaloukas
-
Final Score: CSKA 62- Unicaja 50

MVPs: David Anderson (12 pts, 9 rebs) and Theodoras Papaloukas (11 pts, 7 rebs, 4 ass, 5 steals)
Key Stat- CSKA 43 rebounds, Malaga 28
---
8:06
-Crunch time:
David Anderson with another important mid-range jumper. He's been key today as CSKA has been searching desperately for offense.
Trajan Langdon
gets back on track in the next possession with a 3 to put CSKA up by 9. Malaga needs to respond right now. Faison misses an open 3-pointer…that was big. Langdon misses a 3, but David Anderson gets his hand on the offensive rebound to keep the possession alive. He then gets stuffed at the rim, but responds with a big block on the other end. Smodis is stripped rolling to the hoop. Cabezas misses a 3 and Papaloukas dunks the ball off the outlet all by himself in transition. Game…set…match with 2:11 to go. CSKA by 11.
---
8:01
-Neither team can buy a basket here in the 4th quarter. CSKA is 3-16 on the day from beyond the arc a danger that we precisely warned about in our preview regarding their main weakness. The other one was the fact that they don't have a real go-to guy on this team, and that's really showing right now. Malaga is not backing down and this game will probably go down to the last few possessions. If Malaga was shooting a little better themselves (they are just 7-24 from beyond the arc), they would be up a decent margin. 51-47 CSKA with 5:06 to go.
---
7:50
-At the end of the 3rd quarter, the score is CSKA 44- Unicaja 44. Cabezas is the leading scorer for Malaga with 13. Papaloukas with 9 for CSKA. So much for this one being a blowout…
---
7:43
-Malaga continues to hang around by playing great defense, hitting timely shots and getting into transition ferociously. Malaga's Spaniards Rodriguez, Cabezas and Jiminez are playing particularly well. Malaga leads by 1! 2:35 to go in the 3rd quarter.
---
7:35
-Very sloppy basketball from CSKA coming out of halftime. A quick 10-2 from Malaga to cut it to 1, and Papaloukas is back in the game within 2 minutes. The Russian look like they were expecting Malaga to just give up, and that's not going to happen.
---
7:05
-At half-time, the score is 33 CSKA- Unicaja 24.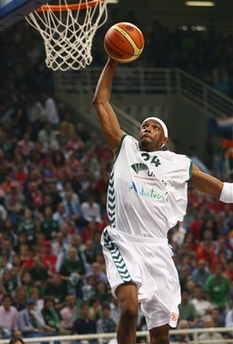 Marcus Faison
-Pretty sloppy game all-around. Neither team is in any kind of real rhythm.
Trajan Langdon
is 1/7. Holden and Papaloukas each have 7 points. Both teams are playing very good defense, especially CSKA. This game is being won on the 3-point line, but every shot and penetration is being contested.
-Technical foul called on Unicaja's bench. Scariolo was irate at what he tought was an elbow thrown at one of his players.
-Sorry to disappoint our fans in Europe, but the atmosphere here has nothing on the NBA playoffs. I'd put the Golden State Warriors fans against anything these guys have to offer ;)
---
6:59
-The Panathinaikos fans are starting to wake up and make some noise. They are warming up by cheering on their brothers in Green—Malaga. I'm sure they would prefer to play them in the finals than CSKA…
-Berni Rodriguez has given Malaga a really nice lift in the 2nd quarter with a 3 and a layup in transition. Malaga is sticking tough for now by shooting a lot of 3's. Papaloukas has 3 steals in 10 minutes already.
---
6:51
-CSKA is up 18-15 at the end of the first quarter. The atmosphere is pretty timid so far.
---
6:46
-Some more slick passing from Carlos Jiminez in transition.
-CSKA is going inside as much as possible to take advantage of Unicaja's lack of size. Malaga's bigs are picking up fouls. CSKA is kicking out for easy 3's when the defense rotates over. Savarsenko has 6 rebounds in 7 minutes early, 3 of them offensive.
-Malaga's game plan is clearly to force the issue as much as possible with screens and dribble penetration. CSKA
-Papaloukas enters the game with 5 minutes to go in the first quarter.
-
Marcus Brown
is forcing the issue excessively, but Malaga is leading early regardless. Cabezas has 5. Savarsenko and Smodis with 3 each.
---
6:36
-Zone defense from CSKA. Malaga looks sloppy and disorganized early on. Both teams came out cold. Not much in terms of atmosphere. Smodis broke the ice with a 3-pointer. Jiminez returns the favor next time down.
---
6:33
-A pretty sad site as it might be an overstatement is to say that the arena barely half full just as the game is about to tip off. Where are the fans? Apparently they aren't interested in the CSKA-Malaga game, which is supposed to end up being a blowout…they'll be here for local Panathinaikos versus Tau…we hope.
---
6:23
-The arena is slowly starting to fill up and the music is absolutely deafening. The Athens Olympic Sports Hall (OAKA) is surely a worthy venue, a beautiful spectacle from both inside and out.
Next up…
CSKA Moscow vs. Unicaja Malaga
The Junior Tournament
Official Site
Parallel to the senior Euroleague Final Four is a youth tournament geared towards some of the top European teams (and subsequently…prospects) on the continent.
In the first day of action, a fairly weak CSKA squad squeaked by Montepaschi Siena 50-47, the extraordinarily deep and talented FMP obliterated Olimpiacos 85-42, Zalgiris ran over Maccabi 80-59, and Cibona beat Prokom 77-59.
A full update will come in the next few days, but some of the more intriguing prospects seen in day one include:
Donatas Motiejunas
(Zalgiris)- Showed a nice combination of athleticism and skills both facing and with his back to the basket. Hit the offensive glass hard, ran the court well, and did a good job showing off his leaping ability.
Zygimantas Janavicius
(Zalgiris)- Created plenty of offense off the dribble both for himself and his teammates by utilizing his excellent first step and will for getting into the paint. One of the more fiery and aggressive players seen here so far.
Maxim Zakharov (CSKA Moscow)- Not the most productive player in day one, but showed some nice flashes of potential putting the ball in the floor, spinning into the paint, knocking down shots, finding the open man and utilizing his athleticism.
Milan Macvan
(FMP)- The best player here by far, Macvan could be helping out a lot of senior teams in Europe right now with his outstanding combination of skills. Has great hands, terrific passing ability, range out to the 3-point line, and an outstanding feel for the game. Not a big time NBA prospect at this point due to his mediocre athletic ability, but a fantastic basketball player regardless.
Filip Covic (FMP)- Created plenty of offense getting into the paint and wreaking havoc on the defense, showed great quickness and did an excellent job finding the open man in transition. On the small side, and not a great shooter.