12:41 AM
What a wild and incredibly entertaining game between Memphis and Missouri. Maybe the best game of this tournament so far? Who would have ever expected
the best defense in college basketball
to give up 102 points?
What a telling performance by Tyreke Evans. The freshman put all of his strengths and weaknesses on full display in this game, scoring 33 points, but shooting the ball 26 times and committing 5 turnovers. At times he looked incredible, absolutely shredding apart Missouri's full-court press, doing a phenomenal job getting to the basket in transition, and showing NBA-level ability in terms of creating his own shot. His ball-handling skills, body control in the lane and ability to utilize jukes and hesitation moves put tremendous pressure on the defense and made for some breathtaking plays, but at times you got the feeling like Missouri was willing to let him monopolize the ball as long as no one else on Memphis was able to get going offensively. Evans really showed his inexperience and severe limitations as both a shooter and point guard in this game, running into brick walls time after time and being extremely turnover prone. He was unable to make a single jump-shot, looking very bad pulling up off the dribble from mid-range and beyond the arc, bricking all six of his field goal attempts outside the paint.
Evans showed that he's a clear-cut NBA player tonight, and throughout the entire season, but plenty of question marks remain about how successful he'll be in the team concept and whether he'll be able to make others around him better. He has plenty of time to continue to gain experience and mature as a playmaker but you have to wonder whether he'll ever be able to change his mentality.
10:35
Xavier gave Pitt a great fight, in a very well coached, well executed, well officiated, and extremely well defended contest between two very tough teams. The final score was 60-55 Pitt.
Sam Young
kept Pitt in the game early, knocking down jumpers from 18-20 feet, getting out in transition, and utilizing his trademark pump-fake out on the perimeter to get his man in the air and make his way to the rim. He was super aggressive to start out, just like against Oklahoma State, and really set the tone for his team in the first half when
DeJuan Blair
was mostly MIA. He finished with 19 points and 3 rebounds on 7-16 shooting. Not really a vintage performance, but very much needed in a game like this.
DeJuan Blair
had one of the worst non-foul trouble related first halves we've seen this season, looking extremely lethargic and finishing with just 2 points and 4 rebounds. You never quite know how teenagers are going to come out in a stage like this in such a new atmosphere, and Pitt fans were probably extremely worried early on seeing their star player getting blocked at the rim time after time by
Kenny Frease
, struggling badly defending the pick and roll, and giving up plenty of offensive rebounds to Xavier. In the second half Blair came out with all kinds of fire in his belly, grabbing 13 rebounds and scoring 8 points, looking far more aware and intense and essentially being the difference maker that ended up putting Pitt in the Elite Eight. His offensive limitations were on full display throughout—he had a hard time converting around the basket when he wasn't just putting back an offensive rebound, and he was unable to be any kind of threat outside of the paint as usual.
Derrick Brown
had a nice showing for Xavier in the first half in particular, leaving a lot of room for optimism regarding how he look next season after a full summer of work polishing up his skill-set. He had 12 points and 9 rebounds on 6-15 shooting, converting on a pair of spot-up 3-pointers and also making some nice drives to the basket. He was pretty much shut down in the second half by Pitt's excellent half-court defense, though.
We're moving on to the Memphis-Missouri game now, before finishing off with Duke and Villanova.
9:22
A horrible call against
Hasheem Thabeet
with three minutes to go really could have been a disaster for the NCAA and their officials if this game ended up being a little closer. The referee somehow imagined an offensive interference violation that gave Purdue a free two points. UConn's half-court defense came up big in the last few minutes, possibly sending a message to the nation that they aren't any worse than Louisville and Memphis, who get all the attention for their play on that end. They managed to shut down Purdue down the stretch and finished up 72-60, to advance to the Elite Eight. Thabeet had a monster stat-line with 15 points, 15 rebounds and 4 blocks. Craig Austrie contributed 17 points on just 4-6 shooting from the field, and
A.J. Price
had 15 points, 7 assists and no turnovers on 5-15 shooting.
Robbie Hummel
had 17 points, only 2 of which came in the second half.
JaJuan Johnson
was relatively quiet with 10 points and 7 rebounds.
9:11
Jeff Adrien
is back in the game, and thus is back on
Robbie Hummel
, and he finally manages to break his 17-minute scoring drought with an easy basket in transition. Purdue is going to have to get some stops here and then find a way to grab the ensuing rebound to try and make a late push here. UConn is up 57-49 at the under-4 timeout.
9:02
A.J. Price
has started to show his one on one scoring ability with back to back baskets followed by an assist to
Jeff Adrien
to help give UConn a half-court spark. He's now 5/14 from the field. For some reason Thabeet decided to show his mid-range game and proceeded to brick a 16 footer.
JaJuan Johnson
then went around him easily for a big-time dunk, exposing the Tanzanian's lack of lateral quickness and awareness on the perimeter in the process. UConn is up 52-44 at the under-8 timeout.
8:54
JaJuan Johnson
and Nemanja Calasan are having a very difficult time keeping
Hasheem Thabeet
out of the paint. Calasan lacks the size and Johnson lacks the hustle or bulk. Thabeet has in turn converted a number of easy layups on in-bounds plays and offensive rebounds, and has now compiled 13 points and 14 rebounds already. Despite the fact that
Robbie Hummel
has cooled off from the perimeter (give credit to Calhoun and
Stanley Robinson
for changing their strategy and benching
Jeff Adrien
), Purdue is somehow managing to hang around here as UConn just isn't able to consistently score in the half-court. It's 42-38 UConn at the under-12 timeout.
8:45
Thabeet continues to look completely clueless offensively, blowing a totally wide-open lay-up by thinking for about 3 seconds after catching a perfect pass under the rim, and then shuffling his feet. He's still an incredibly disruptive presence defensively, though, as he showed with yet another terrific weak-side block. He's also having a phenomenal game on the glass, which is helping UConn maintain their lead despite the bad game
A.J. Price
and
Jeff Adrien
are having.
JaJuan Johnson
finally manages to knock down a mid-range jump-shot – that might force Thabeet to come out and guard him, and in turn free up the paint.
Stanley Robinson
has really cooled off after scoring UConn's first eight points—he just completely air-balled a wide-open 17-foot jumper.
8:32
Calhoun continues to insist on
Jeff Adrien
as
Robbie Hummel
's defender, and it's really starting to sway the tide of this game, as Hummel is shooting the lights out from the perimeter en route to 15 (of Purdue's 25) points in the first half, on 6/12 shooting. That's pretty much been the only thing keeping the Boilermakers in this contest. To add insult to injury,
Jeff Adrien
has decided to show off his mid-range jump-shot in this game rather than punish the skinny Hummel in the post. He's 1/9 from the field so far and is really having a bad game on both ends of the floor, as is
A.J. Price
. At half-time, UConn is leading 30-25, mostly thanks to some unexpected contributions from Craig Austrie and
Stanley Robinson
, as well as a huge advantage on the glass, punctuated by
Hasheem Thabeet
's 10 rebounds.
8:15
Thabeet picks up a layup, and then proceeds to pick up a block, a defensive rebound and then an offensive rebound—it's funny how high the correlation is between those things sometimes. He's starting to look a bit more active for UConn, and they are starting to look for him more. Just as we say that, he commits a foolish turnover inside the paint when he decides to dribble the ball after receiving it around 5 feet from the basket. Calhoun proceeds to yank him.
Robbie Hummel
was really starting to heat up, but he's now on the bench getting some rest. It'll be interesting to see if the often-stubborn Calhoun is willing to slide
Stanley Robinson
into the power forward spot late in this game in order to better defend him on the perimeter.
JaJuan Johnson
is picking up the slack—he just made a great play dribbling the ball up the floor and dishing off to Nemanja Calasan. Purdue is definitely back in this game, its 20-16 UConn just before the under-8 timeout.
8:03
Thabeet gets his first touch in the post, and he proceeds to lose his balance and commit a traveling violation…not exactly what Jim Calhoun had in mind on that in-bounds play. Power Forward
Robbie Hummel
takes his fourth jump-shot of the game and finally manages to knock one down. He then proceeds to take the very stiff
Gavin Edwards
off the dribble from the perimeter and convert a nice jump-stop. These are huge plays for Purdue considering how inside oriented UConn's bigs are.
Purdue is down 14-8 with about 12:30 to go.
7:55
UConn got off to a very strong start, 8-0, and now 14-3, thanks to some very good play from
Stanley Robinson
. He's been excellent for them ever since the Big East tournament kicked off, after being absolutely atrocious until that point. His phenomenal size and athleticism are just too tough to handle at the moment. Purdue started off the game as you would expect, looking to space the floor and pull UConn's big men out of the paint with their perimeter-oriented forwards
Robbie Hummel
(0-3) and
JaJuan Johnson
, but they were unable to make their jump-shots. They look a little bit nervous to start off, already committing a few turnovers, and they are getting killed in transition. They need to settle down and start playing their game if they want to keep things competitive. The score is 14-3 with 14 minutes to go in the first half.
Hasheem Thabeet
hasn't gotten a single touch on either end of the floor yet, and is already on the bench.
5:13
Evening Links
It's been a busy past few days in the world of the NBA draft, as more and more prospects are throwing their name in the eligible-player pool, and many more are still expected to enter. Let's take a quick look.
•
B.J. Mullens Enters NBA Draft, Turner Returning
Freshman B.J. Mullens, widely rumored to be 'one and done' this season come hell or high water, unsurprisingly announced his intentions to enter the NBA draft this afternoon.
"After long consideration I have decided to enter my name in the 2009 NBA Draft," Mullens said. "This was not an easy choice because I love The Ohio State University but the many positive reasons for moving on outweigh the many good reasons for staying."
Thad Matta pulled somewhat of
a Pete Carroll
with his own statement.
"I am saddened to lose B.J.," Matta said. "I feel another year in school would have allowed him to develop into the player I know he can be and an additional season would have been beneficial to him both personally and monetarily in the long run."

"On the other hand, I am empathetic to the reasons why he has chosen to leave at such an early point in his career. I wish him nothing but the best and know he will always be a part of our basketball family at Ohio State."
The reasons Matta is referring to is Mullens' family's difficult financial situation, which no doubt played a big part in his decision.
BuckeyeSports.com's Adam Jardy also
quotes Evan Turner's mother
, Iris James, stating that her son will be returning: "Evan said he will be coming back to Ohio State," James told BuckeyeSports.com. "You can write that."
•
Yahoo! Probe: UConn violated NCAA rules
We'll be hearing plenty more about this in the upcoming weeks, so if you haven't read Adrian Wojnarowski and Dan Wetzel's article, you definitely should. While you're at it, check out the Yahoo! Sports articles about Charles Grantham and Ceruzzi Sports as well as the one about DeMar DeRozan. While outlets like ESPN and CBS are likely too far in bed with the NCAA to bring these types of allegations to light, it's good to see that Yahoo is willing to act as watchdog journalists, which is obviously incredibly necessary.
We don't have a whole lot to add to this story besides saying that the NCAA obviously has plenty of work to do on this front. They've created a multi-billion dollar monster of an industry, and as much as they'd like to hide behind the veil of amateurism, anyone that has anything to do with basketball knows that UConn (if these allegations are true) is hardly the only college program bending the rules in order to get top players on board. We'd venture to say that all of the teams playing in the Sweet 16 have some serious skeletons in their closet, many of which are openly discussed by members of the basketball industry every single day.
•
Blake Griffin: The Puppetmaster
Luke Winn of SI continues to do an excellent job of covering the NCAA tournament from unique angles with this story on Blake Griffin's trainer Frank Matrisciano. It goes a long way in helping explain the incredible restraint Griffin has been able to show while taking cheap shots on a nightly basis from opposing defenses.
Matrisciano said he considers the Griffin brothers and Wright to be his friends, and had watched their game against Morgan State the previous evening. The technique Griffin used while being judo-flipped by Bears henchman Ameer Ali had made Matrisciano proud. "Blake did a wonderful thing there," he said. "When you roll into the throw, and let your body go as limp as possible, you're less likely to get hurt. Because if you're stiff when you land -- like what happened between [UConn's Hasheem] Thabeet and [Pitt's DeJuan] Blair, you land a lot harder. Blake did exactly what he was supposed to do.

"What made me prouder, though," Matrisciano said, "was that he walked way. He could have ripped [Ali's] head off. But then Blake's kicked out of the game, and the next game too. So who wins? If he retaliates, he hurts himself and the opponent achieves his goal. That whole thing was meaningless to Blake. [Ali] will tell his grandkids, 'I flipped a Hall-of-Famer.' But Blake didn't react, and didn't let him win."
•
Greg Hansen: Jordan Hill holds court off court like a real pro
One of the best things about this time of the year is the amount of media coverage that is dedicated to college basketball. We get a lot more in-depth reporting about the backgrounds and personalities of the prospects we've watched play so many times, helping paint a much more complete picture about their overall profile.
Greg Hansen of the Arizona Daily Star has a very interesting look at the maturation process Jordan Hill is undergoing with his comfort level with the media, and helps explain why that may have taken a little longer than usual.
His learning curve has been more difficult than that of the average college ballplayer.

Hill's boyhood in South Carolina and Georgia included four residences and six primary caregivers, including a life-turning relationship with a legal guardian in Atlanta. His mother, Carol, died of breast cancer when Jordan was 3. His father, Curtis, is a long-haul truck driver who was alternately disabled and unemployed, and not always able to be home.

"If you've seen what I've been through in my life, you'd never think that I'd get here," Hill said of Arizona's burst into the Sweet 16. "I wanted to get away from home and learn how to be a man."

A year ago he probably never would have said what he thoughtfully told a captive media audience Tuesday: "I'm definitely going to cherish the years I've had here; it's definitely a blessing to be here."
•
Nick Calathes unsure of NBA prospects
In absence of any hard news on Nick Calathes' status for next season, the Gainesville Sun elected to get quotes from Florida coach Bill Donovan about his star guard's upcoming decision.
"I don't even think it's about (being ready) any more," Gator coach Billy Donovan said. "I think the one thing that people don't understand about the NBA is it's a league of investments, and you're making an investment. A lot of times you are making a long-term investment and you are hoping that your investment gets better and better and better."
Donovan's choice of words is not surprising when you consider his background working at a Wall Street investment firm. He clearly has a lot of experience with these matters, as not only did he lose Al Horford, Joakim Noah and Taurean Green to the NBA draft (one year later than most anticipated), he also saw juniors Anthony Roberson and Matt Walsh leave early as well. Donovan knows first-hand the risk of not striking while the iron is hot—he urged Brett Nelson to return to college for his junior year despite being projected as a likely draft pick, and Nelson is now an assistant coach at Marshall University.
One interesting aspect to keep in mind in Calathes' decision is that Donovan may not be back in Gainesville next season, at least according to what well-respected college basketball insiders like
Jeff Goodman
and
Gary Parrish
say. Donovan leaving for Kentucky, and then being replaced by former Florida assistant Anthony Grant (now of VCU) may actually not hurt Calathes' chances of stick around that much, ironically enough. His relationship with Donovan is rumored to be somewhat rocky, and Grant undoubtedly played a role in Calathes' recruitment in high school—he committed to the Gators as a sophomore, a year before Grant left for VCU.
•
Lance Stephenson leaning toward Kansas
Ian Begley & Mark Lelinwalla of the New York Daily News reports that New York City high school star Lance Stephenson appears to be leaning towards picking Kansas.
Stephenson told reporters on March 18 that he had decided on a school and planned to make an announcement at the McDonald's All-American Game.

If Stephenson was going to announce a commitment to St. John's, letting the word out at the Garden last Saturday "would have been the opportune time to do it," a Stephenson confidant said.

Stephenson recently told reporters that he would be picking a college based on the program's ability to win a national championship. Kansas, the defending national champion, will play Michigan State tomorrow in the Sweet 16 in Indianapolis.

St. John's lost to the University of Richmond in the first round of the College Basketball Invitational last Wednesday. It was the program's first postseason appearance since it won the NIT in 2003, a title vacated because of recruiting violations committed under then-coach Mike Jarvis.

"It appears (Kansas coach) Bill (Self) has one up on Norm," a source said Wednesday. The source would be "shocked" if Stephenson chose Maryland over Kansas and St. John's.
In our opinion, Stephenson would be making a very smart choice by deciding to attend Kansas, at least as far as his professional future is concerned. "Being the man" at a school like St. John's or a Greivis Vasquez-less Maryland won't quell any of the concerns that NBA types will have about Stephenson's attitude or approach to the game, it will only likely increase them. Being in a well-defined system under a coach like Bill Self, where he can learn how to play more fundamentally sound basketball than what he's shown on the AAU circuit would go a long ways in helping him become a better player down the road. Players like Willie Warren, Brandon Rush, O.J. Mayo and other top high school recruits were similarly criticized for having 'me-first' attitudes prior to entering college, but they were able to overcome that. Stephenson's reputation is far worse, but it's not out of the question that it can still be salvaged.
Stephenson, according to sources close to the situation, has decided not to consider following in Brandon Jennings' footsteps by playing in Europe. This is a wise decision, as he would likely struggle far more than Jennings has, due to his style of play and the baggage he brings with him.
•
North Carolina's Wayne Ellington re-invents his game
We've talked quite a bit about the excellent recent play of Wayne Ellington, and Frank Fitzpatrick of the Philadelphia Inquirer has a very informative article with quotes from both Ellington and his coach Roy Williams about that. According to Fitzpatrick, Ellington says that his confidence is so high that he says he feels "like I'm throwing rocks in the ocean."
"I told him, you know, take the ball to the basket, defend people, rebound," Williams recalled last weekend after Ellington helped the Tar Heels defeat Radford and Louisiana State in their first two NCAA tournament games. There was a stretch there in ACC play when he was our second-leading rebounder," Williams said. "He was getting more rebounds than Ed Davis, Deon Thompson and Danny Green. Tyler (Hansbrough) was the only one rebounding more. So I think he gained some confidence in that, knowing that he's a very good player and the shot doesn't have to go in. That makes it a lot more pleasant when it does."
•
It's smart for Jarvis Varnado to feel out NBA waters
Rick Cleveland of Mississippi's Clarion-Ledger thinks Jarvis Varnado would be wise to see how he stacks up as an NBA prospect. His dad appears to be weighing the process carefully.
"Nothing has been decided yet. Right now, I'd say he is more leaning toward going back to school," the father said. "That could change."
Varnado is the type of player that traditionally could have benefited from playing at the NBA pre-draft camp before making a decision on whether to return for his senior year. With that no longer being an option, he'll now have to rely on private workouts (which will be severely reduced as well according to numerous NBA teams
•
Will Quincy Pondexter test the waters?
Bob Condotta of the Seattle Times has a hunch that Quincy Pondexter may declare for the draft to see where he stands in the eyes of NBA scouts, as many juniors typically do each spring.
While Pondexter hasn't said anything publicly about it, there is a feeling he may indeed dip his foot in to gauge the temperature --- it's a move a lot of juniors make these days to go through some of the workouts and get a real assessment of their game. Gonzaga's Jeremy Pargo and UCLA's Josh Shipp are among the seniors this year who declared without hiring an agent last spring to go through the process and get a feel for what scouts think.

(Washington Coach Lorenzo) Romar said today he has not talked to Pondexter about it but that "it wouldn't shock me if he did. That's what the rule is there for.''
•
Jodie Meeks, Patrick Patterson undecided on draft
Kentucky's two best players were asked for knee-jerk reactions immediately after being eliminated from the NIT quarterfinals last night against Notre Dame. Predictably, they did not seem ready to commit either way.
"As of right now, I want to come back," big man Patrick Patterson said. "I'm focusing on next season and making my game better."

In the first minutes after a 77-67 loss to Notre Dame, guard Jodie Meeks was not ready to make declarative remarks about his future.
"I really don't know right now," he said.

The possible firing of UK Coach Billy Gillispie would not change his thinking about the NBA, Patterson said.
--
2:30
The best weekend in college basketball is finally here. Sixteen teams will fight over the next four days for the right to cut down the nets and travel to Detroit next week for the Final Four. After such an outstanding first weekend, the Sweet 16 and Elite Eight have a lot to live up to. Thankfully the matchups look outstanding, as we began to outline from
an individual player standpoint
yesterday.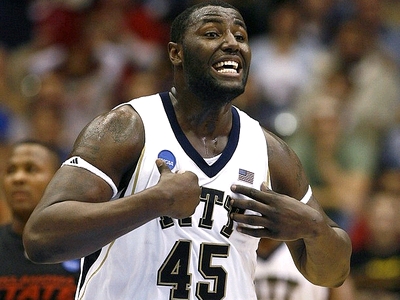 Here is what the schedule looks like for tonight:
#1 UConn vs. #5 Purdue, 7:07 PM, Glendale
#4 Xavier vs. #1 Pittsburgh, 7:27 pm, Boston
#2 Memphis vs. #3 Missouri, 9:37 PM, Glendale
#2 Duke vs. #3 Villanova, 9:57 pm, Boston
Questions that need to be answered:
-Can
Hasheem Thabeet
give UConn any type of offensive presence inside, and will he be able to step outside and guard the ever-improving
JaJuan Johnson
on the perimeter?
-Will the NCAA decide to assign a fourth referee to officiate the slug-fest in Boston anticipated between Xavier and Pitt?
-Can Memphis' guards, specifically
Tyreke Evans
, handle Missouri's intense '40 minutes of hell' full-court press?
-Will
Gerald Henderson
have his breakout performance against Villanova?