3/19
12:37 AM:
We're not too far away now from the first day of the best three week period in college basketball. 16 games are on tap, and a couple of them have a chance to be very entertaining. Here's CBS' official scoreboard if you're trying to set up your own schedule for how to tackle this massive day of college hoops.
We've gotten a lot of calls this week from all corners of the globe with people looking to talk hoops, and specifically, this year's upcoming draft. The question we've been asked the most is "where are you headed?" As in, which region are you going to watch the games at? The answer is: the region right around my living room, particularly my couch, where I'll be taking in ALL the action. The reason for that being, I don't want to miss a single minute of action. For the line of business we're in, we need to be watching EVERYONE play, not just eight of the teams playing at any given regional.
With that in mind, here are the specific games we've pinpointed tomorrow as the most intriguing out of the 16 games on tap.
Courtesy of Directv, here is my DVR "To Do List":
#9 Butler vs #8 LSU 12:20
#9 Texas A&M vs #8 BYU 12:30
#16 Radford vs #1 UNC 2:40
#10 Maryland vs #7 Cal 2:55
#13 Mississippi State vs #4 Washington 4:55
#10 Michigan vs #7 Clemson 7:10
#13 Akron vs #4 Gonzaga 7:25
#15 Morgan State vs #2 Oklahoma
#11 VCU vs #6 UCLA 9:50
12:47 AM
Before we hit the sack to get ready for the big day tomorrow, we should quickly mention the first NCAA tournament game played on Tuesday, the play-in game between Alabama State and Morehead State. A lot of high quality basketball wasn't seen there, but it was certainly nice to get another glimpse (in HD no less) of the
third leading rebounder
in college basketball,
Kenneth Faried
. The New Jersey native did not disappoint, finishing with 14 points and 21 rebounds, and looking just as active and aggressive as we remembered him being when we first watched him following his freshman season, leading us to rank him fairly aggressively in our
sophomore rankings
, despite the fact that his 20.2 minutes per game barely qualified for our database. Our own Kyle Nelson very compares Faried to
Louis Amundson
, and that's exactly the type of player he looks like right now—incredibly high energy, tough as nails, with great quickness and leaping ability, and an almost comically poor skill-level when forced to do anything outside of 5 feet. Faried is almost to keep a body on for more than a few moments, as he gets his hands on absolutely everything even remotely within his radius, playing with a type of reckless abandon that coaches and fans love and opposing players absolutely hate. Since Faried is obviously going back to college for his junior season, we'll save a more in-depth analysis of his all-around game for this summer's "top non-BCS conference prospects" series, but we thought we'd get things started a bit early since he did have a very impressive outing.
1:00 PM
We're starting our day out in the Greensboro region, where Butler is taking on LSU in front of a very sparse crowd. Both teams could legitimately have some beef with the committee for being seeded a couple of lines too low, and both teams have some intriguing wing prospects in
Marcus Thornton
for LSU and
Gordon Hayward
for Butler, http://www.draftexpress.com/blog/Jonathan-Givony/#Top-NCAA-Tournament-Individual-Player-Matchups-Round-One—3135. Both teams are disciplined, well-coached squads who play strong defense and execute well on the offensive end. LSU is more athletic and experienced, while Butler is probably more balanced. The matchup between gritty
Matt Howard
and athletic but paper thin
Chris Johnson
will be another intriguing one to look out for here.
LSU jumps out early on Butler 9-0, taking advantage of some early jitters and turnovers by the very young Indianapolis-based team.
Tasmin Mitchell
and
Marcus Thornton
look very confident in the early going.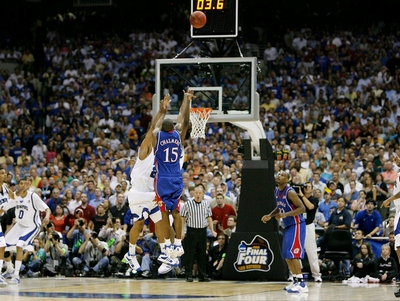 1:37
Matt Howard
is called for his second foul at the 13:30 minute mark, as he just doesn't have the strength to contain the back to the basket game of the ultra-aggressive
Tasmin Mitchell
. This is really bad news for Butler, as Howard's inside scoring is a huge factor in their game-plan. They continue to turn the ball over constantly, which is very uncharacteristic of them.
Gordon Hayward
is going to need to break out of his shell and give them some scoring, although that's not going to be easy with
Garrett Temple
draped all over him. Bo Spencer is not really helping LSU at the moment, as he's forcing the issue badly, as he has a tendency to do at times.
Butler temporarily managed to get back into the game, but
Marcus Thornton
just made four terrific plays in a row, coming off a screen and raising up for a difficult 3-pointer (NBA scouts: scribble, scribble), getting in the passing lanes and going to the free throw line, where he knocked down both attempts, being fouled on a pull-up jumper and knocking down two more free throws, and then again picking up a steal and this time converting in transition--that gives him nine straight points. With three and a half minutes to go in the half, LSU is up 31-18, and Butler is forced to put
Matt Howard
back in the game, despite his two fouls.
1:50
Matt Howard
immediately gave Butler four straight points, to help cut the deficit at half-time to six, 35-29.
Gordon Hayward
canned a huge 3-pointer at the buzzer to give his team some very important momentum going into the locker room.
Marcus Thornton
finished the first half with 13 points, as he also got two baskets on post-up plays (another underrated aspect to his game) in addition to the nine he scored described above. He definitely needed a strong tournament game or two to compensate for how down the SEC was this year, and he delivered in a big way in the first half.
1:56
Matt Howard
picks up right where he left off, taking
Chris Johnson
down to the paint and backing him down with ease on two consecutive possessions. We've seen this happen all season long, average sized college players pushing Johnson around like a rag doll inside the paint. As impressive an athlete and shot-blocker as he is, this is the main reason why we have a very hard time projecting him as an NBA player, as he just doesn't have the strength to avoid being a complete liability defensively as a pro. Considering that he turns 24 this July, and sports an incredibly narrow frame, that's not likely to change anytime soon. Howard now has 14 points and Butler is down 41-40 at the under-16 timeout.
2:15
Marcus Thornton
is really showing a complete arsenal offensively, hitting another terrific 3-pointer after creating separation from his defender, putting the ball on the floor and scoring at the basket, and making some nice passes as well. Butler really doesn't have an answer for him, but neither does LSU for
Matt Howard
. Thornton draws Howard's fourth foul with 8:01 to go on yet another slashing move, and this may be all she wrote for Butler…
After a timeout CBS sends the broadcast to the studio, where we're informed that Cal-State Northridge is improbably up by a point on Memphis with about 13 minutes to go. Since Texas A&M is up by 14 on BYU, we're forced to make our first tough DVR decision and change our free recording channel to the Memphis game. For the record, I don't think CS-Northridge will score more than 10-12 points at most until this game is over (they are currently at 49), but we'll see how this plays out. This would absolutely shatter pretty much everyone's bracket, as Memphis has become the consensus favorites amongst almost every stat-geek you'll find. We'll have to see how this plays out.
2:30
Apparently Thornton is OK, as he came back into the game after a quick minute on the bench. Trent Johnson wisely decided to assign
Tasmin Mitchell
the task of guarding Howard, as he has more strength to contain him in the post and should be able to stay in front of him in the post as well. LSU needs to settle down offensively and get back to running their offensive sets. Bo Spencer has not a great job of organizing their offense and they've gone to playing one on one way too much.
Marcus Thornton
knocks down an NBA range 3-pointer to put LSU up 63-58 at the under-4 timeout—he has 26 of LSU's 63 points.
By the way, CS-Northridge already scored 15 points in the last six minutes of game action against Memphis. I also said that BYU has a real chance against UConn. Shows you how much I know.
2:35
Butler decides to double-down on
Marcus Thornton
, which leaves
Tasmin Mitchell
wide-open for a long two-pointer, which he cans. LSU switches
Chris Johnson
back onto
Matt Howard
, and he promptly ensues to get torched in the post on two consecutive possessions. Thornton goes down into the post and scores a tough basket, and then comes up with a steal (his fourth) on the other end of the floor. What an impressive all-around performance. He has 28 points on 10/14 shooting.
2:43
LSU manages to finish off Butler, thanks to some clutch free throw shooting from their seniors, including
Chris Johnson
, who knocked down five big ones down the stretch, and two apiece from
Garrett Temple
and
Marcus Thornton
.. Final score LSU 75- Butler 71. Man of the match was clearly
Marcus Thornton
, with 30 points, 6 rebounds, 5 assists, 4 steals and zero turnovers on 10/15 shooting from the field (3/4 3P). On the other end
Matt Howard
was huge with 22 points and 7 rebounds in 21 minutes.
We're going to sift through the film of BYU-Texas A&M and Memphis-Cal-State Northridge (who eventually ended up folding down the stretch) games while keeping tabs on UNC-Radford, Cal-Maryland and a
Jim Calhoun-less
UConn against Chattanooga. Memphis gave up 70 points by the way, their highest total since January 3rd.
3:04
No wonder BYU got blown out by Texas A&M. The Aggies started out the game 10/10 from the field to jump out 26-8 early on, while BYU was unable to grab a single rebound and got pretty much nothing out of
Lee Cummard
(0/5 start) or their other perimeter shooters (3/15 nine minutes in). Mark Turgeon and Texas A&M really did a great job scouting BYU in the week leading up to this game, as they seemed to be ready for every half-court set they ran and were a step ahead of them defensively on pretty much every early possession.
3:18
Lee Cummard
really struggled in the first half of this game, having a very hard time on both sides of the floor due to his poor combination of strength and athleticism. He couldn't finish around the basket against A&M's tough defense, and also got backed down in the post and screened on the perimeter on the other end as well. He went to the bench with two fouls at about four minutes to go in the first half, shooting just 1/7 from the field. BYU made a run thanks to some hot shooting from
Jonathan Tavernari
, bringing the lead down to 8 at one point, but A&M responded by continuing to knock down shots.
3:50
Cummard ended up rebounding and putting together a decent stat-line, with 17 points, 6 assists and 1 turnover on 6-14 shooting. He was very good coming off short screens in the 15-17 foot area and in the post, getting to the free throw line repeatedly and making some terrific passes. He made a couple of very tough shots, too, to compensate for the relatively easy ones he missed in the first half. Even though Cummard has some serious physical limitations, and didn't have his best overall game today, you have to love his skill-level and excellent feel for the game. BYU just couldn't slow down A&M inside primarily, and every run they made ended up being stifled by the Aggies' excellent defense. At the end of the day they just dug themselves into too big of a hole.
4:45
Thanks to Synergy Sports Technology, we were able to watch all of
Tyreke Evans
' 22 offensive possessions from his surprisingly tough matchup with #15 seed Cal-State Northridge. He was Memphis' main catalyst in this game from what we can tell, responsible for breaking down Northridge's very active 2-3 zone. He started the game breaking down the defense and driving and dishing to open teammates for 3-pointers, which they were unable to hit until Roburt Sallie heroically came off the bench. Sallie made 10-15 attempts from beyond the arc, while the rest of his teammates hit just 1-13.
The fact that CS-Northridge got Memphis to settle for 28 3-pointers compared with just 31 2-pointers obviously played a large part in how they were able to keep this game close for so long, along with the fact that they made their own shots. Evans hit a couple of tough pull-up jumpers from mid-range early on, but then began to settle excessively from the perimeter (even air-balling a 3-pointer) and also force the issue with his dribble, making a couple of unforced and forced errors. Memphis was unable (or possibly unwilling, in order to not allow other teams to advance scout them) to get into their patented dribble-drive motion offense against CS-Northridge's zone, looking mostly to play pick and roll against the zone and just move the ball around looking for open shots.
Former Memphis player
Chris Douglas-Roberts
told us last year about the "mind games" that Coach Calipiari likes to play with his pupils, and it wouldn't surprise us at all if he were trying to teach his players a valuable lesson today about how tough of a road they have in front of them, while also doing his best to cloak any secrets he's saving for the following rounds. Regardless, Evans will have to do a much better job taking care of the ball and making good decisions against zone defenses than he did today.
7:25
We took a little break to regroup and get ready for tonight's action. Maryland "upset" California and proved that my knowledge of college basketball is average at best, although I'll be a lot more impressed if they can give Memphis a fight. We're going through the tape of the Memphis –Washington game right now, and it's hard not to notice how well
Quincy Pondexter
is playing as of late. The super athletic junior started off the season much the way he finished his last season and a half prior to that, but has shown some nice signs of life as of late.
Jarvis Varnado
has been mostly a non-factor other than a few non-possession changing blocks, and Washington is really putting it to Mississippi State here, the score is 44-30 at the under-16 timeout. Its unbelievable how much Washington's defense has improved in the course of one season, they
rank 11th
in that category according to Ken Pomeroy, compared to 66th last year.
7:50
Washington took care of business, winning this game 71-58 (it wasn't even that close), and
Quincy Pondexter
finished with a season high 23 points (and 7 rebounds) on 9-17 shooting. He did it in the post and off quick isolation moves from the high post, showing a terrific first step and all kinds of aggressiveness. The Huskies also got 15 rebounds from
Jon Brockman
, maybe the toughest SOB in college basketball.
Jarvis Varnado
battled foul trouble and finished with a quiet 7 points, 4 rebounds and 4 blocks.
Speaking of box-score lines, we should mention the excellent game
Greivis Vasquez
had today, with 27 points (10-21 FG), 5 rebounds, 4 assists and just 2 turnovers in Maryland's win over Cal. Thanks to Synergy Sports Technology, we were able to watch all 30 offensive possessions that Greiveis Vasquez utilized today, in just under 8 minutes thanks to the way they cut up the clips.
Vasquez played on and off the ball today, being utilized as both the primary ball-handler and a recipient of many play calls, where he's given the ball after a screen and then asked to make decisions whether to pass or score. He also has the freedom to take his man on on one from the perimeter or go down low and post up, playing most of the first half with two fouls. Vasquez forced the issue quite a bit in the first half, being somewhat hit or miss with his shot-selection and decision making as the game see-sawed back and forth. In the second half he continued with his wild style of play, but started to heat up from the perimeter and really showed his ball-handling skills with some terrific plays in transition and on the pick and roll. All in all, this was a nice showcase of Vasquez's all-around talent, but it was yet another reminder of how much freedom he needs in his team's offensive game in order to be successful, something that only super-stars can afford to do in the NBA.
We only had the stomach to take in half of UNC's blowout win over Radford, but we did fill in the blanks afterwards by taking a look at some of the clips on Synergy. Big man
Artsiom Parakhouski
really struggled in this one, shooting 3-15 from the field, and looking pretty bad defensively (on and off the ball) against Carolina's front-line.
Ed Davis
and
Deon Thompson
did a nice job fronting him and keeping him out of the paint, and Carolina threw double teams at him every time he caught the ball in the half-court. He looked like a guy who hasn't been playing basketball for all that long, making quite a few unforced errors and taking some difficult shots, as he's never had to go up against a frontline with so much depth and athleticism. He did show nice mobility running the court in transition, and was somewhat of a factor in the paint forcing
Tyler Hansbrough
into a few tough shots. From what we're told, he'll be back at Raford next season, and is still someone to keep an eye on next year.
Wayne Ellington
was outstanding with 25 points and 8 rebounds on 11-16 shooting. From the possessions we watched on Synergy it looked like a large part of his points came off open spot-up jumpers and in transition situations, which is normal for him.
Ed Davis
had 15 and 5 in just 19 minutes.
10:00
We've been slacking a bit on the updates. I blame the people who came to watch the tournament here at my apartment, but really things don't get that interesting until the VCU-UCLA game starts in a few minutes. American gave Villanova quite a run, being up by 14 points at one point, but was unable to score over an 8 minute stretch to end up losing by 13 points. Michigan wreaked some serious havoc on my bracket by knocking out Clemson.
Terrence Oglesby
lost his mind and inexplicably intentionally elbowed a Michigan player in the face, being rightfully ejected from the game. He'll likely be suspended to start off next season, and probably cost Clemson this game. Akron gave Gonzaga a fight, being up by as many as 6 points with 15 minutes to go, but ended up folding in the end.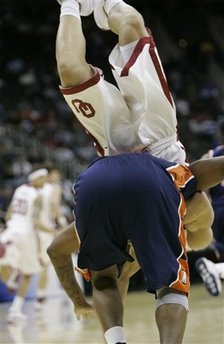 1:10 AM
Great first day of the NCAA tournament. Congratulations to Western Kentucky, who built up a huge lead over the first 30 minutes of the game and barely squeaked out a victory against a very uninspired Illinois team. UCLA-VCU was a phenomenal matchup, and it's really a shame to see
Eric Maynor
(21 points, 7 assists, 2 turnovers, 6 rebounds, 5-15 FG) and
Larry Sanders
(10 points, 10 rebounds, 4 blocks, 3-11 FG) go home after their terrific showing against the Bruins. With
Darren Collison
in foul trouble,
Jrue Holiday
was forced to step up to the plate and make some big plays for his team, giving us a small peak at why he was such a highly touted prospect coming into the season. UCLA's matchup against Villanova in front of a hostile Philadelphia crowd should be a great game. We'll be back tomorrow morning with a more in-depth breakdown of the Collison-Maynor matchup, and talk a little
Blake Griffin
as well.
---
If you're sitting around watching the games like us, feel free to interact with us via email (listed at the end of this article) or preferably on our
message board
, which we'll be checking frequently. Go ahead and shoot us any questions you have about the draft over the next few days, and we'll do our best to answer them.