4:30 PM
After somewhat of an underwhelming start to the Sweet 16, the better half of the eight games should provide plenty of entertainment value. From an NBA draft standpoint, there is clearly a lot on the line, as we discussed in
our individual player matchups article
.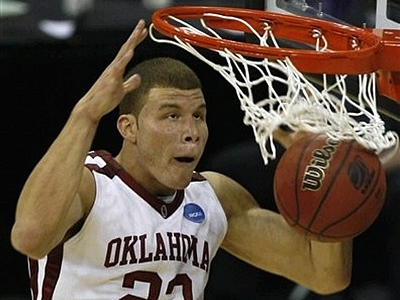 Here is what the schedule looks like for tonight:
#1 Louisville vs. #12 Arizona, 7:07 PM, Indianapolis
#2 Syracuse vs. #3 Oklahoma, 7:27 pm, Memphis
#2 Michigan State vs. #3 Kansas, 9:37 PM, Indianapolis
#1 North Carolina vs. #4 Gonzaga, 9:57 pm, Memphis
Questions that will be answered:
-Can
Jordan Hill
and
Chase Budinger
justify their draft hype and find a way to score against possibly the best defense in college basketball?
-Will
Blake Griffin
be able to get enough touches against Syracuse's zone to impose his will on this game?
-Can
Cole Aldrich
continue to dominate the paint on both ends of the floor against a slew of extremely physical Michigan State big men?
-How will
Ty Lawson
's toe hold up, and which of the dozen draft prospects or so participating in this game will step up to the plate and endear himself to the horde of NBA decision makers in attendance?
5:30
Evening Links:
•
OSU scholars vs. NBA dollars
Without specifically mentioning him by name, Thad Matta rips B.J. Mullens and gives us a pretty good idea about what he will tell NBA GMs when they call him looking for background info this spring. From the blog of Doug Lesmerises of the Cleveland Plain Dealer:
"I think you're beginning to see that becoming a trend in the NBA, just taking young guys and saying maybe eventually he'll be a good player," Matta said several weeks ago. "The same flaws he's going to have in college he's going to have in the NBA. And some teams just draft on, 'We think maybe this could be a really good player someday.' But I think flaws are flaws - just because you're in the NBA doesn't mean they're going to go away. The great ones that do go to school for one year, they get the job done while they're there."
There is nothing new here really, but still surprising to see Matta so open with his criticism. Anyone that has followed B.J. Mullens over the past few years would tell you that: a) he's not very productive (because he's just not that good right now), and b) he has some serious red-flags related to his work ethic and background that leave major question marks about he'll ever be able to come close to reaching his full potential.
Although Mullens is rumored to be intense discussions with a number of well-known agents, he needs to be careful and do some research about what happened to DeAndre Jordan in last year's draft. They appear to be some similarities there that could potentially drop him to the second round if NBA teams get too scared off.
•
Bob Ryan: Star search can corrupt
Legendary writer Bob Ryan of the Boston Globe is able to much more eloquently express the opinion we conveyed yesterday—that the NCAA's amateur policy is a pointless charade and that UConn's recruiting tactics as exposed by Yahoo! Sports, is really nothing new in this day and age.
What must be understood here is that this is simply rules violation case No. 2,786,543, give or take a thousand, in the oft-sordid history of college basketball recruiting. Coaches have always been willing to compromise themselves when the subject is the pursuit of the great young basketball talent.

Recruiting is a notoriously nasty business, and it's far worse now than ever before because the breeding ground for recruits is not necessarily the high school, as in olden days. Adolescent basketball has been hijacked by the loathsome AAU, which sinks its fangs into both boys and girls as they turn 13 and introduces them to a nonstop whirl of gifts, inducements, and far too many games played far away from home. Woe to the college coach who doesn't make nice with the coach of the local AAU juggernaut.

Calhoun isn't the only one who gets involved with these seedy AAU leeches and messed-up kids. I can't say they all do, but among the teams who consistently show up in the Top 40, most of them do, however much they hold their noses when they decide they simply must have a particular play . . . oops, student-athlete. And I'm talking about colleges of every description, whether they are standard private schools, big state universities, or religiously oriented schools. They are all united in their quest for athletic excellence.
•
Willie Warren looks to be Sooners' zone buster
Blair Kerkhoff of the Kansas City Star discusses how important Willie Warren will be as a shooter and shot-creator for Oklahoma in breaking Syracuse's zone. Warren sounds a little less emphatic about returning to school for next year, though, precluding his comments with the dreaded "as of right now" qualifier that basically tells people like me "don't pay attention to anything I'm saying after this, because I reserve the right to change my mind later."
That's interesting, considering that the buzz over the past few days from high-level NBA executives we've spoken with seems to have swayed, with Warren now being expected to enter his name in the draft regardless of what happens tonight. And why wouldn't he? He's widely expected to be a lottery pick, and possibly even a top-5 pick. How do you turn that down? Regardless, we'll have to see how things play out.
•
Nick Calathes will test NBA waters
Franz Beard of GatorCountry.com reports that Calathes will not hire an agent at this time, according to his father John.
•
South Regional has all ingredients to be really special
As Gary Parris of CBS Sportsline notes, the South regional to be played in his hometown of Memphis is incredibly deep with NBA talent.
There are four teams playing two games in which we'll have on display the reigning National Player of the Year (Hansbrough), soon-to-be National Player of the Year (Griffin), ACC Player of the Year (Lawson), Big East tournament Most Outstanding Player (Flynn), Big 12 Freshman of the Year (Willie Warren), and six players total (Griffin, Warren, Lawson, Flynn, Hansbrough and Wayne Ellington) who are projected as first-round picks in the 2009 NBA Draft by DraftExpress.com, plus two more players (Austin Daye and Ed Davis) slotted as lottery picks in 2010.

Also, there will be two Hall of Fame coaches (Boeheim and Williams) and two coaches other schools will soon try to lure away (Few and Jeff Capel), a team that beat Purdue in overtime (Oklahoma), a team that beat Connecticut in six overtimes (Syracuse), and the most efficient offense in the country (UNC), fourth-most efficient offense in the country (Gonzaga), eighth-most efficient offense in the country (Oklahoma) and ninth-most efficient offense in the country (Syracuse) ... plus the guy everybody except Syracuse fans love to hate (Eric Devendorf).
You know we'll be watching.
•
Jeff Goodman: The Dumb Questions
Fox Sports' Jeff Goodman wonders what the point is of asking NCAA underclassmen about their future NBA plans immediately after being knocked out of the tournament.
I'm not sure why writers even bother to ask the question immediately following the final game on whether a player is going to leave early for the NBA.

I know we have to do our job, but you're always going to get the same standard answer.

``Right now my plan is to come back."

That's basically what I heard Gerald Henderson Jr. say last night after Duke's loss, but let's be honest. What are these kids going to say immediately after getting knocked out of the tourney.
My response would be that fans/readers want to know, even though the answer in most cases holds very little water. Sometimes you will get a player like Evan Turner making a pretty emphatic statement about coming back, although you never know how those will hold up either.
By the way…Goodman also broke some slightly bigger news in his blog today, reporting that Kentucky will indeed fire Billy Gillespie. He also says that Billy Donovan has removed himself from consideration.
9:21
Really not much of a contest here between Arizona and Louisville, pretty much from the opening tip. Everyone knew that Louisville was going to play great defense, but how many people thought the Cardinals would score 49 points in the first half, and proceed to blow out Arizona by nearly 40 points? At the final buzzer, the score ended up at 103-64.
This was a very balanced effort from Rick Pitino's squad, on both ends of the floor. Still, it wasn't hard to notice how well
Earl Clark
performed, knocking down a number of open shots, both in spot-up and pull-up fashion, while doing all kinds of little things for his team to help make the difference, crashing the glass, getting his hands in the passing lanes, posting up inside and playing under control. He continues to show his excellent versatility—his biggest draw as a prospect-- throughout the month of March, which has to be helping his stock. He finished with 19 points and 9 rebounds on 7-12 shooting from the field.
Terrence Williams
wasn't quite as prolific offensively, but he was just as important for Louisville. He did a great job facilitating his team's offense with smart, crisp passes to pick apart Arizona's defense with ease, not forcing the issue in the least bit and playing as unselfish as always. Defensively he was active in the press and showed s great knack for picking up steals. He continued to shoot the ball well from the perimeter (4-7 3P), which has been the trend over the past six weeks or so as we pointed out, which is a huge deal for his ever-climbing draft stock. He finished with 14 points, 7 rebounds, 6 assists, 2 turnovers and 2 steals.
For Arizona, the only player that only really showed up for this game was their small forward
Chase Budinger
. He scored 14 of their first 24 points, but was unable to compensate for the horrendous games
Jordan Hill
and Nice Wise played, as he could only do so much. His ability to break the press with his improving ball-handling skills and find the open gaps in Louisville's zone was the only thing that kept Arizona in the game in the first 15 minutes or so. He did a nice job finding open gaps the get his mid-range jumper off or make a quick move to the rim, also making a couple of nice plays in transition and hitting a handful of 3's. For a guy that has been criticized so heavily for not being aggressive enough offensively throughout his college career, he surely didn't give anyone anything to complain about with the way he performed tonight (22 points, 9-15 FG), or in his entire junior year actually.
Jordan Hill
on the other hand really showed his limitations on both ends of the floor in this game, and may have hurt his draft stock a bit in the process. Arizona needed him to be a steadying presence cracking the 2-3 zone by being somewhat of a offensive factor in the low or high post, but unfortunately all he did was remind scouts how low his offensive skill-level is at the moment. He looked very nervous right from the opening tip, fumbling a number of passes and being extremely turnover prone, missing all of his 10-12 foot jumpers and committing a traveling violation pretty much every time he tried to go one on one in the low post. Defensively he was not a factor in the least bit, as he constantly gave up easy position to Louisville's big men, did not rotate to try and protect the paint, and failed to box out on a couple of possessions as well. A couple of garbage time buckets made his stat-line look a little more respectable with 14 points and 11 rebounds, but the 6-18 shooting and 4 turnovers definitely begin to the tell the story.
We're moving on to the Oklahoma-Syracuse game now.
10:50
This Sweet 16 is really starting to turn into a dud, with yet another non-competitive game, as Oklahoma knocks off Syracuse fairly easily, 84-71. Syracuse tried to make it a contest, but Oklahoma jumped out by 27 points and never looked back despite a late run by the Orange. The Sooners absolutely shredded apart Syracuse's zone, as they essentially played man defense only on
Blake Griffin
and were completely exposed on the perimeter, which allowed
Tony Crocker
to score 28 points in the first 30 minutes.
Blake Griffin
was incredible as always, completely dominating the interior right from the opening tip on his way to a monster 30 point, 14 rebound night. He looked unfazed by the extra attention Syracuse's zone gave him, making some very nice reads moving the ball around to keep the defense adjusting, and finding wide-open shooters spotting up from the perimeter on a couple occasions. He was able to make his presence felt as a finisher and offensive rebounder all night long, converting all of his 12 field goals right underneath the rim, mostly in emphatic fashion. He showed some nice ball-handling skills in transition and tremendously agile feet in the post, making it seem like things are just getting easier and easier for him at the college level every game he plays in. Defensively, he had a few bad possessions, as he always does, particularly guarding the pick and roll, where he traditionally struggles. Still, it's hard to nitpick too much when you see just how much better he is than anyone else at the college level, and it's pretty obvious that he's going to be an immediate contributor in the NBA as well.
His teammate
Willie Warren
had a relatively quiet night, with just 6 points, 5 assists and 5 turnovers, on 2-7 shooting. He looked very much like a freshman in the first half, making quite a few mistakes, but fortunately for Oklahoma wasn't really needed considering all the other weapons they had tonight. He did settle down later and made a few shots and assists, but really didn't have a huge impact on this game.
Jonny Flynn
had a solid stat-line with 22 points and 6 assists, with many of his points coming in the second half where his team was down by 20 or more for most of the way. It was questionable whether he'd even be able to continue to play after falling awkwardly on his back when trying to take a charge from
Blake Griffin
at the end of the first half, but he showed a lot of heart as always by continuing to compete. While we had plenty of praise for the young point guard for the way he ran his offense after the Arizona State game in the second round, it was hard to come away with the same conclusion at the end of this contest. Syracuse's offense lacked significant flow, particularly in the first half, and Flynn seemed to revert back to his old habits of trying to be a little too spectacular attempting to make big plays, jumping off one leg for a simple post-entry, making wild lobs, and showing questionable shot-selection. The fact that his sharpshooters
Eric Devendorf
and Andy Rautins couldn't hit the broad side of a barn tonight didn't help matters much, but the whole team seemed to look extremely rattled right from the opening tip, and Flynn definitely wasn't going to be the one settling them down.
Flynn did show his terrific skill-level, ball-handling skills and athleticism on a number of very impressive plays, only adding to the gigantic highlight reel he's created this past month. It's pretty well known what kind of prospect he is by now, and the only thing he needs to do now is decide whether or not he's entering the draft. Sources close to the situation tell us that Flynn is legitimately considering returning to Syracuse next year, as he feels like the team will have a great chance at winning a national championship. On top of that, his close friend
Donte Greene
has privately expressed regret to him for leaving too early, and has really made him think twice about making a similar "mistake."
We're moving onto to the Carolina-Gonzaga game.
12:30 AM
What an impressive performance by North Carolina…completely dismantling a very good Gonzaga team to comfortably come away with a 98-76 victory. Roy Williams' squad looked in total control right from the start, as they executed their game-plan perfectly, defended very well for the most part, and played incredibly unselfish basketball on the offensive end. Out of all the Elite Eight teams we've seen over the past two nights, they looked to be the most impressive. 11-19 from beyond the arc, 23 assists compared with just 9 turnovers, four players in double figures, and a solid 8 ½ man rotation where everyone understands their role perfectly.
Ty Lawson was the story early, with 17 points in the first half, while Tyler Hansbrough took over in the second, finishing with 24 points (8-10 FG) and 10 rebounds. Lawson became more of a distributor in the second half, dishing out 9 assists to go along with just 1 turnover. Wayne Ellington was outstanding yet again, with 19 points, 7 rebounds and 4 assists, and Danny Green did all the little things, ending up with 13 points, 7 assists and 4 steals.
Gonzaga got sporadic good play from all their regular contributors, but were just unable to keep pace with Carolina's incredible offense. Matt Bouldin was somewhat of a disappointment after an excellent recent stretch of games, coming up with just 7 points (3-10 FG), 0 assists and 2 turnovers. Jeremy Pargo led the Zags with 16 points to go along with 2 assists and 3 turnovers, while Josh Heytvelt had 14 points but somehow managed to go 29 minutes without a single rebound.
North Carolina now advances to an incredible Elite Eight showdown with Blake Griffin and Oklahoma on Sunday. Michigan State will play Louisville. We'll try to see what happened in their game against Kansas tomorrow or on Monday.