Quick hitters from this weekend's games so far, looking at the play of individual prospects and how it reflects on their NBA draft stock.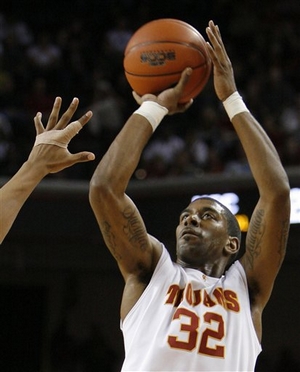 O.J. Mayo
- A guy that everyone seemed to want to see fail because of the way he was built up by the media early on in his high school career, seems to be having his revenge on his critics, living up to the hype and then some, while doing everything on floor for USC. Is clearly adjusting more and more to college basketball as the year goes on, and is now blossoming into one of the top players in the terrific Pac-10. Mayo is finishing better around the rim, and has consistently been distributing great passes, even if he's not always rewarded by his teammates with an assist. He's obviously not a selfish player, even though his assist totals don't reflect the impact he makes as a playmaker for USC, due to their style of play. He plays the game at his own speed, looking a little bit like
Brandon Roy
lately with the patience he's showing going out and creating offense for himself and others. He's also defending very well and again grabbed a number of important rebounds. His ability to come off a screen and elevate for a 3-pointer is an NBA caliber skill. With that said, it's pretty clear at this point that he's not on the same level athletically as some of his fellow highly touted freshman counterparts, as he struggles to get by players on a consistent basis. After the game, Mayo gave the predictable "as of right now, I'm staying" answer when asked whether or not he's leaving for the NBA, which is something that SC fans shouldn't get too excited about if they know their history...
Davon Jefferson
- Hit two 3-pointers against Stanford (one being a semi-awkward bank-shot), his second and third of the season. Took his man off the dribble with a great first step, and had one awesome alleyoop finish off a Mayo lob. His skill-level is still nothing to write home about, but his freakish athleticism means that he has a chance to develop into something down the road, even though he's a very old freshman at 21. Reportedly coming out this year, as he has very little chance to stay academically eligible. He'll be looked at as a low-risk, high-reward type if he falls to the second round—but will have a very small margin for error if he doesn't want to turn into a basketball vagabond.
Brook Lopez
- Had another tough shooting game from the field, hitting 4-13 shots after going 8-22 from the field against UCLA. He continues to have a tough time recognizing double teams, and is forcing up bad shots continuously with multiple defenders swarming around him. It's no secret that he tends to struggle going up against the stronger, more athletic front lines he faces in the Pac-10, and this is something that NBA teams will worry about a bit considering how much tougher things will be for him scoring in the paint in the NBA. We'll monitor this closely next week when we watch him in the Pac-10 tournament.
Taj Gibson
- Had a terrific all-around outing with 20 points, 11 rebounds and 5 blocks. He has bounced back from a very poor showing in the out of conference portion of USC's schedule, where he looked fairly selfish and nowhere near as active defensively as we remembered him, to now establishing himself as one of the best big men in the Pac-10. He's a guy we need to keep an eye on in March, as he seemed very keen on declaring for the draft last year already, and will probably give it a very strong look this year, since he turns 23 this June.
Lester Hudson
- Had an eye-opening game in the semi-finals of the Ohio Valley Conference tournament. He was so interesting to watch, that he almost had me rooting for his team to win so we could see him one more time. Alas, a questionable call (ala the Stanford UCLA ending) did them in. The most interesting thing to see here was the court vision he displayed, particularly in the first half. He's clearly not a true point guard, but he saw heavy minutes there regardless, and did not look bad—particularly in terms of his court vision. His team seemed to hurt his assist totals, though, as he has very little in terms of finishers around him. As a scorer, he time after time showed his terrific stroke and ability to create his own shot and elevate off the dribble. He doesn't get all the way to rim, as his ball-handling skills aren't all that advanced, but he's so much stronger, smarter and more skilled than everyone else at this level that it didn't really matter. He does tend to overdribble at times, although you wonder just much that has to do with him being selfish, and how much is the situation he's in? His team needs him to go out and get them baskets, and seems to rely just stand around and watch him go at it. His man to man defense was just ok, but he had some really nice blocks. His wingspan and hands are both excellent assets. He's a very talented player, and could be a top player in the SEC without a doubt. He's says he's declaring for the draft, and it will be very interesting to see how NBA teams look at him. We'll probably see him at the pre-draft camp. In the mean time, we're going to dig up some more tape from our friends in the OVC...
Terrence Williams
- Obviously one of the stranger/more unique players in the NCAA. Someone we were very high on going into the season, after the terrific showing he had at the Adidas Nations camp, and has slowly worked his way back into good graces with how huge a role he's played in the terrific season Louisville is having. Showed somewhat of a mid-range game, which is a big development for him. Looked unselfish, and slightly more under control than he's known to be. Very good passer, rebounder, defender…does a little bit of everything. Plays extremely hard. Spot-up jumper looked decent, but he still relies on it too much. You can't ignore a 6-6 guy with his frame, athleticism and terrific versatility. Should definitely come back for his senior year, but word is his financial situation might force him to leave this year. Might be a sleeper in the late first round. Still suffers from too many mental lapses.
David Padgett
- I love what he brings to the floor in terms of his intangibles, basketball IQ, and his passing (operating as a sort of point-center for Louisville)…but what's up with 0 rebounds in 28 minutes?
Joey Dorsey
– Appears to be back, which is a big development for Memphis. He's been criticized lately
by John Calipari and the local media
, after not playing well in a few of Memphis' in-conference games. Today was senior day, and he brought a big effort, scoring 16 points and grabbing 12 rebounds. I still don't really know how to swallow him.
Robin Lopez
- With all the attention on his brother, it might be easy to ignore the huge improvements he's made. His offensive skills aren't huge, but are definitely coming around nicely. He's shown all kinds of intriguing sparks over the past month or so that hint of great things to come next year. His activity level is excellent, particularly blocking shots and grabbing offensive rebounds, and he's a solid passer and a very smart all-around team player. It wouldn't be a shock if he had a
Joakim Noah
type junior season next year.
Kenny George
- For all the emails I've gotten, I expected a lot more. Really didn't show up for Asheville today in the Big South championship, as his team (the favorites) got outplayed by Winthrop. Looked absolutely gassed after just a few minutes on the court. Could not establish any type of position in the paint against a very average 6-8 typical Big South player, without any real athleticism or skill. Too tired and not motivated enough to try and use his size inside. Did not show much competitive fire trying to fight through his fatigue. A liability defensively against any type of real team, as he just stands underneath the basket and cannot do anything if his matchup goes outside and is able to knock down a shot. Doesn't join his team for offensive possessions on every third trip or so. I will go out on a limb and say he has zero chance to play in the NBA.
UNC-Duke-
For Carolina,
Tyler Hansbrough
showed a part of his game that is far more important than anything for his draft stock he does offensively—he played terrific perimeter defense on Kyle Singer or whoever he was switched onto. He hedged or switched seamlessly on pick and rolls, moved his feet extremely well staying in front of players, and even made a nice rotation on one play into the paint for a block and the subsequent rebound. Once questioned by NBA scouts for this area of his game, he continued to crash the glass with reckless abandon, which helps his cause considerably. He's looking more and more like a very solid NBA player by the day with his increasing versatility, and those gurus who are still comparing him to
Mark Madsen
might be well served actually watching a game or two before the season is over. It would be nice to see Hansbrough doing a better job passing out of the post, and his jump-shot is still a question mark.
Continuing with UNC,
Danny Green
was absolutely outstanding on both ends of the court, hitting big shots, showing a little mid-range game, putting the ball on the floor crudely, but effectively, and looking terrific in transition. He gives them the aggressiveness they are often missing from
Wayne Ellington
, as he is always looking to assert himself and came right into the game and gave them a huge lift. His perimeter defense was, as usual, excellent, and he came up with a number of key blocks and rebounds. He will never be a top prospect because he isn't incredibly skilled or freakishly athletic, but he's basically all you can ask for in a role player.
For Duke,
Gerald Henderson
is not playing like a guy who should be considering entering the draft early, as persistent rumors indicate. He's still not a good enough shooter to be settling for as many shots as he often does, and seems to get way too passive at times for a player who is clearly Duke's best athlete.
DeMarcus Nelson
didn't really show up on Senior night in this, a game that Duke really needed him to be more assertive in. At times you get the feeling watching him play that he is really stretching himself to the maximum at the collegiate level as far as his athleticism and advanced skill-set (shooting/ball-handling) is concerned.