The first half of the Copa del Rey was a tactical struggle between Tau's coach Neven Spajiha and Joventut's Aito Garcia Reneses.
Ricky Rubio
started this game at the point instead of Demond Mallet, which was sure to raise some eyebrows considering how fluid Joventut's offense had looked up until now. On the other end, Spajiha decided to start with both
Tiago Splitter
and Pete Mickael instead of
Will McDonald
and
Zoran Planinic
, as both had played extremely well this weekend, and also changed his point guard, opting for Pablo Prigioni.
Tau tried to soften up Joventut's flimsier frontcourt with a lot of post-ups early on, mostly directed towards the direction of
Tiago Splitter
, who showed notable aggressiveness trying to create for himself in the paint, indeed drawing two fouls on Eduardo Hernandez-Sonseca, but wasn't able to finish his plays with points.
Pete Mickael was the first one drawing the toughest assignment of the night, Rudy Fernandez (although this was always going to be a rotating team effort), and it seemed to work, as Fernandez started off the night very slowly, forcing some shots (one an air-ball), and turning the ball over three times in the first quarter. Joventut's offense wasn't clicking very well at all with
Ricky Rubio
manning the point, and Tau started to pull away early, mostly thanks to the terrific inside scoring
Will McDonald
was able to provide off the bench, scoring 7 points in the 2nd quarter alone on 3/3 shooting, and grabbing 5 rebounds.
Tau went up by as many as 12 points late in the 2nd quarter, but a huge surge of momentum aided by a few crucial calls helped Joventut cut the lead to just 3 at the end of the first half. First Gabe Muoneke was called for a flagrant foul for a wild, violent swipe he made at the basket on a Joventut player, resulting in two free throws and a made basket for Rudy Fernandez. Then Pete Mickael was whistled for a foul on Rudy and compounded the mistake by protesting the call and drawing a technical foul, which gave Fernandez another two freebies and then another two points on a floater. Those were four to eight points that Tau certainly could have avoided giving Joventut, not to mention the fact that Mickael was now saddled with 3 fouls and Rudy Fernandez had gotten himself going offensively to finish the half with 12 points. Needless to say, the local crowd here didn't appreciate the lack of respect their team was getting from the men in stripes.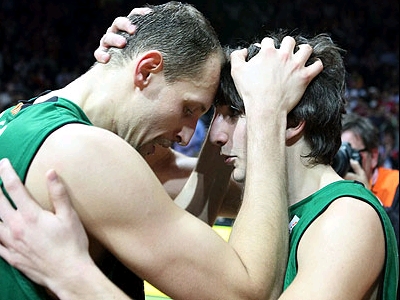 The confidence that Tau seemed to restore in Rudy Fernandez late in the second quarter seemed to carry over wonderfully to the 2nd half. Fernandez was absolutely on fire almost the entire way through, lighting up Tau's perimeter defense to the tune of 32 points. They tried everything they could to stop him, including doubling team him every time he touched the ball (not just by trapping him off the pick and roll), but to no avail. Instead of getting frustrated with not being able to get his shot off early in the 3rd quarter, he instead made the great decision to start taking the ball strong to the basket, time after time either getting to the free throw line or hitting an acrobatic layup in the lane. There was no doubt that he wanted the ball and was going to try to do everything in his power to help Joventut win this game. He got to the free throw line 9 times (going perfect here), and hit 7 of his 9 attempts from inside the 3-point arc.
Tau countered with some very strong inside play from
Tiago Splitter
, who managed to score 11 points in the 3rd quarter and helped get Joventut's entire front line in foul trouble.
Igor Rakocevic
again delivered the goods offensively, finishing the game with 16 points. While the 1st half was a chess match between two coaches, the 2nd half was a straight up sprint to the finish line, with Joventut scoring 50 points and Tau 47.
Mirza Teletovic
was particularly impressive in the fourth quarter, scoring 11 of his 17 total points, many of them coming on clutch 3-pointers when his team was desperately trying to keep up with Joventut's frantic scoring pace.
It was to no avail, though, as Rudy Fernandez kept doing with Tau's defense as he pleased (10 points in the fourth quarter), Demond Mallet contributed with some huge plays,
Ricky Rubio
got into the mix with a few clutch free throws, and their excellent zone defense was just effective enough in order to get the job done. The final score: DKV Joventut Badalona 82- Tau Ceramica Vitoria 80.
Rudy Fernandez was the obvious choice for MVP after his heroic performance over the last four days, His final averages: 22 points, 5 assists and 4 rebounds per game on 53% shooting from the field.
After the game, when asked about the possibility of leaving for the NBA next year, Rudy was noncommittal in his response, stating that "right now I am under contract with Joventut, and that is the only thing I'm thinking about. There are always rumors about whether I'll be in the NBA. Now I'm wearing a Joventut jersey, I won a title with Joventut, and I still have two more championships to play with Joventut this season."
This is Joventut's first title in Spain since winning the Copa del Rey back in 1997. For Tau, this is yet another disappointing loss in a final (on their home floor no less), which has been the trend for this very unlucky or very unclutch team over the past few years.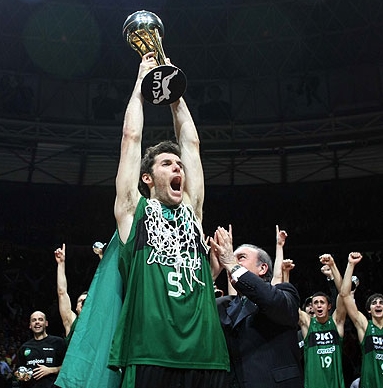 Joventut's entire fan base stayed for a good 45 minutes after the end of the game to sing various chants ("Rudy, Rudy, Rudy", "Championes", "This is basketball," and many more) until their heroes finally came out to pay them respect. It was a great ending to what has been a fantastic weekend so far.