-The bracket projections reflect all games played through Sunday, December 3rd.
-I'm basing the projections more and more off of what has happened this season and less and less on presumptions. That is why some teams might not be seeded consistently with their ranking in the polls or where most people believe they'll end up. Teams like Connecticut or Syracuse who are good, but really don't have any statement wins yet, are seeded lower. Granted, it's still too early in the season to define a statement win without being presumptuous to some degree. I won't be able to go off the data alone until next early next month. The RPI, SOS and everything else just aren't practical yet.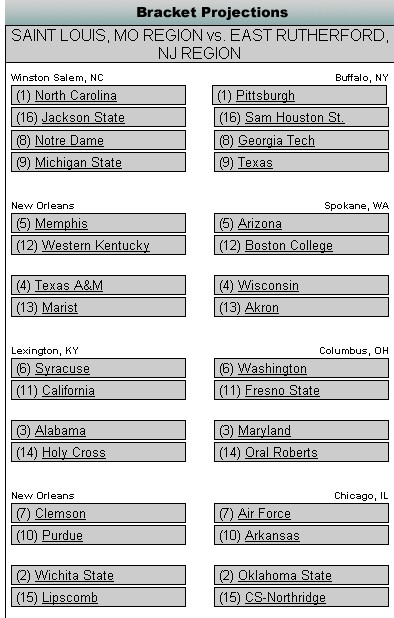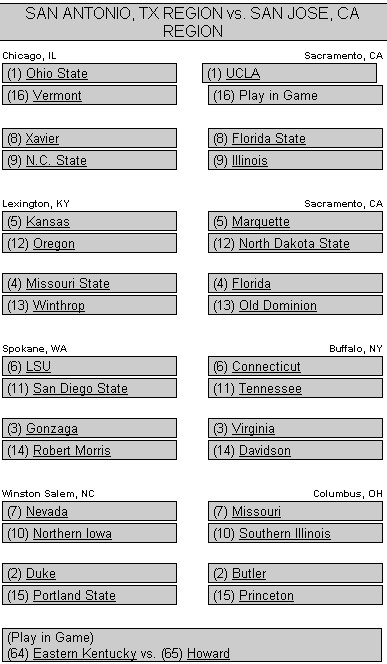 NOTES ON THE BRACKET
-There are nine ACC teams in this bracket. Chances are there is no way nine of them will end up in the final NCAA Bracket, but this isn't a prediction of what will happen in March as much as it is a checkpoint for what has already happened. I can't seem to take any of the teams I have in there out. All the ACC teams in the bracket are either unbeaten or have what appear to be some impressive wins this season.
-Wichita State is currently a #2 seed. They've won at LSU and at Syracuse. That's not just two quality wins; those are two quality ROAD wins. That's more impressive than anything else anyone has done, which is why I have them seeded so high right now. At one point Wichita State led Syracuse by 23, and then they almost blew it in the final minutes, but held on to win it in a close one.
-Butler is another team that is seeded very high. They have neutral floor wins against Indiana, Notre Dame, Tennessee and Gonzaga, which is huge. It's also looking as if their win against Notre Dame could be more of a quality win than it originally looked. That is the Irish's only loss this season, and they just got a big win against Maryland in Washington, DC this past weekend. The win against Maryland was technically on a neutral floor, but it was still in the Terps' back yard and was good enough to get Notre Dame into this projected bracket. That was by no means the only surprise this weekend.
SURPRISES
-There were several surprises this past weekend. Most will call these upsets, and there is no doubt that some of them are, but another possibility is just that the voters are ranking the teams wrong and that we the fans made the wrong assumptions about which teams were good and which teams weren't.
-While Notre Dame and Florida were playing their basketball games on Sunday, the BCS Bowl Selection show was going on simultaneously. Many of their fans were probably paying more attention to that. Notre Dame's win over Maryland is one of the best wins they've had in the past two years, and it could play a huge role in getting them to the NCAA Tournament come March, so even though most might not realize it yet, that game impacted what could happen in March.
-Florida has looked better than Florida State every time they've taken the floor this season…except on Sunday night. Florida State led for most of the game and even led by as many as 15 about midway through the second half. The Gators went on a huge run to cut the lead down 68-66 in the final seconds with a chance to either tie or win, but the Seminoles blocked a three point attempt and added two more freethrows to win 70-66.
Al Thornton
had 28 points for Florida State and missed just one shot attempt in the second half.
Florida State usually manages one or two huge wins a year. The only problem is they generally struggle against too many non tournament caliber teams to make a solid case for themselves. Still, this is a huge win early for them. Their only two losses came against Pittsburgh and Wisconsin and even though they were blowouts the committee doesn't really consider margin of victory, so the win against Florida gives them a solid profile.
-Kansas went down on the road at De Paul. De Paul got off to a horrible start by losing to Northwestern and although they looked a little better in Maui it didn't result in many wins. Kansas, on the other hand, can't seem to decide what kind of team they are. They have a win against Florida, who is as talented as anyone, but they have losses to Oral Roberts and now De Paul.
-North Dakota State won at Marquette. Marquette is another team that has looked great on some nights and horrible on the others. The only difference is that on the nights they've looked horrible, they've still won, but not this weekend. North Dakota State is not in a conference, so their only way into the NCAA Tournament would be as an at-large. Even with this win it won't be easy, but as of now they are 5-2 with their only losses being to Minnesota and a close one against Texas Tech. They also managed a win against a pretty good Princeton team the day before, so with four straight wins and a big one on the road against Marquette, they have entered this week's bracket projection as a #12 seed. They aren't likely to be a tournament team at the end, but as of now they've done more to deserve it than anyone else that was left out.
NEWS, NOTES AND RAMBLINGS
-LSU struggled on the road against Tulane, but still ended up winning. Nevertheless, they have not looked as good as their ranking yet this season.
-Georgetown finally looked like a top 25 team. Even though they lost to Duke, it was hands down the best I've seen them play this year. They led for most of the game, but then couldn't find the basket down the stretch and Duke pulled out the win. Nevertheless, a loss is a loss as far as the committee is concerned and with no statement wins and two straight losses they were left out of this bracket.
-Kentucky is another team that's looking better, at least on defense. They did a good job playing D and rebounding against North Carolina, but still couldn't pull out the win. Their next big win will be their first, but they are definitely getting better and should be good enough to get multiple big wins between now and the end. As of now, though, they aren't in this bracket.
-
Greg Oden
is now back for Ohio State and he had a double-double along with five blocked shots in their blowout win against Valparaiso. They are in as a #1 seed because although they don't have any statement wins, they are ranked extremely high which does count for something. Also, their only loss was a road loss against North Carolina when they weren't at full strength, so that isn't going to do a whole lot to hurt their chances.
-Illinois jumped out to a big lead against Arizona down in Phoenix, but Arizona came charging back to make it close at the half. It was close for pretty much the rest of the game, but Arizona pulled off the win. Still, it was as good as I've seen Illinois play all year. They've lost their last two games, but both losses came against very tough competition.
OTHERS CONSIDERED
Kentucky
SMU
Nebraska
Dayton
Georgia
New Mexico
Creighton
Iowa State
Georgetown
West Virginia
Stanford
Louisville
Michigan
Utah State
Loyola, IL
USC
Baylor
Mississippi
Providence
South Florida
For the most part, these teams have good records which is why they were considered, but don't have any good wins yet, which is why they were left out. Some of these teams will no doubt get some big wins between now and the end, but I try to avoid being presumptuous as much as possible. This is a checkpoint, not a prediction, and even though many of the teams above are very good, they haven't had the results against quality teams that most of the teams in the bracket have had. Most of them really haven't played any quality teams yet. Playing too many cupcakes can hurt a team's chances of making it as well, or result in them having a poorer seed. Everyone criticizes Syracuse for the weak OOC schedules they've played in the past. It's worth pointing out that as good as Syracuse has been over the years, they've only been seeded better than #4 once since 1992, so scheduling does matter.
HIGHLIGHTED MATCHUPS FOR MONDAY, DECEMBER 4TH
-USC AT KANSAS. Just above I mentioned how USC doesn't have any quality wins yet. Well, this would certainly qualify if they could pull the upset. It would be a huge boost to their resume and would likely turn out to be as impressive a win as they manage all year. Kansas needs to rebound from a shocking road loss to De Paul, which is their second loss to an unranked, non tournament caliber team already this year. If they want a good seed, they can't afford too many more of those.
-MARSHALL AT MEMPHIS (Conference USA). This is the conference opener for Memphis, and it's a game they should have very little trouble winning. Expect for them to improve to 6-1 on the year. It's still a big game because they really need to dominate the conference to assure themselves a good seed.
-WINTHROP AT WISCONSIN. Winthrop needs a big time out of conference win or two in order to make a case that they are a legitimate at-large caliber team. They played close games against both North Carolina and Maryland, but couldn't beat either one. Wisconsin is another team that appears to be better than them and should win, but Winthrop is certainly good enough to win this game if Wisconsin overlooks them. Wisconsin already has a loss this season to, but still has a very good team that should contend for the pod system, which is important because there are first/second round games in Chicago.
BUY GAMES
-FAIRFIELD AT PROVIDENCE. This isn't the kind of win Providence needs to boost their profile. Still, they'll end up 6-1 with a win.
-SOUTHERN UTAH AT WASHINGTON. Southern Utah is 6-2 and has played some pretty good basketball, but they're overmatched in this one. Washington should stay unbeaten.