CJ Watson, aka "Quiet Storm," a first round pick in last week's D-League draft and former All-SEC standout, kicks off his first blog by introducing himself to his readers with an in-depth background explaining how he got to where he is right now--McAllen, Texas, kicking off training camp with the Rio Grande Valley Vipers.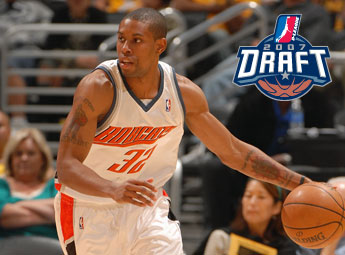 What's up, my fellow internet blog readers. I'm new to this blog stuff, so bear with me. The name is Charles Watson, aka
CJ Watson
, aka quiet storm. The nickname quiet storm came from my sister, back when I was 17. She gave me the nickname just before I was going to get it tattooed on my arm. It sounded good, so I ran with it, and it fits me well, so it's been with me ever since-- because I'm quiet by nature, but my game will hit you and have you caught up like a storm. Don't ask me, but hey it fits, if you know me well. Which many claim they do, but only few really do.
I am product of Las Vegas, aka sin city. Everyone asks what it was like growing up in Las Vegas, and I just tell them 'just like growing up in any other city.' Las Vegas has all the lights and things, but when you grow up there, it's not that appealing as it is to others when you have been there for so long.
I have two parents that I love with all my heart and admire. One for their toughness through the good and bad times, and also sacrificing a lot by raising me and my brother, because I know they gave up a lot and did things only to put food in our mouths and make sure we had a better life than they had. They have both done a great job raising me and building me up into the young man that I have become (you can be the judge on that one, haha). They have taught me a lot, but the most important thing they have installed in me is my belief in Jesus Christ, because without him nothing would be possible. So I thank them and thank God also for giving me parents who love and care unconditionally.
I have an older sister who lives in Nashville with her husband and two kids. My younger brother goes to school at Irvine community college, and has signed to play at San Diego State University. My brother and I are like night and day, but similar in ways. But he's a PTPer as Dick Vitale would say, and has a lot of potential so watch out for him next year.
I just recently had a beautiful baby daughter, she is just a month and four days old, and growing each and every day. And I also have a huge supporting family which consist of many aunts, uncles, cousins, grandparents, friends of the family, and church family, which I love and appreciate a lot for being in my corner and always giving me encouraging words.
I went to Bishop Gorman high school. I had an OK career in high school you can say. We won two state championships and I won two state player of the year awards. My jersey is also the only one retired in my school's history, but I'm sure not the last. [My brother's is also retired. We wore the same number (32) in school and he won a state championship his last year in high school.]
I attended the University of Tennessee, where I had some of the best years of my life, and also some of the most difficult and frustrating. When I first walked on campus, I was nervous and excited to see what college was going to bring me, now that I look back at it, it taught me a lot of responsibilities and helped me grow as a person. One of the most frustrating times in college was when my grandma passed. It was hard on me because no one close to me that I had loved had ever passed. I knew the time would come one day, but wish it didn't. I still remember the day when my mom called and told me and the funeral and everything. I cried like a baby when I first saw her at the wake. I know she's looking down from heaven, I know one day I'll see her again in a better place.
Basketball was tough, going from winning in high school, then coming to college with big heights and losing and having your game changed in some ways. I played for Buzz Peterson for three years. Our class came in with high expectations, but our 1st season was subpar, only ending in an NIT bid. Our 2nd and 3rd seasons went unnoticed, and our record was 16-15 and 15-16, which lead to our head coach being fired. My last year, Bruce Pearl came in with an up-tempo style, and the team and myself both flourished in it. We went to the tournament for the first time with the highest seed ever in UT history, which was a 2 seed.
I loved my time at UT, and still support the Vols in all sports. I'm thankful for both Buzz Peterson and Bruce Pearl for helping my game and learning something from both of them as great coaches. I believe the Vols are #7 in the preseason polls, and I believe they are going to take it to the Final Four this year--so you better watch out because Bruce Pearl is going to take them to national prominence. Go Vols!!!
After going undrafted in the 2006 draft, I decided to play overseas, and go for the money-- because a brother needed some money. I played for a team in Reggio Emilia, Italy. It was a different experience being all alone miles and miles from my family and friends. I had been to Italy, Greece, and the Dominican Republic before, so it wasn't like I hadn't been overseas before. But going by yourself, knowing no one, not speaking the language, and barely understanding the so called 'people who spoke English' didn't make me feel so comfortable. But I stuck it out. Italy was tough and fun, but yet another learning experience thru good and bad.
It was tough, because 2 weeks into the season the coach got fired, and the new coach brings in a whole new system and everything, which is tough for a player and a team to get used to and find their chemistry, especially when the season had already started. I have learned nothing overseas is ever in place or guaranteed. Anything can change at any given moment, whether you like it not.
Italy was fun, because I met a lot of different people and got accustomed to a whole different culture. Basketball has taken me across the world, near and far, and it has given me the chance to go to school for free, meet players, business people, celebrities that I have looked up to, and other people that have had a huge effect on my life, not only as a basketball player, but also as a person in general.
I went from playing, to the new coach telling me that he didn't think I was good enough, which led to my demise in Italy, then moving to a team called PAOK in Thessaloniki, Greece for the remainder of the season-- which was like 2 months. I was just happy to get back to playing again, because I hadn't been playing in games or practicing for like a month. It was like a rebirth and I tried to take advantage of it as much as I could, because you never know when things can be taken from you.
After the season was over, and we lost in the playoffs in the first round, it was back to the States where I could continue to work out and get to where I want-- which is the NBA. I played summer league for the San Antonio Spurs for two years in a row. The first year I didn't play as well as I wanted to or could have. The whole game seemed faster and it was a learning experience for me.
But my second year playing for the Spurs in summer league was like night and day. Playing the year before, and all their mini camps, and other teams' mini camps, and playing overseas, and gaining more confidence in my game—was all nothing more than a blessing. I think I played well enough for the Spurs to sign me, but everything happens for a reason, and everything in between is a learning experience and chance for me to grow and learn from my mistakes.
Now, my journey takes me to the D-League. It was a tough decision, whether to stay and try and give it one last shot at my dream-- the NBA-- or go overseas and take an offer that would pay better. I had opinions from everyone-- friends and family about what I should do, but I choose to stay in America and play in the D-League to give it one last shot at my dream, and where I want to get, which is the NBA.
I was drafted 5th overall-- to the Rio Grande Valley Vipers. It's in a city called McAllen, Texas. Where that is, I didn't even know until I Googled it and did my research on the city. It could be much worse, I could be going to a city where they have absolutely nothing.
I really didn't watch the draft because I kind of knew already from my agent where and what team I was going to, it was just a matter of when. It's a first year franchise, so it's good to start off fresh, and I'm excited and looking forward to the season and the start of training camp.
I was with the Charlotte Bobcats for training camp, and in camp with my team in Italy as well. Those two training camps were similar, and it's going to be interesting to see how this one will compare once I'm done. My two previous training camps were a lot of conditioning and running, with the coaches getting a feel of what the players can do, and the players getting a feel for what the coach wants. Training camps are fun because you get to bond with your teammates and get to know them for who they are as people. Gaining relationships are a plus in life, and the friendships I have gained over the years thru basketball will last me a lifetime.
Since I was cut by the Charlotte Bobcats, I've been back in Las Vegas spending time with my family and working out. I'm excited to meet the crop of players that the team drafted, and get ready for the season to start on November 20 so we can see where we compete in the league. You can follow me and check up on me and see how I'm doing and how the team is doing at
nba.com/dleague/riograndevalley
.
So for now I'm off to McAllen, Texas to begin training camp and continue my quest to get to the NBA, which I believe will happen soon. So wish me luck and continue to read my blog at
http://www.draftexpress.com/blogs.php?blogid=14
and send me feedback.