Official Website
All photos courtesy of FIBA
With the preliminary round of the European Championships out of the way, and the qualifying round kicking off on Friday, we take a second to catch our breath and recap what we've learned so far from what has been an extremely exciting competition so far.
Buzzer beaters, upsets, huge performances from the biggest stars, these first three days gave us a little bit of everything to savor.
Let's look back…
-Serbian Historic Debacle
Luis Fernandez
Being swept in their group has left Serbia out of the competition and out of the top-12, an almost unthinkable circumstance only a few years back. Never since 1951 had Serbia, or its predecessor Yugoslavia, failed to make the top-12 in the Eurobasket (of course, we're not counting the 1992-94 period when they were banned due the Balkan war). Even if we consider young squads, only twice did they fail to make the top-12, in 1998 and 2002 at the U-18 stage. Actually it's an interesting fact, since the generations that played those years (including names such as Milos Vujanic,
Vladimir Radmanovic
,
Kosta Perovic
and
Darko Milicic
) should be among the ones carrying the load at this moment.
The Serbian Federation and coach Slavnic knew the risks of calling a very young squad, with eight guys born in 1985 or later. Despite their dominance this summer in youth competitions, they are not the next coming of the unbelievable generation featuring Divac, Djordjevic, Kukoc or Radja that led Yugoslavia to the 1989 European title while being around 20 years old. Mix it with such inconsistent and not very smart players leading this team such as
Marko Jaric
,
Darko Milicic
and Milan Gurovic, while also facing a very tough group that included Greece and Russia, and it was the perfect recipe for disaster.
But not everything was bad news…
-Milos Teodosic, the Serbian hope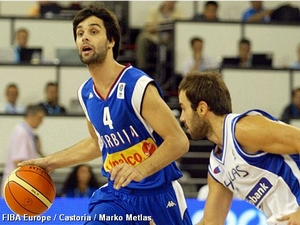 Luis Fernandez
Coming off a superb season, including being named MVP of the recent U-20 European Championship, Teodosic has even exceeded expectations in this tournament. Still, given the lack of brains and good decision making in this squad, it wasn't that difficult for an extremely smart player as him to stand out. A tall point guard that plays older than his age, Milos has provided calmness and some meaning to the Serbian offense, while also some perimeter shooting. He's actually the highlight story of this tournament so far NBA draft-wise. While he might not be the most NBA-friendly type of guard (not particularly athletic, not a great defender), the way he's proving himself at every international level should draw some real interest in him.
-Russian Revival?
Jonathan Givony
Sitting at 3-0 after starting off in the toughest group of the competition (alongside Greece, Serbia and Israel), the Russians have to be ecstatic with the way their team is playing so far. American-Israeli coach David Blatt has his team looking like a well oiled machine, playing fluid and efficient basketball with a particular emphasis on defensive toughness and unselfish ball movement. Russia is doing a great job getting out in transition as well, largely due to the incredibly menacing defense of freelancer
Andrei Kirilenko
, who is having a phenomenal tournament so far—averaging 18 points, 14 rebounds, 3 assists and 2 blocks per game.
This performance really couldn't have come at a better time as far as Russian basketball is concerned, as they have not been able to get out of the quarter final round of the European Championship even once since 1997. Selfishness, poor point guard play, little to no post presence—things haven't looked good at all over the past few years.
The most noticeable difference we're seeing this time around has to do with the very wise decision by Coach Blatt to play naturalized American guard J.R. Holden off the ball for extended stretches at a time. CSKA Moscow's guard is clearly the best shot creator on this team, but his stubbornness taking his man off the dribble on every other possession combined with his often-poor shot selection has probably lost more games for Russia than he's won. Still, he's an essential piece of this squad, and by moving him off the ball and taking responsibilities off his shoulders—until the team needs him—Russia has made their entire offense flow much better. Mix in an international superstar who is sacrificing himself on both ends of the floor, and all of a sudden their post players are getting touches in the post, the assists are flowing, and shots are falling at a solid rate. Things weren't all that pretty in knocking off defending European champions Greece, but that's expected when you're dealing with arguably the strongest defense on the continent.
It's too early to celebrate quite yet, but Russia is in prime position to make a deep run in the tournament if they can keep it up.
-Buzzer Beater Extravaganza
Jonathan Givony
You're usually lucky to get one game-winning or tying buzzer beating shot in an entire tournament…but we were lucky enough to get one a day so far. Jaka Lakovic's unbelievable pull-up jumper from 27-28 feet out as time expired to beat the Italians kicked things off on opening night, and then Milan Gurovic outdid him the next day with a double-clutch fling off the glass from 30+ feet to tie the game for the Serbians against Greece. Not to be outdone,
Marko Tomas
knocked down a 3-pointer with 3.1 seconds left that put Croatia ahead of Greece 85-84 to seal the top spot in Group B in Seville.
It's very symbolic of the opening we've had so far…
-MVPs Playing like MVPs
Jonathan Givony
-This year's EuroBasket not only boasts having the NBA's MVP of the regular season in
Dirk Nowitzki
, but also the MVP of the playoffs as well with
Tony Parker
. So far, both players have lived up to the hype, indeed leading the competition in scoring with 29 and 26 points per game respectively.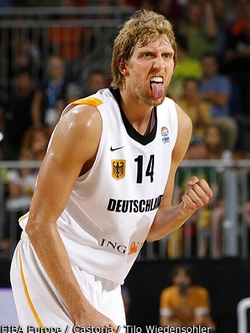 Dirk has been his typical unstoppable self at the international level—scoring very effectively from inside the arc with his unguardable turnaround mid-range jumper, while also getting to the free throw line nearly 8 times a game. He's taking responsibilities at all times for Germany—particularly late in games—which has to be a welcome sign for Mavs fans still puzzled about their early playoff exit in May. It's a little bit odd to see Nowtizki shooting eight 3-pointers a game like he once did in the past, but we'll see how that holds up in the second round. He's brought the goods and then some so far.
On the other hand,
Tony Parker
has done a better job than in years past taking advantage of the extreme physical superiority he enjoys against his fellow Europeans. His quickness is simply unmatched at this level, allowing him to take his man off the dribble at almost any time and either draw a foul or finish strong at the basket with either hand. He's in fact been a foul-drawing machine over the past two games, going to the free throw line 23 times in that span. Parker's 3-pointer is also falling at a solid clip (8/21 over three games), even if his playmaking ability leaves something to be desired at times.
Parker does not seem like a selfish player, but you can tell that his court vision is certainly limited observing the amount of times he's missed wide open players streaking to the basket, particularly in transition. It really makes you appreciate the job Gregg Popovich has done with him as head coach the Spurs, knowing exactly how to best take advantage of his tremendous athleticism and skills, while still keeping him on a short enough leash to not let him go wild the way we've seen him at the international level at times. Parker was not able to stop France from losing to Slovenia today, and will have to do a better job organizing his team's half-court sets and recognizing the adjustments teams will surely make attempting to close down the paint against him in the ensuing rounds.
-What's Wrong with Greece?
Jonathan Givony
The team we crowned as favorites to compete for the championship (along with Spain and Lithuania) has looked incredibly average so far. Losing unexpectedly to Russia, needing overtime to beat Serbia, and only putting Israel away in the final minutes—this is obviously not the same Greek team that defeated Team USA in the semifinals in Japan in 2006 and won the European Championship in 2005.
Giving up only 65 points per game, but only scoring only 66 in return, it's pretty obvious which side of the ball Greece is struggling on. It's quite logical considering that we're in fact dealing with a very average group of shooters actually—Spanoulis, Papaloukas and Diamantidis have never been known for their shooting ability, and the fact that two of their best shooters in
Antonis Fotsis
(injured) and Nikalos Zisis (returning from injury) are out or limited has really hurt them.
Add in the fact that their pick and roll game is nowhere near as effective without having a finisher such as Sofoklis Schortsianitis to set massive moving screens and catch and finish around the basket—and you begin to understand better why they are struggling. Still, it's strange to see Theo Papaloukas as passive as he here—even if we know that he usually saves his best performances for the biggest stages possible. We can't quite understand why Ioannis Bourousis has only played a single minute so far. We're talking about a legit 7-footer with terrific hands, a huge body, and great touch around the basket…the perfect player to run a pick and roll with as we saw all season long with Olimpiacos. It really doesn't make any sense.
Greece doesn't have much time to think it over…they play Spain on Friday already in what easily could have been the finals matchup.
Turks Fall Flat Once Again
Jonathan Givony
-It's become almost a cruel joke over the past few years. After a very encouraging performance in last year's World Championship in Japan, the Turks once again brought a fairly strong team complete with their two NBA players
Mehmet Okur
and
Hedo Turkoglu
, but were unable to avoid embarrassing themselves despite the extreme optimism that resounded from their camp before the tournament kicked off. It started with a 17 point loss to Lithuania, continued with a humiliating 30 point defeat to Germany, and was salvaged only to a certain extent by a narrow win over the Czech Republic to secure a spot in the second round.
If it wasn't already obvious in years past, the writing is clearly on the wall now—the NBA stars Turkoglu and to a lesser extent Okur hurt this team a lot more than they help it. Numerous times throughout the week so far we've watched as Turkoglu showed zero decision making ability in taking his man off the dribble stubbornly and running into brick wall after brick wall while the entire Turkish team looked on.
There's still time to recover, but things don't look good heading into the next three games against Slovenia, Italy and France.