More info can be found on the
official site of the Euroleague Final Four
.
Another year, and another Final Four for Europe's top club competition; the Euroleague.
This year, unlike 2006 in basketball tradition-less Prague, the event will be hosted in one of Europe's strongest basketball cities. Athens, the Greek capital, is fresh off a European championship for the national team and includes one of this year's best teams in the competition, Panathinaikos. As soon as the local team began to roll over opponents over the course of the season, the team's fans bought a large share of the Final Four tickets and are expected to be the majority in the 18,000 OAKA stadium, giving the Greens what could unofficially be called "home court advantage" in both games that the team will play.
This year's Euroleague season has had many ups and downs for most of the teams, but not for the competition's Big Three. Defending champions CSKA Moscow, hosts Panathinaikos, and the well touted Spanish powerhouse Tau Vitoria are unanimously considered the top three teams in Europe, even before the season took off. Therefore, any other team that would make it in this Final Four would immediately be labeled as the Cinderella. Among the long list of other teams that were strong enough to compete for this fourth ticket: Barcelona, Maccabi Tel Aviv, Dynamo Moscow, Olympiacos, and Efes Pilsen-- very few (besides DraftExpress) mentioned the possibility of seeing Unicaja Malaga in the Final Four. Hardly as deep as last season (forwards
Jorge Garbajosa
and Walter Herrmann both left for the NBA, star guard
Marcus Brown
missed all but six games with an injury,
Erazem Lorbek
was traded to Benetton Treviso in the middle of the season), and now depleted by injuries to their best offensive big men (Daniel Santiago and Marko Tusek), Unicaja perfectly matches the Cinderella story, especially since it will meet giants CSKA Moscow in the semi-final.
Following is a preview of both semi-finals matchups and an analysis of each team's defining characteristics. DraftExpress is on hand in Athens to take in the spectacle of the senior (and junior) events, and will be reporting back in detail regarding our findings.
Check back with us all week long for updates.
---
The Semi-Finals
CSKA Moscow vs. Unicaja Malaga
CSKA Moscow (21-2)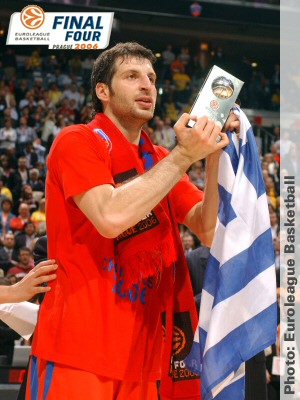 Theodoras PapaloukasStarting Lineup:
J.R. Holden (31, 6-1, USA, PG/SG, 10.1 ppg, 2.4 apg)
Trajan Langdon
(31, 6-4, USA, SG, 13.4 ppg, 43% 3PT-FG, 93.6% FT, 4.1 rpg, 1,7 spg)
Oscar Torres
(31, 6-5, Venezuela, SF, 9.8 ppg, 5.1 apg)
Matjaz Smodis
(28, 6-9, Slovenia, PF, 12.9 ppg, 3.6 rpg, 1.4 apg)
Aleksey Savrasenko (28, 7-2, Russia, Center, 7.2 ppg, 4.0 rpg, 0.6 bpg)
Key Bench Players:
Theodoras Papaloukas (30, 6-7, Greece, PG/SG/SF, 24 mpg, 9.2 ppg, 3.1 rpg, 5.3 apg, 1.7 spg)
David Andersen
(27, 6-11, Australia, PF/C, 22 mpg, 9.9 ppg, 4.7 rpg)
Thomas Van den Spiegel (29, 7-0, Belgium, C, 15 mpg, 4.3 ppg, 2.9 rpg, 1.3 bpg,
Coach:
Ettore Messina (Italy)
Outlook:
CSKA is arguably Europe's most experienced team, the toughest defensively, and definitely one of the best that Europe has seen recently. With all the key players being together for a few years now, and with coach Messina regarded by many as the top coach in Europe, the only concern for this team is their lack of clear hierarchy and over-reliance on 3-point shooting. With no clear-cut go-to guy (their best player, Papaloukas, comes off the bench), there is a small concern regarding the direction the team will look towards if things go south in crucial moments. On top of that, this team shoots more 3-pointers on average per game than free throws, so a particularly cold night from outside (like in game 2 against Maccabi Tel Aviv) could spell serious trouble for them.
With that said, CSKA is as deep and experienced in every position as any team in the competition, has an extremely balanced rotation (8 players average more than 20 minutes per game), held the longest winning streak of all Euroleague participants ,and is led by Euroleague MVP-caliber players such as Theo Papaloukas,
Trajan Langdon
and
Matjaz Smodis
to their fifth straight Final Four. All these factors combined make them the favorites for the title going into Athens.
---
Unicaja Malaga (13-10)
Starting Lineup:
Carlos Cabezas (27, 6-2, PG, Spain, 8.8 ppg, 2.1 apg)
Berni Rodriguez (27, 6-6, SG, Spain, 10.9 ppg, 2.4 rpg, 2.7 rpg)
Jiri Welsch
(27, 6-7, PG/SG/SF, Czech Republic, 9.0 ppg, 41.5% 3PT-FG, 1.3 spg)
Carlos Jimenez (31, 6-7, SF/PF, Spain, 6.2 ppg, 4.6 rpg, 1.4 apg, 1.2 spg)
Florent Pietrus (26, 6-7, SF/PF, France, 3.6 ppg, 3.6 rpg)
Key Bench Players:
Pepe Sanchez
(30, 6-4, PG, Argentina, 21 mpg, 6.1 ppg, 3.1 rpg, 2.6 apg, 1.1 spg)
Marcus Brown
(33, 6-4, SG, USA, 17 mpg, 5.7 ppg)
Marcus Faison (29, 6-5, SG/SF, USA, 11.8 ppg, .464 3PT-FG, .900 FT, 2.4 rpg, 1.1 spg)
Coach:
Sergio Scariolo (Italy)
Outlook:
Unicaja was almost left out of the top-16 round, before proceeding to impressive victories that proved their winning, almost overachieving character, and great mental toughness. Scariolo might very well be the coach of the year for his ability to run the unlucky Spanish champions, despite losing key players to injuries and mid-season trades. Their two point guards, Sanchez and Cabezas are unstable, yet very important to running the offense, while the team is filled with good shooters and wing players. The inside game will never be the same without Santiago and Tusek, so Spanish veteran Jimenez needs to produce on both ends in order for them to stay alive in the frontcourt battle. For Unicaja to have any chance at staying close to CSKA,
Marcus Brown
will have shake off the rust and show why he is one of the highest paid import players on the continent, while
Jiri Welsch
will need to show the many NBA executives in the stands why he was a near lottery pick not too long ago.
---
The Game:
Backcourt:
With both of the key players (Papaloukas and Sanchez) from each team coming off the bench, and with Langdon and Faison being among the competition's top shooters, both teams find it easy to maintain a consistent rhythm for long stretches. CSKA uses a three-guard system for most of the game, but Unicaja may go small for the entire semi-final after the loss of both Santiago and Tusek, the team's top frontcourt offensive players. CSKA has the best defensive perimeter line in the competition, and coach Messina likes zone defenses, so the perimeter shooting of Rodriguez, Welsch, Faison and Brown could end up being the key factor. Theo Papaloukas is the all-time leading assist-man in Euroleague history,.
Advantage: CSKA
Frontcourt:
Although CSKA will greatly miss injured small forward
David Vanterpool
in this Final Four,
Oscar Torres
was still a key mid-season acquisition. The 2-1-2 defense that coach Messina uses might be too much for Unicaja's bigs to handle. The terrific 4-man post-player rotation (Smodis, Andersen, Savrasenko and Van den Spiegel), as well as the possibility of putting Torres at the PF spot in order to guard the smaller Unicaja players gives CSKA the versatility to evolve in many different ways and dictate their own terms to the game. If Unicaja is going to stand any chance here, they will have to hit the glass with reckless abandon to negate the huge size advantage CSKA has.
Advantage: CSKA
Key Match-Up: Matjaz Smodis vs Carlos Jimenez
As strange as it might sound, the game is going to be decided in the frontcourt, as CSKA's perimeter line is almost impossible to challenge. If Unicaja has a shot in winning this game against a deep frontline like CSKA's, then they will need a full-time presence on both ends of the court from the experienced Jimenez against the constantly improving Smodis. Smodis excels at almost every facet of the game, but Jimenez is a better defensive player and has played important roles in many crucial games this season. He also has shown the ability to defend bigger opponents during his career.
Prediction:
With Unicaja already accomplishing an amazing feat by advancing to their first Final Four, the word "impossible" would not be a bad way to characterize their chances against the defending champions CSKA. If Jimenez, Pietrus and maybe even Welsch don't produce in the post and their shots don't fall from outside, Unicaja might not be able to follow CSKA's offensive pace for more than 30 minutes.
---
Panathinaikos vs. Tau Vitoria
Panathinaikos (18-4)
Starting Lineup:
Dimitris Diamantidis
(27, 6-5, PG, Greece, 8.9 ppg, 46% 3PT-FG, 3.8 rpg, 4.0 apg, 2.2 spg, 0.7 bpg) Nikos Hatzivretas (30, 6-5, SG, Greece, 8.1 ppg)
Ramunas Siskauskas
(29, 6-6, SF, Lithuania, 10.4 ppg, 51% 3PT-FG, 2.3 rpg)
Mike Batiste
(30, 6-8, PF, USA, 12.8 ppg, 66% FG, 5.8 rpg)
Kostas Tsartsaris (28, 6-10, C, Greece, 7.2 ppg, 5.0 rpg, 1.4 apg)
Key Bench Players:
Sani Becirovic (26, 6-5, SG/PG, Slovenia, 22 mpg, 10.1 ppg, 2.1 rpg, 2.1 apg)
Dimos Dikoudis (30, 6-9, Greece, PF, 14 mpg, 8.1 ppg, .602 FG, .476 3 PT FG, 3.6 rpg)
Dejan Tomasevic (34, 6-10, Serbia, C/PF, 16 mpg, 7.5 ppg, .625 FG, 4.7 rpg)
Coach:
Zelimir Obradovic (Serbia)
Outlook:
Panathinaikos' rotation is extraordinary, with twelve players able to add versatility and shooting at every position. All of the team's four losses came in insignificant games. Obradovic is one of the best European coaches in the past twenty years. Diamantidis is a do-it-all guard and three-time Defensive Player of the Year. Batiste and Tsartsaris are combo big-men playing together for four straight years, although a recent back injury might keep Tsartsaris out of the semis. The bench lacks a backup point guard, as former Knick draftee Milos Vujanic has not regained his old form following injury and NBA veteran
Tony Delk
has been a huge (and very expensive) bust in Europe. Apart from their excellent swingmen rotation, led by stars
Ramunas Siskauskas
and Sani Becirovic, Panathinaikos is strong in the post as well, with both Dejan Tomasevic and San Antonio's draftee Robertas Javtokas. Yet, post scoring becomes an issue when Batiste is out.
---
Tau Vitoria (20-2)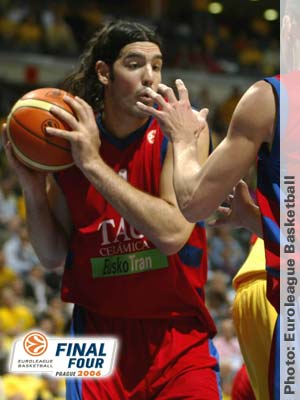 [b
Luis Scola
Starting Lineup:
Pablo Prigioni (30, 6-4, Argentina, 6.8 ppg, 2.8 rpg, 5.0 apg, 2.5 spg)
Igor Rakocevic
(29, 6-4, Serbia, 16.9 ppg, 50% FG, 48% 3PT-FG, 2.3 rpg, 1.9 apg, 1.5 spg)
Fred House (29, 6-4, U.S. 6.8 ppg, 4.7 rpg, 2.2 spg)
Luis Scola
(27, 6-9, Argentina, 16.0 ppg, .581 FG, 5.9 rpg, 2.2 apg)
Tiago Splitter
(22, 7-0, Brazil, 10.9 ppg, 5.9 rpg, .576 FG, 1.6 spg)
Key Bench Players:
Zoran Planinic
(25, 6-6, Croatia, PG/SF/SG, 25 mpg, 9.1 ppg, 2.8 rpg, 4.1 apg, 1.4 spg)
Serkan Erdogan (29, 6-4, Turkey, SG, 23 mpg, 12.2 ppg, .448 3 PT FG, 1.1 spg)
Kaya Peker (27, 6-10, Turkey, PF/C, 17 mpg, 5.6 ppg, .524 FG, 3.4 rpg)
Coach:
Bozidar Maljkovic (Serbia)
Outlook:
Despite being plagued by injuries throughout the season, Tau rarely ever lost its pace. The best offensive team of the four, they are now stronger on defense as well since coach Maljkovic took over two months ago. Their ten-player rotation is the most concrete in Europe. Last year, they missed the Final game, because the Prigioni-Scola axis was interrupted by Maccabi's excellent pick and roll defense, yet this season, they have more offensive variety. Rakocevic is the Euroleague's top scorer, Erdogan has been effective when needed, Planinic joins Prigioni in the backcourt and shares the ball distribution. Fred House and Sergi Vidal add rebounding and defensive spirit to the rotation. The frontline is very strong, with MVP candidate
Luis Scola
, the Euroleague's top post-scorer.
Tiago Splitter
has been hot since Maljkovic arrived, and Kaya Peker and
Mirza Teletovic
would be starters on some Euroleague teams.
The Game:
Backcourt:
Both teams are loaded here. The only advantage for Tau could be the lack of a back-up point guard for Diamantidis, especially since Serbian star Vujanic is still injured. Rakocevic, Planinic and Prigioni are all great ball handlers, while Erdogan is having a career year, being among Europe's better bench players. Becirovic has been creative and Panathinaikos' top scorer lately, while Hatzivretas can join Diamantidis in a strong defensive backcourt.
Advantage: Equal
Frontcourt:
Panathinaikos is deeper again, however the Spanish team has what it needs to win a game. Scola is Europe's all-time top scorer and post force, but is a defensive liability and could face foul trouble. Splitter and Peker can beat Panathinaikos' frontcourt defensively, but Panathinaikos can go small and use a three-guard system with Siskauskas as a PF. Vidal or Teletovic can give Tau an extra shooting big man as well. Batiste will be important offensively, with a steady jump-shot and nice post moves.
Advantage: Equal
Key Match-Up:
The Point Guards
If Panathinaikos wants to win, they will need Diamantidis to be on the floor for most of the game to handle the pressure and defend Tau's top perimeter player. So far, any team that stops him, manages to control the rhythm against the Greens. Tau presents an excellent pair of point guards in Prigioni and Planinic. Prigioni's lack of athleticism and limited offensive game is similar to Diamantidis', but the Greek guard is more important to Panathinaikos than what the Argentinean is to Tau, largely due to the incredible intangibles he brings to the floor, starting with his work on the defensive end.
Prediction:
Panathinaikos is playing at home-- so their fans will surely create a superb atmosphere that will make the game worth tuning in for almost by itself. The Greek team is the deepest in Europe, has the talent and the experience to win everything and one of the best point guards in Diamantidis and power forwards in Batiste. However, if a prediction is to be made, Tau looks like the team to beat here. Slightly, of course, but in a 50-50 game like this one, they look more balanced and have the character and chemistry to go through, especially if Scola and Splitter stay on court for long and if Rakocevic and Erdogan have a fine shooting night. Tau may have seemed "happy to be here" in each of the last two years, but this time they are coming to win it all.