Rob Kurz's journey to the NBA isn't improbable; a late second round pick making a roster is improbable. No, Kurz's story is downright out of a Hollywood script.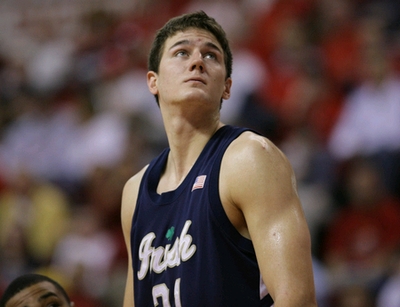 "Sometimes people that go under the radar their whole life have that extra push," says Kurz. "I don't know what that says about the system, but I know that I took the tough road and worked hard."
It's a little more complex than that, though Kurz's humble nature would never let you believe that to be the case. After a solid but not stellar college career at Notre Dame (12.5 points, 7 rebounds, 1.5 blocks, 45% FG in his senior season) Kurz took the first step towards a pro career by signing with his current agent Brad Ames of Priority Sports. Almost as soon as Kurz began working out at Priority's facilities in Chicago, Ames knew that he had a talent on his hands.
"Once we got him in here and realized how good of a shooter he was, our goal was for a lot of people to know about that," says Ames. "We wanted to get him in front of people, once he was there we knew he would do his part and stand out."
Still, it wouldn't be easy, as Kurz couldn't have been picked out of a lineup by most NBA executives following his senior season at Notre Dame. The first showcase opportunity for the Pennsylvania native outside of South Bend came at the Portsmouth Invitational, where Kurz was give the chance to play against some of the best graduating seniors in the country. Both Ames and Kurz admit though that the nature of the camp coupled with a decrease in interest by NBA teams makes Portsmouth a tough environment to get noticed in. Making matters worse was the fact that Kurz was unable to play in his third game due to an injury. All in all, it was hard to say that he helped himself there.
In the aftermath of Portsmouth, twenty-four of the seniors who participated received invitations to the (now defunct) NBA pre-draft camp, Kurz was not one of them; he was an alternate.
"I was kind of bummed about that because I know that was important for a guy like me who people didn't know much about," says Kurz. "I knew it was an uphill battle from there."
It was an uphill battle that not even Kurz could envision being as difficult as it would become. With Orlando no longer an option, Ames went to work setting up individual workouts with as many teams as were willing to give Kurz a look leading up to draft night. There were some, but few if any of these teams knew much about Kurz to begin with aside from the fact that he was a client of Priority Sports.
The break that Kurz and Ames were looking for came just days before the draft. Having just completed a workout in Chicago, Kurz received a call from Ames saying that Golden State was interested in working out the former Fighting Irish forward and that he would need to be on a plane out west in less than three hours. The response from the Warriors was similar to what Kurz had already been hearing from other franchises.
"I got good feedback, but it was all the same," says Kurz. "Brad was told I did well in my workout and that I surprised teams, but that's all it was. I did better than the teams thought I would, but they still weren't going to draft me. I just tried to take everything they said and work on the things that I needed to."
Kurz did more than just work on his weak points; he attacked them with an unyielding determination. Ames stated that often times Kurz needed to essentially be tricked into taking a break during his training sessions in order to allow his body ample time to recover.
The biggest doubts that teams initially had about his game centered around his athleticism and where he would play at the next level. Kurz proved to be a better athlete than scouts originally thought, and his ability to shoot from the perimeter ensured that teams would look at him to play the power forward position in an NBA uniform.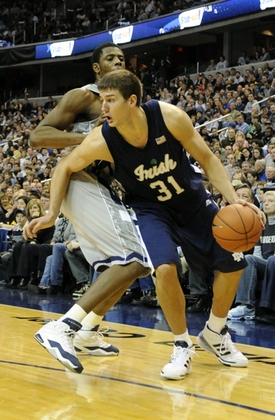 The Warriors only had one second round pick, which they used to select Alabama's
Richard Hendrix
. Still, Golden State was intrigued enough by Kurz to invite him to play with their summer league team. He opted to suit up and showcase his talents in front of team officials. All the while, Ames was hearing about interest from teams in Europe who had seen Kurz play. Once an invitation came from Golden State to attend training camp prior to the start of the season, Kurz chose to take a chance on the NBA, a decision that Ames supported.
"He had a choice to make, would he take a non-guarantee with an NBA team or would he go overseas for a little and try again next year," says Ames. "Ultimately it was his decision and we gave him some guidance, but he felt confident with his decision even though there wasn't a clear path to making that roster. A lot can change, though, and he felt he was a good fit for that organization and that he had a chance there."
Don Nelson
seemed to warm from him from the very start, calling him his best rookie early on in training camp. "His outside shot is good and he's been my leading rebounder," Nelson said. "He's not pretty, he doesn't jump high, but he's been my leading rebounder in this camp. And it's not even close, including (Andris) Biedrins.
"He rebounds, he shoots, he's always in the right spot, you tell him something once and it's done. He's been a delight. I don't know that he can make the team, but I don't know that he can't."
Just to continue the Hollywood-esqe script, Kurz then traveled to China with Golden State and hit a game winning shot to beat the Milwaukee Bucks 109-108.
He may have been a good fit for
Don Nelson
, but Kurz would soon face another major setback, when he was cut by the Warriors at the end of training camp, being the only player on Golden State without a partially or fully guaranteed contract. A naturally disappointed Kurz says he felt not resentment towards the franchise that let him go, but instead opted to use what he had learned in order to continue improving his game. It was a feeling of let down that he wanted to hold on to so that the next time he was given another opportunity, he would once again take advantage of it. He wouldn't have to wait long.
A few days after he was cut, the Warriors got in touch with Ames to inform him that they were interested in bringing Kurz back if they had an open spot on their roster down the line. That free spot came as a result of a little known rule in the NBA bylaws that stated that guard
Monta Ellis
could be placed on the "suspended player list" after he was suspended following suffering an injury that will keep him out for the majority of this season. Once the NBA approved Ellis's move to the suspended list, and the spot became open, Golden State signed the undrafted Kurz to a one year deal.
"I was thrilled that [Golden State] gave me another opportunity," says Kurz. "When I signed that contract, I knew I had to give it my all every day because I was very fortunate in this situation."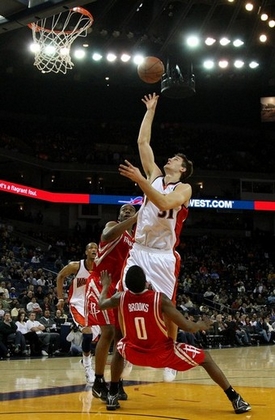 The Warriors have turned out to be pretty fortunate as well, as Kurz has provided quality minutes coming off the bench. On December 13th on the road facing the Denver Nuggets, Kurz got his first NBA start as a result of an injury plagued Golden State roster. The rookie made good on his chance and posted 20 points and hauled in seven rebounds in 33 minutes of playing time. He started in yet another game tonight (his third) and responded by posting 9 points and 3 rebounds in 16 minutes against Minnesota.
Coach Nelson has since called Kurz "sensational," adding "he is probably more ready than any of my other rookies to actually get into an NBA game. I haven't been playing him very much, but maybe I should think about doing that a little bit more. I thought he was very good, knows every play, he's just a very alert player."
Now, having settled into his new life as a professional basketball player, Kurz finds himself staying hungry to improve on the court, but also standing as an example of what hard work and a little luck can bring in the sometimes bizarre NBA system. Kurz, a solid four-year player who was largely overlooked by scouts, had landed on the Warriors roster as an undrafted free agent. In doing so, Kurz had taken a spot many thought would go to
Richard Hendrix
, an All-SEC big man the player the Warriors had taken in the June draft, and signed to a 3-year contract (with over half a million dollars in guaranteed money that they had to swallow).
So what does Kurz think about the system whose odds he was able to beat in making a pro roster?
"Obviously the system is in place, and there are a lot of guys that deserve to be at the top of the mock drafts and that stuff," says Kurz. "I think for the Warriors, they felt like I was a better fit for this time; it all depends on the situation and what the individual team wants."
Which begs the question--how many more players like
Rob Kurz
are there out there? And would anyone have ever known if not for
Monta Ellis
injuring himself in a moped accident?
Ames echoed his client's thoughts, pointing to the inexact science that is the draft. The difference for Kurz, he claims, was that after the disappointment of not being selected on draft night, he moved past it and continued to work hard and improve his game. It is this kind of mindset that earned Kurz his first NBA contract and could very well earn him another one at the conclusion of this season.
Now that seems pretty probable.