One result of the mass exodus of high school big men to the League has been a noticeable watering down of traditional centers in the college game. While there are plenty of talented 6'7" to 6'10" players, few are cut from the
Wes Unseld
or even
David Robinson
/Pat Ewing mold. More likely, these 'Tweener Big Men are long and lean, or, if bulky, they work on and showcase the versatile skills that NBA scouts are often looking for.
And this makes sense. In an age when the trend in the professional ranks is heading towards rangy, athletic types --
Jermaine O'Neal
,
Kevin Garnett
and
Amare Stoudemire
come to mind -- these skills can come in handy. Combine this with the fact that few of the elite prep 7-footers will ever enroll in that Communications 101 class at State U, and you open up the college game each year to a new crop of talented, if undersized, power forward-center hybrids.
This was evident in the past week, as some of the best performances in the biggest games came from these hybrid big men.
Once considered a potential top overall pick, Pittsburgh's
Chris Taft
has been a study in frustration for NBA scouts in 2004-2005. Possessing a naturally thick body, and owning that rare mixture of quick feet and quick hops, Taft would seem to have all the tools necessary to dominate at the collegiate level. But much as his Pittsburgh team has hit a few bumps in the road thus far, Taft has been inconsistent -- solid, but rarely the punishing scorer he seemed on the verge of becoming.
This may have begun to change, however, as on Monday night (1/31), the 6'10" center had his best statistical game of the year, notching 25 points and 15 boards in a conference win over Providence. Taft's main problem seems to be maintaining focus, as he too often seems to be around the ball, but isn't the one who ends up
with
the ball. He just doesn't seem to want it, rarely putting in the effort needed to establish position deep in the paint and calling for the ball. That said, Taft is only a sophomore, and perhaps any "struggles" he has are just opportunities to learn and grow. That's sweet and all, but it says here that NBA scouts are unlikely to have a lot of patience and would no doubt prefer Taft to have more games like Monday's if he expects to hear his name called early on in mid-June.
Another Big East big man who has shown only glimpses of his vast potential this year is Notre Dame's
Torin Francis
. A physical specimen listed at 6'11", Francis dwarfs many college big men with a wide frame and big hands. But it's hard to tell sometimes if Francis is really 6'11". This probably has more to do with his hot and cold play than his actual dimensions. Francis finally put together a stellar set of games this past week, helping his Fighting Irish pick off UConn at home by scoring 19 points and snaring 7 rebounds (3 Off.). This on the heels of a strong 19 & 13 game in a tough loss at suddenly solid Villanova. The two 19-point games represent his season high in scoring and are the first back-to-back double digit scoring games for Francis since the first week of December. And while that seems hardly the resume of a lottery pick, Francis shows great potential, even as a college junior in an era when most dominant big men are heading pro early.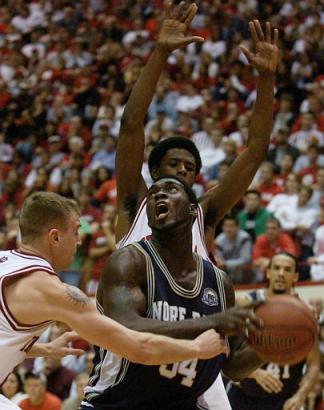 Francis is capable, quite simply, of being a load in the lane. A legit 250 pounds, Francis also owns soft hands and a great awareness of his placement near the hoop. He times his jumps well and is effective as an offensive rebounder, evidenced by his two games this week, in which he had more offensive boards than defensive ones in both games. Watching Notre Dame play, it's also clear that Francis rarely gets fed the ball in position to score, causing him to either pass out of a double-team or create his own shot -- good practice, but hardly the best way to win games. Supposed floor general
Chris Thomas
should be getting to the hoop and dishing to Francis for easier buckets, but seems more comfortable tossing the ball up from deep, meaning Francis is left looking for scraps. This has resulted in Francis' scoring average dropping five points this year, a huge drop for a college big man. If Francis can demand the ball more and actually
receive
the ball in better position more often, we should see better numbers as the year unfolds. Francis still doesn't dominate the way he could, but it appears were he to get more and better touches, that fact might change.
One college big who hasn't had trouble scoring this year is LSU's
Brandon Bass
. A truly gifted athlete, Bass was still wise to return to school after flirting with the pros last year. Joined in the LSU front court by another man-child in Glen "Big Baby" Davis, Bass has been effective most of the year and downright nasty for stretches. The latter was the case in a must-win victory over Mississippi State on Saturday, when Bass outplayed reigning SEC Player of the Year
Lawrence Roberts
. Bass dropped 26 and 11 on the Bulldogs, on 11 for 14 shooting, to go along with five blocked shots. In fact, it was Bass' second consecutive five-block game, his most in a single game since Dec. 21 at Houston. Bass even added a three-pointer in two attempts, showing his versatility.
Bass has been judicious about his shot selection all year, shown most glaringly by his gaudy 56% FG shooting and his 50% three-point accuracy, both among the best in the conference for regular starters. The LSU big man is much more comfortable, and deadly, at the four spot than as a center. He's extremely athletic and makes up for occasionally being out of position with superior leaping ability. Bass also doesn't foul a lot, having been DQ'd only once all year after fouling out not once last season. The only thing seperating Bass from the NBA's best is his passing, which is underdeveloped. Seeing as the offense flows so regularly through his hands, it's remarkable that Bass has had as many as four assists in a game exactly
one
time all year. Even more bizarre is that this, despite the fact that the sure-hand
ed Davis
is usually camped out on the other side of the block. It's doubtful that low assist totals will keep Bass from being a high lottery pick, but it is an element of his game that stands out as needing to be addressed.
A fellow NCAA big man who has a much better passing eye, if a less-developed inside game, is Gonzaga's
Ronny Turiaf
. The French-speaking center had two strong games this week to help his team take control of the WAC, grabbing a team-high 13 boards in a win over San Diego and notching 16 points, nine rebounds and an eye-popping seven assists in a hard-fought victory over a pesky Portland squad.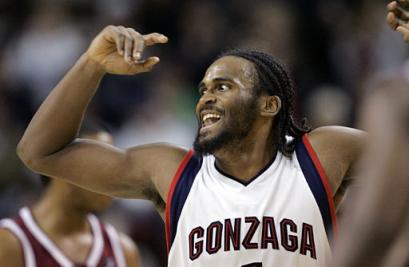 The 6'10" Turiaf is already a capable scorer on a team chock full of scorers, meaning that his rising rebounding numbers are even more impressive. Averaging almost three more boards a contest this year, Turiaf is flashing the kind of complete low post game that scouts drool over. Prone to foul trouble, Turiaf has managed to stay on the floor more often this season, to the tune of 31 minutes a game, up four minutes from last year. This is key to Gonzaga's chances, as the talented Turiaf is crucial to the Bulldogs' tourney hopes. Turiaf's free-throw accuracy is icing on the cake (10-12 on Sunday, 72% for the year). If Turiaf can continue to pound the boards and pass as effectively as he did in the win over Portland, there's little doubt that the NBA will take serious notice, if they haven't already.
Turiaf has been plying his trade with the Zags for almost four years now, an eternity for a top college big man. One guy who is new on the scene, but who has shown flashes of breaking out, is Louisville's
Juan Diego Palacios
. The smooth 6'8" Palacios has been instrumental in the Cardinals' recent uptick, becoming a double-double threat every night out.
But while Palacios has generally good rebound numbers, he's hardly a bruiser at this stage. The man is thin, but strong; a scorer more than a mix-it-up type. The precocious freshman has already had three 20-point games this year, mostly against cupcakes. However, he was dominant in the first half against Kentucky, and his absence in the second half (he left the game with a scratched cornea) was perhaps the difference in the Cardinals' crushing loss that day.
Palacios has a good noutside shooting touch. He's hit 16 threes this year (43%) and has a good mid-range jumper, especially from the baseline. It's true a lot of his points come on garbage around the hoop, but Palacios has excellent awareness near the basket, which no doubt contributes to his being in position to grab and put back misses. Rick Pitino's best freshman has been especially huge given that fellow first-year big Brian Johnson (Oak Hill) has missed the entire year after knee surgery, necessitating Palacios' rapid maturing. With pogos for legs, Palacios should continue to develop and, if he can add some bulk without losing his quickness, the Louisville youngster should be ready to break out nationally by next season, if not sooner.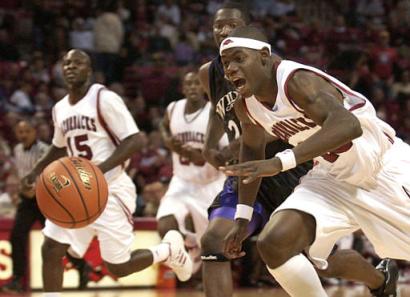 Two even more versatile 6'7"-6'8" players who have already hit the scene in a big way this season are Arkansas'
Ronnie Brewer
and Maryland's
Nik Caner-Medley
. Brewer is a point-forward in the truest sense, a super-quick, multi-talented passer who makes the Razorbacks go. Only a sophomore, Brewer was everywhere is a tough home loss to #7 Kentucky on Saturday. Brewer has nothing to be ashamed of after posting 18 points and seven offensive boards (eight overall) against an imposing Kentucky frontline. Despite not shooting especially well for the game, Brewer more than made up for it by getting to the line all day. Unlike the rest of the players above, Brewer is not a banger at all, preferring to glide the floor like
Morris Peterson
did at Michigan State a few years ago. The difference is that Brewer has game-changing speed and passing ability, something the talent
ed Peterson
didn't possess. Brewer also averages over three assists a game, though his 1.7 to 1 assist-to-turnover ratio could be better. At 43%, the Arkansas guard's shot from three-point land is solid, though he doesn't really use it as a weapon so much as an effective compliment to his entire-floor game. It would not surprise me if Brewer tested the draft waters this year, as he possesses NBA-caliber athleticism and speed and is already a strong candidate for first-team All-SEC.
The final player in this week's column is Maryland's
Nik Caner-Medley
, an inside-outside threat who absolutely killed Duke in a season-changing win for his Terps. Caner-Medley harassed Duke's JJ Redick on defense and buried clutch shots all game, providing the sort of lift to his team that he has been criticized for not bringing before. Caner-Medley had four steals and three three-pointers in the win over Duke before spraining his ankle late in the game. But it was his fiery demeanor and clutch timing that got his team back in the game, and his teammates clearly fed off his leadership once he went down, closing out the Blue Devils to grab the much-needed win.
The Maryland junior has a deft outside touch, though it's inconsistent (just 34% from three on the year). And he's not a banger, evidenced by a three-rebound game on Sunday against Georgia Tech. But Caner-Medley, like Brewer, can dominate without playing "big." An all-around game is more Caner-Medley's style; a block here, a steal there, a timely three for good measure. Resurgent Maryland is a different team when he's on (or off), and if the win at Duke can provide him with some necessary confidence, the sky's the limit for the talented Terrapin. He may not wow anyone with his athleticism (though it's hardly absent), but Caner-Medley can take over a game, the sort of intangible that often leads to All-American honors and, he hopes, a nice seat in the Green Room on NBA draft night.