This week, we examine some of the country's biggest names first, and work our way to some guys you may not have heard a lot about, but soon will later on. As the weeks progress, expect coverage of some lesser-hyped NBA prospects lying in the grass around the country.
Keep in mind is that college hoops, for all it's glory, isn't the NBA. One can argue whether that's good or bad till you're a quivering vegetable (See also Packer, Billy), but it's true. What works even in major conference tilts might not cut it against the taller, faster, stronger and quicker professionals.
Also, being an NBA prospect, and having great potential, are not necessarily the same as putting up big numbers. Most of the top NCAA scorers are not even on the NBA radar, either due to limited skills, physical attributes or them being the primary scorer on their small-college teams. As we take a look around the country, we'll try to talk defense, basketball IQ and other intangibles that caught our eyes.
That said, many of the weeks' top performers may have what it takes to succeed at the next level: either because they possess the attributes to excel or despite their lack of them. Feel free to send in your suggestions for other outstanding college performances folks may have missed.
Chris Paul, PG, Wake
It's hard to say that
Chris Paul
could sneak up on you at this point. With Wake playing a brutal schedule that has him and his mates seemingly on national television three times a week, Paul has had plenty of opportunities to shine. But despite a mixed week for his team, two more national games gave Paul a stage, and he was nothing short of sensational. Even in Wake Forest's tough loss at Florida State midweek, Paul was solid, nearly bringing his team back from a crater of a deficit. For the week, Paul hit six of nine threes, averaged 7 1/2 rebounds and scored an even 50 points. While his teammate
Eric Williams
stole some of the limelight in Saturday's win at Cincinnati, Paul was efficient as usual. His team leadership has come around nicely, perhaps beginning to thaw the icy hearts of scouts and media types who began to write him off after a slow start. His turnovers are down, his assists up and his floor game is nearly unmatched. Will he be worthy of a number one overall pick in the draft? It's early to say. Size does matter, despite what you might hear.
Kennedy Winston, G/F, Bama
No team in the country gets less props for its excellence than Alabama. Despite a run to last year's Elite Eight, a slew of returning starters and talent to spare, the Crimson Tide can't buy some hype. At this point, they need an agent worse than Ralph Macchio. The underrated Tide can take solace, however, in the performance of junior stud
Kennedy Winston
, who was 8-11 from the field (4-5 threes) for 26 points in a gritty win at suddenly tough Ole Miss on Saturday. This on the heels of Tuesday's 24 points, four rebounds and four assists in an absolute crushing of SEC rival Mississippi State. Winston's finally developing into the lethal scorer most pundits expected him to be when he came out of high school, and his consistency has helped him add to his already solid resume for SEC player of the year.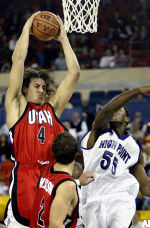 Andrew Bogut, F/C Utah
The big Aussie is back. No, not Jacko (Anyone? Anyone?), we're talking about
Andrew Bogut
. Despite the East Coast media doing its very best to ignore any basketball left of the Great Plains, Bogut has grabbed attention by the throat with his play of late. But just in case you rely on ESPN for news, here's what you may have missed: 25 and 18/24 and 20. Those aren't lotto numbers, they're Bogut's production in two key conference games, wins that helped return the Utes to the AP top 25 for the first time since the 2002-3 season. Bogut is quickly earning his reputation as the potential overall number one, showcasing both a rugged desire to rebound and excellent footwork. Shooting 63% from the floor won't hurt, either. For the year, the talented Bogut is averaging right at 20 points and 12 boards a contest. And he's got the benefit of being both the best college center AND a foreign big man. What NBA exec wouldn't want that?
Hakim Warrick
Warrick continued his quest to be named Big East Player of the Year and an NBA lottery pick, putting up 22 points and 13 rebounds against West Virginia, and then continuing with 21 points and 7 rebounds in a very Warrickish up-and-down performance in a thrilling nationally televised game against Rutgers.
Hakim Warrick
and Syracuse travel to meet
Chris Taft
and Pitt next in a huge game for both players and their teams.
Salim Stoudemire, G, Zona
No, it only seems like Salim Stoudemire has been in college forever. But if he continues to play the way he did this week, maybe the Wildcats should petition to get him another year. In two Oregon road wins in a surprisingly competitive PAC-10, Stoudemire pumped in 52 points, sinking 8 of 13 threes in the process. The mighty mite may not grab boards, dish a ton or play lock-down defense, but the senior can and will deliver the backbreaking three at the right time. Six-foot-one (maybe) shooting guards are a hard sell to the NBA, but stranger things have happened. Actually, no they haven't.
Von Wafer, G/F FSU
Scoring on an array of athletic drives to the basket, Wafer sparked FSU to an upset win at home over Wake Forest. He was unable to repeat the feat against the bigger and more determined Duke squad a few days later, but his game shows tremendous promise. A lanky player in the
Julius Hodge
vein, Wafer may be too small or too slight or too raw for the pros, but he also has the ability that some more powerful college swingmen do not have -- flying above the rim. If wafer settles for long jumpers, like he did against Duke on Saturday, he becomes easier to guard, and risks becoming an NBA afterthought. If he can tame his game without losing the sky-walking edge, the sky may be the limit for Wafer.
Daryll Hill, G, St Johns
Due in part to his being in the top media market, prepare to hear more and more about the Big East's leading scorer. Hill, a junior, dropped 26 in an upset win over Pitt at the Garden, coming on the heels of 29- and 30-point games the week before. The undersized but hard-working Hill is still a scorer more than a shooter, something that works well in college, but that tends to lead to a smattering of ten-day contracts in the pros. But Hill is still developing, and improving, so there's time. The high-scoring Johnnie best reminds one of former Red Storm guard Marcus Hatten, another sturdy scorer whose tweener game got lost in the NBA shuffle.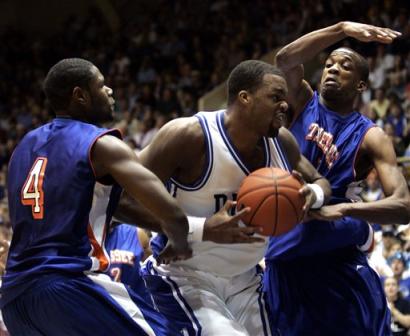 Shelden Williams, F/C, Duke
Tagging a career-high 30 on a supposedly rejuvenated Miami would have been enough to warrant a mention, but doing so on 11 of 12 shooting, with little help inside from the two-headed beast known as The Randolph-Melchionni, merits special attention. Despite the fact that
Shelden Williams
seems to fumble the ball every time he initially touches it, the space-eater is good at knowing his placement near the basket and is sturdy as a house once planted there. His height will remain a question mark, and thus far he lacks the mobility of a
Karl Malone
to compensate, but the Brand comparisons are increasingly justified, at least to this point. Williams has shown improvement with each season, a promising sign for his future bank account.
Rajon Rondo, PG, UK
A modest stat line that may have gone overlooked on Wednesday -- 13 points, 5 rebounds, 4 assists, 5 steals, 1 come-from-behind SEC road win.
Rajon Rondo
, the quickly-improving frosh from Kentucky, is quietly emerging as the best early return on Tubby Smith's banner recruiting crop. While other college points have a more polished offensive game (See also Gibson, Daniel) and while Rondo's outside shot isn't pro-caliber yet, the kid's a game-changing talent and, like fellow young phenom
Jordan Farmar
of UCLA, he's close to impossible to keep out of the lane. But what sets Rondo apart as one to watch is his defensive quickness. Already on pace to shatter the UK record for steals in a season, the sinewy Rondo is getting
better
from game to game, and it's becoming clear that as he goes, so go the Wildcats.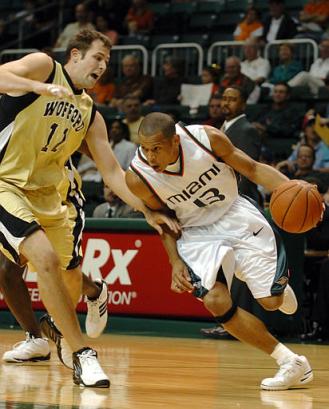 Guillermo Diaz
Possibly the most athletic player in the country,
Guillermo Diaz
continued to pad his resume for entering the upcoming NBA draft as the top scoring guard in the ACC so far. Diaz went up against two of the top five teams in the country this week, Duke and North Carolina, and didn't miss a beat -- scoring 25 and 30 points respectively, on 22-42 shooting, while pulling down 12 total rebounds in the two games. His PG skills are still below average, but luckily for him (and his draft stock), he has begun to play the position much more as Miami's regular point Anthony Harris has fared worse and worse as the competition got tougher. Diaz, on the other hand, only steps us his game more as the competition gets stiffer. The scary part is, he's only been playing organized basketball seriously for a couple of years, after giving up the chance to become the top volleyball player in the world a little over three years ago.
Juan Mendez
Probably the most consistent player in the country, Mendez's worst game this year was in a 35-point blowout his team handed to Yale, where he "only" scored 16 points in 24 minutes. Two huge conference wins for his team, versus Rider and Manhattan, are keeping his NCAA tournament hopes alive at the moment. On an individual level, Mendez scored 50 points to go along with 22 rebounds and 5 blocks over those two games.
Taj Gray
The Sooners are for real. And right now they stand alone atop the Big 12, after knocking off two of the three preseason conference favorites this past week, Oklahoma State and Texas.
Taj Gray
was a huge part of that, especially in the televised game last night, where he had his coming-out party nationally, scoring 22 points to go along with 8 rebounds, 2 blocks and an impressive 5 assists. Best of all was the attitude he showed on the court, firing up the crowd with his incredible athleticism and energy, playing smart and unselfishly, and showing some court vision that reminded some of
Kevin Garnett
and
Chris Webber
. If Gray can continue to play well consistently next to fellow NCAA stud big man
Kevin Bookout
, the Sooners will be a team that no one will want to face come March. The draft hype will come shortly thereafter, if it hasn't started already.