Jonathan Givony:
Hey Luke, where are you at right now?
Luke Jackson:
I'm actually in Spokane, Washington. I did a charity basketball game yesterday with a couple of former and future Gonzaga players. We did the same thing in Eugene, we called it Barnstorming.
Givony:
So you have a workout coming up in Portland; that's why you are out there?
Jackson:
Yeah, it's on Tuesday.
Givony:
How many workouts have you been to so far?
Jackson:
I've only been to one workout so far, with the Bulls.
Givony:
So can you break down for us what goes on in an NBA workout, from the second you meet with them to when you part ways?
Jackson:
Well, they take you to a hotel and they ask you to take these psychological tests. They test you on certain things that, depending on how you do, might tell them something about your leadership skills, how well you get along in group settings, stuff like that.
Givony:
So what kind of questions do they ask there?
Jackson:
The questions are really broad. There are 185 of them. I remember one of them was: would you rather stop and watch someone painting a picture or watch someone building a house?
Givony:
(laughs) Say what?
Jackson:
Yeah. There's really no right or wrong answer to that. And then there was an essay you need to write, about why you think you should be in the NBA, or why you want to be a pro basketball player. Just a one page essay, that kind of stuff for me is pretty easy.
Givony:
So after those tests in the hotel you went and worked out for them in their training center?
Jackson:
Yeah, they just test you on several different areas. They want to make sure there is nothing wrong with your body. They test you on agility, mobility, speed, that kind of stuff.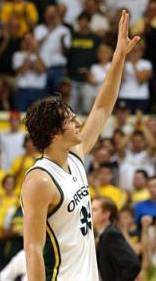 Givony:
So did you get a chance to look at the early entry list that came out this weekend?
Jackson:
Yeah, I did actually, I saw it.
Givony:
I don't know about you, but when I saw that list I got kind of a sick feeling in my stomach. I don't know if it was anger, or frustration, but it just made me feel bad. I probably only recognized about half of the names on there. What were you thinking when you looked over it?
Jackson:
I can understand how you feel on that. I only recognized about a third. Today, with how alluring the NBA is, there are a lot of kids out there that people get in their ear, they build them up to believe things that aren't necessarily true. It's important for kids today to have people around them to give them good advice, and that's the problem. Once players start doing well they have people around them who want to use them.
Givony:
So who are these people? Whose fault is it? Is it agents, is it because of
LeBron James
, is it their coaches, the media?
Jackson:
Everyone wants to reach the next level. I don't know how many kids that did enter actually expect to get drafted. Half of the kids on there probably won't even get a workout with a team. Some kids, you know, they have a good year, but by no means are they ready for the NBA. And they think, you know what, I'm not sure if I can do this next year, I'm not sure if I'll have this kind of success. So they say, maybe I'll get lucky? It's tough, but I think you can either play or you can't. That's one of the reasons I came back to school, because I was confident and I knew that the NBA was going to be here for me next year. I had teams talking to me, saying: Luke, come out. We want to try and guarantee you a pick. We have a late pick in the first round. Next year your stock will be up higher. And I can see how that can be alluring to a lot of kids. But seriously, if you stick around, if you can play, you are only going to help your chances at making it.
Givony:
That's surprising, to say the least. What route do teams take when trying to communicate with you?
Jackson:
There are a lot of people that are around that you talk to, that you're involved with. Word just kind of gets out to a lot of people. They say why don't you come out? I knew a lot of classy people in the NBA, they said they think I could fit in here, why don't you come out and do a tryout? But for me, it was about getting my education. The thing about drafting a guy like me, I'm ready for the NBA. There is no question about that. I'm going to continue to get better, but I'm already a mature player that understands how to play the game. With all these high school kids there is so much in question. How many high school kids have actually won a playoff series? Except for Kobe and Garnett? And up until this year, you couldn't even say Garnett.
Givony:
UmmmLet me think.
Jackson:
Jermaine O'Neal
, too.
Givony:
Moses Malone
?
Jackson:
(laughs) Don't go that far back on me.
Givony:
I'm just trying to pick my brain.
Shawn Kemp
, did he ever win a series?
Jackson:
Yeah, I think he did a long time ago.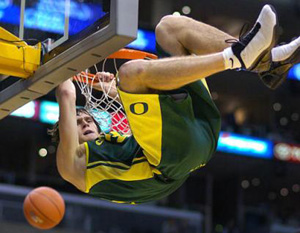 Givony:
So, since this won't affect you anymore, are you in favor of a 20+ rule for the draft? I'm starting to think that would be a lot better for the NBA.
Jackson:
It would be good for college basketball as well. The thing is, there are always going to be one or two phenoms that realistically can contribute at the next level right out of high school. And then there are always going to be a handful of players that maybe three or four years down the road, just because of their athletic ability, if they work hard, maybe they can be NBA players. I don't know, it's an interesting argument, because you can't deny a guy like
Lebron James
or
Amare Stoudemire
from entering the NBA. But at the same time, there are so many kids that shouldn't even be thinking about the NBA that are actually going to have a shot just because of the potential they might have. One of the things that college does for a high school kid, it teaches them discipline and how to improve, and I'm sure that it must be hard for certain high school kids to learn about all the things you need to deal with in the NBA lifestyle.
Givony:
So let's say if you were a freak athlete, with a forty-inch vertical or whatever out of high school, would you have considered jumping straight to the NBA?
Jackson:
It's every kid's dream to be in the NBA. It's not a question of whether or not I would have considered it. If someone was looking at me, would they have said that I'm really ready? Because that's what really matters; they are drafting kids now that aren't going to play for two years. There are a couple of teams in the league that are loaded with talent, that aren't very good, just because they need to mature and they might not ever mature in the NBA.
Givony:
The team you just worked out for, Chicago: perfect example of that.
Jackson:
I didn't want to say that, but, yeah.
Givony:
I think they know it, and their fans definitely know it, so it's not like it's a secret or anything. That's why they're the Baby Bulls.
So do you think that if you had a forty-inch vertical, would you be a better basketball player right now?
Jackson:
I don't think I would be a better basketball player. There are a ton of athletic guys out there who haven't really developed their skills. It's kind of a blessing and a curse at the same time, you know what I mean?
Givony:
Sure, it can make you lazy. You learn to rely just on that when you are younger because that's all you need to beat players.
Jackson:
Butthe one thing is that a lot of people look at me and they automatically think that I'm not that athletic. When I worked out for the Bulls they said, we can't believe how athletic you are.
Givony:
The rumors trickling down say that you recently dominated Andre Igoudala at a gym in Chicago. Can you give us the scoop about what really happened there? Did you really tear him up the way people are saying you did?
Jackson:
I meanI'm not going to say that. I'm just really excited about this draft because there is a lot of talk about me moving up, and that makes me excited. But I'm not going to say anything bad about Andre's game.
Givony:
So what kind of role do you see yourself having in the NBA? Do you see yourself as a point-forward type guy?
Jackson:
Yeah, exactly. I'm like a 1-2-3. One thing about the NBA, I think I'm going to be a better NBA player than I was a college player because there are going to be guys around me that are going to be able to finish plays and understand how to play the game. That will benefit the way I play. One of my biggest strengths is that I know how to make people around me better.
Givony:
You improved from last year to this year; I was just looking at your stats a couple of hours ago. Your three-point percentage jumped from 36% to 44%, your assists went up along with your scoring and field goal percentage. All this despite losing an extremely important point guard in
Luke Ridnour
feeding you the ball. What happened this year that made you get that much better individually?
Jackson:
I worked really hard on my game last year, and I was in a position to be a leader all season long, and I feel really comfortable in that position. Even though we had
Aaron Brooks
go down in the middle of the season, and I was forced to even play some point at times, it was a challenge, but that made me a better player. If you watched us play, I'm sure you only caught a few of our games. It's not like every play went to me, I probably averaged as many shots as
Josh Childress
, but I was kind of out there being a floor general, trying to teach a young team how to win.
In terms of shooting, that's going to be one of my biggest strengths. I think I'm one of the best shooters in the draft. That's something I've worked on for the past two years, extending my range and being confident out there, that's something I feel good about. I'm a gym rat, that's something I pride myself on. I love getting in the gym and working hard.
Givony:
Would you rather be in a role like Fr
eddie Jones
is right now, playing for a very good team but not always seeing too much daylight, or in a role like
Luke Ridnour
, getting more playing time but not necessarily winning too many games?
Jackson:
I want to play a lot, and I want to win. (laughs)
Givony:
What was it like representing your country in the Pan-Am games last summer?
Jackson:
It was a good experience. It was an honor to be able to represent my country, and it was just a really good group of guys. I've been playing with most of them for a long time, Arthur Johnson,
Emeka Okafor
,
Ben Gordon
, etcetera. It's fun to play with guys that are that good. I got along well with the coaching staff, too, so it was fun.
Givony:
Did having a guy like
Emeka Okafor
behind you on defense to rotate and block shots help you become a better defender on that team?
Jackson:
Oh, there's no question. You can get up into the people, and you don't have to worry that much about players driving around you because you know Emeka has your back and he can make your team look really good on defense.
Givony:
What kind of pro do you see him becoming?
Jackson:
To me there is no question that he is the #1 pick in the draft. He is guaranteed to be a great pro for at least eight or nine years, and he's going to step right in and be able to play. He's a competitor, he's got a great athletic body, and he works really hard. I just think that way because I played against him, and I played with him, and I've seen how his game has developed and how hard he's worked. I think he'll be in great shape because he has that type of work ethic.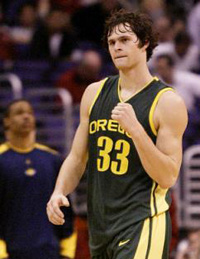 Givony:
From the couple of Oregon home games that I did get a chance to watch this year, it seems like there is just an amazing atmosphere there. How does that affect the way you and your opponents play?
Jackson:
One of the reasons I wanted to play in Oregon was because of the crowd. There are only maybe one or two other places like that in the country. It's like nowhere else. The building is just straight on top of you, and teams come in there and it's like automatically having a ten point advantage. I've talked to tons of guys about it, and they say that they've never played in a place like that before. I remember after the second round of the NIT they were telling me that. You get beat up just walking on to the court, you could tell they were intimidated. Even the donors, the older people are up on their feet. Everyone gets up and gets excited.
Givony:
What do you have to say to critics who say that you won't be able to guard shooting guards in the NBA?
Jackson:
Screw 'em. I know I can.
Givony:
So what are you working on right now to improve your game?
Jackson:
I'm working on things that will make me a better defender. That's going to make a big difference, how much more physical I can be with players. I think a lot of times I have the athletic ability to defend anyone, it's just a matter of desire. I'm quick enough to guard people, but a lot of times it's also a matter of understanding situations, like knowing how to guard the pick and roll. Being strong enough to be able to muscle people helps.
Givony:
How come you decided to wear number 33?
Jackson:
In high school, my freshman year I wore 42. After that I changed because I like
Larry Bird
and I decided to wear it in college as well.
Givony:
Someone wanted me to ask how you think you compare to
Larry Bird
, and I didn't think that was a very fair question, but that already came up, so what the hell?
Jackson:
Some people just understand how to play the game and understand how to win, and they are really competitive. That's something that he has, and that's something that I have too.
Givony:
What about the Blazers? A lot of their fans want the team to draft you; some think you might not be around at #23. How would you feel playing for them? Are you a Blazers fan?
Jackson:
Growing up, playing out in the driveway, all my friends and I, it was like: I'm
Terry Porter
, I'm
Jerome Kersey
, I'm
Clyde Drexler
. (laughs)
Givony:
Who were you?
Jackson:
I was
Terry Porter
because I was a point guard in high school and when I was younger. I wasn't doing that when I was in high school, though. (laughs)
Seriously, I think it would be a blessing to be able to play in front of a community that respects the way I play, and I think there is no reason why Portland shouldn't be the best NBA basketball city in the league. They've been like that in the past, and if I played there I would look forward to seeing an unbelievable atmosphere in Portland and bring back a lot of tradition to the city.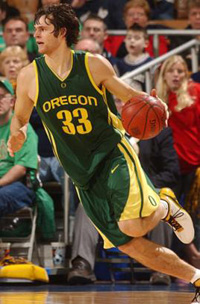 Givony:
So if you were an NBA GM, is there anyone up there at your position that you would draft ahead of you?
Jackson:
Nope.
Givony:
I know that your friend
Luke Ridnour
is a pretty religious guy. Can the same thing be said about you?
Jackson:
Yes, absolutely.
Givony:
Do you have any worries about some of the extracurricular stuff that goes on in the NBA lifestyle?
Jackson:
Not really. I know that the NBA is a different lifestyle, and I think I'll be fine. It's not like I don't like to go out and have fun, but I have standards and I'm a disciplined guy.
Givony:
I heard that you played somewhat of a role in bringing five-star recruit
Malik Hairston
to Oregon. How did that work out?
Jackson:
I just sat down with him and we talked about coaching style and the way people play, and what his feelings were. I told him everything I thought about Oregon, and I felt like we had a pretty good connection with each other, and I understood the way he played and I tried to tell him that it would be a good fit. I think he's really going to benefit from the way that Coach Kent gets up and down the floor, and if he gets the ball in Malik's hands I think he's going to make good decisions because he is a smart basketball player; that's one of his best qualities.
Givony:
Well Oregon has a pretty good track record with sending players to the pros; you'll be the third first round pick they had in a row.
Jackson:
That's something that he probably thought about. Three first round picks in the last three years, all of a sudden they are going to start comparing him to one of us.
Givony:
So where's the next workout after this?
Jackson:
After this I'm off to Golden State.
Givony:
Hmmmthey've got a low lottery pick. Do you feel a lot of pressure going into these workouts?
Jackson:
Not really. I'm confident in my game, and I know that I can play. All you can do is work hard and what happens, happens.
Givony:
So who did you go up against in your last workout?
Jackson:
Romain Sato
from Xavier
Givony:
Oh, you ever been to his website?
Jackson:
(laughs) No, he has a website?
Givony:
Yeah, it's called starinanylanguage.com, and it's all about him and how many different languages he knows how to speak. You can listen to him talk in like ten different languages or something. It's pretty lame, to be honest. You need to get a website Luke, make it more interesting than that, but unfortunately it looks like all the
Luke Jackson
's.com, net, etcetera are taken already.
Jackson:
Are you serious?
Givony:
Yeah, some singer that I've never heard of has LukeJackson.com, some guy that produces commercial photos has lukejackson.net, and then some poor autistic kid has Lukejackson.info
Jackson:
I better let him have that one, huh?
Givony:
Yeah, definitely don't sue him, Luke. (laughs)
Jackson:
Yeah, I'm not too worried about a website.
Givony:
The last thing I wanted to ask you about was the baseball stuff. I heard some team wants to draft you. What's up with that?
Jackson:
I don't know, I could throw hard in high school. I'm a 6-7 left hander. Scouts are drooling over me. (laughs) I haven't thrown in about a year, but I've gained about 15 pounds so I can probably throw even harder that that.
Givony:
What was the top speed you could throw when you were in your prime?
Jackson:
I was throwing in like the mid-80s in high school.
Givony:
I don't want to diss you as a player or anything, I know nothing about baseball, but are they that desperate that they would draft someone that doesn't even play the sport?
Jackson:
There's not that many guys out there like that. And think about how many rounds there are in the draft for baseball, a lot.
Givony:
Well I think you've pretty much answered all my questions Luke. Thanks for your time and good luck with your workout on Tuesday.
Jackson:
Thanks, I appreciate it.