Recently selected to the 2008 NBADL All-Star Team, Austin Toro
Keith Langford
is having a career season. Averaging 24.5 points, 6 rebounds and almost 4 assists the knock on his game coming out of college wasn't his scoring ability, but his outside shot. Setting out to prove the naysayers wrong, Keith is shooting well above 40% from three point range this year, and has already received one call-up from the San Antonio Spurs. Today I spoke with Keith about the path that lead him to the D-League and what he has to do in order to get back into the NBA.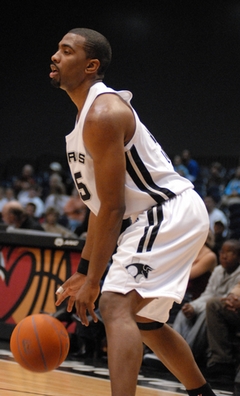 Richard Walker: Coming out of Kansas you went undrafted, but were picked up pretty quickly by the Houston Rockets. Can you talk a little bit about what the draft process was like for you?
Keith Langford
: It was pretty disappointing when you look at the body of work I put together over the course of four years. You're judged by how you went out as opposed to what you established, but at the same time I understood how the process goes. It was definitely a disappointment, especially with the injuries. It was difficult.
Richard Walker: I know you had a lot of interest from NBA teams this last season, but what made you decide to go play in Italy for Vanoli Soresina?
Keith Langford
: You see a lot of guys playing in the minor leagues and they get to the point where they're 27 or 28 years old and they've been minor leaguing around for so long that they haven't built up any financial equity. I didn't want to run into that, and so I figured I was 23 years old and I should just go make six figures for a year and get some money under my belt and that way I can come back and give it a go again.
Richard Walker: What made you decide to play in the NBADL this season?
Keith Langford
: A lot of it had to do with this being one of the first years that I was completely healthy. I had a lot of confidence coming from overseas after having a good year there and the pre-season I had with the [San Antonio] Spurs went really well. I got a lot of positive feedback from those guys in regards to being close, and being an NBA-ready player. With that combined with my overseas experience it made sense.
Richard Walker: Is that how you ended up on the [Austin] Toros? Having played with the Spurs in the pre-season?
Keith Langford
: Right, exactly. They worked some kind of magic and I ended up being allocated there. I don't know what the connection was, but it's worked out fine.
Richard Walker: How does playing for the Toros compare to playing for the [Fort Worth] Flyers a couple of seasons ago?
Keith Langford
: I think the way I ended up with the Toros, and the situation I was in with San Antonio, you just feel like you have much more of a connection. I'm enjoying myself more, and I'm really understanding the game and how things work both on the court and off the court. I'm 24, and the experience factor is coming into play, so I'm really enjoying myself this season.
Richard Walker: Can you tell from a player's perspective if there's a tangible difference in having the Spurs own the team?
Keith Langford
: Yeah, certain things you don't have to worry about. Small things like meals being paid for on the road or having access to different kinds of treatment. All around management of what's going on because we've got
Dell Demps
– that's the general manager of our team, and director of player personnel with the Spurs – so he learns first hand from R.C. [Buford] and those guys and you can tell from his demeanor what's expected of the team and the players. He runs a really tight ship and there's a lot of expectations that come with that.
Richard Walker: Absolutely. Your team is stacked, they're completely loaded, and you're averaging 25 points per game despite that. You've always been a scorer, but this year I've noticed that you've really refined your outside game. You're shooting like 43% from behind the arc this season.
Keith Langford
: A lot of credit goes to being in camp with the Spurs for that; getting down a routine, consistency shooting the ball, and obviously having the confidence to let it go. I remember when I was waived during the pre-season [Spurs head coach] Gregg Popovich told me that going to the basket and scoring has never been a problem for me, but when you get to the point when you can just let your outside shot go and not even think about it it's going to make you a lot better player. I definitely took that to heart. I was talking to my agent the other day and we were laughing about the fact that in the last two games I've shot fifteen three pointers and in years past, or in college, it might take five or six games to shoot that many. It's crazy how you mature and see the game differently.
Richard Walker: You talked about how you were in pre-season with the Spurs, and how your outside shot is really improved, you've never exactly had a problem getting to the basket, you've always been an elite slasher, and that got you a call-up earlier in the season. What was it like to play with the Spurs officially?
Keith Langford
: There was a lot of familiarity, obviously because of the pre-season, but it was different – it was more of a reality. Everything was run the same as it was in the pre-season, guys still carried themselves very professionally, and it was a really relaxed environment. I made the transition, fit right in, did what I was supposed to, and played my role for the time that I was up there. I understood the situation and it was a very fortunate opportunity for me.
Richard Walker: As one of the premiere players in the D-League you were selected to the [NBADL] All-Star team this year. How does that feel?
Keith Langford
: It feels good. I think that it shows how far the league has come from when it started out. You see it grow, and I feel like guys like Chris Alpert and president Dan Reed really do a lot to help out the guys in the D-League and try and get them to the next level, and I think this is just another step in the right direction. Any time you can reward the guys who are playing well and give them exposure it's a win.
Richard Walker: Are you looking forward to going to New Orleans?
Keith Langford
: I'm really looking forward to seeing a lot of the NBA stuff in addition to the stuff I'm doing. I'm taking a very serious approach towards it. I was wondering how I should treat the game. Should I treat it like the actual NBA All-Star game or should guys be playing like a call-up is on the line?
Richard Walker: That's a great question actually.
Keith Langford
: We'll get a feel for it once we get there and do the meetings, walk-throughs and shoot-arounds.
Richard Walker: I had never really thought of that before. In a way, a call-up is on the line, but on the other hand it is an All-Star game and you're supposed to be having fun and entertaining the crowd.
Keith Langford
: Exactly. And it probably doesn't help me that I have probably four of the top scorers in the league on my team. It'll be interesting. Maybe they'll let our team play with two balls.
Richard Walker: Do you get feedback from the NBA personnel on what they're looking for to bring you back to the NBA permanently?
Keith Langford
: Not necessarily. You definitely hear teams say, "we're taking note of how much Keith has improved" and things like that, but teams really don't like to show their hand when it comes to call-ups, and what exactly the roster moves are going to be, so that's the agent's job to get that information from the different teams. I've gotten feedback on how well I've been playing, but not necessarily on roster moves and things like that. The trade deadline is coming up, teams are making moves, and it's getting later in the season.
Richard Walker: Yeah, teams usually leave roster spots open for the trade deadline because they don't know what their team is going to look like, so after the deadline is when you'll start to see some call-ups.
Keith Langford
: Yeah, it's tough though because you have crazy money being thrown at you overseas. Just today I got an offer from over in Spain for six figures just to finish the season out. I'm just like, "wow, that's only a third of the season", so it's difficult. Really difficult.
Richard Walker: That's got to always be in the back of your mind. There's always money overseas and it's got to be tough to stick it out here. Is it the NBA dream that's on the line? Is that why you're here?
Keith Langford
: Yeah, that's true, but the funny thing about it is that I can take this job over in Spain that I was just offered and end up making more than I would be making by finishing out the season on an NBA roster. But for me money has never really been a crazy issue, and it's just about being able to do something that not everyone else does. I want to have the job that no one else has. You know, I could go overseas and make a significant amount of money, but it's not quite like being in the NBA. If I play for a year, and even it doesn't work out, then I would have known that I was able to get there and stick around and I would have a new perspective.
Richard Walker: Where do you see yourself fitting in on an NBA team?
Keith Langford
: I wouldn't say I'm a jack-of-all-trades, but I've always been a player that's done well playing a lot of minutes and being involved in what's going on, and I think teams might having difficulty with that saying, "well can he come off the bench and be a spark for six or seven minutes". In order for me to stick in the NBA it will probably take an injury situation where I would come in like C.J. Watson. When he first got called up he played in a game for thirty or more minutes. Something like that. After I establish somewhat of a role then I can do whatever is asked. Mark Warkentien, from the [Denver] Nuggets, asked me when I worked out for them this year how do I see myself complimenting the team, and I said that I watch a lot of basketball and I watch
DeShawn Stevenson
and the way he compliments the [Washington] Wizards and I think that's a realistic way for me to compliment the guys on the team. I can be that type of player. Not to say that I'm better than him, or I can do what he does, but I'm saying that what he is to that team is a realistic way for me to be to another franchise.
Richard Walker: Absolutely, I believe the same thing.
Keith Langford
: I've always felt like I'm one of those guys who continuously slips through the cracks. They think, "somebody else might pick him up", or, "he's good enough, but maybe there's something that's just a little bit better". I just think that if I ever get the opportunity people will definitely take notice. I told [head] coach [Bill] Self when I was at Kansas that I thought I would be a better pro than I was a college player. I have the confidence, but I also have a realistic grasp on what the NBA is and how tough it is. I'm happy about how my career has gone, fighting through the injuries and adversities, I wouldn't change anything.
Richard Walker: Great, thanks a lot Keith.
Keith Langford
: No problem.
Richard Walker: Good luck.