Ask
J.R. Giddens
about his past. Ask him about May 19, 2005, the night he was stabbed in his right calf in a bar fight and the thirty stitches he needed. Ask him about how he transferred out of the basketball powerhouse that recruited him as a McDonald's All-American. Go ahead and ask him; he has nothing to hide.
"I have no problems about answering the questions because I was a kid who made bad decisions," Giddens said. "As I've gotten older I've learned to make better decisions, so if people want to ask questions and find out all the details, they can, because I'll answer them."
Clearly no one can predict the future, but five years ago after completing a prep career that left him as one of the top twenty players in the nation, things looked anything but bumpy for Giddens. The Oklahoma City native would sign a letter of intent to play for the Kansas Jayhawks because as he said, "when Roy Williams offers you a scholarship, it's kind of a no-brainer."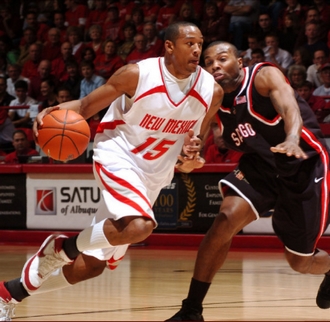 The first of many shakeups during Giddens college career would come before he ever experienced his first Rock Chalk Jayhawk, as Williams would leave Lawrence to take the head position at North Carolina. Bill Self, Williams's replacement, would meet with his star recruit and his family at their home to discuss the issue and hopefully convince Giddens to stick with Kansas.
"[Coach Self] is from Oklahoma, so I felt pretty comfortable with him," Giddens said. "After talking I decided to still go to Kansas; there's just so much tradition there so it wasn't like I was only going originally because of Coach Williams. I knew that I would get a great college experience, they sell out every game, and I knew I'd be playing in front of big crowds."
Giddens wasted little time making his presence felt, averaging over eleven points per game in taking home All-Big 12 Freshman honors. It seemed the talented guard was well on his way to becoming a high profile NBA draft pick in just a year or two, but his sophomore season would be a completely different story. Giddens' numbers, though still solid, dipped slightly from his All-Conference caliber freshman year and there started to be rumblings amongst Kansas fans about his decision making abilities and attitude.
Everything would come to a climax that night at the Kansas night club. For Giddens it was a nightmare, "the worst time of my life," he said. Perhaps the worst part was that for many that followed the team, the incident wasn't all that surprising. An article published in the
Kansas City Star
shortly after the incident stated, "If you had to peg a Kansas basketball player most likely to get involved in an ugly brawl, it would be Giddens."
As the media continued its criticism of the sophomore, Giddens was left to wonder about his future, not only at Kansas, but with the game of basketball.
"I didn't know if I was going to come back one-hundred percent or not, it was just really hard. Everything happens for a reason, and I think in the end it was good that this happened because I had a lot of maturing to do at that time. It gave me the chance to sit there and think hey, I'm not going to let this happen again."
Giddens would recover and return to the basketball court, but it would take longer than he might have expected. His relationship with Kansas had reached a point where it was no longer beneficial for him or the program to remain a Jayhawk. While the brawl wasn't the only reason behind his decision to transfer, it certainly took away any uncertainties. Giddens said both he and the coaching staff felt he needed a fresh start somewhere else, and he would get that fresh start at the University of New Mexico.
The Lobos were coming off a 26-7 year that had culminated in a berth in the NCAA Tournament, thanks in large part to star player
Danny Granger
. Granger was on his way to the NBA, though, and several other players were transferring out of the program, which begs the question, why did Giddens transfer here?
"It was close to home and it had a good coach in Ritchie McKay," Giddens said. "He let us play a freelance type of offense and we thought that would benefit my game. He did a lot for Danny, and Danny made it to the NBA, that's one thing I wanted to do, take my game to the next level. I really thought going to New Mexico would be a benefit to me and my game."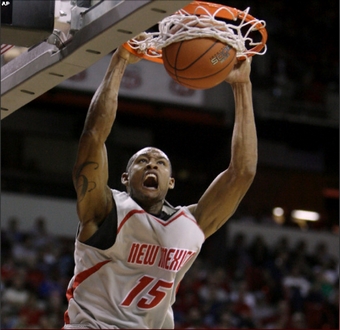 While Giddens harbored some concerns that his new teammates might have preconceived notions about him due to the headlines he had made at Kansas, he wasn't worried about the coaching staff.
"They let me know that they had complete confidence in me; they kept reassuring me by saying that they wanted me there and that they were going to work with me to make me a better ball player. I really appreciated that. I wanted to go out there and show New Mexico that I could help them win games."
During his first season with the Lobos, Giddens had to sit out due to NCAA transfer rules, and served as a member of the redshirt practice squad. During this first year in a new setting, not only did Giddens improve his abilities as a player, but as a leader as well. Being immersed in an environment completely different from the one he had been in at Kansas forced him to become more open minded. In doing this, Giddens began to grow off the court and earn the respect of his new teammates.
With a newfound resolve and a continually improving game, Giddens entered his junior season ready to make a splash in the Mountain West Conference. Things were looking promising; Giddens was posting career highs in points, rebounds and assists, but New Mexico was struggling. Unbeknownst to many at the time though, was a growing problem with Giddens' attitude. Finally in late February Giddens was suspended indefinitely from the team. Head coach Ritchie McKay said of Giddens, "He did nothing illegal, nothing unethical. This program tries to promote being a good teammate and I want to emphasize that."
After a second major incident in three years that called his character into question, Giddens had reached his biggest and quite possibly, his last fork in the road for his college basketball career. They say the greatest measure of a man is how he responds to adversity; Giddens response was a strong one. Rather than turning the suspension into a reason for feuding with the coaching staff, or continuing down a spiraling path, the junior owned up to his mistakes and pushed forward.
"I had a bit of an attitude at that time and I really needed to work on being a better teammate," Giddens said. "It's not that I was doing anything crazy, I could have probably just come into practice every day with a better attitude. The coaches taught me that real players play everyday, they don't take plays off or have breakdown practices. They come in everyday and set the tone, because practice is very important. So I looked at all of this as a step towards becoming a better leader and learning how to better prepare for the games as best as possible."
This past season, the former high school All-American finally put his past behind him, and things began to click on the court. Giddens saw his numbers improve in essentially every single statistical category from a year ago. In addition to being named an honorable mention All-American, Giddens was co-MWC Player of the Year and became just the second player in history to lead the conference in points and rebounds in the same season. He also helped return New Mexico to its winning ways, leading the Lobos to the NIT, where they eventually fell in a hotly contested battle with Cal. With so much having taken place in his life in the last several years, how did Giddens explain the sudden turning on of the proverbial light bulb?
"I was finally just going out there and playing with a free mind, I was having fun. This is the most fun I ever had playing basketball, and I've really been able to enjoy just being around my teammates and my coaches."
Giddens stated that both his teammates and the coaching staff were extremely trusting of him with the basketball this year and gave him the necessary freedom to create for himself and others. Having never given up on himself with all that he had endured during the previous four years has earned Giddens the respect of everyone in the program.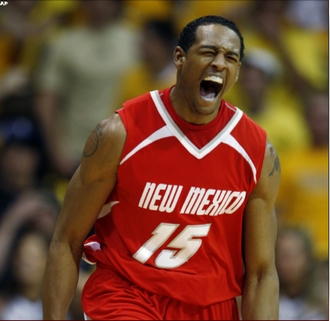 This isn't where the story of
J.R. Giddens
ends though. Just when you think you have him all figured out, the young man from the Sooner State makes you do a double take when he says he is happy with how the last few years have gone for him.
"It's like I said, everything happens for a reason. Some people may not think it was all good, but for me as a person I felt I improved both on and off the court. Looking back, I'm glad I had the senior year that I had and the career that I had. After going through what I did, a lot of people probably would have wanted to give up on their dreams to play ball, but I fought everyday just to get to where I am. In the end, I'm just trying to keep going and play one more day of ball. It's been a good experience, even though it's been a bumpy one, I'm glad I stuck with it."
It may seem unlikely that anyone, let alone a college student, having endured all of the pain and criticism that Giddens has could possibly be this positive, but you can't deny the sincerity in his voice. This is clearly an individual who has taken to heart the lessons he has learned during the course of his adolescence and early adulthood years.
"I'm really blessed that it all happened in a funny sort of way; I don't know if people will understand, but I feel like it was good for me."
Now with the season over, Giddens, like so many other NBA hopefuls is hard at work preparing for the draft. Currently he is working out in California at the 360 Health Club with Oregon's
Bryce Taylor
. Giddens felt that free throw shooting and ball-handling are the two areas he needed to make the most improvements before he shows off his skills in front of NBA scouts at the pre draft camp in Orlando. As for what he can bring to a pro team next season, Giddens was quick to point out his winning mentality.
"I want to make guys around me better and win games. I won't necessarily go out and score a lot of points all the time, but I'll do all the little things that are important. If I can get an open shot on the outside for a shooter or drive and give my teammate and easy lay up, I'm going to do that. I have a big desire to win, and if I don't win, I'm going down swinging."
Giddens is projected as a second round draft pick, so by no means is he a lock to be in an NBA uniform next season, even though his terrific physical tools combined with his versatility and upside has certainly piqued the interest of numerous teams. But for an individual who has been accused time and time again for lacking maturity and possessing major character flaws, Giddens shows tremendous perspective when discussing his future.
"A lot of people have jobs that they hate, so waking up everyday to become the best basketball player possible is the absolute best. I'm having a lot of fun doing it. I'm just trying to let all of this sink in right now. I'm still doing what I love to do, so everyday is a ball to me."
Spoken like a true adult.