More so than the other position we've observed, our analysis of this draft's power forwards should help us get a feel for where each prospect in the group fits on the next level. With the increasingly diverse number of roles power forwards can play for their respective teams, the versatility of the position has trickled down to the NCAA level. We have only one international prospect in this group,
Henk Norel
, who comes from the same DKV Joventut club as
Ricky Rubio
. Despite Norel being the only prospect not coming from the NCAA, this group offers a layered diversity that the others didn't, due to the variability of their roles on both ends. We'll discuss the statistical impact of these roles throughout this article.
To gain a better understanding of the statistics used, visit the
glossary
by Noah Libby-Haines. Interested in making your own statistical comparisons? You can do so
here
.
Note:
Henk Norel
has two rows of statistics in each table, the one marked with the blue dot reflects his Euroleague numbers, while the one without it shows his numbers in the ACB.
Point Per-40 Minutes Pace Adjusted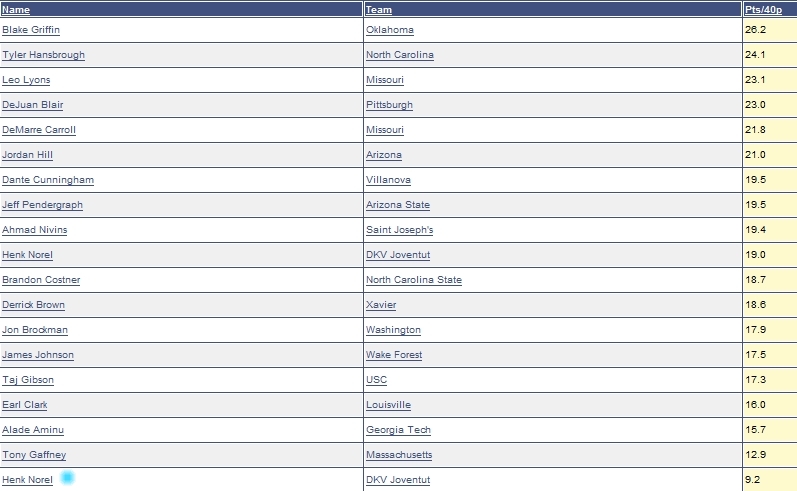 This stat gives us a straightforward look at how big of a scoring punch this group provides when they are on the floor.
Blake Griffin
and
Tyler Hansbrough
top our list, which is representative of how big of a role they played offensively as the first options for their respective teams. Both highly prolific scorers in total, they're equally as impressive on a per-minute basis, regardless of how fast their teams played.
DeJuan Blair
and
Jordan Hill
also show well due to their finishing ability. Teammates
Leo Lyons
and
DeMarre Carroll
look good by this measure as well. Lyons showed nice face up ability in pacing Mizzou, in limited minutes, though Carroll was almost as effective as a hustle forward with some inside-outside tools.
Earl Clark
isn't flattered by his standing in this table, as his versatility did not have as big of an impact on his scoring rate as it did in on other areas of his game.
James Johnson
and
Derrick Brown
land in the middle of the pack due to their inconsistency from game to game. Both players have a lot of potential as shooters, but are still adding polish and confidence to their overall game. Combo forwards who don't have free reign over their team's offense don't jump of the page like many of their counterparts.
Three Point Attempts Per-40 Minutes Pace Adjusted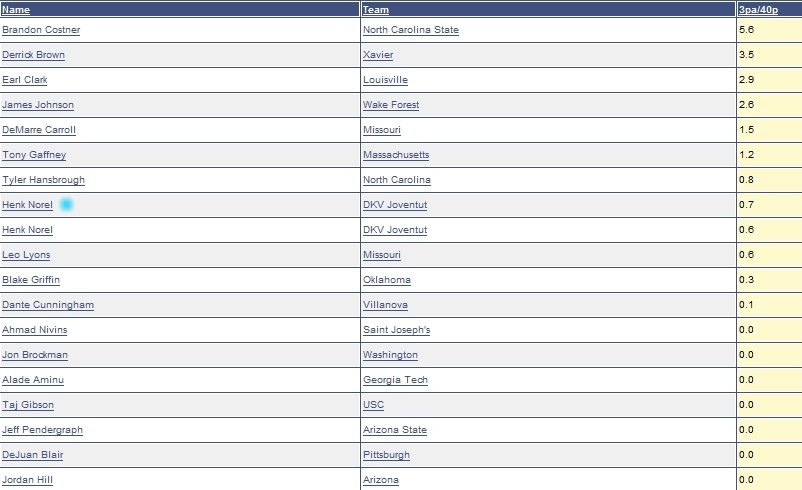 This table tells us which of our power forwards shot the most threes, and therefore likely spent the most time out on the perimeter.
Brandon Costner
walks away with the top spot, but this table tells us more about
Derrick Brown
, who checks in at number two. Though Costner came in as a highly regarded player, he never developed into the star that his first collegiate seasons led us to believe he would be. In contrast,
Derrick Brown
has gone from a non-factor from the perimeter, to a player that can comfortably shoot the three in essentially a single season. It's highly likely that he'll continue to improve from the perimeter over time, since he still has some tweaks to make to his perimeter footwork and a ton of consistency to gain over time.
James Johnson
falls in that boat in terms of potential improvements, but actually took fewer three's this season than he did in 2008, which is a good sign.
Earl Clark
's versatility shows through here, though he still needs more polish considering that he only made 33% of his attempts.
On the other end of the spectrum,
Taj Gibson
,
DeJuan Blair
, and
Jordan Hill
didn't take any threes last season. In our interview with Hill he mentioned that he was at least experimenting with his jumper from the outside. Blair and Gibson could stand to improve their range for the next level, but none of the three are likely to be utilized as spot up shooters beyond the arc early, if at all, during their careers. Considering their roles, most NBA teams probably won't have a problem with that, even if it would be nice to see them develop at least a solid mid-range jumper.
Three Point Attempts Per Field Goal Attempt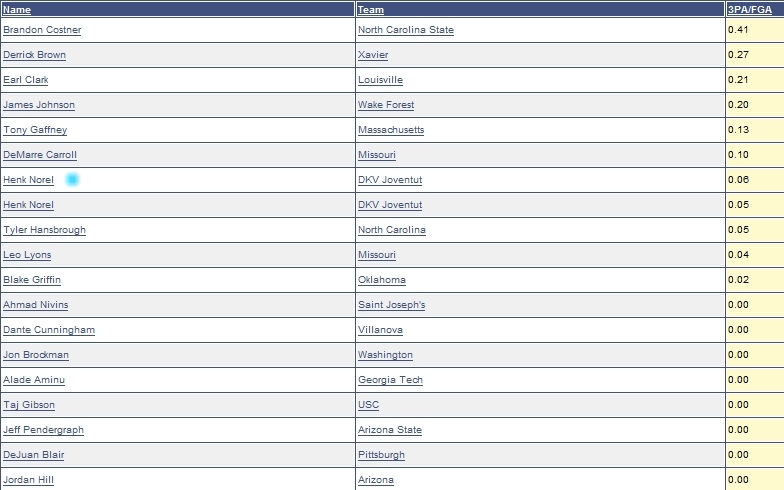 Taking time out of the equation and simply looking at how often players shot threes in relation to other shots, our chart doesn't change much. This tells us that there aren't many guys on this list who used a notably small number of possessions or a notably large one, at least in comparison to their peers and relative to their three point attempts.
Free Throw Attempts Per-40 Minutes Pace Adjusted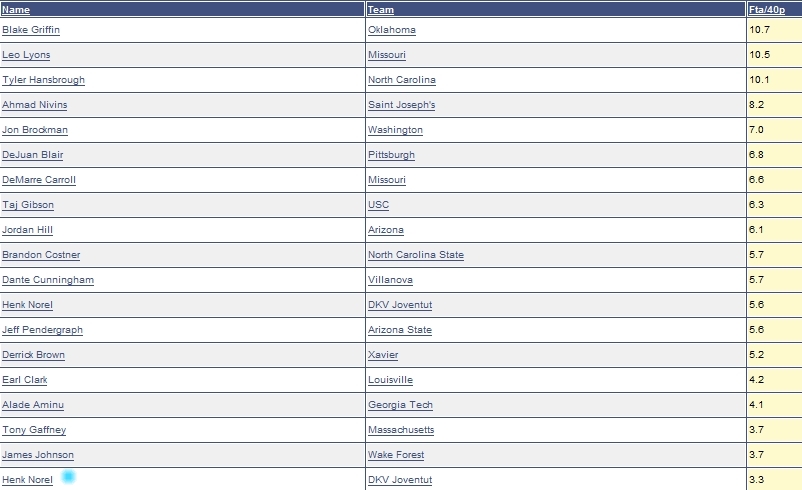 This stat can give us a good feel for how aggressive these prospects are when using their strength and athleticism when attacking the rim, whether it be off the dribble or in back to the basket situations.
Blake Griffin
heads this list, and it is his ability to take contact and get to the line that makes scouts optimistic that he could be an efficient option early in his career.
Leo Lyons
checks in just behind him, and while Griffin and
Tyler Hansbrough
bullied their way to the line, Lyons often used his dribble to get there. The next three standouts,
Ahmad Nivins
,
DeJuan Blair
and
Jon Brockman
did a great job operating inside and crashing the offensive glass to help them get to the free throw line.
Jordan Hill
doesn't stand out by this standard, and will need to continue working on his post repertoire and footwork along with learning to draw contact to help his free throw numbers. His ability to produce efficiently in the long-run will largely depend on his development in those parts of the game.
James Johnson
and
Earl Clark
fall pretty low on our list, which isn't surprising considering their tendency to play out on the perimeter. Clark still edges Johnson soundly due to his ability to take the ball to the rim off the dribble. Johnson shows an excellent feel for weaving through traffic as he elevates, but could stand to be more assertive when operating through contact in the lane considering how much bulk he's carrying around.
Free Throw Attempts Per Possession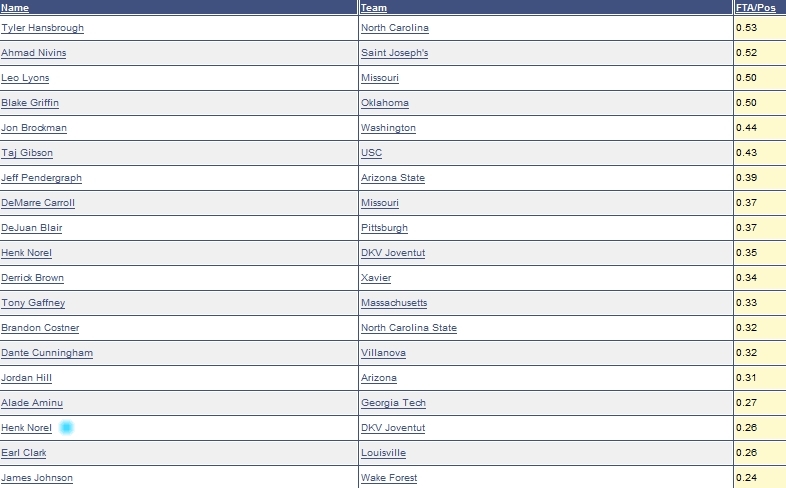 A more accurate indicator of how aggressive players are relative to their role on the team, this stat shows us how frequently players get to the line by possessions rather than per-minute.
Blake Griffin
moves down marginally due to how many shots he took, while
Ahmad Nivins
assumes the second spot, since he did essentially all of his damage within a small radius around the basket while draped by defenders.
Jordan Hill
takes a fall here because of his extremely high usage rate. Our two high post forwards,
Derrick Brown
and
Dante Cunningham
, both land low on our list due to their lack of ball-handling skills and back to the basket ability.
Alade Aminu
is one of the lower ranked players on this list, which isn't surprising, since he reminds us of
Othello Hunter
in how he's only scratching the surface of how to use his physical tools with a lower than average possession rate.
Earl Clark
and
James Johnson
again finish at the bottom.
True Shooting Percentage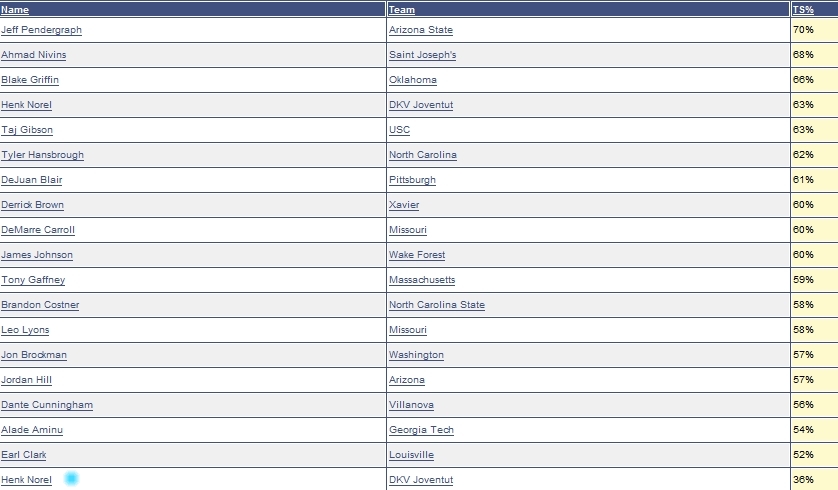 True shooting percentage effectively measures a player's scoring efficiency by taking free throws and three pointers into account, giving us a better overall picture of how effectively a prospect puts points on the board. Like
Maarty Leunen
last year,
Jeff Pendergraph
makes his case as a role player this season. Though Pendergraph is a more interior oriented player, he still posts impressive shooting efficiency numbers without a three point shot in his repertoire. Clearly there is a reason why teams have begun to mention him in the late first round area.
Blake Griffin
posts the same true shooting as
Kevin Love
did last year, only he did so in quite a few more possessions. International prospect
Henk Norel
deserves mention here for his roleplayer potential, as his length makes him a good finisher and he doesn't try to do too much. His Euroleague stats probably don't tell us much considering that he only played 9 games there and was suffering through injuries.
Tyler Hansbrough
and
DeJuan Blair
stack up well against one another, with
Derrick Brown
falling just behind them. Brown and
James Johnson
obviously get a boost from their three point shooting.
Jordan Hill
continues to look a bit questionable in comparison to the other top prospects, as does
Earl Clark
. Like teammate
Terrence Williams
, it seems like teams are putting quite a bit of stock in Clark's versatility, while Hill benefits from the presence he provides as a rebounder. To put Hill's issues in perspective, his TS% matched the one
Darrell Arthur
posted last year. Not bad company, but Arthur was a late first-rounder while Hill could be a top-5 pick. Turning 22 in July, teams will hope he still has upside to continue to grow into.
Assists Per-40 Minutes Pace Adjusted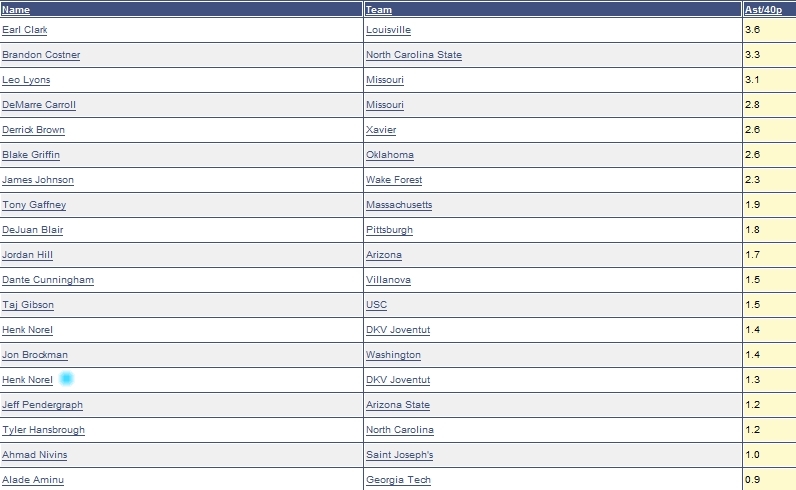 An indicator of versatility, this stat gives us an idea of how well these prospects will be able to facilitate for their teams on the next level when asked to.
Earl Clark
is the top passer on this list, along with each of the players who spent time out on the perimeter in the pair of prospects from Missouri and
Derrick Brown
. Brown won't be accused of being a great passer, but his rank on this list shows how his role impacted his numbers.
Blake Griffin
doesn't look bad on this list, confirming the notion that he has an above average basketball IQ, but that has at least something to do with how often he had the ball in his hands.
Jordan Hill
continues to rank average or below-average by a lot of standards.
Tyler Hansbrough
and
Jeff Pendergraph
aren't productive passers, but that is likely something that won't hold them back from assuming role player responsibilities on the next level.
Turnovers Per-40 Minutes Pace Adjusted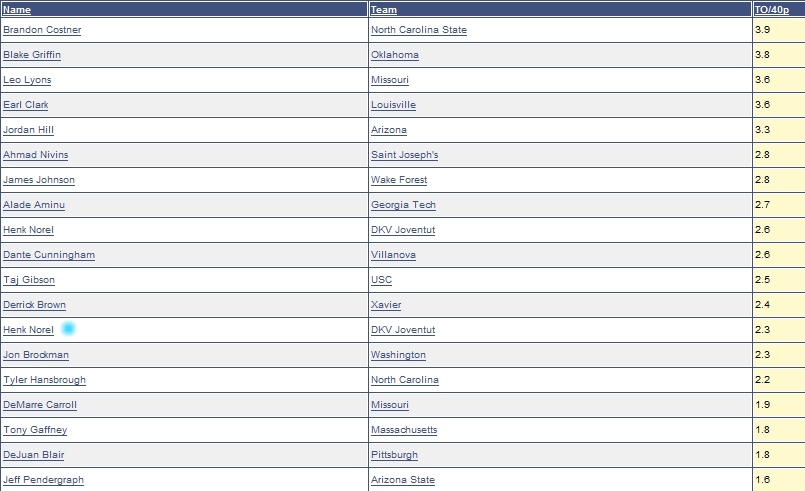 This list tells us both about the usage and roles of these players in addition to giving us a bit of insight into their decision-making skills.
Blake Griffin
checks in as one of the most turnover prone players on our list due to just how often he touched the ball for Oklahoma, while
Leo Lyons
and
Earl Clark
both did a lot more dribbling than their peers.
Jordan Hill
once again finds himself on the wrong side of our analysis. In contrast,
DeJuan Blair
and
Jeff Pendergraph
were incredibly good at hanging onto the ball. Not spending much time handling the ball or doing a lot of aggressive passing, both prospects did a nice job playing within themselves last season.
Assist to Turnover Ratio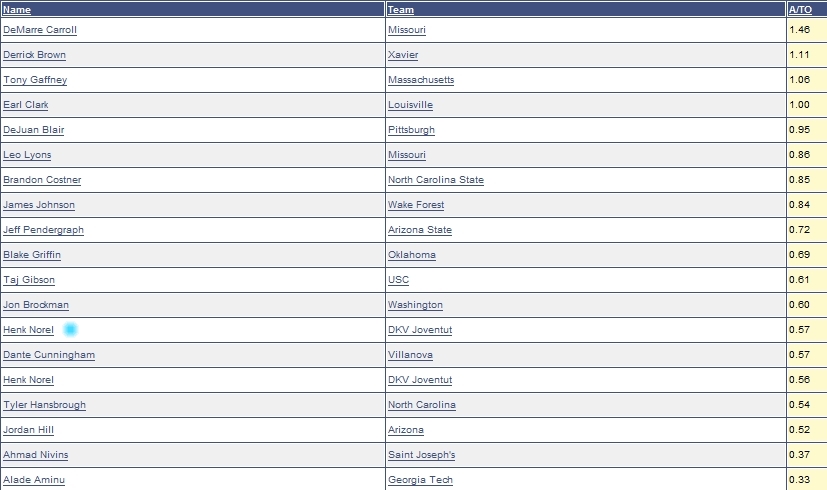 Last year we only saw one power forward post an assist-to-turnover ratio greater than one. This year, four players accomplish that feat. DeMarre Carrol ranks first despite doing a lot of damage in transition and playing at a hectic pace because of Missouri's press. This analysis as a whole does a good job illustrating why teams have warmed up to his versatility recently.
Derrick Brown
and
Earl Clark
both benefitted from the time they spent on the perimeter, while
DeJuan Blair
is the first interior forward on our list—which is very interesting.
Jordan Hill
once again ranks well below average, as does
Tyler Hansbrough
. Both players were almost exclusively looking to score when they received the ball.
Pure Point Rating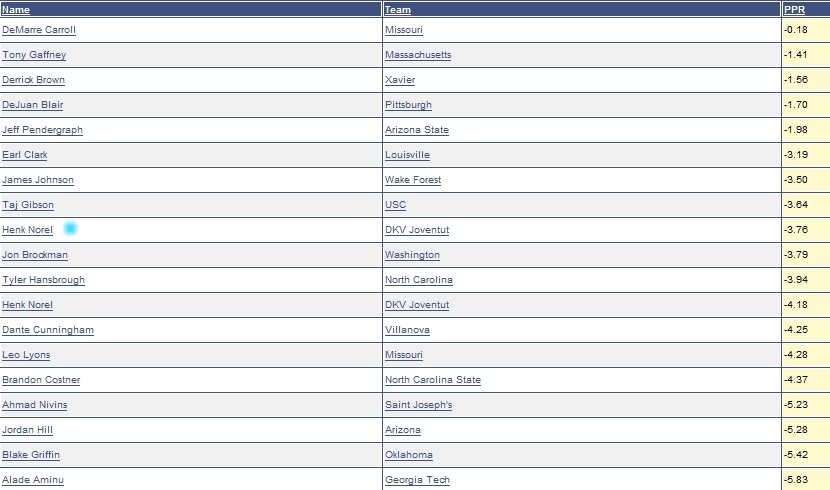 This stat can be a strong indicator of the awareness and feel for the game that teams look for in modern-day power forwards, and is calculated with the formula [100 x (League Pace / Team Pace) x ([(Assists x 2/3) - Turnovers] / Minutes]. Based on this stat, none of the power forwards in this group added much to their teams last season with their passing, but some at least didn't hurt them too much.
DeMarre Carroll
is the closest player to 0, while
Blake Griffin
and
Jordan Hill
fall below -5. That would have actually landed them just below average last season, so this group is a bit better than usual despite its lack of a prospect above 0.
DeJuan Blair
again ranks near to the top of the list.
Rebounds Per-40 Minutes Pace Adjusted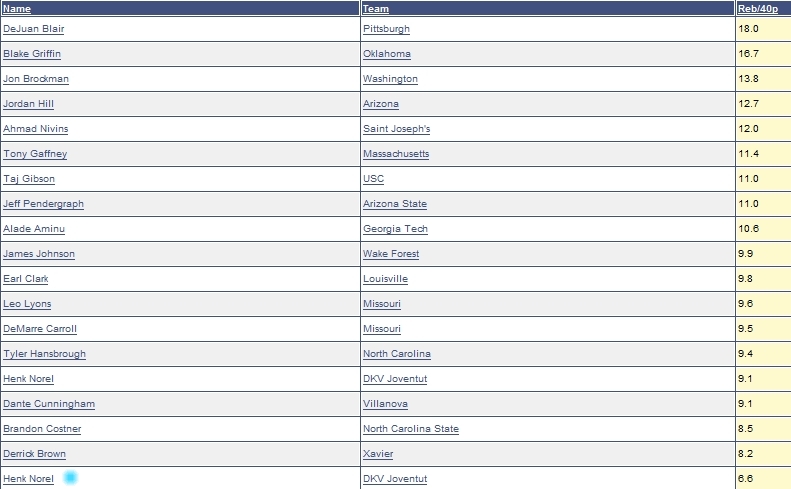 Possibly the most important stat for this position considering the role these players will shoulder immediately,
DeJuan Blair
was as tough as nails on the glass last season, throwing his weight around in the toughest conference in college basketball. We can expect the same effort out of his on the next level.
Blake Griffin
was almost as impressive, but there is a significant drop off after that.
Jon Brockman
and
Jordan Hill
were very good rebounders in the PAC-10, and both players will provide some help on the glass wherever they land next year. This is the one area that Hill really shines through in this analysis, which gives us a better idea of why teams are so high on him.
Taj Gibson
and
Jeff Pendergraph
show pretty well by this metric, along with
James Johnson
. None of the three are elite rebounders, but they can definitely help their teams in some regard. For a player that saw a lot of time on the perimeter offensively, clearly Johnson defended interior with some regularity.
Tyler Hansbrough
isn't flattered by this stat, nor is
Derrick Brown
. Hansbrough has never been known for his rebounding ability, while Brown spent lacks the strength and often the intensity level needed to be a great factor here.
Offensive Rebounds Per-40 Minutes Pace Adjusted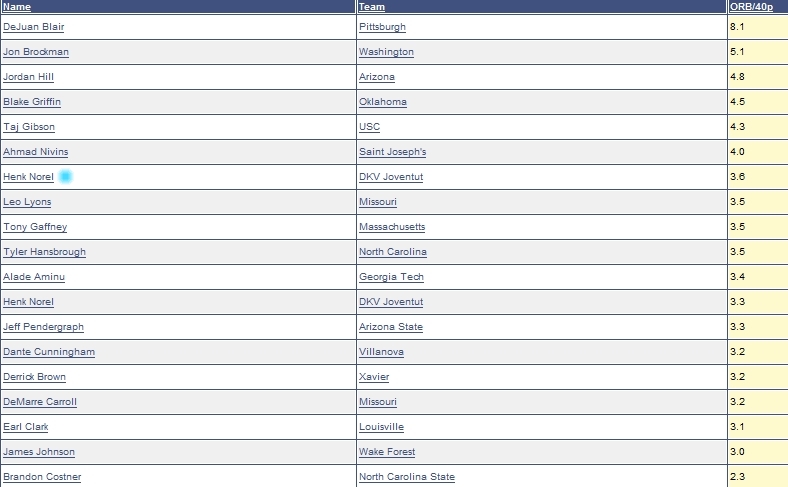 It never hurts to have a few extra possessions each game, and this stat tells us which of the players in our group are giving their teammates more opportunities to score to by cleaning the glass when they don't. Obviously,
DeJuan Blair
is going to get whatever team that drafts him some second chance opportunities. His offensive rebounding numbers are absolutely spectacular from a historical perspective, clearly the best of any draft prospect we've ever looked at.
Jon Brockman
and
Jordan Hill
once again show well, as does
Blake Griffin
.
Henk Norel
did a good job crashing the glass against significantly stronger opponents, showing the ability to use his length effectively. Hill falls in the same boat, while Griffin and Brockman established position on the inside using brute force.
On the other side of the spectrum,
James Johnson
doesn't do much damage crashing the offensive glass, nor did
Earl Clark
or
Derrick Brown
. Once again their use out on the perimeter hurt their ability to gain position for rebounds. On the next level, they'll need to improve their efficiency to compensate for what they don't bring to the table as rebounders.
Steals Per-40 Minutes Pace Adjusted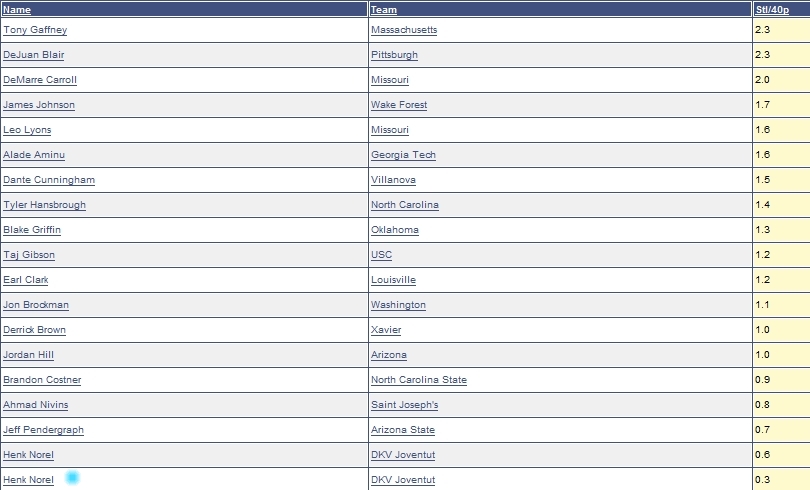 This metric tells us a bit about how these players used their length and athleticism on the defensive end. One of the top defenders in the NCAA last season,
Tony Gaffney
defended everyone and anyone for UMass last season, and did a great job using his quickness to jump in the passing lanes. That makes what
DeJuan Blair
accomplished that much more impressive. Blair matched Gaffney's production in terms of steals, only he did so defending the post, whereas Gaffney used his incredible length and excellent quickness to tip passes all over the place. Blair's wingspan really helped him deflect entry passes, but he also shows acute anticipation skills as well.
DeMarre Carroll
and
James Johnson
both benefitted from playing on the perimeter here, which allowed them to use their size effectively to attack the passing lanes. Carroll's energy and intensity level clearly shines through in a stat like this, while
James Johnson
may be a little underrated for his ability to guard multiple positions.
Unlike their counterparts out on the perimeter,
Earl Clark
and
Derrick Brown
didn't come up with many steals. Neither
Tyler Hansbrough
nor
Blake Griffin
forced many turnovers, which gives us some idea of what we can expect from them on the next level. Griffin's efforts to stay out of foul trouble have been well documented, but it's tough to gauge how that lack of aggressiveness hurt his ability to force turnovers. Some of these numbers may be affected by each individual team's philosophy on the defensive end.
Blocks Per-40 Pace Adjusted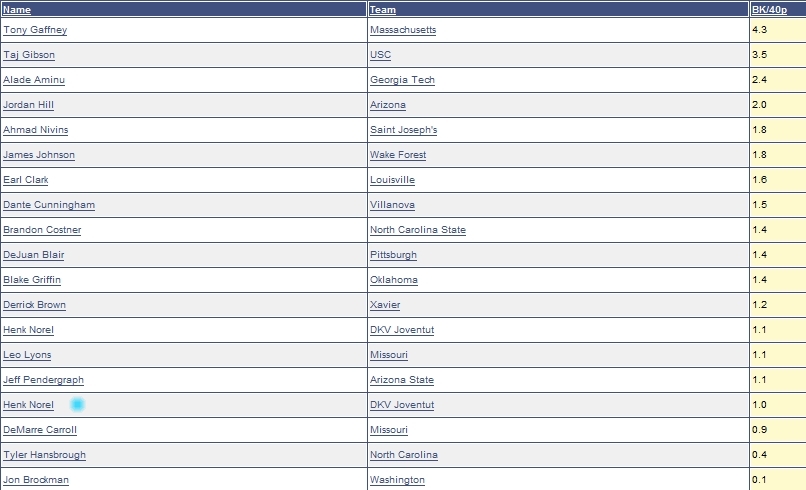 Another indicator of how players use their physical tools,
Tony Gaffney
places first in this defensive statistic as well, telling you about his ability to guard multiple positions, and maybe giving teams something to think about considering how well he's rated in a number of different areas.
Taj Gibson
finishes not too far behind him, which makes a lot of sense when you consider his tremendous wingspan.
Alade Aminu
shows better in this metric than almost any other, while
Jordan Hill
showed some nice tools last season as well, displaying some of that length and athleticism that makes him such a highly touted prospect.
James Johnson
places surprisingly high for a guy carrying around a bit of extra weight that lacks great explosiveness. Again, we feel like his anticipation skills and terrific coordination give him a chance to develop into a good defender at the next level.
On the lower part of our table, we find
Tyler Hansbrough
, whose strength will be his biggest asset defensively, not his length or athleticism.
Jon Brockman
was essentially a non-factor in this stat due to his short arms and poor explosiveness.
Blake Griffin
still finds his way to the middle of our list, despite making a concerted effort not to contest shots in fear of putting himself in foul trouble. Despite not having awesome physical traits for a shot blocker, Griffin's athleticism and feel for the game could shine through on the next level more often than it did on the college level.
Team Possesions Per Game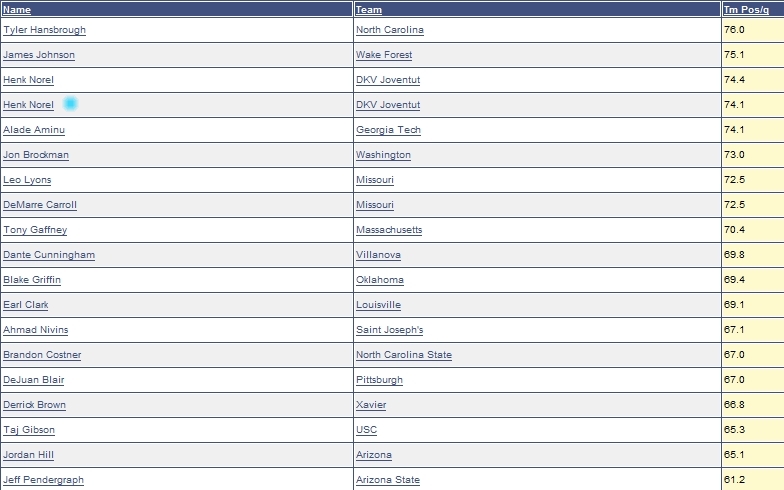 A common theme from past articles finally comes to an end here. UNC has a draft prospect at every position except for center and they place at the top of the list in terms of pace once again. Wake Forest is the other team that outran
Ricky Rubio
's DKV Joventut. Whereas the ACC has three teams near the top of the list, we find the PAC-10 on the opposite end of the spectrum. Players from both conferences will have some adjustments to make on the next level considering what each is used to.
Player Efficiency Rating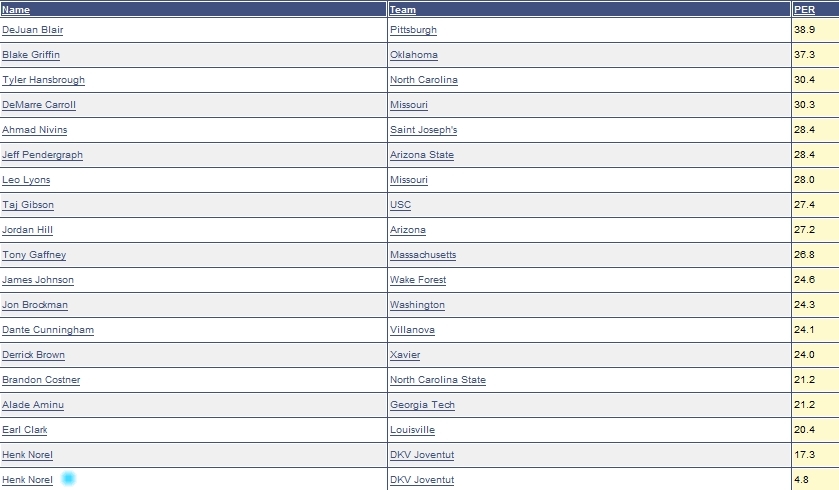 Player efficiency rating was created by John Hollinger to measure the overall impact of a player in one stat. The rating uses an average PER of 15 derived from the NBA, which leads to inflated PERs for top collegiate prospects.
DeJuan Blair
's PER of 38.9 is almost as high as
Michael Beasley
's last season.
Blake Griffin
is right there with Blair, followed by a significant drop off. Both players were workhorses in multiple facets of the game.
DeMarre Carroll
looks excellent by this standard, as does
Jeff Pendergraph
. In contrast,
Earl Clark
look really bad, as does
Derrick Brown
. Their productivity at the college level is clearly not what gets them drafted, as much as their physical attributes and potential will.
Efficiency Per-40 Minutes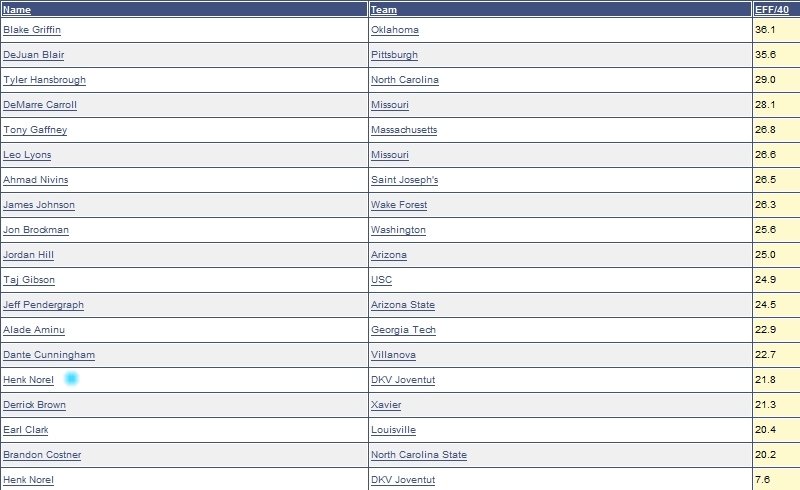 EFF was created by the NBA to measure the overall statistical production of a player on the court. It adds up all the positive stats a player can accumulate and subtracts all the negative ones. For all intents and purposes, this stat makes more sense when calculated over 40 minutes rather than per-game.
Blake Griffin
steps ahead of Blair on this scale, though
Tyler Hansbrough
and company don't close the gap between the top-two and the rest of the pack.
Jordan Hill
once again looks only decent, since he didn't dominate games last season as thoroughly as some other players in our table.