As part two of our series, we take a look at the top 20 shooting guards in the 2008 draft class on a purely statistical basis. While stats certainly don't paint the entire picture of what a player can do on the court, they have become a very valuable measure in evaluating certain aspects of the game.
As statistics become more advanced, you can even start to predict where a college player might have struggled in an area because of a limited role, and it becomes easier to predict the areas where they still have upside. Try to keep in mind the age differences of some of the players—had
Eric Gordon
or
O.J. Mayo
stayed in college for another year or two, how much better would their numbers have been?
Just by the Numbers: Evaluating this year's Point Guard Crop
To gain a better understanding of the statistics used, visit the
glossary by Noah Libby-Haines.
Interested in making your own statistical comparisons? You can do so
here.
Points Per 40-Minutes Pace Adjusted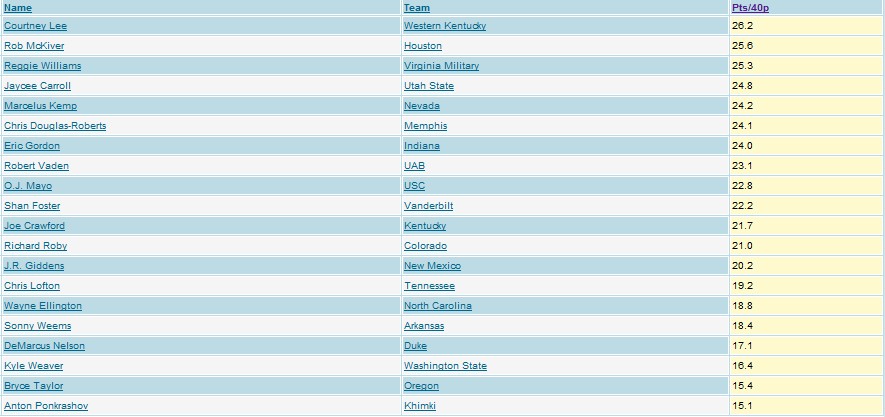 Courtney Lee
topped the shooting guard scorers when the numbers were adjusted to account for pace, while
Reggie Williams
dropped from the country's leading scorer to third among off-guards.
Chris Douglas-Roberts
ranks 6th on the list followed by
Eric Gordon
at 7th and
O.J. Mayo
at 9th. It's interesting to note that Lee's coaching staff limited his minutes compared to some of the other star guards in college basketball to keep him fresh on the court, which makes his per-minute numbers look much more impressive. European-based
Anton Ponkrashov
ranks last, but played at likely the strongest level of competition of any of the players here (and certainly on the best team) with Khimki in the ULEB Cup. Talented
Bryce Taylor
's lack of aggressiveness at Oregon shows here.
Rebounds Per 40-Minutes Pace Adjusted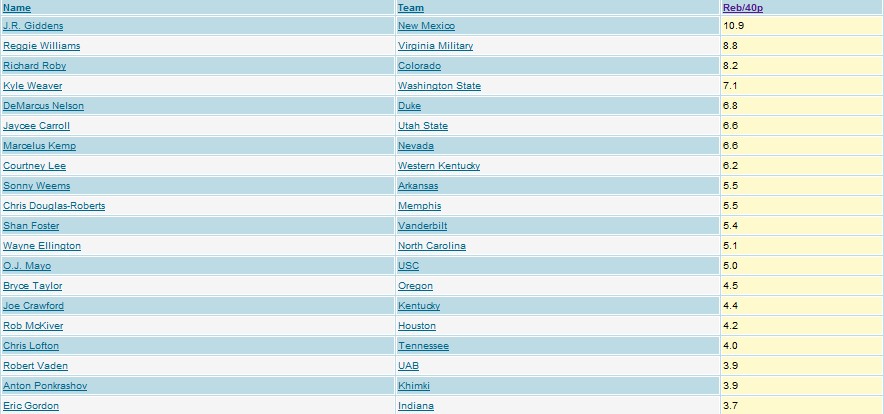 Coaches absolutely love guards that can help out on the boards, and there are a number in this class who can stake that claim.
J.R. Giddens
rebounded the ball much better than most big men in the draft, and is the only shooting guard to crack the double-digit mark. His outstanding length, athleticism and intensity (key ingredients for rebounding) are on full display here, although he did play a good amount of power forward in a weaker conference.
Reggie Williams
and
Richard Roby
also spent considerable minutes at the power forward spots, but their rebounding figures are nonetheless impressive. The versatile
Kyle Weaver
rebounded the ball very effectively, especially considering he handled his fair-share of the point guard duties. The undersized but strong
DeMarcus Nelson
did well here too.
Eric Gordon
ranks at the bottom here, emphasizing why many feel he way far too one-dimensional a player this season as a scorer.
O.J. Mayo
's totals are nothing to write home about considering how undersized his frontcourt was.
Assists Per 40-Minutes Pace Adjusted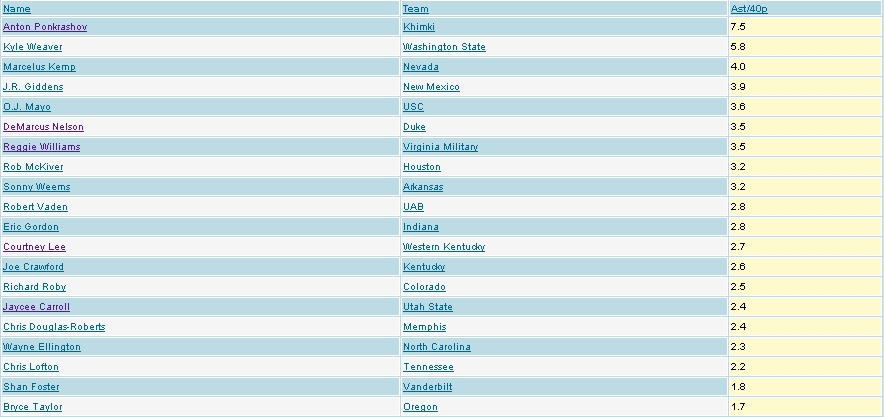 Versatility is the name of the game in the NBA these days, and it's very helpful to have another playmaking guard alongside your primary ball-handler who can execute sets and get others involved.
Anton Ponkrashov
ranks way ahead of anyone else on this list, which is impressive considering that he is 6-7 and played in Europe, where it's more difficult to generate assists. Unfortunately the 14 games he played in the ULEB Cup is a very small sample size.
Kyle Weaver
played both guard spots for Washington State, and his excellent feel for the game allowed him to average 2 more assists per game than the next closest NCAA guard on the list.
J.R. Giddens
had a terrific year in this area too (highlighting his much improved unselfishness) and ranks third, while combo guard
O.J. Mayo
comes in fourth.
Eric Gordon
sits towards the middle of the pack, and
Chris Douglas-Roberts
was 4th from the bottom. For those wondering where self-proclaimed point guard Mayo would rank on the point guard's list, his 3.6 assists per-40p would put him dead last by a decent margin.
Eric Gordon
again is not wowing anyone with his versatility.
Turnovers Per 40 Minutes Pace Adjusted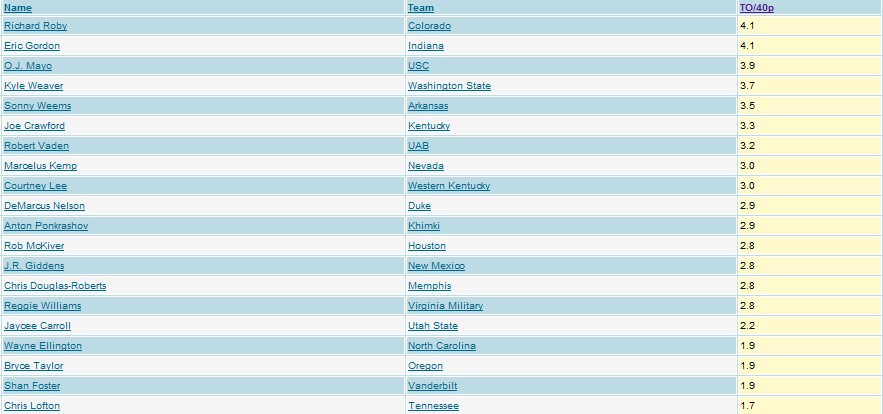 Taking care of the ball and preserving possessions is an absolute essential part of winning games, and not being able to do so could hint at issues with ball-handling and decision making skills, as well as a lack of experience. The most highly regarded players here,
Eric Gordon
and
O.J. Mayo
rank second and third on this list with right around 4 turnovers per game, which is slightly concerning, but isn't that out of the ordinary considering they were freshman asked to carry their teams' offensive from day 1 on campus. It does make you question how close they are at this moment to being able to run an NBA team at the point guard position. Shooters like
Chris Lofton
,
Wayne Ellington
,
Jaycee Carroll
,
Shan Foster
and
Bryce Taylor
barely turned the ball over, although their assist numbers were towards the bottom as well. That indicates their roles as spot-up shooters on their teams and primarily being finishers, rather than guards who were asked to go out and create for themselves and others.
Assist To Turnover Ratio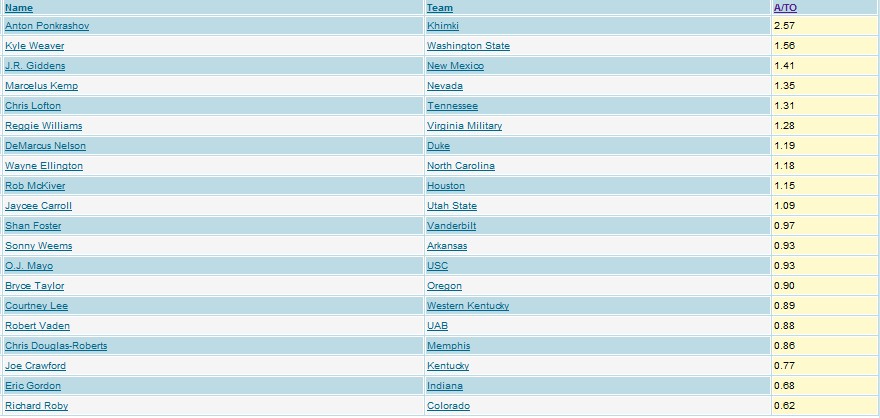 Russian
Anton Ponkrashov
plays a good amount of point guard as well, and showed incredible decision-making skills allowing him a 2.57 assist to turnover ratio. That figure ranks far and away better than anyone else on this list, and backs up the typical stereotype of your average European guard.
Kyle Weaver
follows him with a 1.56 ratio, and
Wayne Ellington
also has a good rating. OJ Mayo had slightly more turnovers than assists on the season. People wanting
Eric Gordon
to play the point may have to think twice, as he had many more turnovers than assists this season, hence his second from the bottom placement on the list.
Pure Point Rating (PPR)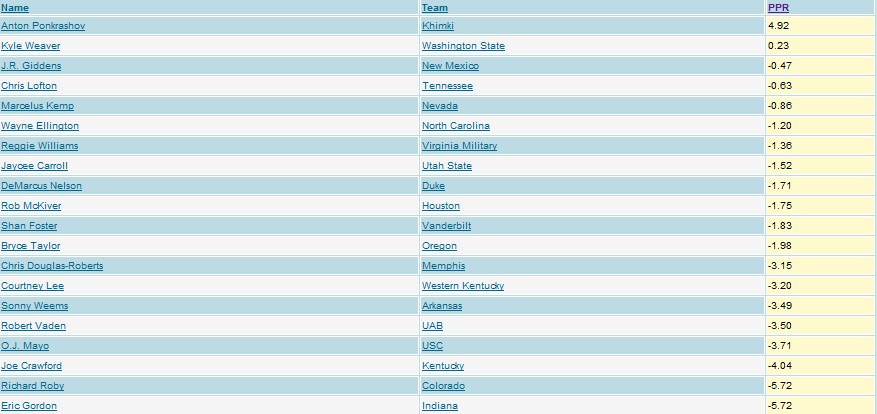 John Hollinger's pure point rating [100 x (League Pace / Team Pace) x ([(Assists x 2/3) - Turnovers] / Minutes] is considered by some to be a superior way of measuring how well a point guard distributes the ball, as it rewards high volume assist gatherers over low-risk types, while docking players more who turn the ball over at a high rate. Ponkrashov scores a very high rating of 4.92, far far better than anyone else actually, while
Kyle Weaver
is the only other player with a positive rating (.23).
O.J. Mayo
sits fourth from the bottom and
Eric Gordon
comes in dead last of all the shooting guards—again making us question the claims of those two players to being point guards right now.
Free Throws Attempted Per 40-Minutes Pace Adjusted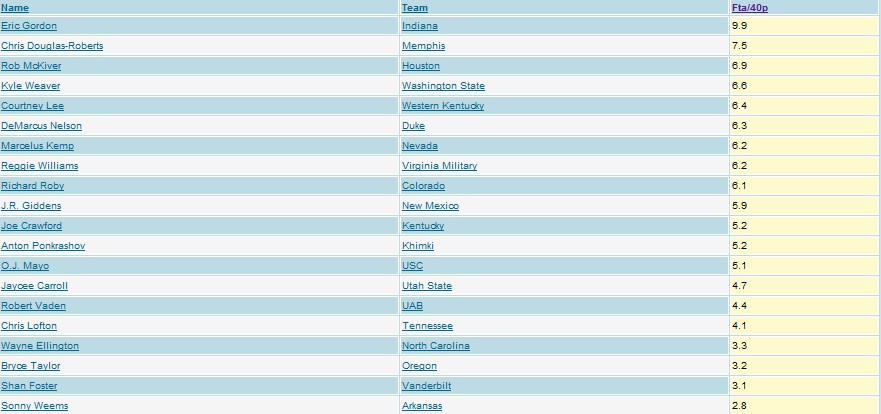 Eric Gordon
used his excellent athleticism, body-control and strong frame to get to the line nearly 10 times per game this season, two more times than any other guard on the list. His aggressiveness getting into the lane and ability to take contact once there is clearly what separates him as an NBA prospect from the rest of the crop, and the amount of free throws he totaled is extremely impressive.
Chris Douglas-Roberts
sits in second with more than 7 attempts per game, reminding us how crafty he is despite his average athleticism and strength, and both
Kyle Weaver
and
Courtney Lee
attempted more than 6 per game.
O.J. Mayo
ranks 13th on the list, far less than you'd expect from a guard that many project as a star. His struggles getting past defenders and finishing at the rim were well documented this season, and his improvements in this area could end up deciding how good of an NBA player he ends up becoming.
Free Throws Attempted Per Field Goal Attempt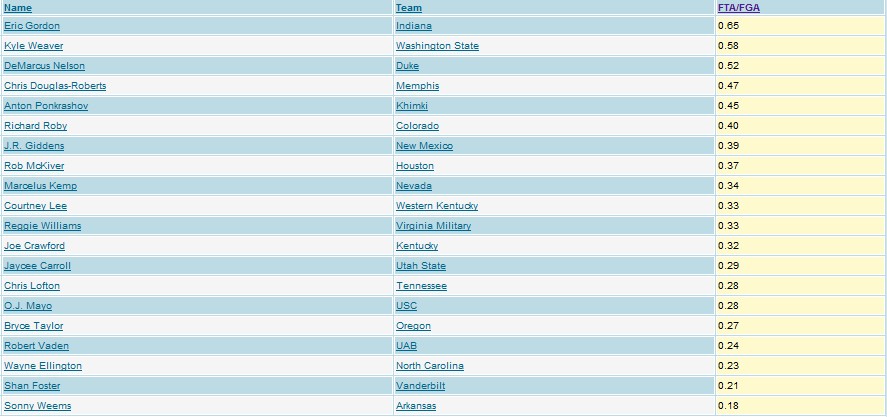 Getting to the free throw line is a far more efficient way of putting up points than trying to score from the field, and thus players that "live at the line" are huge assets in the NBA. Gordon again tops this list, which measures how many times a player shoots free throws for each shot he takes.
Kyle Weaver
ranks second on the list, followed by
Chris Douglas-Roberts
and
DeMarcus Nelson
.
Sonny Weems
may be the best athlete in this draft, but his complete inability to get to the free throw line due to his mediocre ball-handling skills means that he's more of a track and field star than an effective basketball player at this point.
O.J. Mayo
is a bit disappointing here too. Shooters like
Shan Foster
,
Wayne Ellington
,
Robert Vaden
,
Bryce Taylor
and
Chris Lofton
live and die off the outside shot—which begs the question, how efficiently did they shoot?
Three Pointers Attempted Per 40-Minutes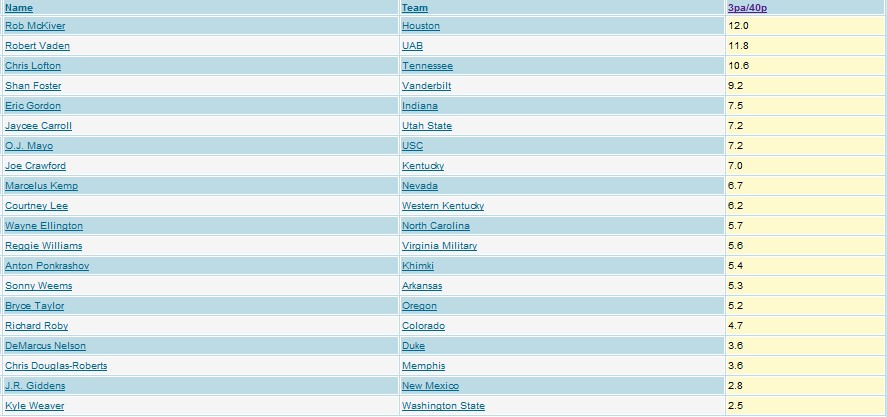 Three players known almost exclusively for their long range shooting top the list of three pointers attempted per 40 minutes.
Rob McKiver
,
Chris Lofton
, and
Robert Vaden
all attempted more than 10 three pointers per 40 minutes on the season.
Eric Gordon
and OJ Mayo shot more than 7 per game.
Kyle Weaver
,
DeMarcus Nelson
and
Chris Douglas-Roberts
were not considered great 3-point shooters earlier in their career, and wisely limited their number of attempts from long range.
J.R. Giddens
' much improved shot-selection is surely reflected in this table.
Three Pointers Attempted Per Field Goal Attempt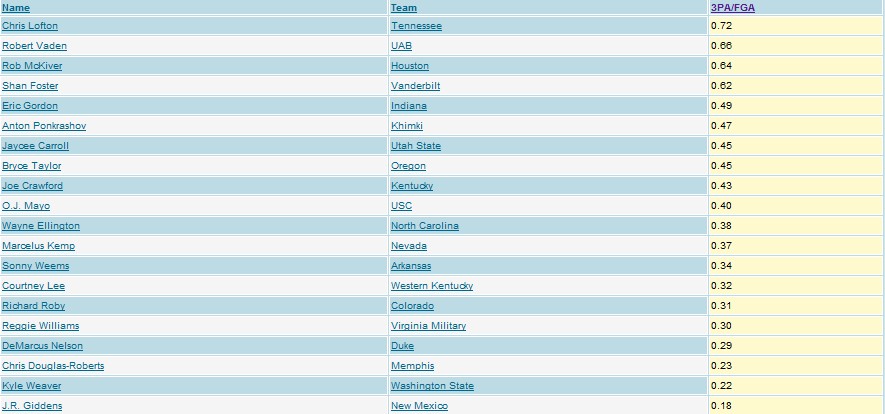 It comes as no surprise that Lofton, Vaden, and McKiver had more three point attempts per field goal attempt than any of the other shooting guards in the draft. Still, attempting over 60% of your shots from behind the arc is really far too much.
Eric Gordon
had a very high number as well, and when looking at his high ranking on the free throw charts, it may lead you to believe that his mid-range game needs some work.
O.J. Mayo
has a more developed mid-range game, and ranks towards the middle of the pack as a result.
Steals Per 40-Minutes Pace Adjusted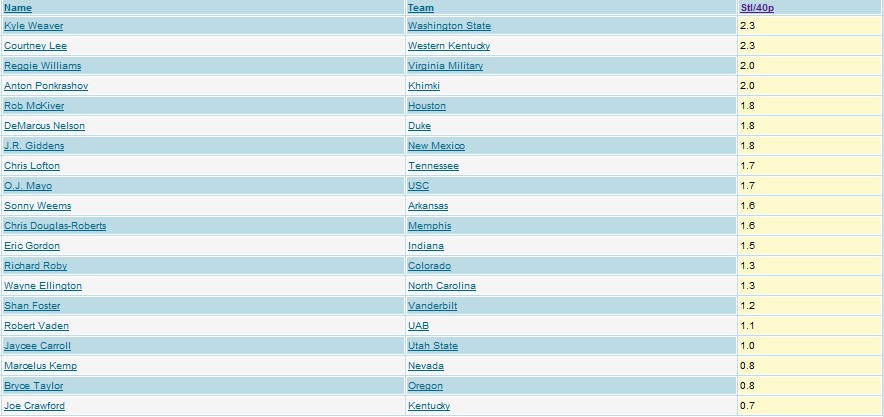 Kyle Weaver
and
Courtney Lee
became known for their lock-down defensive skills at Washington State and Western Kentucky, and indeed sit atop the list at 2.3 steals per 40 minutes. While lots of steals don't always equal good defense played, both players subjectively did do so without gambling excessively.
O.J. Mayo
and
Eric Gordon
are in the middle of the steals list along with
Chris Douglas-Roberts
.
Blocks Per 40-Minutes Pace Adjusted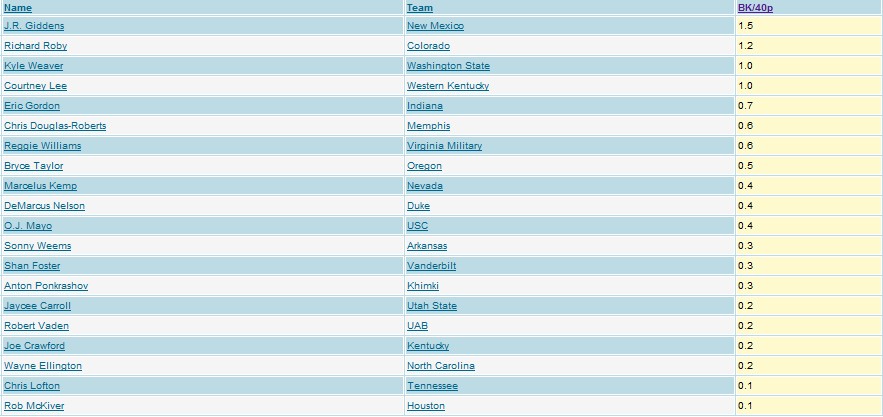 J.R. Giddens
blocked more shots than any other shooting guard in the class, and his high marks in this area again indicate the superior athleticism, length and intensity he enjoys over most of his peers in this class.
Kyle Weaver
,
Courtney Lee
, and
Richard Roby
join Giddens as the only shooting guards to average a block or more per-40 minutes pace adjusted this season. Lee and Weaver continue to stake their claim as being the top defensive guards in this draft. Players who lack physical tools (McKiver, Lofton, Ellington, Carroll) are joined by those who lack some hustle at the bottom, such as
Sonny Weems
and
Joe Crawford
.
Offensive Rebounds Per 40-Minutes Pace Adjusted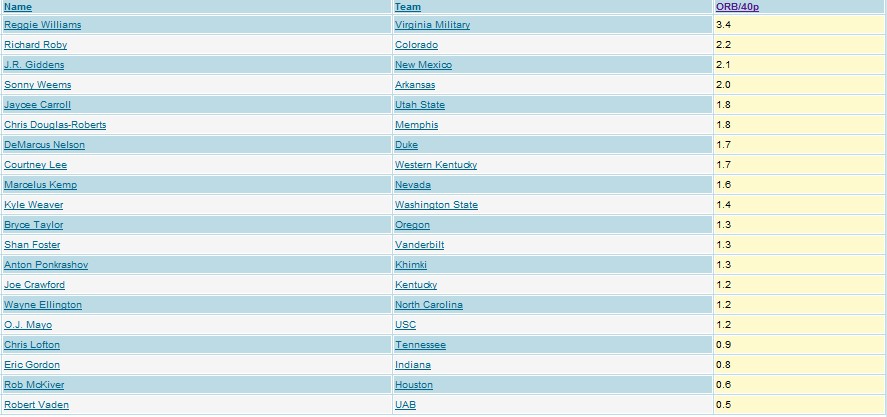 Reggie Williams
played in the front-court at times for Virginia Military Institute in their very fast-paced offense, and his more than 3 offensive rebounds per game stands as an impressive number.
Richard Roby
,
J.R. Giddens
, and
Sonny Weems
all used impressive wing-spans to their advantage in this area, joining Williams as the only guards with more than two offensive boards per game. Again Gordon and Mayo rank towards the bottom of the table, joined mostly by unathletic shooters. Don't call
Jaycee Carroll
that, as the 6-2 guard picked up nearly 2 offensive boards per game.
True Shooting Percentage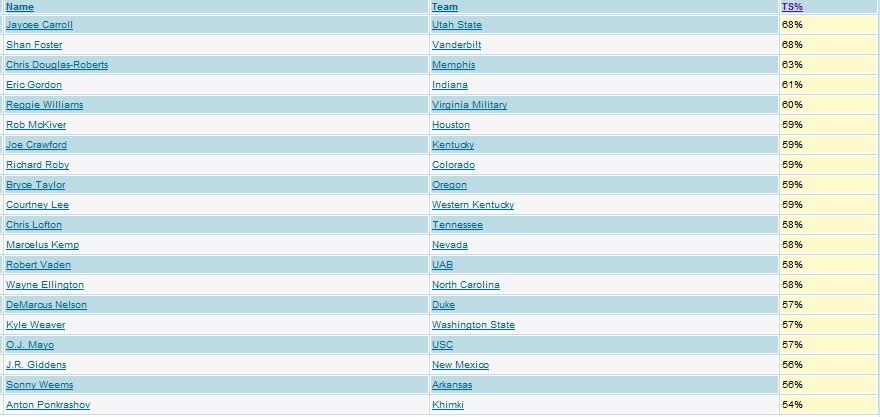 True shooting percentage effectively measures a player's scoring efficiency by taking free throws and three pointers into account, giving us a better overall picture of how effectively he puts points on the board.
Jaycee Carroll
scored the ball incredibly efficiency, and sits atop this list.
Shan Foster
's appeal as a prospect quickly becomes evident standing 6-6 with the volume of 3-pointers he made.
Chris Douglas-Roberts
has a reputation among college coaches for never wasting a shot, and his excellent shot-selection rewards him with a high ranking on this list, despite not being a high volume long-range shooter.
Eric Gordon
also scored the ball at a very effective rate, while
O.J. Mayo
sits fourth from the bottom.
Effective Field Goal Percentage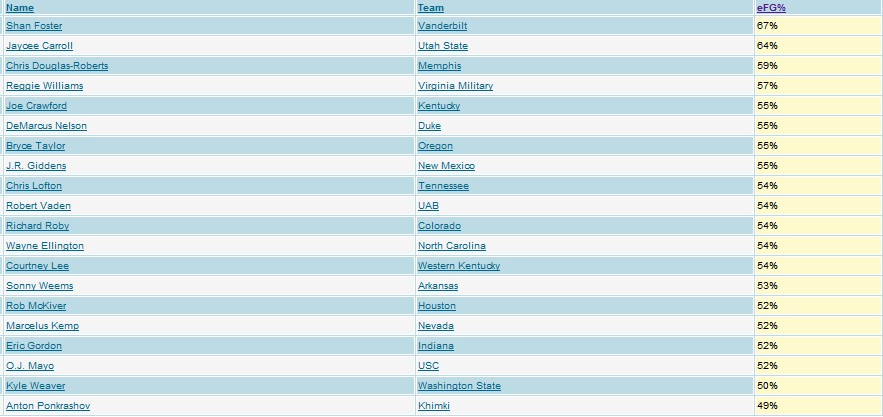 Effective field goal percentage measures the difference in value between the two point and three point field goal make, and rewards those who can effectively shoot the long ball. As some would put it, a player who makes 4/10 3-pointers brings his team the same amount of points as someone who makes 6/10 2-pointers.
Shan Foster
and
Jaycee Carroll
shot the ball very efficiently from long range, and sit at one and two on this list, by an incredible margin.
Chris Douglas-Roberts
is a surprise in third place, considering this statistic usually rewards top-level three point shooters. Both
Eric Gordon
and
O.J. Mayo
again rank in the bottom five.
Anton Ponkrashov
may be an impressive passer, but until he learns how to shoot the ball efficiently, he will not get a chance to play in the NBA.
Kyle Weaver
is a terrific defender, but if he cannot keep the opposing team honest, he has very little value to his team at the extremely important shooting guard position.
Points Per Possession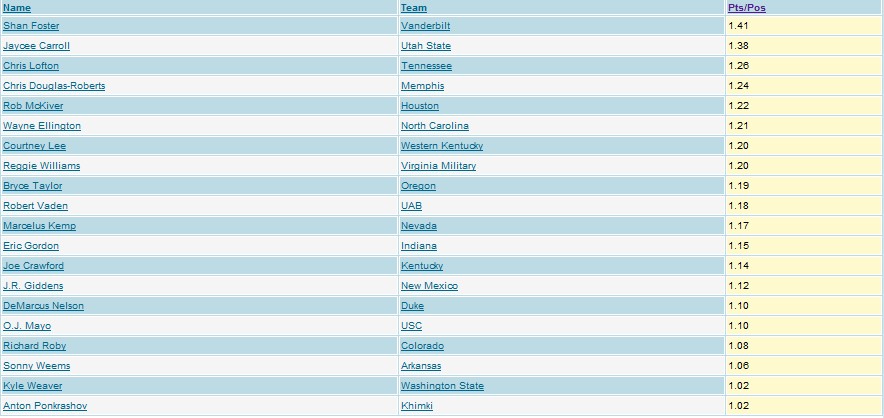 NBA coaches want their players to maximize every possession they have.
Shan Foster
and
Jaycee Carroll
both scored around 1.4 points per possession, due to their efficiency shooting the three pointer.
Eric Gordon
started the year averaging around 1.9 points per shot, but dropped to just 1.15 over the course of the season.
O.J. Mayo
ties
DeMarcus Nelson
in the bottom five at 1.10 points per possession.
Player Efficiency Rating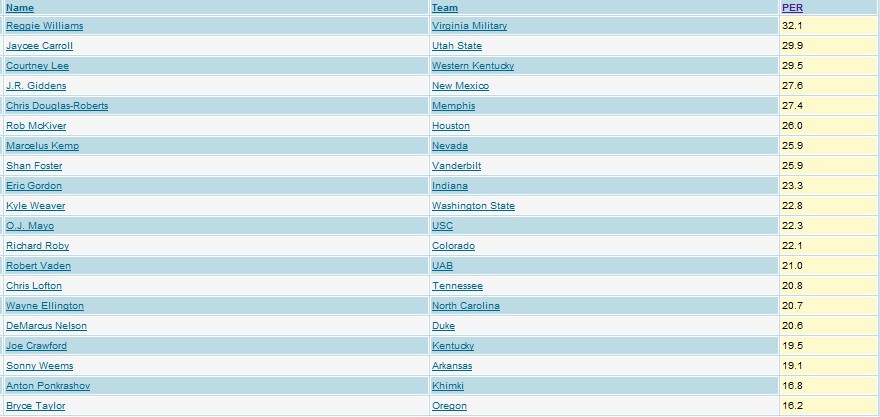 Player efficiency rating was created by John Hollinger to measure the overall impact of a player through statistics. The rating uses an average PER of 15 derived from the NBA, which leads to inflated PERs for top college players in some cases.
Reggie Williams
scored, rebounded, and passed the ball at an elite level, so his place at the top is no surprise.
Courtney Lee
, JR Giddens, and Chris-Douglas-Roberts round out the top five.
Eric Gordon
,
O.J. Mayo
, and
Kyle Weaver
sit in the middle of the pack.
Efficiency Per 40-Minutes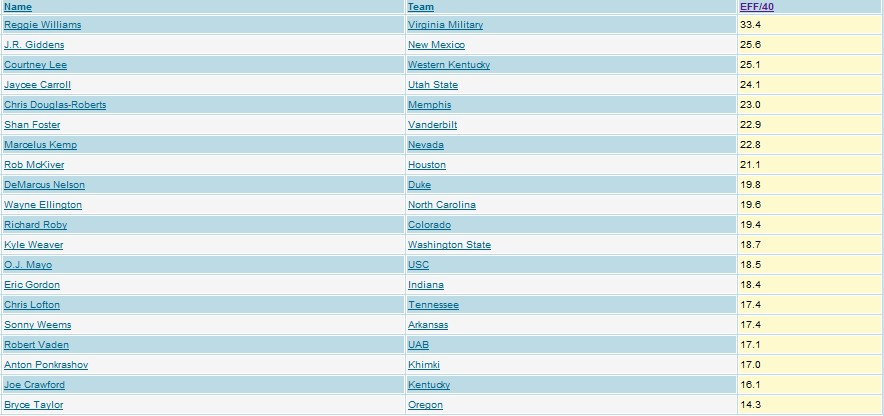 The "EFF" Statistic was created by the NBA to measure the overall statistical production of a player on the court. It adds up all the positive stats a player accumulates and subtracts all the negatives. For all intents and purposes, this stat makes more sense when calculated over 40 minutes rather than per game. Williams and
Jaycee Carroll
again top this list, followed by
J.R. Giddens
and
Courtney Lee
.
Bryce Taylor
and
Anton Ponkrashov
sit at the bottom.
Win-Score Per 40-Minutes
Dave Berri's statistic is created by taking PTS + TRB + STL + .5* BLK + .5*AST - FGA - .5*FTA - TO - .5*PF / Min * 40. The average win score for an NBA shooting guard is 5.12, but the number will typically be higher for a guard at the college level.
Courtney Lee
and
Chris Douglas-Roberts
rank the highest of the first round prospects with win scores over 9, while
O.J. Mayo
and
Eric Gordon
have 5.8 and 5.4 win scores respectively (putting them in the bottom 5 of all the off-guards).
Percentage of Team Possessions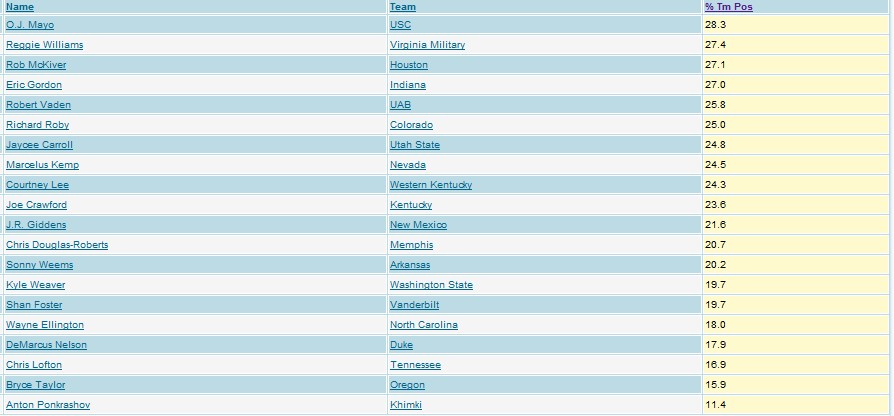 This stat effectively measures how much of a team's offense runs through each guard on the list.
O.J. Mayo
carried the load for USC, ranking number one on the list with over 28% of his team's offense. This could be a clear indication why he struggled so badly in many of the efficiency categories, especially when considering his freshman status, the strength of the Pac-10, and the amount of minutes he was forced to play. Similar things can be said about
Eric Gordon
, who finished 4th in this table.