Our first day of the McDonald's All-American week practices mostly revolved around familiarizing ourselves with the players as they went through warm-ups, light drill-work and some basic inter-squad scrimmaging. The atmosphere was pretty lax and the players mostly looked like they were trying to have fun, with the exception of a few self-starters who definitely came here to work.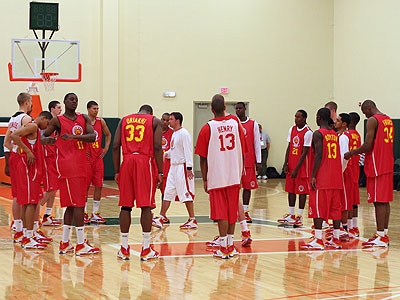 Both teams are down to 11 players right now, as
Lance Stephenson
missed his flight and may be at somewhat of a disadvantage this week considering that he already missed two of the three days of practices.
Wally Judge
has pulled out of the dunk contest and is questionable for the game after injuring his neck in a scrimmage yesterday afternoon. Stephenson is here now, and will be announcing his college decision at 11:45 AM at a press conference before media day.
One of the best parts of this week is having the ability to pick the brains of the people who know and have scouted these players more than anyone: the recruiting experts. We went around asking some of those in attendance which players they expect to be one and done out this class. The consensus from Bob Gibbons (ESPN), Jerry Meyer (Rivals) and Evan Daniels (Scout) was that
Renardo Sidney
,
Lance Stephenson
,
Derrick Favors
,
DeMarcus Cousins
and
John Wall
(not here) are all expected to be one and done. Gibbons also added
Xavier Henry
, while Daniels mentioned
John Henson
as a potential sleeper and Meyer mentioned that he wouldn't be shocked if "Tiny"
Keith Gallon
ended up surprising people and also left after his freshman season. Gallon continues to slim down every time we see him (last time in January) and obviously is really starting to take things seriously. Both Meyer and Daniels mentioned that he's had an outstanding senior season, which has to get Oklahoma fans excited.
As far as players who were snubbed, we had an interesting conversation with Bob Gibbons about
John Wall
not being invited to this week, due to his status as a 5th year prep and his high-school team's Mount Zion-esqe renegade status in the State of North Carolina. Gibbons says he would have liked to see University of Miami commit Durand Scott (#27 Scout, #41 Rivals, #44 ESPN) here, and thinks that his so-so numbers at the high school level may have hurt him, as he plays for a great program at Rice (New York) that is very balanced. We had an interesting conversation about what things were like back when NBA scouts were allowed to attend the practices, Gibbons said they used to pack the gym from wall to wall and that the media exposure the game received was far greater as well.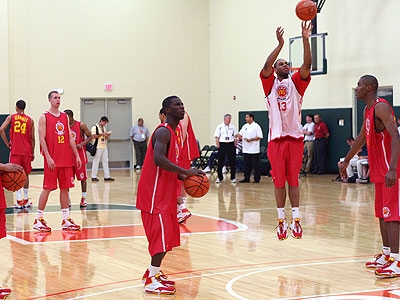 As far as the actual practice, there was only so much you could take away since the players were separated onto two courts and the play was pretty rough for the most part. Regardless here are a few who stood out:
John Henson, 6-10, SF/PF, Committed to North Carolina
- Henson (#3 Scout, # 6 Rivals, #3 ESPN) may not have put on an ounce of weight since the last time we saw him in Las Vegas this past July, but he looks considerably more skilled and more comfortable in his own skin. Despite possessing an
Anthony Randolph
-esqe frame, Henson showed some unbelievable tools on the court, putting the ball on the floor time after time in the open court, and looking absolutely deadly with his pull-up jumper. His touch is incredibly soft from the outside and his release lightning quick. Athletically he is off the charts, and his skill-level is awfully impressive as well. His lack of strength is a major hindrance, making it difficult for him to finish through contact inside, and causing him to lose his balance easily when pushed around, but he looked very focused out here and was able to accomplish quite a bit in the possessions we observed. His talent and overall upside is obviously tremendous. We had a chance to speak with Henson a bit after the practice, and came away extremely impressed by the way he handles himself off the court. We'll be posting an interview we did with him shortly—he had some very interesting things to say.
Michael Snaer, 6-4, Shooting Guard, Committed to Florida State
- Snaer (#22 Scout, #11 Rivals, #44 ESPN) was one of the few players who clearly came out here with a chip on his shoulder, looking to prove that he belonged, and more-so, trying to show that he's better than advertised. Physically, he's going to fit in at Florida State right away, as he's an excellent athlete with a good frame and a big time motor. He played extremely hard throughout the scrimmage, looking to assert himself whenever possible, showing a nice first step, a good looking mid-range jumper, and solid defensive skills as well. It looked like his overall skill-level was still catching up to his athletic ability, particularly his ball-handling skills, but that's not a shock considering the stage of development he's currently at.
Ryan Kelly, 6-9, Power Forward, Committed to Duke
- Kelly (#11 Scout, #20 Rivals, #11 ESPN) was arguably the most impressive player seen in the skill-based portion of the practice, as he's an incredibly skilled big man with outstanding fundamentals. All the drills came very naturally to him, and he executed them with the greatest of ease, in text-book fashion. His ability to knock down jumpers from stand-still or off the dribble situations is going to get him playing time right away at Duke, and he's also a solid athlete with a nice feel for the game from what he showed. Due to the lack of wing players on his roster (including Stephenson), Kelly was forced to play the small forward position during the scrimmage, which obviously isn't his forte. It was interesting to see how seriously he took the proceedings today, unlike many of his teammates, something Coach K obviously would have enjoyed seeing.
We'll be back tomorrow with a lot more observations after seeing most of these players for a second time, in hopefully a little bit more competitive of a setting.