My NBA Draft Experience:
Danny Granger
Charlie Bury:
How would you say the draft experience was for you?
Ryan Gomes:
Ah, the experience was long. It was a long, hard fought process having twenty-two workouts. It paid off for me, but in the process you have to be mentally tough and mentally focused because no matter where you're coming from, whether it's a high school from the NBA transition, college to the NBA, you have got to know that this is your opportunity where you're on stage. You're on stage in college, and that matters a little bit, but once you go into these workouts you've got to be professional, you've got to work hard and you've got to show that you can do things to help the team.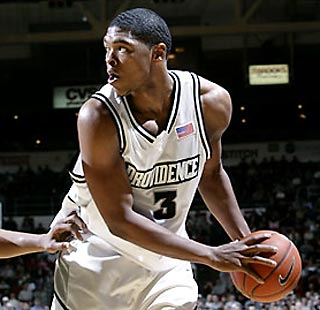 Charlie Bury:
What was the hardest part of the whole process?
Ryan Gomes:
I think the hardest part is more that everyone puts a lot of pressure on themselves, because this is a dream that they want to come true. When you go into workouts, sometimes you get caught up in the hoopla and you put too much pressure in yourself. I'm down here in Las Vegas and there are a lot of younger guys here and they kind of look to me for information. They see the process of how long it took me to get where I was, and how I was a great college player and it didn't work out, so I just try to tell them to stay focused and have fun, that's really it. If you go into your workouts and you're having fun and you work hard that's all you can ask for. It's in their hands to select you, but if you leave at the end of the day knowing that you worked hard, you had a good workout and your intensity was there, when you leave you should be happy with yourself. But don't put pressure on yourself, because that's when you lose focus.
Charlie Bury:
Ryan, you were a guy who had a very successful college career, but still slipped to the end of the second round. Where do you think teams went wrong when evaluating you?
Ryan Gomes:
In college-- not to say you should leave college early-- but for me my game became a little more evaluated the longer I stayed. And you have questions, "can he do this, can he do that?" When you're hot, you're hot. If you're a freshman and you have a great year and a great run in the tournament and you're on your 'A Game', I would suggest that come they come out. I think the longer you stay, the more evaluated you get. Some teams like that. I think of my self with Boston and my good friend
Craig Smith
. Even though both teams didn't have a good year, Craig was like a model of what happened with me. He played well for them, and sometimes that does play a role--how soon a player is ready to play. For a first year guy, the talent might be there, but the knowledge of the game might not be there. Some younger guys have a plus to them; some guys who stay longer have a plus to them.
Charlie Bury:
It's interesting you mention
Craig Smith
because you have a lot of parallels. Both of you played four years of college ball, and you were both hit with that dreaded "tweener" label before the draft. How did that affect your draft stock?
Ryan Gomes:
It effected it a lot because when you get to the NBA, and you're 6-6, 6-7, you're going to be small forward or a shooting guard. In college you could be 6-7, 6-8 and be a four, so when you move up in the ranks that changes. So for me it was like "is he big enough to pay the power forward in the NBA?" Some nights you are, but it's in the team's favor the majority of nights that you're not, because it's going to hinder the team's progress. I think that's where it comes into play with the 'tweeners'; you're going to be a liability in some cases, but you might have an advantage on the other end of the floor. I think when you're a tweener, you have to have a little bit more to your game, like being able to face the basket and hit some shots. When you've got a 6-10 guy guarding you, you've got to be able to make him work just like he's going to make you work on the other end. Every night you have to maximize your ability and hope the opponent doesn't.
Charlie Bury:
Have you opened the door for other 'tweeners' to be taken more seriously, a guy like
Jared Dudley
for example.
Ryan Gomes:
Yeah I would say that. I think
Jared Dudley
is a different mix than Craig and me because in his career he posted up and stuff, but wasn't labeled as a forward. He was labeled as more of a wing guy. He has a little bit more upside on that end than me and Craig did I would think. He might not be as athletic as some teams might want, but he's smart and he's played in a lot of big games at the college level. I think experience will play a big role in his draft status. Also he has a good work ethic, and I think that's important. But they are going to trust that he's going to make the right play the majority of the time.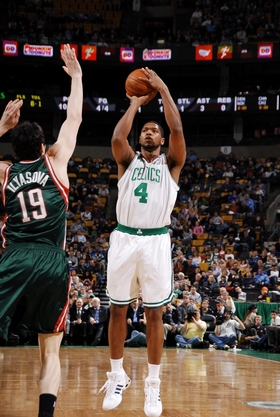 Charlie Bury:
Going back to your draft experience, who were some of the guys you worked out against, and did any of those stick out on your mind as a good battle?
Ryan Gomes:
I worked out against
David Lee
,
Jason Maxiell
. There were so many. Some workouts I worked out with guards. I worked out with
Luther Head
in Houston.
Martell Webster
.
David Lee
was a good workout, we went at each other.
[bCharlie Bury: What kind of feedback did you get from all these different teams after you worked out for them?
Ryan Gomes:
Just that I had a good workout. I didn't get any promises or anything like that. It was just like "Yeah good workout, we'll see what happens at the draft.' I wasn't guaranteed to be picked here or there so it wasn't like I've been in a situation where a team said they were going to do something and they didn't do it. Teams said "you're a hard worker and we think you'll be in the league for a long time". They said that my basketball IQ was high, and that's what was going to keep my in the NBA. So I just waited to see what would happen. The night of the draft I was just thinking like "Which team was my best workout? Maybe I'll get selected by this team". That's all I thought about.
Charlie Bury:
What did the teams do to get to know you as a person?
Ryan Gomes:
Yeah I think that's a big thing with the workouts. They want to see you in a different setting, and get to know you as a person. You get interviewed, go in and talk to the coach of or the GM. They try to feel you out, ask you questions and get to know you other than on the basketball court. That's a big thing; you don't want to have a reputation for having a bad attitude. When you go in there, they might already know some things that you don't know they know. The thing you've got to be is just straight forward, and that's what might get you that nod. They ask, 'Do you go out a lot? Are you a party guy? Are you a club guy?" How often do you drink alcohol?" Those are some questions that I remember.
Charlie Bury:
Fast forward to draft night. Describe your emotions for me on the night of the draft.
Ryan Gomes:
It was a looong night for me. I was drafted 50, so it was a long wait for that to happen. Going into it, I was hoping to get into the first round. I had a few teams that I worked out for twice, and when you work out for a team more than once that means they really like you. So I was thinking those teams had a good chance of selecting me. That didn't happen, so…I got frustrated. I kind of got worried and wondered, "am I even going to get drafted?" Of course, everyone wants to be in the first round because of the guaranteed contracts, so I was a little upset about that. But five, ten minutes after that I just said to myself that I've got to go prove people wrong like I did in college. So I used it as motivation that I was a second round pick.
Charlie Bury:
What have you worked on these last couple years to accomplish your goal of proving those teams that passed on you made a mistake?
Ryan Gomes:
The first thing was the "tweener' issue. When I first got to the Celtics they wanted to try me at the 3. I did an ok job, I wasn't automatic. Then
Al Jefferson
and
Kendrick Perkins
got hurt, and they put me at the 4, and I can do some things at the 4. That opened up some doors for me that position and I held my own. Then the next year it was like now I'm going to work on my ball-handling and my outside shooting. And it showed, for me knocking down those shots from 17-19 feet. Towards the end of the season, I was shooting threes. Now this summer I'm going to be working on shooting a lot of threes and knocking them down consistently.
Now I'm not trying to come out and be the next
Reggie Miller
or better yet
Larry Bird
(laughs), but just to add that to my game and add some more playmaking ability off the dribble. So those are things that I'm working on so that I can make plays for next season, whether I'm playing at the four or the three.
Charlie Bury:
Going back to that rookie season, what was your one welcome to the NBA moment where it really clicked that you had made it to the league?
Ryan Gomes:
I'd have to say my first game I started. At the beginning of my career in Boston it was shaky. I sat a lot of games, got a lot of DNP's. So my welcome to the league moment was probably when we played against the Lakers. I had a big game, we won. Paul [Pierce] had a big game and I had like 21 and 12, so that was kind of a breakout game. I was like "I'm here, and I can score at this level!"
Charlie Bury:
When you were going through that rough patch like you said at the very beginning, was there anyone on the Celtics roster that took you under his wing and helped to show you the NBA ropes?
Ryan Gomes:
No, I think it was more of me being an observer and I learned from that.
Paul Pierce
is a leader and I looked up to him when I was in college. When I was at Providence I watched all the games of his I could on TV. So I just watched him and watched what he does to be the player he is. Every day how you have to grind and come in and be ready to work. It wasn't really like he took me under his wing, it was really I just observed and watched what he did, staying when practice was over and doing sprints and all that other stuff. I said if I want to be a good player, I've got to get into those types of habits.
Charlie Bury:
All right Ryan one last question for you. Pretend you're
Danny Ainge
for a second and the Celtics get the number one overall pick, who do you take, Oden or Durant?
[editor's note: this interview was conducted before the lottery]
Ryan Gomes:
Honestly I think they both could come in and help a franchise. After that, it's what do you need? If we don't get number one and we get number two, we'll get one of those guys. Either one of them can go number one, and either one of them can go number two, so its not like one of them is going to slip, that's what I'm saying.
Charlie Bury:
Let's say you do have the choice. With this current Celtics roster, who is the better fit for your team?
Ryan Gomes:
For this Celtics team if there are not changes… I think you win championships on the defensive end and
Greg Oden
is ready to play at this level physically, and he could come in right now and help the Celtics.
Charlie Bury:
All right Ryan, I appreciate your time
Ryan Gomes:
Ok, thanks.