Joey Whelan NBA Draft Diary Archive
Zabian Dowdell
and his family are an anomaly in their hometown of Pahokee, Florida.
The tiny city located in Palm Beach County for years has been known as a football hot bed, producing current and former NFL players
Fred Taylor
, Anquan Boldin, Andre Waters and Rickey Jackson. Each year, college coaches flock to Pahokee in hopes of finding the next great college football player. As popular as football was growing up in Pahokee though, Dowdell found himself drawn to basketball.
"My whole family played basketball, so it was kind of funny being in a football town," Dowdell said. "My brother played, my sisters played, my mom played, so it was always something that I was around. I just fell in love with the game. I love football too, but there was just something about basketball that caught my attention, and I just couldn't put the ball down."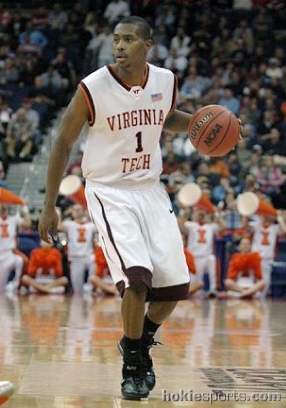 The decision to pick up basketball proved to be a good one. Dowdell earned first-team All-State honors as a junior and senior and had offers from South Florida, East Carolina and Florida Atlantic. South Florida started recruiting under the guise of then head coach Seth Greenberg, but when Greenberg left in 2003 to take the head coaching position at Virginia Tech, both parties continued to recruit Dowdell. Greenberg's commitment to Dowdell would be a major factor in his decision to become a Hokie.
"I'm a very loyal guy, and I think Coach Greenberg showed a lot of loyalty in deciding to stick with me, even though he moved to a different school," Dowdell said. "So I just felt like that was the kind of guy that I needed to be associated with."
While Dowdell would excel in his first three seasons at Virginia Tech, earning honorable mention All-ACC twice and being named to the ACC All-Defensive team once, the Hokies would struggle. After finishing 4-12 in the ACC in the 2005-06 season very little was expected of the program coming into this past season. Virginia Tech shocked the college basketball world, though, going 10-6 in the conference, including wins over both North Carolina and Duke
"It was great being able to earn the respect of the fans and the respect of the media," Dowdell said. "I think it was a product of hard work, and that's pretty much what is behind every success story, hard work. You have to be able to withstand the tough times and fight through it, and I think that's what we did. Going into the season, we were picked to be last in the conference, and somehow we found a way to make our season respectable. I think hard work pretty much solves all problems."
The ride only got better when the Hokies earned an at large bid in the NCAA Tournament, the school's first appearance in the tournament in eleven years.
"That was a great experience; not only for me, but for the whole university, for all of the Virginia Tech fans," he said. "The whole journey, everything we went through, not just this season, but the previous three seasons, it was a great way to end my career. Even though we didn't make it to the final four, it was just great getting there. When I look back on it, I think it's going to be something that I'm very proud of."
After a first round win over Illinois, Virginia Tech lost a tough game to #4 seed Southern Illinois. Dowdell was held in check by the strong Salukis defense, scoring only 7 points on 3-9 shooting from the field. When the final buzzer sounded, however, it wasn't the loss he was thinking about.
"I was just kind of looking back on my career then; some of the good times and some of the bad times," Dowdell said. "There are so many things that I've been through and I've grown so much through the years, you know it was a sad time then, but I was very proud of where the program had come."
There was certainly plenty for Dowdell to look back on and be happy about. Aside from Virginia Tech's great season, he put together his best year, averaging better than 17 points, earning first-team All-ACC honors and honorable mention All-American honors. As always though, Dowdell kept his eye on the bigger picture.
"It's great to have those kinds of things in your pocket, but I think at the end of the day you still have to go out every day and continue to prove yourself, and prove to people that you can play," he said.
After the season ended Dowdell joined other players from around the country at the Portsmouth Invitational Tournament, where he had the opportunity to play in front of scouts and help his draft stock. He said the most interesting part of the whole weekend was the chance to spend time with the other players off the court.
"It was a very unique situation because you see a lot of those guys on TV and you're kind of like fans of their game," Dowdell said. "I saw a lot of guys down there whose game I respected and I got a chance to talk to some of those guys and meet some of those guys. So it was a great experience."
While Dowdell had an overall successful weekend at Portsmouth, it was his first game that showed his full array of offensive abilities. Early on, Dowdell was setting up teammates nicely, but they weren't finishing their shots. It was at that point that he decided to take over the scoring load. Dowdell stated that he hoped being able to switch on the fly from passing guard to scoring guard will be a help come draft day.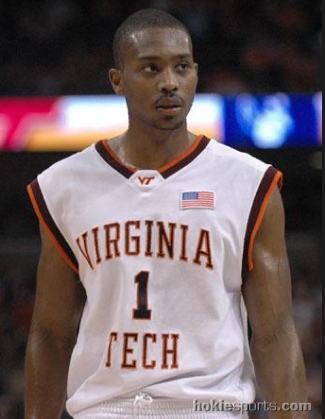 "Hopefully it will be a great advantage," he said. "I just go out there and play. Not every game is going to be the same; some games my teammates won't be knocking down shots so I'm going to have to step up and make plays. You can't go out there every game with a set plan or you're going to fail. I just try to go out there and play hard; whatever happens, happens."
Not long after Portsmouth, Dowdell had to sit and watch the tragic events of the Virginia Tech shooting unfold before his eyes. He was in his off campus apartment at the time of the tragedy, and like most of the other students at Virginia Tech and the rest of the nation, had a hard time coming to grips with the reality of the situation.
"Everyone was just shocked," he said. "It was just something that you couldn't even imagine happening, especially at Virginia Tech. The people there are so nice and the community is just so together, it's something you wouldn't expect to happen. It's still tough for me to believe that it actually happened."
At a school like Virginia Tech, where sports are such a tremendous part of campus life, Dowdell said he felt that some of the responsibility of boosting morale on campus fell on the shoulders of the student athletes.
"Personally, I felt like it was an opportunity to show the other students and the people in the community that we're people too," he said. "You might see us on TV and think we're out of reach, but I think it was a great chance to get closer to the community and let them know that we're there for them."
Dowdell took his efforts one step further by donating $5,000 of his own money to the relief effort.
"I felt like it was just a small thing for me to do, to give back, because Virginia Tech has given me so much and provided so many opportunities for me, I felt like it was the least that I could do and try to give back. I had no problem doing that."
Since that time, Dowdell has been training at IMG Academy in Florida to prepare for draft day. He has been working out with several other players, including
Ron Lewis
,
J.R. Reynolds
,
Justin Cage
and
Avis Wyatt
, all while under the instruction of renowned basketball trainer David Thorpe. Dowdell stated that the stiff competition on the court has really helped him improve his game.
"You're not going to have much of a fall off against those guys; you have to bring it every day," he said. "I mean those are some competitive guys, so if you slack off just a little bit they're going to take advantage of it. I really think we've been going at it pretty hard, and I've had some great workouts as a result of it."
A typical day for Dowdell consists of two basketball workouts and a session in the weight room. During the first workout, Thorpe has the players focusing on explosiveness, so dunking is encouraged as well as plenty of jumping related activities. Afterwards, the players move to the weight room, focusing on core strength and more explosive movements. The second on-court workout focuses more on shooting, offensive moves, and 5-on-5 play.
In addition to all of the physical training, Dowdell has been receiving, IMG works with the players on off the court activities as well. The players receive media training in which they learn how to handle themselves in the public eye. They also receive what Dowdell referred to as "mental conditioning", where players are prepared to deal with any tough situations that may arise during their pro careers. As a whole, Dowdell stated that his work at IMG is worlds away from what his training was like while still in school.
"It's almost like night and day, because it's a lot more intense," he said. "I mean the amount of stuff we get done in a day at IMG would probably take us almost a week to get done at Virginia Tech. So there is definitely a difference, it's been very helpful to me."
In addition to his explosiveness, which he has been receiving plenty of work on; Dowdell said he wanted to specifically improve his outside shooting abilities while at IMG.
"I really wanted to get accustomed to the NBA three," he said. "That's something that I really wanted to show everyone, that I could knock that shot down. I've been doing a good job of that so far in our workouts. But I really went in with an open mind, wanting to work on everything, wanting to improve on everything. I didn't want to leave any part of my game out."
Now with the Orlando pre-draft camp just hours away, Dowdell has another opportunity to further improve his draft stock. With the NBA lottery completed, the picture is starting to become a little clearer as to what players will go where. But if you ask Dowdell about his stock, he frankly couldn't care less.
"I really try not to get into that stuff," he said. "I just try to go in everyday and work hard, do the things that Coach Thorpe has been telling me to do. I control the things I can control, and I don't worry about the things I can't control."