The Bobcats went through year three much like they did their initial two campaigns, with some intriguing storylines and far too many injuries to capitalize on their talent.
Charlotte has bee fiscally prudent over the first few years of their existence. The team was hamstrung by expansion cap rules, but was also smart enough not to try and rush things in terms of spending on half-measure type players.
The team has patiently built through the draft, while placing steady veterans around the edges of the bench in order to provide a bit of atmosphere for the young developmental players.
This season will mark the first where the Bobcats can utilize the full cap figure. They've got some tough decisions to make, but could surprise a lot of people if they can keep their current players on the court and add an impact veteran to the fold.
Roster and Financial Breakdown: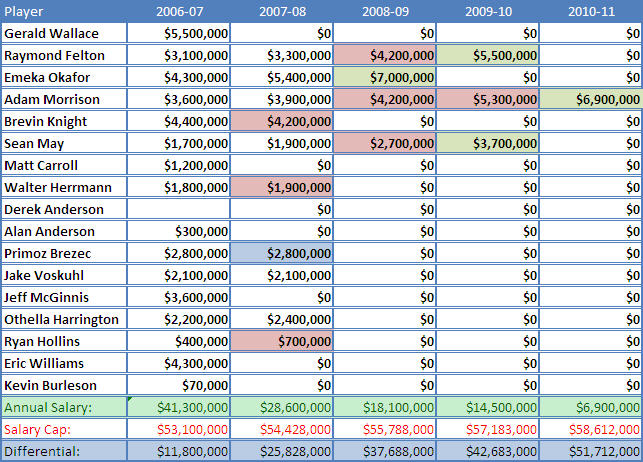 [c](Salary Cap projections were created taking the average increase over the past 5 seasons)[/c]
Efficiency: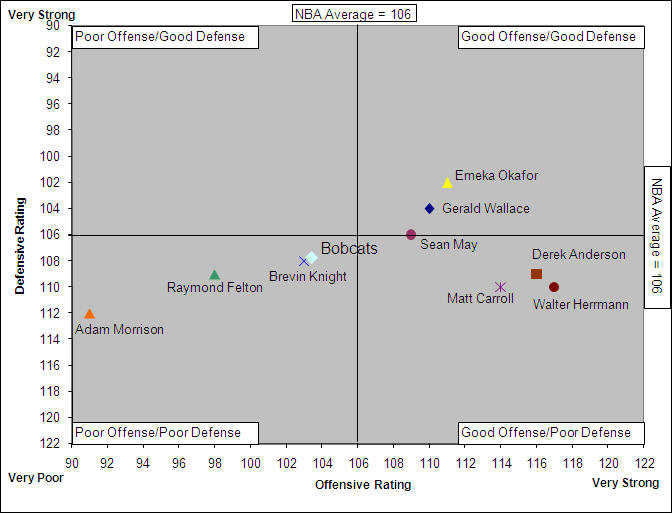 [c]courtesy of Paul Gaeran and Heather Allen[/c]
Usage: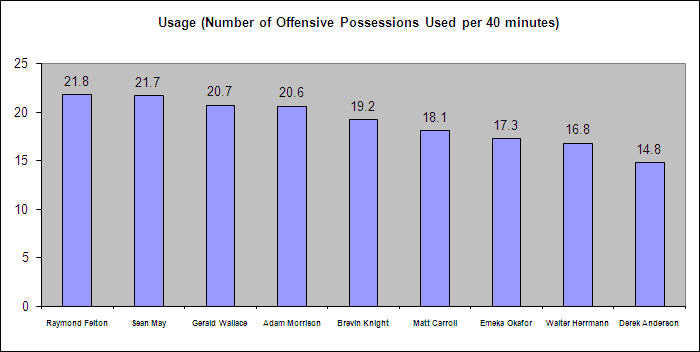 [c]courtesy of Paul Gaeran and Heather Allen[/c]
Record/ Overview:
33-49, 4th place Southeast Division
Charlotte just could not keep its front line players on the court. The team looked to be highly competitive going into this season, with 2nd year players
Raymond Felton
and
Sean May
showing signs of breaking out.
Emeka Okafor
shed the meaningless muscle mass he had added the year before and returned to being the offensive/defensive anchor that Charlotte relied upon during his first season in the league.
The team got improved play from
Gerald Wallace
and was able to keep him on the court for most of the season, but May once again went down and questions about his fitness and durability are sure to follow him into next season.
Overall, the team seems to be right on the cusp of putting together a solid season. Rookie
Adam Morrison
struggled to perform consistently when pushed into the role of lead outside scorer, but International addition Walter Herrmann showed late that he had a handle on the NBA game.
The team needs a synergizing force to bring them all together. It appears that the Bobcats will have a tough decision when it comes to selecting who to spend their money on this offseason. Wallace deserves a raise, but the team must decide who gives them the best chance to win. A little health would go a long way toward helping Charlotte put up its best season in its brief existence.
Current Assets:
The Bobcats are all about assets thanks to their shrewd decision to maintain salary flexibility while building through the draft. The team is loaded with intriguing young players and are bracketed by reasonably priced veterans on short deals that should be able to net the team something attractive if they decide to enter the trade market.
Expiring Contracts-
The team has some expiring deals coming off the books next season and could get a decent return for them if packaged correctly.
Both
Othella Harrington
and
Jake Voskuhl
combine to make roughly 4.5 million and veteran point guard
Brevin Knight
helps to double that figure if his club option is picked up. There are never a shortage of teams looking to pick up veteran help at the point guard position and Knight has received interest from a number of teams in the past. For a team looking to move some payroll, Charlotte could sweeten this pot pretty easily.
Primoz Brezec
is another player who will most likely pick up his player option this season and try and cash in on the free agent market next season. Unless the Bobcats select another big man in the draft, Brezec looks to be one of the three main bigs in the rotation and should be able to put up a season worthy of some decent free agent consideration for the numerous teams that could use scoring savvy and rebounding from the center position.
If Walter Herrmann has his option excorcised it is doubtful he gets the chance to see the floor as he did during the close of the Bobcats season. Herrmann proved to anyone paying attention that his length and athleticism translated into the NBA game. He also displayed an excellent perimeter shooting touch that should make him an attractive low-cost option for a team looking for intelligent, veteran experience off the bench.
Total Cost: $13,400,000
Rotation Players-
Gerald Wallace
continued to be the team's emotional leader on the court with his energetic play and reckless abandon. Wallace improved for the third season in a row and is clearly an expansion draft steal that the team should feel fortunate to have.
Wallace is going to be looking for a nice paycheck out of this offseason and the Bobcats will have a tough choice to make because they've got just enough under the cap to make a run at another free agent who might provide a bit more scoring clout, something this team has been in dire need of.
If they can sign another player first and then revisit Wallace after the fact, the team could have a truly great offseason considering where they're picking as well.
Emeka Okafor
had a very nice bounce-back year after putting on twenty pounds the season before, losing his shooting touch, and going down with a series of injuries that put his future in doubt in some circles.
Okafor isn't a scoring dynamo, but his rebounding and shot blocking give Charlotte a defensive anchor that they can build around in the future. His value to the team is much more substantial than what he may return in trade, but if the team has grand designs for a major overhaul, Okafor is perhaps their best asset.
Brevin Knight
production slipped a bit last season as understudy
Raymond Felton
was given the green light to become the team's principle ball handler. Knight played far less minutes, but was equally as effective at distributing the ball to his teammates. He is getting on in age and probably wants to secure on last pay day on a team that will utilize his playmaking ability while he's still in his prime.
Sean May
has tremendous talent and could be an excellent high-post scorer who rebounds and makes smart basketball plays for his team. Unfortunately, May has found the snack bar more than he's found the court in his first two season and his lack of conditioning has led to a series of injuries which have shortened each of his first two seasons.
It would not be surprising to see the team draft a big man with the intention of lighting a fire under May, who reportedly is taking this offseason quite seriously. If May can put it all together he should have a fantastic season next year, as he looked very comfortable playing along side Okafor early in the year.
Total Cost: $16,700,000
Prospects-
Most of the rotation players could also be classified as prospects because of their age and experience level, but for the purposes of this section the focus will be squarely on
Adam Morrison
.
Morrison was highly touted coming out of Gonzaga and got thrust into the spotlight very quickly for the Bobcats. The team rested the responsibility of being the primary perimeter scorer on Morrison's skinny shoulders and the weight of expectation seriously affected his ability to perform.
Morrison looked especially uncomfortable during home games and his confidence seemed to take a major hit. He wasn't vocal or aggressive the way many had grown accustom to during his time at Gonzaga and his game lacked a certain purpose to it much of the time.
Morrison had quite a few solid games mixed into his up and down season, but has a long way to go before he can be relied upon to be the team's primary offensive option from the perimeter. It will be interesting to see how the Bobcats handle Morrison's situation going forward because he could benefit tremendously from having a veteran wing as a mentor while he adjusts his game to the NBA level.
Morrison has the length, quick release, and ability to shoot in motion that should allow him to become a consistent scoring threat, but handling his psyche going forward is going to be important if the team wants to realize a full return on its investment.
Total Cost: $3,600,000
Free Agency
The Bobcats have had this year circled for some time and there are many good players on the market that the team should have interest in.
The two names heard most frequently are
Rashard Lewis
and
Vince Carter
. Both Carter and Lewis have the type of offensive explosiveness and perimeter-oriented attack that would open up the inside game for May, Okafor, and the prospective draft pick to attack.
Carter has talked of staying in New Jersey, but he would make a lot of sense for a Charlotte franchise who has already showed an interest in bringing Tar Heals into the fold. At his current age, Carter could be had for the right price and could give this team and identity going forward over the next few seasons.
Lewis would be the younger option and certainly provides a lot of what Carter would bring. Lewis doesn't have quite the playoff resume of Carter, but his outside shooting and overall attack style would be a good image for Morrison to emulate.
Adding either or these players would almost certainly mean the departure of Wallace, but it may be the team's best move considering its need for offensive fire power. It's possible the team could keep Wallace and add another scoring option, but it would be complicated and the team hasn't been a big time player yet to expect this scenario to transpire.
Draft
The Bobcats have been rumored to be looking to trade down in the draft and one must assume that their focus has been on
Corey Brewer
if that is the case. The Bobcats have options at the other wing position, but a defensive complement on the perimeter to what Okafor does in the lane would really give the team a foundation to build off of.
Drafting Brewer and keeping Wallace would give the Bobcats the foundations for an excellent defensive team while still keeping a little offense in the lineup.
The team also has the 22nd pick, and could address its interest in the frontcourt with a selection here. Both
Tiago Splitter
and
Josh McRoberts
should be hanging around at this spot and either would add something to the team's frontcourt mix. Splitter especially would make this team defensively superior if Wallace was to stay and Brewer was added with the earlier pick.
The team could also go with a big first and wait for the wing talent with the later pick, but considering the talents of Okafor and May, it seems that the team may feel obligated to address other needs with its first selection.