The Chicago Bulls have risen to the top of the Eastern conference after several years of rebuilding through the draft. This past offseason, General Manager
John Paxson
dealt away the second of their two promising young big men in
Tyson Chandler
. Recognizing the need for a playoff tested veteran presence in the starting five, Paxson added
Ben Wallace
via free agency, effectively mitigating the loss of Chandler. Wallace and the Bulls organization were initially heavily criticized for the signing after a poor start, going 2-9 in their first 11 games, but managed to secure the 3rd best record in the Eastern Conference, finishing only 4 games behind top seeded Detroit and entering the playoffs as the 5th seed. They then proceeded to absolutely wipe the floor with defending champions Miami, setting up what will surely be a thrilling series with the Detroit Pistons in the semi-finals.
The Bulls have shrewdly accumulated a significant number of assets while simultaneously establishing themselves as a top contender in the East. They appeared poised to make a deal to acquire a legitimate scoring option to pair with defensive stalwart
Ben Wallace
in the front court as they approached the trading deadline, but elected not to pull the trigger and no longer have P.J. Brown's 8 million dollar expiring contract at their disposal to help match the salaries in such a deal. However, a close look at the team reveals that general manager
John Paxson
has forged a remarkably manipulate-able roster from every organizational perspective. Chicago's strategy in building a young team full of high-character winners is one that will surely be emulated by similar franchises in the future.
Roster and Financial Breakdown: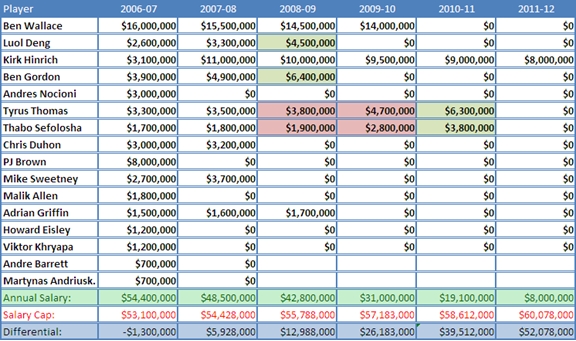 Record/Overview:
49-33, 3rd place Central Division, 5th seed Eastern Conference
Considering the Bulls reside in the most competitive division in the East, their conference-best 12-4 record against division opponents is remarkable for such a young squad and validates their place among the top teams in the Eastern Conference.
The Bulls are young and subsequently healthy, having suffered just a single significant injury during the season to
Andres Nocioni
. Nocioni missed 28 games at the end of the season due to plantar fasciitis, but re-entered the line-up for the final 5 games and was healthy heading into the playoffs. Depth, youth, and positional flexibility on behalf of the Bulls rotation players make for a resilient roster capable of surviving an injury to one and possibly even two of their significant contributors, while seeing a limited impact on their win total. The Bulls 17-11 record during Nocioni's absence is a testament to that fact.
Current Assets:
The Bulls have a number of young prospects with no more than 3 years of experience in the league. The majority of those players also happen to be at the top of the rotation, the most valuable of whom are
Kirk Hinrich
,
Ben Gordon
,
Andres Nocioni
, and
Luol Deng
. Last June's draftees
Thabo Sefolosha
and
Tyrus Thomas
worked their way into the 8/9-man rotation by the end of the season. Chicago also owns the New York Knicks 1st round pick in the upcoming draft with a slight possibility that the pick will increase in value significantly on May 22nd if the pick were to move up into the top 3 from the 9th position it currently holds.
Expiring Contracts:
The Bulls had the hottest expiring contract on the market leading up to the February trade deadline in P.J. Brown. There was speculation that they might leverage the cap relief in combination with one or two of their young rotation players in an attempt to add some much needed offensive punch to the front court.
Pau Gasol
was widely recognized as the premier, and likely the only significant, post-player available in trade at the time. Gasol would have been a good fit alongside Wallace, but Memphis' asking price proved to be too much as they were reportedly demanding both
Ben Gordon
and
Luol Deng
in trade. Brown's contract will now expire at the end of the season and the Bulls will likely use the resulting cap relief to re-sign
Andres Nocioni
.
Ben Gordon
and
Luol Deng
both have one year remaining on their contracts and the Bulls would be remiss if they were unable to sign both to an extension this offseason. Barring an injury to either player next year the asking price for a long term extension should only increase as next summer approaches. Players such as Gordon and Deng who have experienced similar success during their rookie contracts coupled with a steady improvement during those first three seasons make for a low risk/high reward signing for the franchise. The Bulls will be looking to sign the two to deals equivalent to what
Kirk Hinrich
signed last season (47.5 million over 5 years), but considering the season both players had, look for their agents to try and push that number as close to the 55 million dollar mark as possible.
Total Cost: $15,400,000
Rotation Players:
As stated, Chicago's core rotation is largely made up of players they brought into the league, with 3 years or less of NBA experience.
The biggest concern among this young core is
Andres Nocioni
who missed a third of the season with plantar fasciitis, an increasingly common and painful chronic foot condition which usually requires extensive rest as the primary treatment option. Nocioni is a spirited contributor who has the kind of hard-nosed attitude required to play in pain throughout a professional career. While he and Deng fill play the same position, Nocioni is an ideal player to come off the bench and provide energy and versatility on the court, as he is strong and tough enough to defend power forwards as well and cause significant matchups doing so on the other end of the floor.
Ben Gordon
's scoring and ability to create in pressure situations negates almost all of his defensive liabilities. Gordon's name has been circulated in trade rumors most often out of all the Baby Bulls, but those rumors have quieted as Gordon's game has spoken up and Chicago executives continue to adamantly state they he will not be traded. While he may remain the most attractive trade candidate on this team, Gordon's role as primary perimeter scorer is a hard role to duplicate. Gordon's ability to create offense against pressure defense was surely one of the primary reasons the Bulls didn't consummate the Memphis trade, even if Deng is technically the superior player, as seen in the playoff series against Miami.
Luol Deng
has truly emerged as a premier wing player who has the aptitude to play on both sides of the court with his length on defense and his emerging range offensively. Deng is a Bulls "untouchable" and they'd be foolish to part with him for any type of short-term gain, such as the acquisition of
Kevin Garnett
or
Pau Gasol
. Considering his salary slot and how little it counts on the market on its own, Deng will take until his renewal contract to return remotely close to equal value. He is a premier small forward in the making and will be deserved of the 50-55 million dollar contract he'll command when his rookie deal is up. On top of that, he is one of the league's class acts both on and especially off the court, bringing the type of intangibles that coaches like
Scott Skiles
absolutely must have in their locker room.
Kirk Hinrich
is a good perimeter shooter and a quality defender/creator. One of the principle reasons that Gordon hasn't been traded outright for a frontcourt upgrade is the fact that Hinrich represents the only other viable offensive option from the three point line and in. Hinrich is a suberb all-around player, but he cannot be expected to create his own shot on a consistent basis and carry the Bulls perimeter offense on his own. As an offensive facilitator however, Hinrich is one of the best in the league. Somehow Hinrich's steady and heady play escapes media recognition, though fortunately Team USA is not so foolish. The work he did on
Dwyane Wade
in the first round of the playoffs on the defensive end makes it all the more ridiculous that Wade continues to win All-Defensive team honors year after year while Hinrich (clearly the superior defender by a huge margin) is left out in the cold.
Hypothetically speaking however, the Bulls could afford to lose Hinrich and Nocioni for example in that same Gasol deal if Chicago was able to obtain a prospect of
Mike Conley Jr
's caliber with the Knicks pick.
Chris Duhon
and
Thabo Sefolosha
provide all the stability and depth Chicago would need to survive Conley's learning curve, and
Tyrus Thomas
is quickly showing that he requires rotation minutes.
Chris Duhon
is a capable defensive point guard off the bench and is able to assume the starting duties when called upon, which also speaks to the versatility of
Kirk Hinrich
. Duhon is expendable in the right deal however, especially in light of Sefolosha's emergence and the steady presence of Hinrich. Look for the Bulls to not hesitate to pull the trigger on a deal to a team that could utilize him more, if the right offer comes along.
Ben Wallace
isn't going anywhere for quite some time. He may be aging, but he should remain productive for the length of his deal as long as the Bulls don't leave him on an island in the frontcourt. As long as
Tyrus Thomas
is there to absorb everything Wallace has to teach, there should be a smooth changing of the guard in Chicago, a far cry from the last time Chicago dealt with an aging star.
Total Cost: 31,600,000
Prospects:
Rookies
Tyrus Thomas
and
Thabo Sefolosha
have harnessed a slice of their natural talent at just the right time for the Bulls. Both players have worked their way into the rotation over the course of the season, and both have gotten minutes in the playoffs as well.
Thomas has all the physical tools to be a big time player, but his ability to handle intense scrutiny by fans and media is still very much in question. However, as a volatile "energy" player, Thomas is ideal for coming off the bench and going all out when subbing for Wallace and Brown. Being on a team like the Bulls that has many other prominent young players is an ideal environment for Thomas to develop in. He's already developed a solid rapport with consummate pro P.J. Brown off the court, which is a very good sign for Bulls fans and executives. Look for him to continue to mature both on and off the court, as everything has come very fast for him over the past year and a half (going from no-name redshirt freshman to top 5 pick) and he's still nowhere near his full potential
Much like
Rasheed Wallace
, Thomas can thrive by making his statements on the court and energizing the crowd with timely plays, something he does have an uncanny knack for. While teams may be inquiring about his availability, there's no reason the Bulls shouldn't retain him as long as Wallace, Deng, Gordon, and Hinrich are there to provide support and share the load in the intense Chicago market.
Sefolosha has been a real revelation for the Bulls late in the year. After looking as if he'd remain glued on the bench and in "watch" mode all season, Sefolosha broke free with his defensive footwork and active hands, shining on the national stage in game one of the playoffs in a terrific performance matching up with
Dwyane Wade
. This was exactly the type of potential DraftExpress saw in him years ago when he was first evaluated. His ability to handle the ball and play multiple positions on the court really adds to his value, as he can defend three positions and even play spot minutes at the point in a crunch. His presence could make
Chris Duhon
expendable at some point, and should help round out the bench overall if the Bulls decide to make a blockbuster trade for a star big man.
Total Cost: 5,000,000
Free Agency:
The Bulls will look to be under the cap slightly heading into free agency. Most of this money will be required to sign their draft picks and likely re-sign
Andres Nocioni
. Assuming the Bulls are still slotted to select 9th after the May 22nd lotto, then their first round pick will use approximately 2 million of that cap space. The cap hit would climb into the 4-5 million dollar range for one of the top 3 picks in the event that the team hits the jackpot in the May 22nd lottery.
Nocioni will likely command at least 7-8 million dollars per year, leaving the team with only the MLE to sign a free agent veteran. The team could elect not to bring the fan favorite back for next season, but it is just as likely that they would look to sign and trade Nocioni in a package to acquire a player such as Gasol. In all likelihood, though, Nocioni isn't going anywhere.
P.J. Brown may announce his retirement after this season, but he's been a mentor to
Tyrus Thomas
this season and it would not be out of the question for the team to use the Bi-Annual Exception or a portion of their Mid-Level Exception to bring Brown back for one more season as Thomas' mentor. Brown would have additional value to the team providing depth in the front court and a still much needed veteran presence. There has been some friction between Brown and the front office, though, culminating in a half-hearted trade demand, so it shouldn't shock anyone if Brown decided to move on to a championship contender, such as Detroit or San Antonio, who would likely greet him with open arms.
Draft:
Chicago has one lottery pick currently slotted in the 9th spot acquired from the Knicks as part of the deal that sent
Eddy Curry
to New York two years ago, in addition to two second round draft picks (#49 and #51). The lottery pick has enormous value to the Bulls because this year's draft is one of the deepest in recent memory and possesses a concentrated number of talented big men, which also happens to be an area of need for the Bulls as they look to the future. Players like
Spencer Hawes
,
Yi Jianlian
,
Roy Hibbert
, and
Tiago Splitter
could be available to them with the 9th pick. Florida seniors
Al Horford
and
Joakim Noah
in addition to
Brandan Wright
are less likely to be available when the Bulls make their selection, but are not out of the realm of possibility. Given that there are 9 legitimate front court players available in this draft the Bulls selection may be more valuable to them in trade as mentioned already above.