For better or worse, the Denver Nuggets' season will be defined by their acquisition of
Allen Iverson
. While it took
Carmelo Anthony
some time to get used to playing alongside Iverson, the tandem hit their stride in April helping Denver win nine of its last ten games. Unfortunately, the Nuggets still found themselves locked into the six seed in the Western Conference, forcing them to open the playoffs against the San Antonio Spurs.
Regardless of the season-ending loss to the Spurs, Denver will return almost all of their rotation next season with
Steve Blake
being the only possible exception. The team still has some tweaking to do, but the re-emergence of
Nene Hilario
certainly gives Denver solid ground to stand on. A full offseason and training camp to acclimate to Iverson's presence should do wonders for team execution going into next season.
Roster and Financial Breakdown: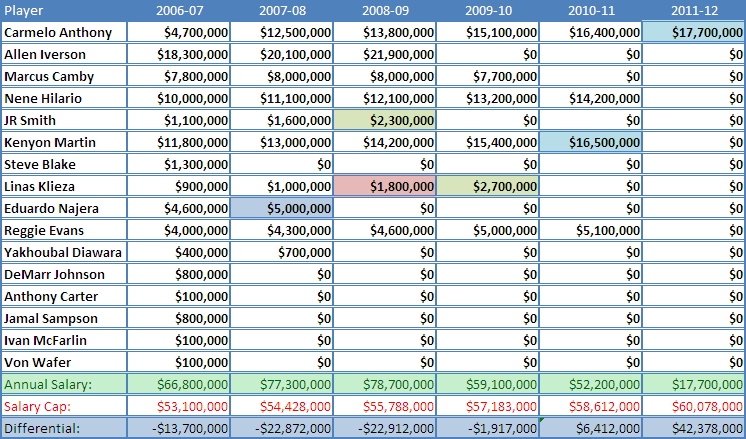 [c](Salary Cap projections were created taking the average increase over the past 5 years)[/c]
Record/ Overview:
44-37, 2nd place Northwest Division, 6th seed Western Conference
The Denver Nuggets have the talent to be perennial contenders, but it seems like there is something missing. The great chemistry the Nuggets have developed on the offensive end is only eclipsed by their lack of defensive intensity. Head Coach
George Karl
has the pieces in place to make a run at a Championship, but he'll have to administer some tough love next season if he wants those aspirations to come to fruition. Nene's interior defensive work in the Spurs series may have emboldened the Nuggets enough to try and move
Marcus Camby
for some perimeter fire-power off the bench.
Current Assets:
The Nuggets have the majority of their money wrapped up in only a handful of players. Denver is set to go into the offseason with four players due over $10M next season, so the concentration at the top of the roster is extremely high. It will be difficult for the Nuggets to make any significant trades considering their lack of prospects and expiring contracts, but they do have enough talent to compensate for dealing away one of their top players. However, it may be more beneficial for the team to try to rectify its defensive issues internally before making any blockbuster deals.
Sources have speculated that the Nuggets may try to deal
Marcus Camby
this summer to avoid the luxury tax, which seems illogical considering he is their best defensive asset. However, with the prognosis on
Kenyon Martin
looking brighter and the veteran presence of
Reggie Evans
and
Eduardo Najera
, the team may try and parlay Camby into some useful parts of need in other areas-namely bench offensive depth.
Expiring Contracts-
The Nuggets have six players with contracts expiring at the end of the season, few of which are terribly significant to their long term plans.
Steve Blake
and
Eduardo Najera
are the only potential free agents who the team may try to resign, but Najera has already publicly stated that he wants to pick up his option for next season. Blake will see some interest from other teams, but he has expressed his desire in Denver. He is a great option off the bench, and a capable starter in Denver's system. However, Blake doesn't have the type of defensive skills that the Nuggets desperately need, so while he could be brought back, he will not help rectify Denver's problems. He'll see a substantial raise, possibly in the same ballpark of
Reggie Evans
's current deal.
Jamal Sampson
and DeMarr Johnson will both hit the free agent market this summer, and could warrant a small deal from a team looking for depth. The Nuggets may find themselves shorthanded next season considering their financial situation, so it may be in their best interest to offer Sampson and Johnson contracts similar to the ones they are playing under this season. Neither player will be breaking the bank, so it wouldn't be surprising for them to return to Denver for a bargain.
Anthony Carter
and Von Wafer both signed on for the remainder of this season, but neither will probably be brought back.
Total Cost: $7,824,890
Rotation Players-
The Nuggets have one of the most impressive rotations in the NBA, but the longevity of their nucleus is hard to predict. The teams franchise player,
Carmelo Anthony
, unlike the other players selected at the top of the 2003 draft, structured his contract so that he can stay with his team as long as possible. Nenê will play the roll of his sidekick in the paint until 2011 when he will be 29 years old. Depending on his progression, he could become too valuable to let go, but his contract alone will make him an extremely valuable bargaining chip when he expires. Anthony and Nenê should be the foundation of the Nuggets for the foreseeable future.
Allen Iverson
will be one of the determinate factors in the Nuggets' short term success. If he can inspire his teammates to step up on the defensive end, Denver would instantly become a serious Championship contender. Iverson wants to win, but won't be able to make it out of the Western Conference Playoffs without some other pieces around him. The Nuggets surround him with other offensive-minded players, few of whom play any legitimate defense. If the team could acquire a few defensive role players to balance out their rotation, they could sneak up on a lot of people next year. He'll be 34 when his contract expires in 2009, but will probably have the longevity to play a few years after that. If the Nuggets see any success in the playoffs, he will probably be inclined to stay.
Marcus Camby
's contract is rather reasonable, given his actual value to the Nuggets. Without his defensive presence, Denver probably wouldn't enjoy the same success they've seen this season. However, he isn't getting any younger, and will be 36 when his contract expires in 2010. His current contract is tradable, but the Nuggets will need him if they want to compete in the short term.
Kenyon Martin
's contract also expires in 2010, but he has a player option for the season ending in 2011.
Given Martin's recent history with injuries, it would be shocking to see him decline his option when he has the opportunity. His level of play is clearly on the decline, but he will provide Denver with another option when he returns next season. The Nuggets would love to move his contract, but they could be stuck with it until it expires. The only other post in Denver's rotation is
Reggie Evans
, who hasn't lived up to expectations. He is too foul prone for a defensive specialist, but could provide some value if he can improve his footwork down low.
Total Cost: $56,593,472
Prospects-
With so much invested in their rotation, it isn't suprising to find that the Nuggets don't have much invested in their future. The only three prospects the Nuggets have are JR Smith,
Yakhouba Diawara
, and
Linas Kleiza
, both of whom are likely to be brought back when they become restricted free agents in 2009 and 2010 respectively.
Smith's season will likely be remembered more for his on-court antics in New York than the progress he made early in the season. Early in the season, Smith appeared to be becoming the player many thought he could be coming out of high school averaging almost 17 points per game in November. However, his points and minutes decreased precipitously as the season went on, to the point that he has been something of a nonfactor in the Nuggets playoff push. While the acquisition of
Allen Iverson
accounts for most of this decrease, Smith's recent play hasn't warranted an increase in minutes. If Smith can increase his intensity on the defensive end and improve his decision making on offense, he could turn into something special for the Nuggets down the line.
Frenchman
Yakhouba Diawara
suffered much the same fate as JR Smith this season. The undrafted rookie small forward looked solid on the defensive end early in the season, but his minutes all but disappeared when
Allen Iverson
was acquired. If Diawara can improve his offensive game and commit less fouls, he could prove to be a worthwhile player to keep around. He will be an unrestricted free agent at the end of next season, and may or may not be retained depending on who the Nuggets acquire in free agency.
Linas Kleiza
may not be the most exciting prospect, but he brings to the table everything you look for in a backup. In
Kenyon Martin
's absence, Kleiza has nearly doubled his production for last season. Klieza's ability to play in the frontcourt as well as at the three should help him continue to get on the court. Much like Boston's
Ryan Gomes
, Klieza's agility and smooth jumper should allow him to transition into a full-time small forward who can post opponents at will using his original tough interior game. Expect Klieza to be a nice asset in the future of this Nuggets team.
Total Cost: $2,425,478
Free Agency
The name of the game in free agency for the Nuggets will be defense. They desperately need bench players to compensate for their rotation's ineptitude on the defensive end. Denver is looking to win now, so age is not an issue, the simply want players who can make an impact on the defensive end. This was evident in their signing of
Anthony Carter
, who is anemic offensively, but is notorious for his staunch defense. The Nuggets will only have their exceptions to work with, so signing a big name will be out of the question.
It will be difficult for the Nuggets to find defensive help on the perimeter in free agency, but they could use their Mid-Level Exception to make a run at a restricted free agent like
Royal Ivey
or roll the dice on a veteran like
Eddie Jones
. Both Ivey and Jones would be perfect complements to
Allen Iverson
off the bench, but it will be difficult for Denver to pry them away from their current teams. Whoever the Nuggets do decide to target will only be asked to play about 10 to 15 minutes per game. Denver has a great deal invested in its current rotation, so those players will carry the vast majority of minutes. Due to this lack of available playing time, it will be tough for the Nuggets to sell middle and upper level players on playing in Denver.
Draft
The Nuggets do not have a selection in this years NBA draft. Their first round pick was part of the
Allen Iverson
trade, while they lost their second round pick in the acquisition of JR Smith. If the Nuggets do trade one of their rotation players this summer to avoid the luxury tax, they should definitely look into acquiring a draft pick. The depth in this years draft is tremendous, and the Nuggets would be well served to take a waiver on someone if they acquire a second round pick. A player like
Sean Williams
has had some problems off the court, but would be an ideal fit in Denver. If they do acquire a late pick, they should look to draft a known commodity like
Reyshawn Terry
or
Darryl Watkins
. The Nuggets don't need someone with great offensive tools, but they do need someone who is experienced enough to play immediately and is willing to work hard on the defensive end.