The Golden State Warriors came into this season looking to reach the playoffs for the first time since 1994.
Don Nelson
, who coached the Warriors from 1988 to 1994, was brought on to accomplish a feat no one had accomplished since, well,
Don Nelson
. In order to stay in contention, General Manager
Chris Mullin
made the biggest trade of this NBA season, landing
Stephen Jackson
and
Al Harrington
.
Coupling their new additions with Ba
ron Davis
and a healthy
Jason Richards
on, the Warriors were able to make a late push into the playoffs. The team faced an uphill battle as the eighth seed, but found themselves matched up against a Mavericks team that
Don Nelson
helped build. In one of the biggest upsets in franchise history, the Warriors downed the Mavericks in six games. Looking forward, the Warriors will need to make some moves this offseason if they want to compete with the other top teams in the Western Conference come this time next season.
Roster and Financial Breakdown: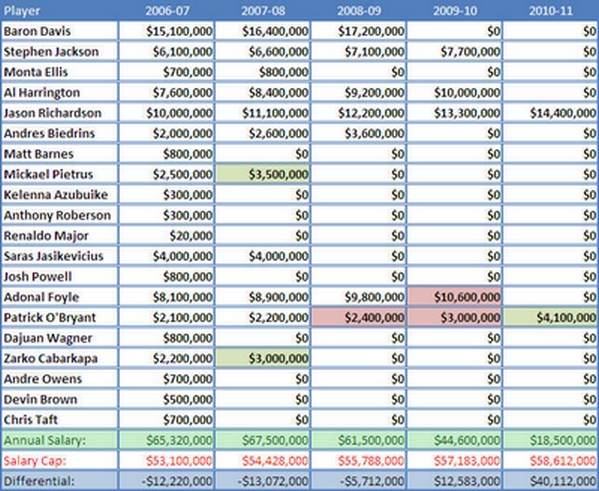 (Salary Cap projections were created taking the average increase over the past 5 years)
Record/ Overview:
42-40, 3rd place Pacific Division, 8th seed Western Conference
The Golden State Warriors have a lot of unfulfilled potential on their roster, so their long-term success will largely be dependant on how quickly their young talent develops. With that being said, this team has the system and personnel to be a tough out in the playoffs in the foreseeable future. It will be a couple of years before the Warriors have the cap space to make noise in free agency, so the team's improvement will have to come internally.
Current Assets:
The Warriors have some inexpensive young talent on their roster that could make them a player in the trade market this summer should
Chris Mullin
decide to go that route. Michael Pietrus quietly posted career bests across the board, and played well in limited playoff action. His youth and potential could make him an attractive commodity to a team looking for a young complementary swingman. This season's Most Improved Player,
Monta Ellis
, has the type of value that could return the Warriors a starting caliber player. However, his salary is so small he'd have to be paired off with a sizable contract in order to consummate a deal. Golden State's large and unwanted contracts all long-term deals so the probability of such a move is spurious at best.
The contract of Sarunas Jasikevicius will expire at the end of next season, giving him some value. Whether he shows enough on the court to bring more value then the potential cap relief he can provide remains to be seen. Jasikevicius has been in a series of poor team situations during his NBA tenure and could really benefit from going to a team that has a need for leadership and offensive playmaking prowess. He was never a good fit from a personality perspective in Indiana and Golden State is too loaded at his position. A savvy team that has kept abreast of the environmental circumstances surrounding Jasikeviscius might find him to be an attractive veteran option for their backcourt.
Depending on the destination of pending free agent
Matt Barnes
, the Warriors could be in the market for another small forward to go along with their need for another power forward. The Warriors also hold the rights to
Kosta Perovic
, and though he had a solid season overseas he doesn't seem to be the type of player that Golden State has a use for. The 7'2" Center is somewhat slow and methodical and doesn't hit the glass particularly hard-something the Warriors desperately need. It's doubtful that anything substantial comes of his contract rights.
[font]Expiring Contracts-
The Warriors have nine total contracts coming off the books this summer only two of which are significant. Both
Matt Barnes
and
Kelenna Azubuike
proved to be capable of producing on the NBA level and raised their stocks significantly.
Azubuike, while still unproven in a more half-court oriented system, may have earned himself a spot in the NBA this season. His play in the January and February was extremely encouraging. The range he displayed was a significant improvement over what he had shown in the past, and he looked a lot more comfortable and controlled handling the ball and attacking the basket. As the season wound down, Azuibuke saw less and less playing time. This lack of playing time may weigh heavy on his mind when he decides where to play next season. Azuibuke will be a restricted free agent.
Matt Barnes
really came out of nowhere this season, stepping into the starting lineup in the absence of
Jason Richards
on and performing admirably. After bouncing around the NBA for the past few seasons, it appears that Barnes has finally found the right fit for his style of play. Unfortunately for the Warriors, they may not have the cap space to keep him around. Without his Bird Rights the best the Warriors can offer Barnes is the Mid-Level Exception which may be less than he will receive elsewhere. Look for the Warriors to try to sign Barnes early in the offseason.
Total Cost: $13,836,607
Rotation Players
-
The Warriors have one of the most dynamic offensive rotations in the NBA, the nucleus of which is locked up for the long haul. Ba
ron Davis
, whose brilliant play and leadership paced the Warriors past the Mavericks, is signed through the 2009 season, when he will probably be looking for an extension. Davis hasn't played a full season since the 2002 season, but he's a tremendous asset when healthy. While Davis is clearly the team's superstar, it could be argued that
Jason Richards
on is its franchise player. Richardson, who is signed through 2011, struggled to stay healthy this season. His regular season stats were near career lows, but his production during the month of April lived up to the expectations people had for him early this season. The Warriors are committed financially to keeping Richardson around in the long term, and Davis is a candidate to be right there with him for the foreseeable future.
The foremost of the Warriors mid-season acquisitions,
Stephen Jackson
and
Al Harrington
, share similarly structured contracts ending in 2010. Harrington provides the Warriors with a legitimate inside-outside scoring punch, but may not have the type of skill set the Warriors are looking for at the power forward spot in the long-run due to his precipitous decline in rebounding. Given his relative experience level, Harrington is rather young, and will definitely have some value during his contract year. Whether the Warriors attempt to trade him will depend on how the team develops into
Don Nelson
's run and gun system, and who they are able to acquire over the next few off-season's.
Stephen Jackson
was dynamite in the first round of the playoffs, and is the type of player that thrives in
Don Nelson
's system.
If Jackson can stay out of trouble, it wouldn't be surprising to see him stick around in Golden State after his current deal expires. However, Jackson's temperamental nature can be a distraction for his teammates, who seem to feed off of his energy even when it's misplaced. As much as Jackson helped the Warriors in the first round, his lack of self-control and the ease of which Utah took him out of his game is a concern to keep track of. Still, he is well liked by his teammates as well as the Golden State fans and his heart seems in the right place even if his head sometimes isn't.
Monta Ellis
is an integral part of the Warriors backcourt, but could easily be categorized as a prospect due to his youth. At just 21 years of age, Ellis nearly tripled his scoring production in just his second season in the NBA earning Most Improved Player honors. If Ellis continues to develop at this pace, he may be looking to surpass Davis and Richardson as the Warriors most reliable scorer sooner rather than later. When Ellis's contract expires at the end of next season, look for him to receive a substantial raise.
The Warriors frontcourt isn't terribly deep, but it has been a pleasant surprise all season.
Andris Biedrins
has developed into a reliable post presence on both ends of the floor. While his offensive repertoire still leaves a lot to be desired, he manages to score at a solid clip. Biedrins doesn't have much of a game outside of 5 to 8 feet, but his post footwork is outstanding for a player his age and his hands are some of the best around. In time he could become one of the NBA's best young centers. The Warriors will sign him to a long term extension when he becomes a restricted free agent in 2009.
Much maligned center
Adonal Foyle
is one of NBA's truly class acts, but his nearly $10M salary is nowhere near justified by his meager production. He may be a buyout candidate this summer, opening up money for the Warriors to invest in retaining their young talent.
Mickael Pietrus
could easily be categorized as a prospect, but he contributes enough to earn rotation player status. Pietrus is high energy player with a solid all-around skill set that the Warriors would love to keep around when he becomes a restricted free agent this offseason. Pietrus may receive a sizeable offer elsewhere, but it shouldn't be big enough to deter the Warriors from retaining him. Pietrus could be an interesting asset to shop on the sign and trade market, given the depth Golden State could have at his position. If the team retains both
Matt Barnes
and Kelenna Azuibuke look for Pietrus to be shopped around the league if hasn't already come to terms with the club.
Total Cost: $52,975,838
Prospects-
While the Warriors have quite a bit of youth in their rotation, they still have a couple of up and coming players that could become contributors in the future. Yugoslavian
Zarko Cabarkapa
hasn't seen any action this season, and given the Warriors lack of depth in the post, that isn't a good sign for a near seven-footer. It doesn't seem probable that Cabarkapa will be retained when he becomes a restricted free agent this offseason, so
Chris Mullin
may look to parlay him into a late draft pick.
Patrick O'Bryant
hasn't accomplished much on the court this season, but the Warriors knew this was going to be the case when they selected him 9th overall. O'Bryant averaged a near double-double for the Bakersfield Jam of the NBADL in 25 games this season, but still doesn't seem polished of assertive enough to be a rotation player in the NBA. O'Bryant's development could be the difference between the Warriors being a good or great team. Fortunately, he will have until the end of the 2011 season to improve if the Warriors pick up his options.
Free Agency
The Warriors won't have the cap space to lure an upper tier player to Golden State, and will likely look to resign one of their current players with their Mid-Level Exception. The team will most likely attempt to resign
Matt Barnes
, but he could find a better offer elsewhere. He is an ideal fit in
Don Nelson
's offense, and other teams may recognize that his production this season wouldn't translate into their system driving his price down into the MLE range.
If the Warriors fail to retain Barnes, they could decide to pursue a young power forward that they feel can develop into a starting caliber player down the line.
Melvin Ely
could provide some quality minutes behind
Andris Biedrins
while spelling
Al Harrington
at power forward. Unfortunately for the Warriors, unrestricted free agents like Ely, and comparable restricted free agents like
Andray Blatche
and
Amir Johnson
, may be out of this price range.
Andris Biedrins
has proven that a raw offensive bigman with a good work ethic can excel in
Don Nelson
's system, but the Warriors may have to give up Mikeal Pietrus if they want someone who can fit the same mold.
Draft
The Warriors first round pick will fall just a few selections outside of the lottery. They will probably target a forward with their first pick, with
Josh McRoberts
seeming like a solid fit for their system. His versatility and size would allow him to play the power forward effectively while not stifling the offense.
Jason Smith
and
Tiago Splitter
are possibilities, but their skill sets may not be as ideal as that of McRoberts. If the Warriors feel that they can wait on addressing their power forward depth, they may opt to choose a player like
Nick Young
or
Brandon Rush
who could step in as a rookie and be effective in
Don Nelson
's system.
Golden State will not have their second round pick this season, but they will have the pick of the Minnesota Timberwolves. In the second round, the Warriors could look to address their depth at center, or take the best player available if they got great value with their first pick. A player like
Daequan Cook
could also be a decent selection if he works out well and falls into the late 30's.
Morris Almond
, much like Cook, would be a solid selection if the Warriors decided not to retain one or more of their swingmen this offseason.