Lottery night brought what could be considered a 2007 worst-case scenario full circle in Memphis. After losing
Pau Gasol
to an injury in the preseason, Memphis's young group of talent was left to their own untested devices. A mid-season coaching change only compounded the team's struggles, forcing an already overmatched roster to adjust on the fly. After finishing an NBA worst 22-60, the odds were stacked in favor of Memphis earning a top-two pick and, in turn, the opportunity to select
Greg Oden
or
Kevin Durant
. Adding insult to injury, Memphis not only fell out of the top spot, but slid all the way to the fourth slot. In the wake of the lottery, the team lost the services of renown General Manager
Jerry West
(now on board only as a paid advisor next to recently hired GM Chris Wallace), concluding what can only be described as a horrendously unlucky chain of events in Memphis.
With a new Head Coach and General Manager in place, Memphis will head into the offseason looking to get out of their tailspin and reverse the bad luck that made their season so forgettable. With a payroll falling well short of the salary cap, Memphis will have the opportunity to add some pieces in free agency, but will need to spend wisely if they want to see immediate results.
Roster and Financial Breakdown: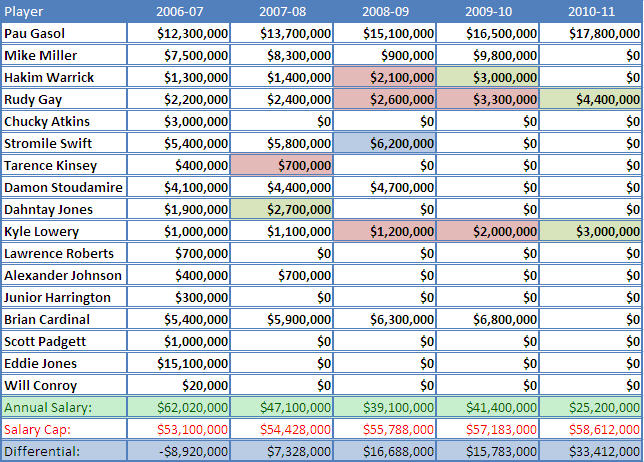 [c]salary cap figures derived from average increase over past 5 seasons[/c]
Efficiency: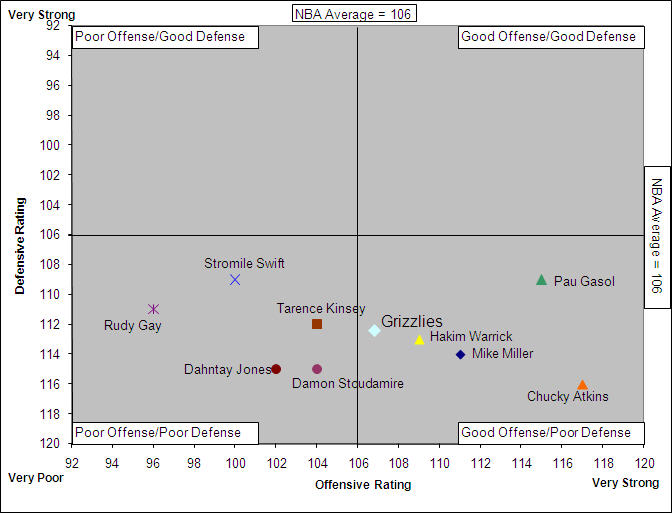 [c]courtesy of Paul Gearan and Heather Allen[/c]
Usage: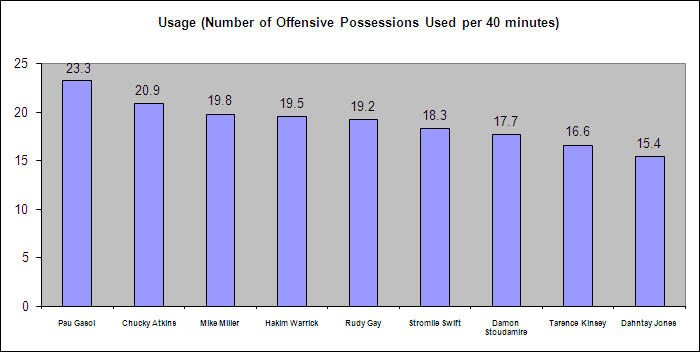 [c]courtesy of Paul Gearan and Heather Allen[/c]
Record/ Overview:
22-60, 5th place Southwest Division
Memphis desperately needed to catch a break, and may have found one in new Head Coach
Marc Iavaroni
. The former Phoenix assistant will be entering his first stint as a head coach, but has been considered one of the best assistants in the game for quite some time. Iavaroni will have the unenviable task of developing Memphis's stock of young talent. While the team will no doubt experience some growing pains, the future of the Grizzlies may already be in place.
Rudy Gay
and
Hakim Warrick
came on strong late in the year, and
Kyle Lowry
appeared to be making a smooth transition to the NBA before going down with a wrist injury. Memphis will have the opportunity to add another player with great potential in the draft, and could be looking at a very talented squad when they shed some of their bad contracts in a few seasons. The Grizzlies also recently added three assistant coaches who are all extremely well respected in NBA circles—
Johnny Davis
, Gordon Chiesa and DraftExpress favorite Dave Joerger.
Current Assets:
Memphis has plenty of tradeable assets, but they are more concerned with building for the future than competing in the short term. With some many quality prospects, the club will try to fit players into their rotation that will facilitate the development of these potential superstars.
If Memphis decided to try and trade their way into contention, the first player they would have to part with is
Rudy Gay
. Gay averaged over 10 points per game and will be a great complement to
Pau Gasol
in the future. His value is based almost entirely on his potential future production.
Hakim Warrick
and
Kyle Lowry
fall in the same boat, but wouldn't return the same value.
Alexander Johnson
and
Tarence Kinsey
wouldn't draw a lot of attention, but could certainly become contributors down the line. Kinsey blew up in the month of April, and could become extremely valuable if he plays even close to that level next season, although he'll be a free agent next summer.
Attacking Memphis' problem from a different perspective,
Pau Gasol
may also be considered a tradeable asset. He is no doubt a talented player, but he could return Memphis quality young talent and addition draft picks. Dealing his long, expensive deal would give the team a great deal of flexibility for the foreseeable future.
Expiring Contracts:
The most significant contract coming off of Memphis's books will be that of
Eddie Jones
, who the club waived in January. Jones's bloated $15M deal is the primary source of the cap space Memphis will be enjoying this offseason. Outside of Jones, the team will watch veteran point guard
Chucky Atkins
head into free agency. Atkins should find a number of potential suitors, none of which will likely be the Memphis Grizzlies.
The team has a handful of lower level players hitting free agency as well, including
Scott Padgett
,
Lawrence Roberts
, and Junior Harrington. Padgett is a solid veteran, but will probably be looking to sign with a better team as his career winds down. Roberts stands the best chance of the three to return to Memphis next season. His relative youth and potential development should be attractive enough assets to earn him another deal with the team. Harrington may be worth keeping around, but only for defensive purposes.
Total Cost: $20,103,257
Rotation Players:
Memphis doesn't have a very deep rotation due to the age and contract status of most of their contributors. With players like
Rudy Gay
and
Hakim Warrick
still playing on their rookie deals, Memphis is paying a great deal more for the likes of
Stromile Swift
and
Brian Cardinal
.
Pau Gasol
is far and away the best player on the Grizzlies at this point, but he would certainly be better if he had more talent around him. Gasol's contract lasts until 2011, but could be substantially more expensive considering his level of production. The closest thing Gasol has to a sidekick at this point is
Mike Miller
who was having a career year this season before his knees went out on him. Miller's contract lasts until 2010, but he has reached his peak in terms of statistical production. Look for Miller's stat line to shrink slowly as
Rudy Gay
emerges as the team's small forward of the future. Joining Miller and Gasol in the starting lineup for much of the season was aging point guard
Damon Stoudamire
. Streaky shooting, and injuries prevent Stoudamire from putting up good numbers, and he simply isn't the player he used to be. His deal is pretty affordable, but don't look for him to be back when it expires in 2009.
Off the bench, Memphis features a trio of rotation players.
Stromile Swift
had a rough season, but still has solid potential for his experience level. Swift's athleticism makes him tough to forget, but he leaves a lot to be desired in terms of actual polish and production. He will probably find a new home after exercising his player option for the 2009 season.
Brian Cardinal
is good for the occasional three-pointer and floor burn, which by no means justifies his roughly $6M salary. He should be moved before his contract expires in 2010.
Dahntay Jones
proved to be a steady contributor this season, and shouldn't see enough money in restricted free agency to deter the Grizzlies from resigning him.
Total Cost: $36,574,549
Prospects:
The Grizzlies have a stockade of players who have enormous potential.
Rudy Gay
is the future face of this franchise, and could make
Pau Gasol
expendable if he blows up. However, he is more unfulfilled potential at this point than anything else. He desperately needs more touches down low to improve his effectiveness, as he simply won't be ready to contribute strictly from the perimeter in the near future—and that would be a waste of his freakish length and athleticism anyway.
Hakim Warrick
falls in the same boat. Both players will probably see their contracts extended when they become restricted free agents in 2011 and 2010 respectively.
At point guard,
Kyle Lowry
may not be the future for Memphis, but he will certainly be a contributor. The Grizzlies will probably pursue a point guard in free agency or the draft, but Lowry could develop into one of the best backups and pace changers in the game. He should see an extension when his deal expires in 2011 if he improves his jump shot and develops as expected.
Alexander Johnson
and
Tarence Kinsey
are in extremely similar situations. They will be due similarly small contracts next season when Kinsey's option is picked up. Kinsey is inconsistent, but his production late in the season can't be overlooked. Johnson, in contrast, had a few good games this season, but will need more playing time to show his athletic merits. Both players should be retained regardless of their production next season. Their potential is simply too intriguing to pass up for their probable price tags.
Total Cost: $6,240,808
Free Agency:
Memphis will have quite a bit of cap space this offseason, and should target a player who can effectively assist in the development of their prospects. Bucks point guard, and restricted free agent, Mo Williams would be the perfect player to fill this role. He wouldn't have a difficult time carrying production over for Milwaukee to Memphis, and would be a great table setter. If Memphis pushes the tempo next year, which they should, Williams would bring the best out of both
Rudy Gay
and
Hakim Warrick
.
In order to acquire Williams, Memphis will need to gauge how much they will need to offer him in order to deter the Bucks from matching. They certainly shouldn't overpay for him, as they will need that money to resign their prospects, but he should be their primary target.
If the team feels it doesn't have a shot at Williams (and by now Wallace should know), it will probably change their plans on draft day dramatically. Memphis would probably turn its attention to
Anderson Varejao
, who could provide valuable minutes off the bench in the paint. Given the dire straits in Memphis, and the lack of players to sign in their immediate price range (
Gerald Wallace
would only compound their logjam at small forward) the club may very well wind up paying Williams a healthy sum to make sure they get their man.
Draft:
With the fourth overall selection, Memphis should have their sights narrowed down to four players:
Al Horford
,
Brandan Wright
,
Joakim Noah
and
Mike Conley Jr
. Horford and Noah would be the most logical choices, but Conley would come into play if the team doesn't feel confident in their ability to land Williams. This draft will bring Memphis to an impasse. The players they should draft play essentially the same position as their franchise player,
Pau Gasol
—even if Noah and Horford can probably play next to him in the West. If they are going to trade Gasol, now is the time. The draft is deep, and his replacement would be in place immediately. In contrast, if the team chooses to keep Gasol, they may miss out on the chance to move him altogether. They should not bank on having the same options in front of them in the future as they do right now.
Should the team manage to acquire another first-round pick by moving Gasol or one of their small forwards, they should target an experienced player like
Morris Almond
or
Derrick Byars
. Both players would provide quality minutes at shooting guard almost immediately. Rudy Fernandez is another interesting option considering his Spanish ties to Gasol.
Javaris Crittenton
would be a good fit as well if Williams isn't acquired.
Taurean Green
could be another solid option, although Memphis owes its second round pick to Seattle as part of the foolish
Lawrence Roberts
deal. This offseason will truly be a decisive one in Memphis, and their roster could look drastically different on draft day should they decide it's time to take things in another direction.